News Feed Application
Every morning, we wake up to a world of possibilities and uncertainties. Dealing with it is made more accessible by a news feed application that bring news from the farthest corners of the globe to our homes daily!
News feed apps give us a constant torrent of delightful and distressing news, helping us make sense of the world around us.
Time

3 Months

Team

6 Members

Platforms

Cross Platform

Type

News App

Industry

News & Media
Develop a News Feed Application like Flipboard
The idea of a news feed application is to carry news through a kaleidoscope of emotions. The plan is to navigate users through a pool of information seamlessly so that they can keep themselves up-to-date with the happenings around the globe.
News feed App with Enhanced Performance and User Engagement
Tackling the hurdles of news feed apps, we focused on optimizing app load time, delivering location-specific news, and maximizing reader retention, ensuring a seamless experience that keeps users engaged.
Delivering Headlines that Break into your Phone
The news feed application was designed to guide the user through a vast landscape of information with ease. It was optimized to ensure quick loading times and seamless transitions between virtual pages.
WIREFRAME & DESIGN
Explore our aesthetically beautiful news feed application design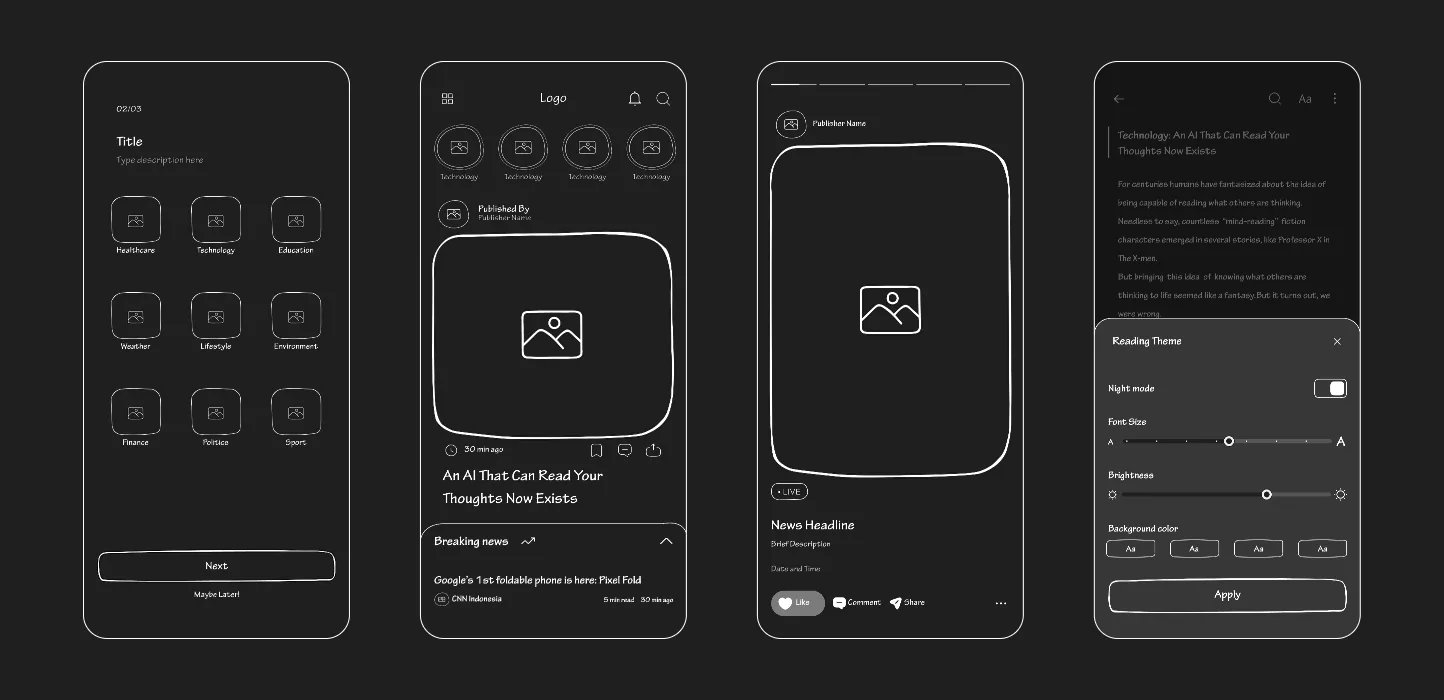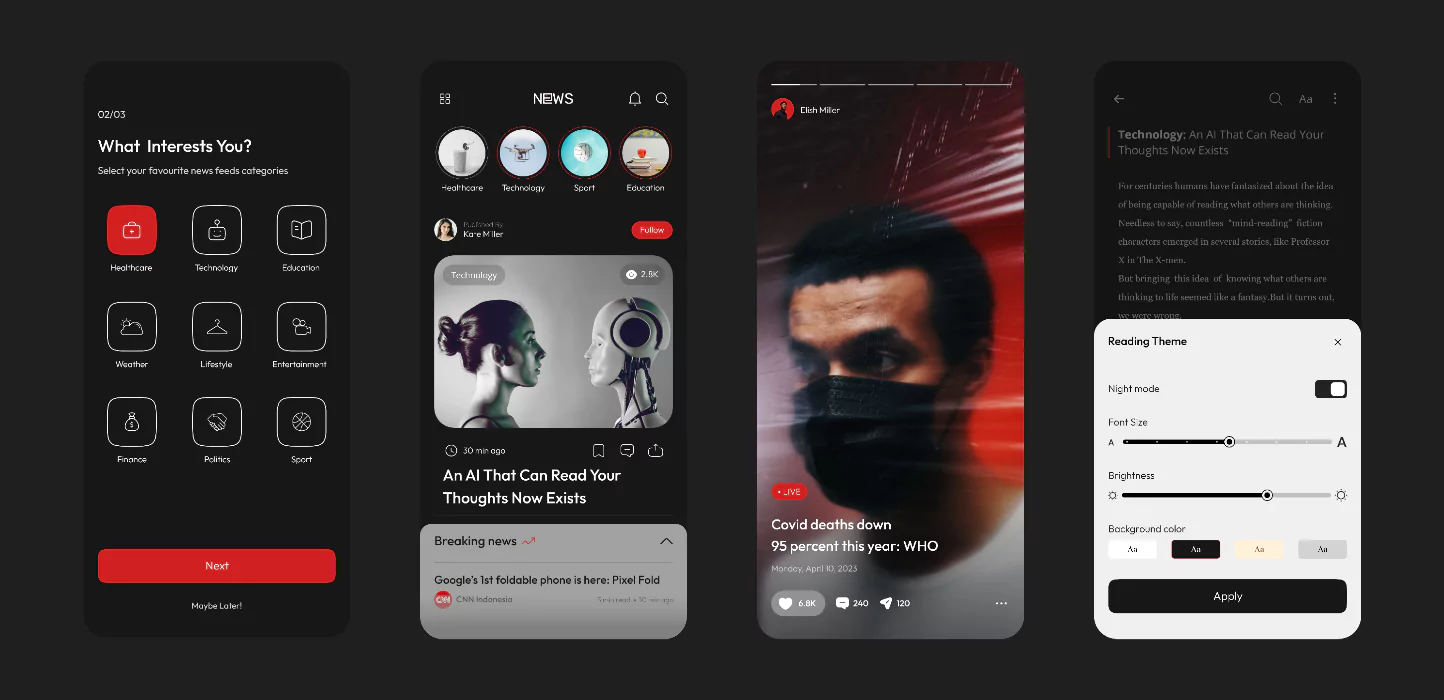 Sarah Johnson
Editor-in-Chief
We are thrilled to have partnered with Kody Technolab for our news feed application. The final product exceeded our expectations, providing a seamless browsing experience, personalized news selection, and a visually stunning design. It has become the go-to app for our readers!
Features of News Feed application like Flipboard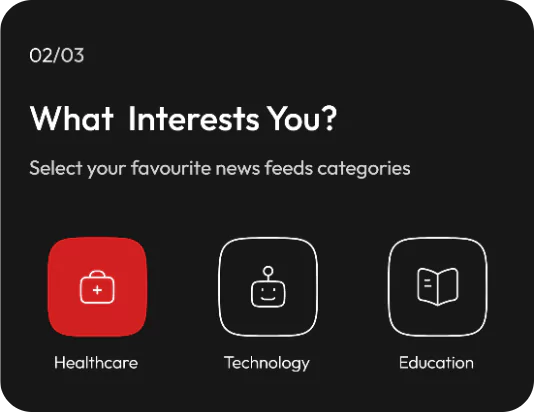 Category selection:
The application is thoughtfully designed to cover news from diverse range of sources. Which is why, the app allows users to select topics of interest, say, politics, technology, sports, etc. and curate feed based on the preference.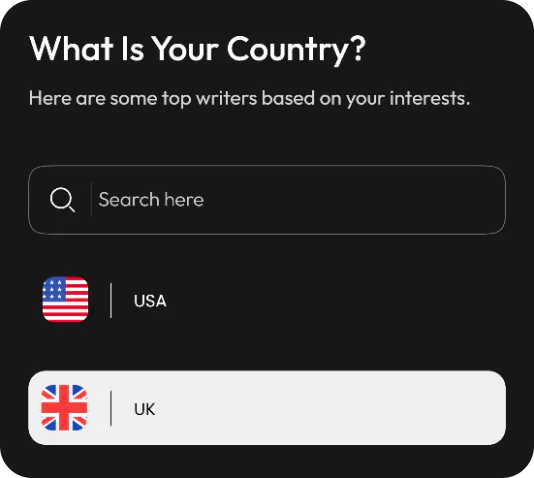 Country selection:
The onboarding process offers the option to select the country the user lives in. This crucial step ensures that the news feeds are customized to keep them up to date with the latest happenings in their chosen location.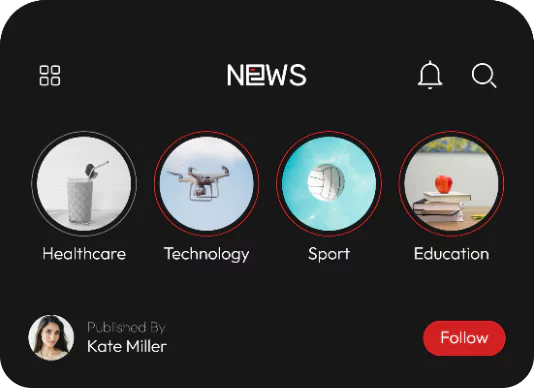 Story based on user interest:
The primary focus of the news feed app is to provide users with a news reading experience that caters to their specific needs. We go the extra mile to ensure that users have access to all the news of their interest.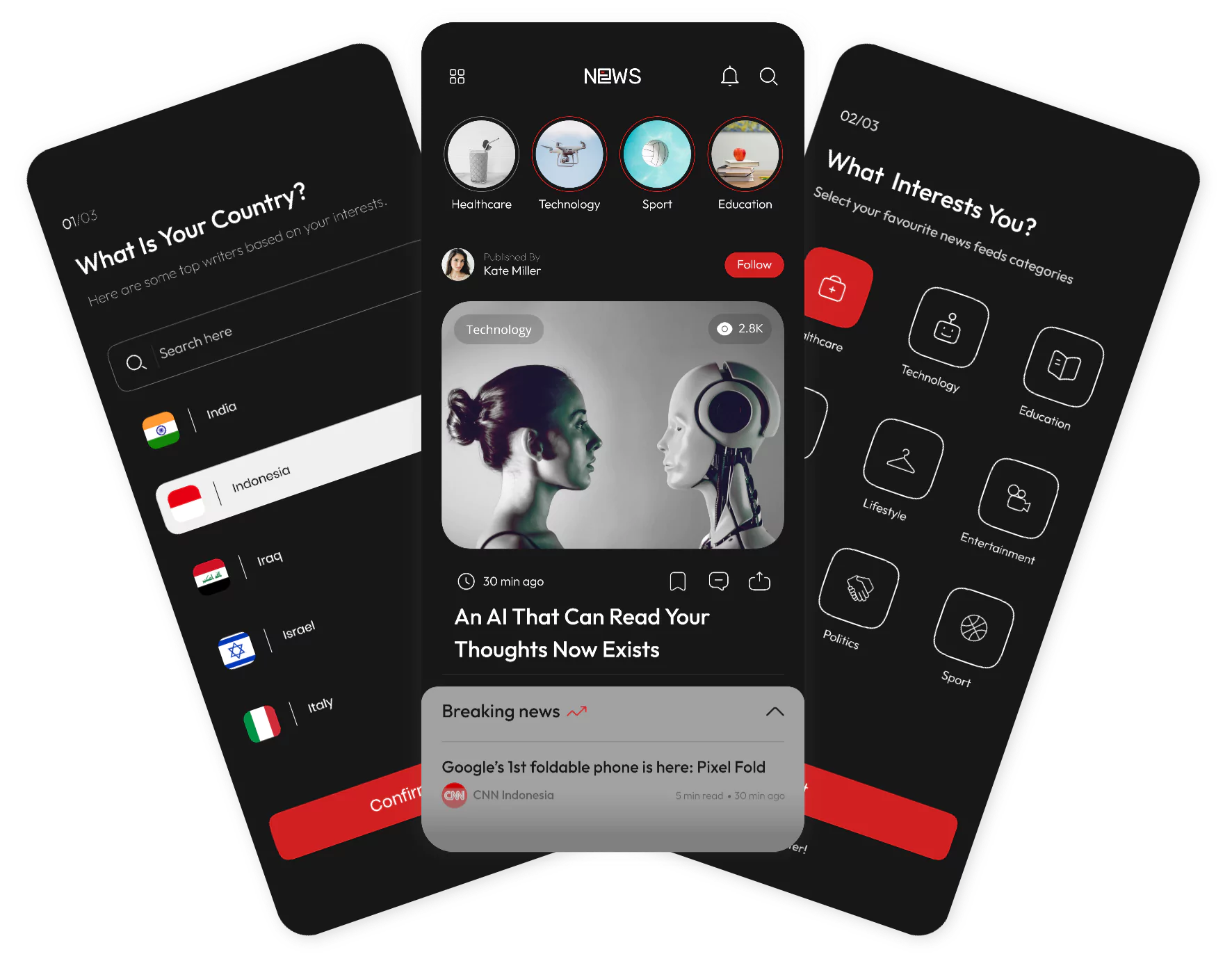 Features to Enhance the App's User Experience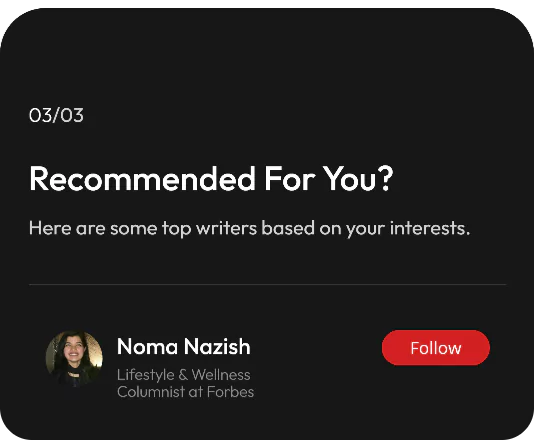 Recommendations:
By analyzing past browsing history, application gains valuable insights into the users areas of interest, allowing it to offer tailored recommendations that align with your thought process.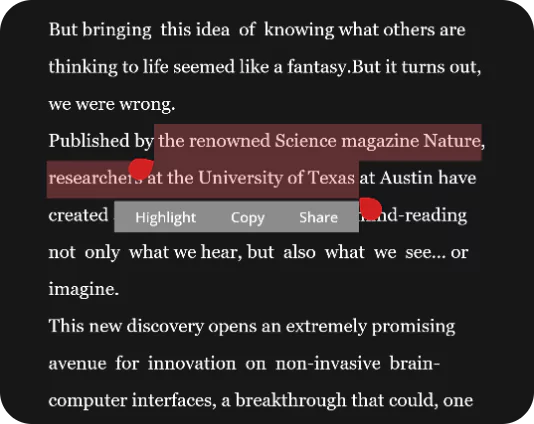 Keeping notes:
The news feed app offers a powerful feature that allows users to keep notes while reading the news. Users can highlight, save and refer back to the news sections that resonates with them.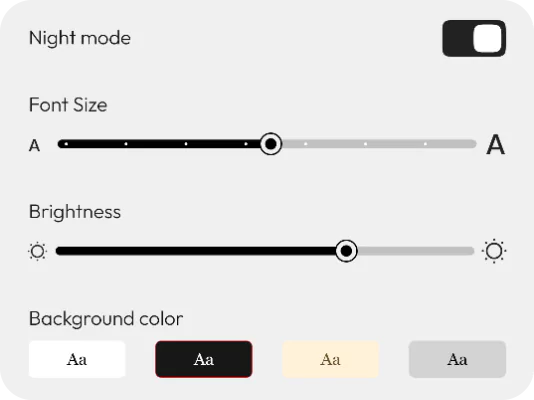 Reading theme:
We understand mood and location can influence reading preferences. Which is why, the news app has integrated reading theme feature that allows users to select a theme to read at ease.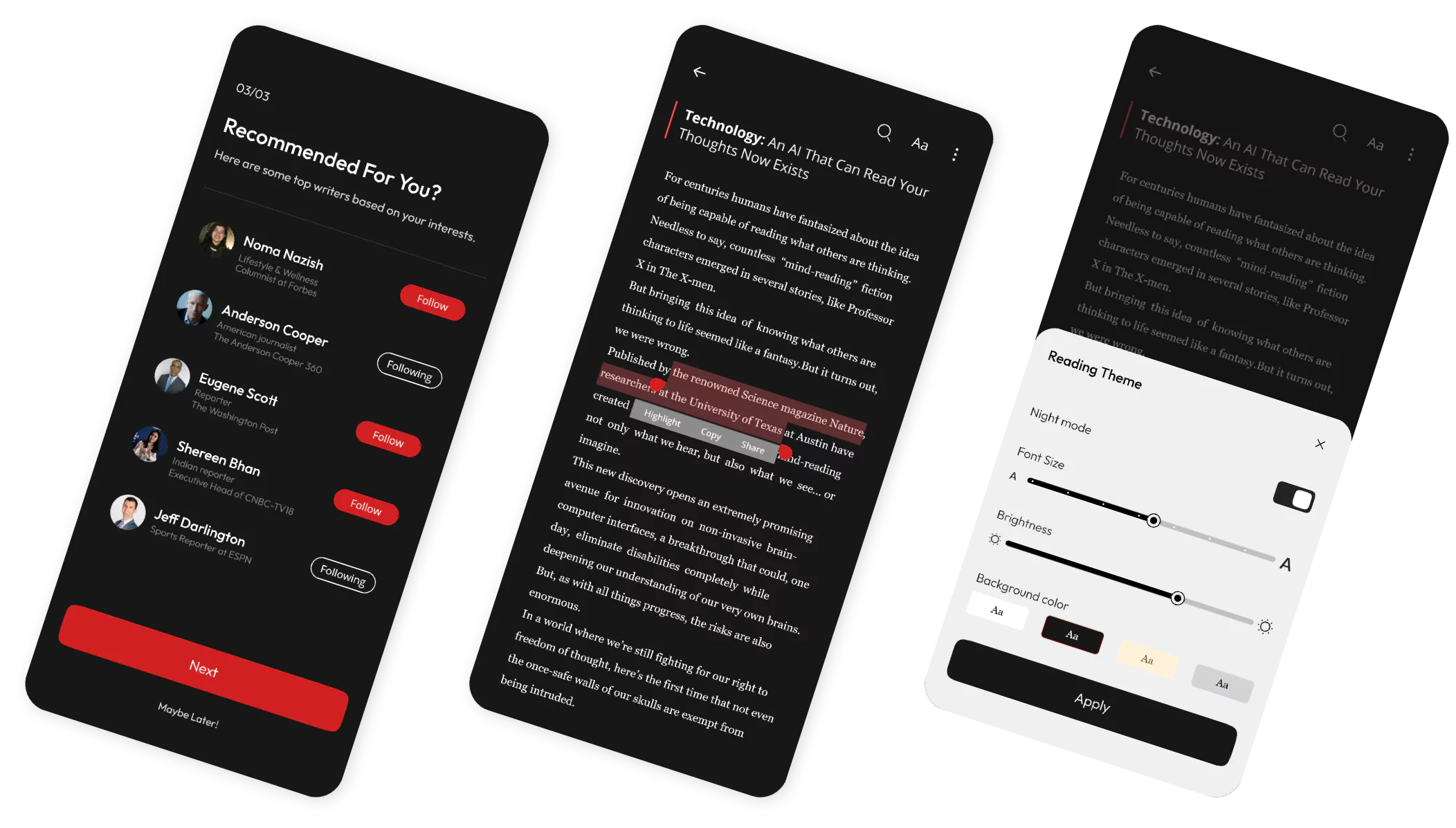 Technology stack of the project
Mobile App:
Flutter
Backend:
PHP
Database:
MySQL
Let's
Grow

and Get

Famous

Together.
Contact Information
Offices

INDIA
2nd floor, J block, Mondeal Retail park, Besides Iscon mall, Iscon cross-road, SG Highway, Ahmedabad, Gujarat 380015

CANADA
60 Capulet Ln, London, ON N6H OB2, Canada

USA
Datamac Analytics LLC, One Financial Plaza, FL 1000, Fort Lauderdale FL, 33394

UK
14 East Bay Lane, The Press Centre, Here East, Queen Elizabeth Olympic Park, London, E20 3BS
#Differentiator
Explore how Kody Technolab is different from other software development companies.
#Startup-How
Download 50+ proven templates and editable frameworks which guide you to build remarkable product