We are your Hero for Android App Development Solutions.
Kody Technolab's commitment to delivering high-quality code makes them the top choice for app development among clients from various verticals. Every line of code we write is clean, efficient, and easy to maintain.
To ensure this, we have a rigorous quality assurance process in place and each feature goes into multiple rounds of testing.
Our dedicated team works round the clock to provide a wide range of Android app development services under one roof. Our Android app development skills have helped our clients achieve their goals and succeed in their respective industries.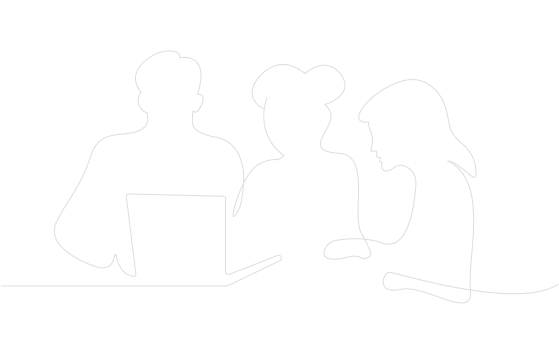 We use the latest tools and technologies to create Android apps that are reliable, user-friendly, and engaging. We work closely to understand our client's projects and create custom solutions tailored to their specific goals and target audience. 
Our approach building to satisfying Android Applications
In the continuously evolving & advancing market, Android app development has become increasingly popular. Android apps are able to cater to a wide range of customer needs. Android app development is rapidly growing and transforming the way we work and live. It is only with the help of a talented team can you thrive in the digital world.
Be it designing, developing, or launching an application, Kody Technolab has the expertise to deliver the best possible solution. Kody Technolab stands out by offering a variety of engagement models to its clients. Clients are free to choose the model they find is the best fit as per their needs and budget.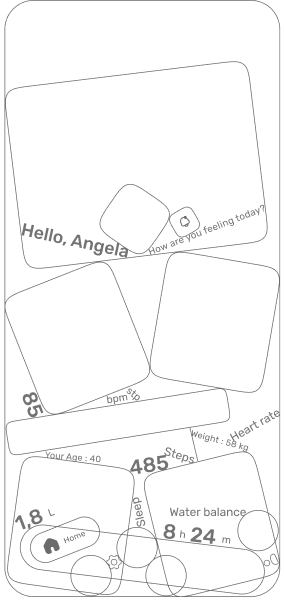 01
Understanding
Kody Technolab prioritizes clients' needs and preferences above everything else. Our process involves sitting and listening to your targets so that we can provide intuitive mobile experiences. 💪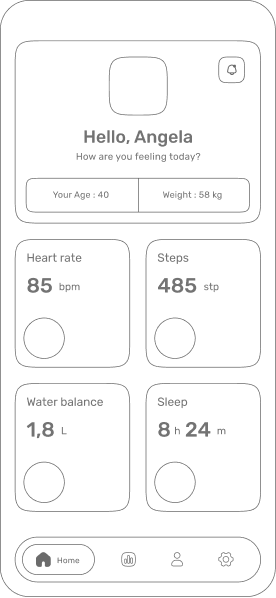 02
UX designing
Once we have a clear understanding of our user's needs, we move on to the next step of designing and development. Kody Technolab's team uses the latest tools to create engaging wireframes or MVPs. ⚙️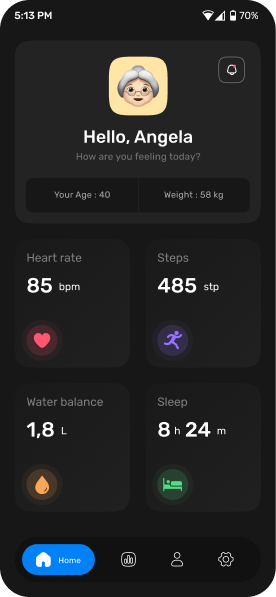 03
UI development
We work closely with our designers to ensure that our applications are visually appealing. Our codes are one-line with clean and precise execution. ⚡️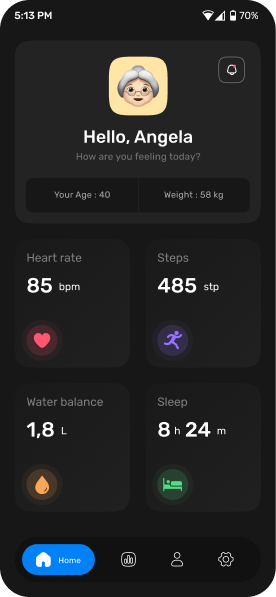 04
Feedback and Iterations
At each stage of android app development, we continue to gather feedback from our clients and make necessary changes. We regularly update and improve our code for better performance. 🔥
We put our heart
into every Android
solution we make!
The world has become increasingly reliant on technology and the demand for mobile applications continues to grow. Android application development seems to have a huge opportunity because of its ability to serve any scale of the market.
One can develop a range of apps from simple utilities and games to complex enterprise-level mobile applications.
Why Choose Us for Android App Development?
1
Customer Satisfaction 💪
Our goal is to provide our customers with a seamless and enjoyable experience from start to finish. For this, we carefully listen to our customers and then offer unique business solutions.
2
Various engagement models 🛡️
Kody Technolab's priority is customer service. We facilitate our customers to engage with us on a project-to-project basis, hourly basis, or other hybrid ways.
3
Integrity and Transparency 🧑🏼‍🎓
We are committed to doing the right things and promise our clients to deliver clear and accurate information about the project.
4
Support and Maintenance 🧑‍🤝‍🧑
Our team understands that support and maintenance are important aspects of mobile app development. And therefore, we provide ongoing support and maintenance to ensure that the application functions properly.
5
Competitive Pricing 💰
Kody Technololab has the right pricing strategy in place. Our prices are comparatively attractive, lower, and sustainable.
6
Custom development 📕
Our happiness lies in our customer's satisfaction. We strive to deliver unique and agile business solutions that are cost-effective.
Business Model for Android app development
Kody Technolab's aim is to provide expert advice and services to clients on a project basis. You can select any one of the below-mentioned business models depending on your specific products, services, and target market.
Hire dedicated teams
In this model, clients can contract with a pool of professionals to work on the project. The client can hand-pick the team of members that will dedicatedly work after ensuring that they have the right skills and expertise.
The client is able to have greater control over the timelines and communication channels.
You will have a clear understanding of the cost of the project in advance. Small and medium-sized businesses can make careful decisions and allocate resources accordingly.
Fixed time and cost model
When you select this model, the team sits with you to decide on terms and pricing beforehand.
The dedicated team works respectively towards deliveries.
It is an extremely cost-effective approach and suitable for small-sized businesses.
Hybrid hiring model
It is a modern approach to recruitment and selection.
In this model, you choose to outsource a limited deliverable with us.
The flexibility of this model allows any-sized business to opt for it.
Services We offer For Android App Development
Kody Technolab offers an ideal combination of cost-effective rates with stunning quality service. Our developers write beautiful code while taking utmost care of code stability.
Our Android application development services are engineered to be secure and performance-first. Here is what we deliver
Custom Android app development
Android app testing and porting
App support and maintenance
We are thrilled at the prospect of working with your team, are you?
We would be happy to engage with you and guide you through the android app development process. Our experienced team of developers can provide free consultations and help you understand the key considerations of the application.
Let's Talk
Our Experience in Android
Over the years we have built a strong track record of success with a diverse portfolio and serving a range of industries.
Kody Technolab has helped industries from the following verticals to streamline their operations and turn their vision into reality using the power of technology.
Banking & Finance
Logistics
Healthcare
Transportation
Travel
Game
Education
Construction
Manufacturing
Restaurants
e-Commerce
Social Network
Real Estate
Entertainments
Automotive
SaaS
Frequently Asked
Question?
Our developers have hands-on experience working with the following tools.
Android Studio;
AVD Manager;
Eclipse;
Fabric;
Android Debug Bridge;
Gradle;
Instabug;
LeakCanary;
IntelliJ IDEA
Yes, we provide the complete cycle of app development which includes development as well as the release.
Based on the general features and specific requirements, android app development usually costs around $15,000 to $45,000.
It usually takes around 4 to 6 months for project completion. However, the timeline may vary if you change the complexity of the app, add features, or change the design of the app.
Outsourcing app development offers a pool of benefits which includes:
Hands-on over a pool of technical expertise;
Market expansion opportunities;
Quick delivery;
Saves time, energy, and costs;
Increased flexibility
Java and Kotlin are the basic languages used for android app development. However, for cross-platform app development, Flutter and React Native are used.
A Big Yes. You will definitely get support and maintenance after project completion. We will not leave you in any hanging scenario and provide our assistance to sail through.
Words Of Appreciation
Discover the impact our solutions have had on the lives and businesses of our customers and see why they choose us time and time again.
If you want a reliable software partner who you can rely on for anything, even after development, Kody Technolab is a perfect choice. They helped us create an amazing milk delivery app with a dynamic subscription and advanced features with minimal design.
Milkmore - (Mitesh Patel, Director)
We collaborated with Kody to develop an on-demand food and parcel delivery application. The team is excellent at their development skills and quick at understanding your business requirements to come up with the right solution.
Duzzy - (Dilip Dangodara, Co-Founder)
My experience with Kody Technolab was fantastic. They developed a website and mobile app for my home massage company, Soothee, with impressive responsiveness and technical skills. The team was great to work with and quickly understood my business goals.
Soothee - (Frank Koh - Founder)
Kody Technolab helped me create a beauty service booking app for Africans with a user-friendly and intuitive design. Thanks to their Flutter development skills and design expertise, we launched a beautiful app without bugs in a short time.
AfroUrembo - (Martijn Imrich - Founder & CTO)
I partnered with Kody Technolab to build an online fashion marketplace using Flutter. They were prompt in incorporating additional features mid-development, and their team was supportive and easy to work with. A great partner, even for a non-tech CEO.
Bhesbhusa – (Suyash Agrawal, Founder)
We Believe in Contribution
Join the conversation and expand your knowledge with in-depth articles and discussions on the latest industry trends, ideas, and innovations.
Let's
Grow

and Get

Famous

Together.
Contact Information
Offices

INDIA
2nd floor, J block, Mondeal Retail park, Besides Iscon mall, Iscon cross-road, SG Highway, Ahmedabad, Gujarat 380015

CANADA
60 Capulet Ln, London, ON N6H OB2, Canada

USA
Datamac Analytics LLC, One Financial Plaza, FL 1000, Fort Lauderdale FL, 33394

UK
14 East Bay Lane, The Press Centre, Here East, Queen Elizabeth Olympic Park, London, E20 3BS
#Differentiator
Explore how Kody Technolab is different from other software development companies.
#Startup-How
Download 50+ proven templates and editable frameworks which guide you to build remarkable product