DineBot:
Robotics Solutions

for Office

Robots are here to alleviate business struggles and not to replace humans. And, our creation, DineBot is an example. Dinebot is a Robotic solution that can handle catering services efficiently, reducing labor costs and winning hearts with its adorable look and enchanting voice.

Integrated with 3D obstacle avoidance, DineBot gets a faster perception of things around it and ensures safe delivery. All these characteristics make it an ideal solution for offices to foster a tech-driven environment.
Enhancing
Workplace

Dining with

Dinebot
Efficiency
Enhancement

2-3 times

Reduction of
Walking

80%

Accuracy
Rate

99.99%

Cost
Reduction

50%+
Next-gen Robotics Dining Solution for Offices to Reduce Walking and Labor Cost
DineBot is an intelligent delivery robot for offices. Built to simplify the catering service, it lets you add routes to each department across the premises and send coffee or things with one click.
Eliminate the hassle of Serving, Labor Recruitment, and High Costs of Management
DineBot offers multiple delivery modes and has multiple trays with a high-loading capacity, reducing the need for more labor for in-house catering. Quality battery backup and intelligence to charge itself in downtime make it more suitable for long hours requirements of offices.
Automated Catering Service Throughout the Office Area
The flexible deployment, attractive look, robust capacity, and captivating voice are packed into one robotics solution to help offices to timely respond to their employees' needs. Besides enhanced experience, the Robot enables them to allocate their workforce efficiently.
What they said
We're glad that we outsource our robot project to Kody Technolab. The team has proven expertise in robotics which is visible in DineBot. I really appreciate the timely delivery and enjoy working with the highly responsive team.
How does
DineBot

in Action look?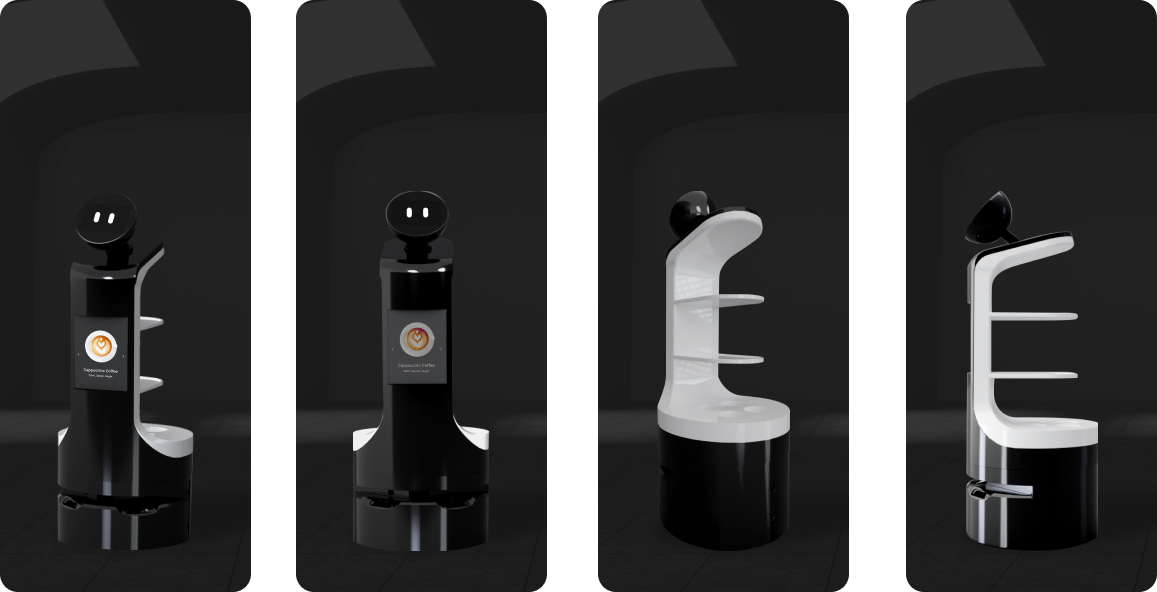 DineBot can play multiple
Roles!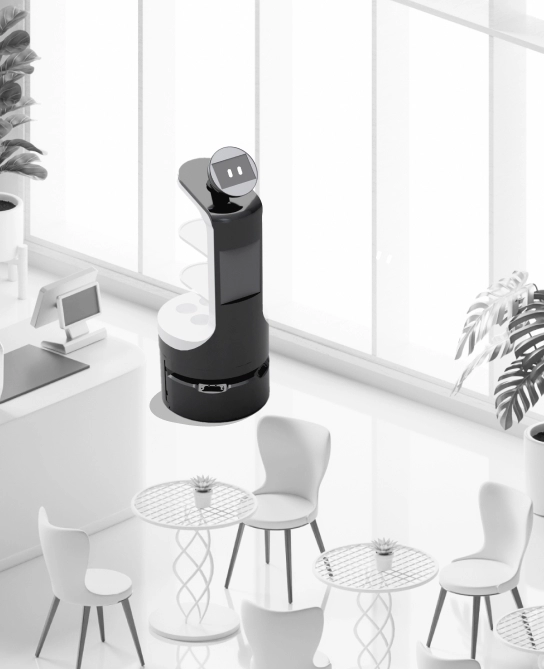 Delivery Bot
Pain Points
Employee frustration due to time wastage
Disruption of work routines
Long queues for Coffee
Cafeteria management hassle
How DineBot Benefits
Delivers Coffee or anything that fits in its tray
Covers every corner of the office department-wise
Allows scheduling of deliveries
Gets to the charging point itself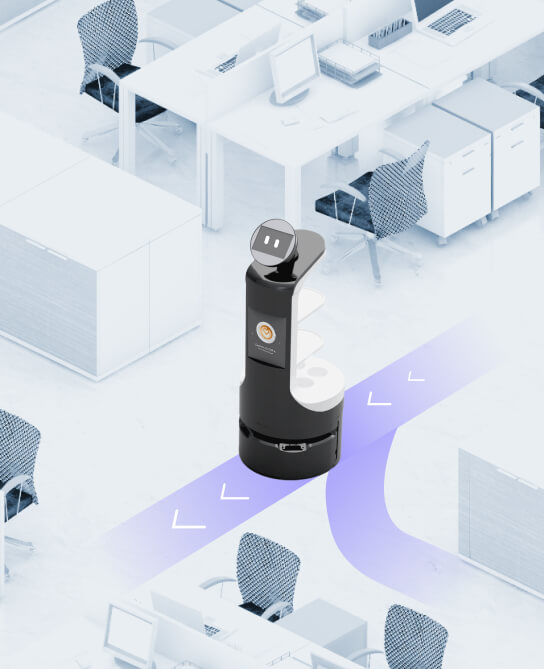 Office Bot
Pain Points
Running back and forth to handle the paperwork
Difficulties in understanding instructions
Burnout and stress among office boys
Unavailability of office assistance after working hours
What DineBot can do
DineBot quickly delivers documents and supplies through predefined routes
Understand instructions properly through voice recognition
Greet and guide visitors using natural language processing
Work efficiently even after working hours
Features
Features of
Robotic

App Solutions for

Office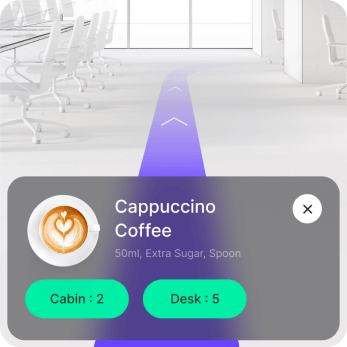 Navigation
DineBot has superior navigation systems that allow it to avoid obstacles and easily make its way to cabins or tables through the labyrinth.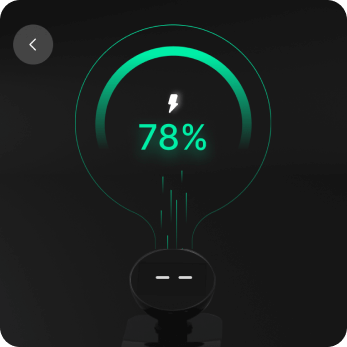 Automatic Charging
The robot has the intelligence to automatically get to the charging port when its battery falls to a certain point without human intervention.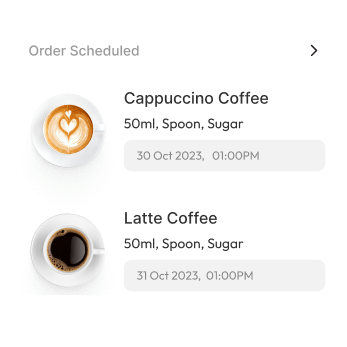 Autonomous Scheduling System
It allows you to plan the delivery and optimize the routes using the auto-scheduling system, ensuring the right point at the right time.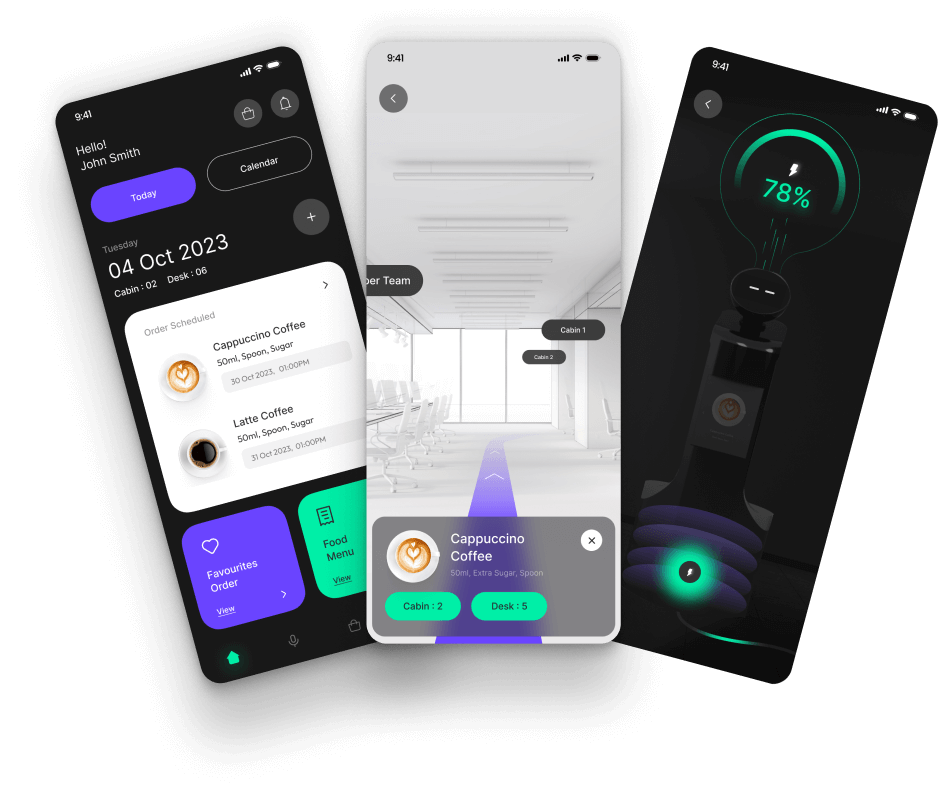 Store Panel
Advanced Features of
Robotics App Solution

for Office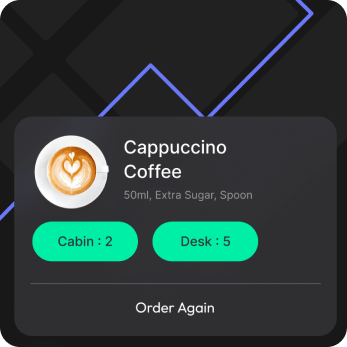 Remote Intelligent Control
Choose your laptop or smartphone to configure as the remote control to manage and supervise DineBot activities or customize settings.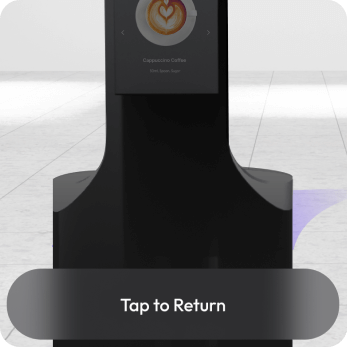 Voice Control
The robot is infused with speech recognition and natural language understanding, elevating the intuitive experience by offering a voice user interface.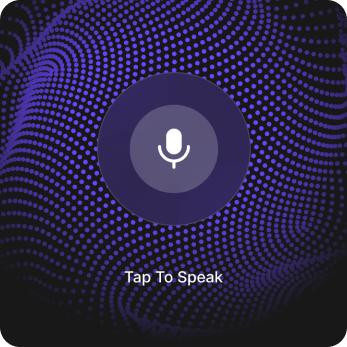 One Touch to Return
Upon fulfilling the delivery request, the robot automatically navigates back to its starting point ready to take another request/s.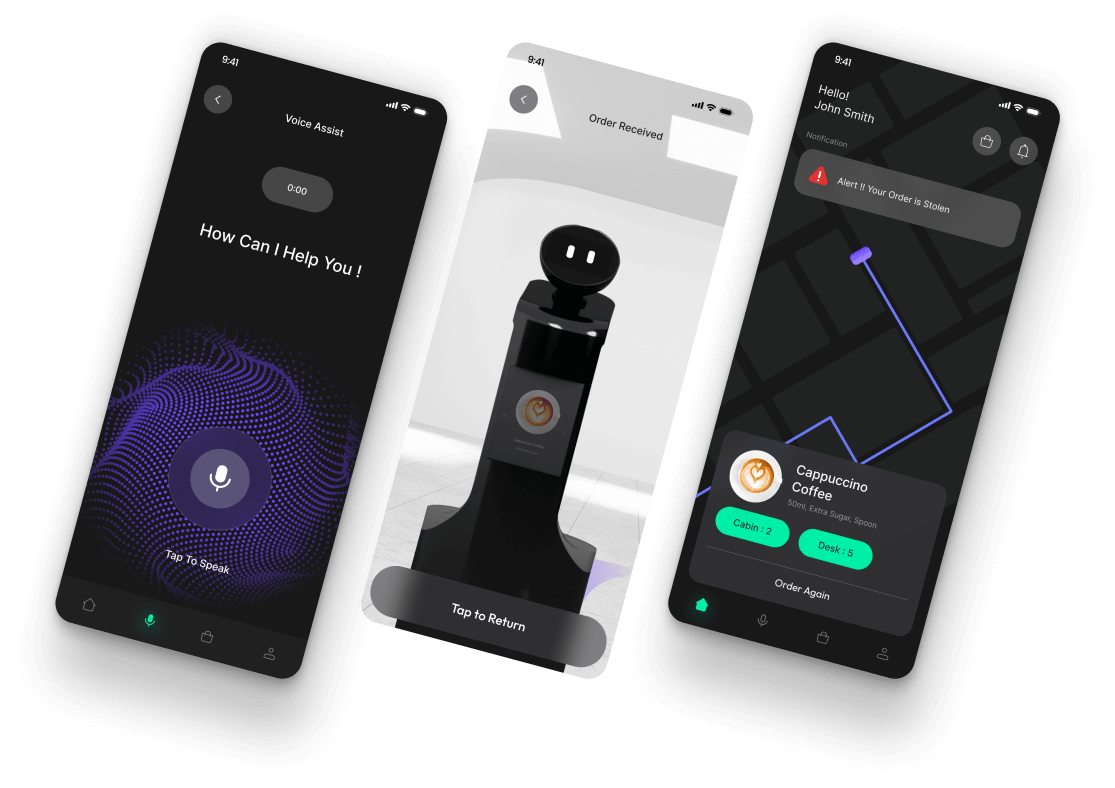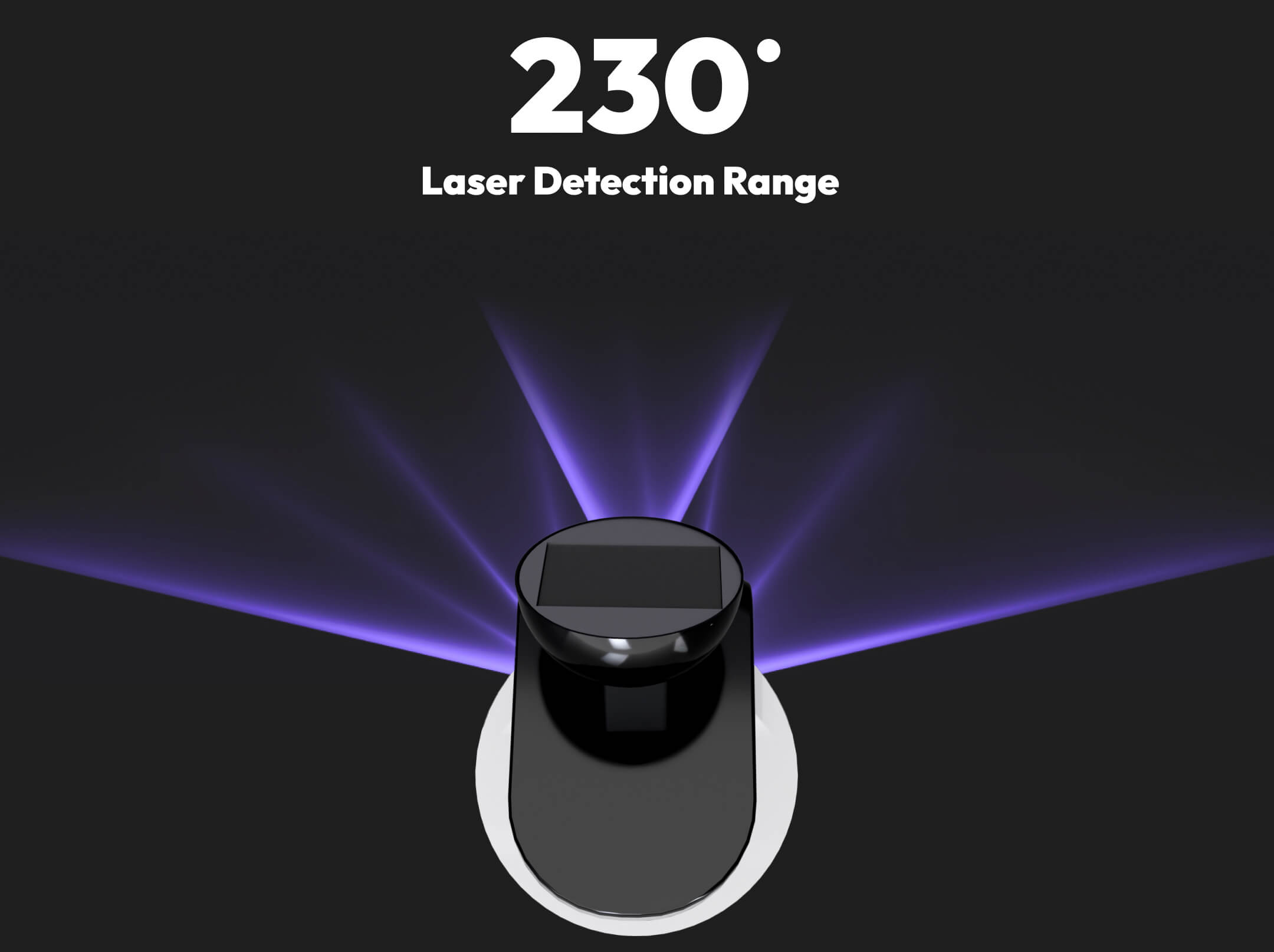 Let's
Grow

and Get

Famous

Together.
Contact Information
Offices

INDIA
2nd floor, J block, Mondeal Retail park, Besides Iscon mall, Iscon cross-road, SG Highway, Ahmedabad, Gujarat 380015

CANADA
60 Capulet Ln, London, ON N6H OB2, Canada

USA
Datamac Analytics LLC, One Financial Plaza, FL 1000, Fort Lauderdale FL, 33394

UK
14 East Bay Lane, The Press Centre, Here East, Queen Elizabeth Olympic Park, London, E20 3BS
#Differentiator
Explore how Kody Technolab is different from other software development companies.
#Startup-How
Download 50+ proven templates and editable frameworks which guide you to build remarkable product