Whenever we buy something, whether from the store or online, don't we compare prices to make sure to get the best deals? Likewise, when it comes to buying cars, there is no exception. Buying a car requires a budget and thus, almost everyone compares the prices to make sure they get the best car at the best possible price. 
Some people don't have enough budget to buy a new car thus, prefer to buy a used car in good condition. While buying a used car, one has to smartly compare the prices to grab the car at the right price. 
Well, to be honest, it's not possible for everyone to visit multiple car showrooms to compare the prices and therefore, some people don't get the best deals. A buy and sell used car mobile app is the solution that enables the users to compare used car prices online and get the best possible deals. 
One app that has helped millions of people to buy a used car at the best price is AutoUncle. It has made it possible for customers to buy a used car after detailed comparison and evaluation. Looking at the need for an app for comparing used car prices, many automobile dealers and startups started developing an app similar to AutoUncle of their own. 
If this app concept seems interesting to you, you can also make an app like AutoUncle of your own. Always remember, if you think, you can. 
We know thinking about app development raises many questions such as how to develop an app like Autouncle, what will be the business model,  how much investment will you require, where to begin, and so on. Afterall, mobile app development isn't child's play. 
Well, this blog is meant to help you provide an answer to all these questions. Beginning with an overview of AutoUncle and its business model, this blog will clear many of your doubts regarding a used car mobile app development. Let's start! 

AutoUncle- an Overview 
AutoUncle is your independent price-checker for used cars. It gathers, compares, and evaluates more than 11 million used cars from more than 1,900 websites in Europe. AutoUncle is very transparent and helps users search and buy the right car through several car portals and dealers' websites. 
With AutoUncle, the users can find the guaranteed best deals and prices. Every car on AutoUncle goes through price evaluation in 5 categories- super price, good price, fair price, a bit pricey, and expensive. 
Moreover, with AutoUncle, the users get the following benefits- 
All used cars from the biggest marketplaces gathered on the app
Price evaluation of all the cars, from super price to expensive
Calculate the trade-in price 
Create and save personal search 
Save and compare favorite cars 
Share used cars through SMS, Facebook, Whatsapp, and email. 
Push notifications about the best deals 
How are prices evaluated on AutoUncle? 
In AutoUncle, the price valuation for each vehicle is calculated by comparing the price of the car according to its model and condition with other similar cars in the market. AutoUncle regularly updates the valuation to make sure the prices are accurate and up-to-date. 
There are many factors to consider while comparing the price of used cars. Here are some of the important factors among them- 
Brand of the car
Model of the car
Mileage and kilometers traveled
Engine size
Fuel type
Body type
Features such as air conditioning or sunroof
Thus, based on these features and many more, the AutoUncle app compares cars, evaluates the pricing of a used car, and offers the best deals to its customers across Europe.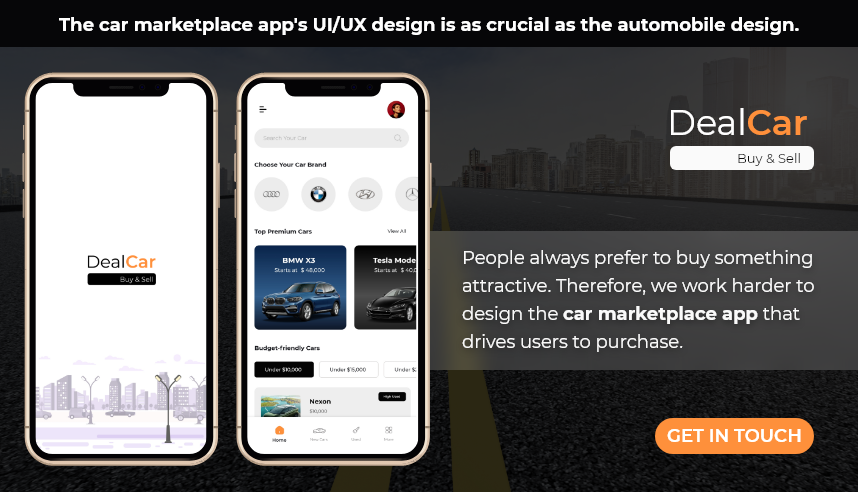 How to develop a car buy and sell app like AutoUncle? 
Developing a car buy and sell app like AutoUncle goes through several important steps. Following these steps will result in a successful car buy and sell app. The first and most crucial step is to hire a mobile app development company that understands your project and your distinct needs. 
Once you hire a reliable team of developers, half of your stress will vanish, and the team will then focus on other necessary steps. 
Let's have a look at the steps involved in developing an app like AutoUncle- 
Market research
This step gives the business owners and startups an insight into the trends of the industry, the performance of the existing competitors, and the target audience. Once you analyze the market well, you can come up with unique and effective solutions in their app. 
Initiate with lean canvas model 
Preparing a lean canvas model will help define the pain points and challenges that might occur during the app development. It works as a guide during the whole app development process. 
Prototyping and wireframing 
Wireframes are the basic layout and guidelines of the app which the developers follow to develop a full-fledged mobile app. On the other hand, the prototype is the app's advanced design and model UI, which enables the developers to test the app's navigation.
App design and development 
Once the app's layout and model UI is ready, the designers focus on the app's design to give it a unique look. The developers focus on the front-end and back-end development of the app. The right design and development result in successful mobile app development. 
Testing and launch
Lastly, the app goes testing and quality assurance before the final launch. Here, the Q A team rectifies any errors and makes the app ready for launch. 

What will be the cost of developing a car buy-sell mobile app? 
You might get multiple answers when it comes to the cost of app development. However, giving the overall estimate might be challenging as there are several factors that affect the variation in cost. You can explore these factors and prepare your budget accordingly.
After exploring these factors, you must note that the app development rates of the developers differ from one country to another. For instance, if you hire an Asia-based software development company, the overall cost would fall between $15,000 to $50,000. This cost is lesser than what other countries charge for their app development services. 
Moreover, you can hire mobile app developers from our renowned, India-based mobile app development company. We promise you a successful app development at prices that fit your budget. 
Let's conclude 
If you want to help people grab used cars at the best deals, you must have thought about a buy and sell used cars mobile app development. If you wish to develop an app like AutoUncle, it's the right time to discuss your project needs with a trustworthy app development team and initiate the app development. 
Trust the potential of technology, and above all, trust your conscience and begin the app development today. Moreover, reach out to us if you want your app development project to be in safe hands. We would gladly help to develop your dream app.
[vc_row el_class="call-us-section"][vc_column][vc_cta h2="Discuss your project with our team. Your project matters to us!" style="flat" add_button="right" btn_title="Call Us!" btn_style="custom" btn_custom_background="#0a0a0a" btn_custom_text="#ffffff" btn_i_align="right" btn_i_icon_fontawesome="fas fa-user-tie" css_animation="fadeIn" btn_add_icon="true" btn_link="url:%23″ btn_el_class="call-to-action"][/vc_cta][/vc_column][/vc_row]