From the country with one of the highest crypto adoption rates, Nigeria, a duo, has launched a startup developing a crypto exchange in 2019. The startup named Busha's vision is to onboard millions of Africans into the crypto economy. And guess what? It has already accrued 200k crypto fanatics on its platform and a whopping 4.2 million in seed funding recently.
It's pretty impressive, right!? So, if you have already started dreaming about developing a crypto startup-like Busha, please hold your horses.
Cryptocurrency exchange development has become a hot startup idea since Bitcoin prices started to soar in 2012. Consequently, the number of cryptocurrencies and exchanges is snowballing. Speaking of which, you have a fair chance to enter the crypto market successfully.
Replicating existing bitcoin exchange business models, however, might not work the same way for you. Putting it simply, you need to pick a target market, study what it lacks, and tailor a business plan to fulfill its requirements.
Let us see how the Busha business model looks to understand this jargon better.

Lessons to learn from the Business Model of Busha
Call it a key to success or secret sauce; startups are all about solving real-world problems. As long as your startup idea solves issues faced by a specific demographic that no one does, your business is going to rock.
And Busha has done exactly what the African demographic needed. Because of the effect of inflation and currency devaluation, Africans struggle to preserve their capital. Not to mention, people with stagnant income constantly look for alternative ways to make money, and cryptocurrencies appear as a way out.
In such excruciating situations, Michael Adeyeri and Moyo Sodipo brought a solution, offering wealth creation and investment opportunities. However, as said earlier, many crypto exchanges are out there, and making another similar wouldn't do wonders. So, how does Busha differentiate itself in the market?
On that note, Sodipo says, "Our approach while the building has always been about customer obsession. We pay so much attention to what our customers want versus what our competitors are doing."
They knew Nigerians prefer services that offer real-time, round-the-clock communication, specifically when it comes to financial services. Banks in Nigeria also offer 24 hours customer support through different channels.
For that reason, they created a crypto service with round-the-clock withdrawals and live chat functionality. Since they offered what their customers wanted, they soon started acquiring more customers through referrals.
How Busha is upfront regarding its fee is worth mentioning. Nigerian crypto giant charges only 1% per transaction and assures no hidden fees.
Altogether, you need to specify a target location and audience and customize your cryptocurrency exchange business model to meet their expectations. Furthermore, investing in crypto can be challenging without knowledge. Hence, offering an in-app learning space with crypto investment lessons can attract more users.
We have scrutinized the Binance business model also, just in case.

Features that cryptocurrency startups like Busha must consider
To build an accessible mobile crypto exchange platform, you need unique features included in your project requirements. Features are to carry out the user journey smoothly with a delightful experience.
Speaking of user experience, founded just a couple of years ago, Busha launched a revamped version of the app. It now enables automated recurring buys of cryptocurrencies, following the basis of the dollar-cost averaging investment strategy, investing the same amount every time. In addition to recurring crypto purchases, Busha provides its users with the below functionalities.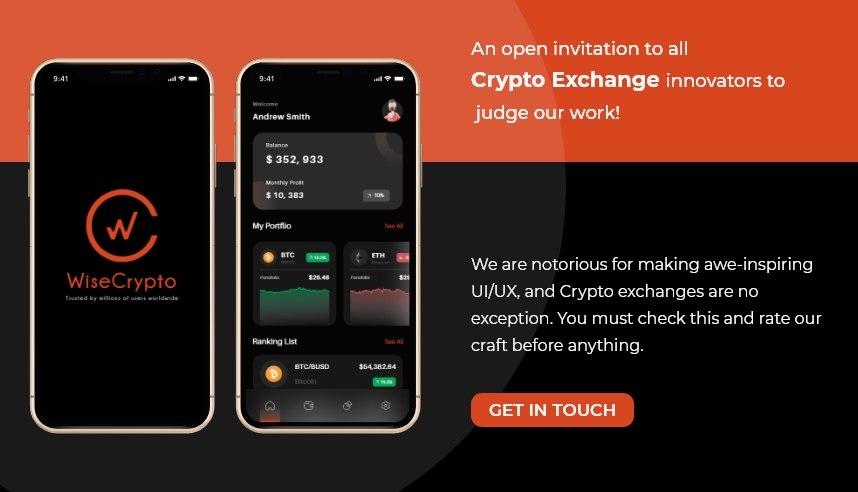 Buy-sell cryptocurrencies
Trade Instantly: Users can withdraw fiat from a bank account and deposit it into Busha wallet and buy crypto instantly. The wallet also supports selling and swapping within assets and withdrawing fiat or crypto externally.
Schedule Recurring Buys: Users can choose recurring crypto buys every day, week, or month, conveniently. It also lets users monitor their average gains in real-time.
Set Limit Orders: It's a prominent feature to let users place a buy or sell order at their preferred price.
Save and Earn Interest: This feature enables users to earn interest on their crypto.
Other features to consider in your crypto exchange development include:
Invest in multiple Crypto assets
Loan against digital assets
Spend crypto on selected online and offline retailers/small businesses
Peer-to-peer crypto buy-sell
High-level of security with KYC and regulation compliant
Round-the-clock customer support
You must also read—P2P Cryptocurrency Exchange App Development From Idea To Solution.

Cost to develop an app like Busha: How much money does a startup crypto exchange require?
After bootstrapping for almost three years, Busha has received groundbreaking funding in their seed round. Meaning, when your crypto exchange starts gaining traction, it will find its way out to get financing. Nevertheless, entrepreneurs are required to bootstrapping during the initial stages.
Though bearing app development costs of high-functioning crypto exchange can soak you in debt. Given there are a number of factors affecting the development cost. On top of that, integrating technology like Blockchain might raise the budget and time. Although, the estimated cost of developing an app like Busha ranges from $15000 to $50000 and beyond.
So, if you have a tiny budget and your idea has the potential to rise and shine in the targeted market, build an MVP. Minimum Viable Products tend to have inevitable features and minimalist designs. Hence, developing an MVP of your crypto exchange app idea is quick and takes fewer resources.
Benefits? You will have a working crypto exchange to attract investors and have feedback from early adopters to improve its final version.
Ready to make an app like Busha?
Cryptocurrencies are indeed the future currency, and the finance sector is also leaning towards Defi. However, for surefire crypto exchange, you must include visionary functionality.
If you are more into creating an exchange compatible with multiple cryptocurrencies and virtual assets with an optimum user experience, hire blockchain proficient app developers. Here, I would love to brag about our team that includes business analysts, designers, developers, testers. In short, we back our clients up with a complete app development cycle.
And we also offer Bitcoin Exchange App Development For Those Who Want To Be Billionaires.