As the world continues to embrace cashless transactions and digital payments, the financial technology (FinTech) industry is continuously evolving to meet the changing needs of consumers. One of the latest trends in the FinTech space is the Buy Now Pay Later (BNPL) app.
It's perfect for those who want to buy things they can't afford and pay in installments over a period of time. And for businesses, it's a surefire way to increase sales by offering an attractive payment option to their customers.
But let's not kid ourselves; developing a successful BNPL app isn't easy. There are challenges that startups and entrepreneurs in the FinTech space need to overcome. But fear not, because I have leveraged my 10+ years of FinTech market experience to design this guide meticulously, aiming at satisfying all your curiosity about BNPL app development.
So, stick around! You'll learn about BNPL's definition, development, and how to become a market leader in the FinTech space. We'll also give you tips on how to compete in a crowded market, as well as showcase some top-notch BNPL app solutions that are an idol for FinTech startups, entrepreneurs, or companies looking to upgrade their existing solutions.
So buckle up and get ready to enter the world of BNPL app development!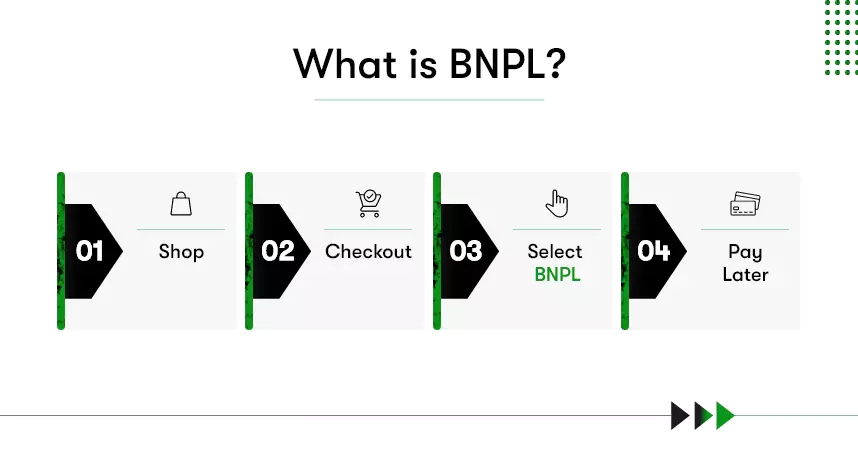 What is a Buy Now Pay Later app solution?
A Buy Now Pay Later (BNPL) app solution is a financial technology platform that allows customers to purchase goods and services with the option of paying in installments over a set period. Essentially, BNPL will enable customers to defer their payments. Consequently, buying goods and services becomes more accessible for those who cannot afford to pay the total amount upfront.
Suppose there is a global electronic devices supplier, and vendors across the world procure hundreds and thousands of devices from him. However, some of them cannot afford to pay the full amount at the time of procurement. This is where a BNPL service comes into play.
Suppliers can offer an additional payment method, i.e., BNPL. So, when such a vendor makes a purchase from the supplier, they can choose the Buy Now Pay Later payment option. Now, the BNPL service provider will pay the vendor's purchase amount to the supplier and complete the procurement process on the platform.
The vendor will receive his order and be entitled to pay to BNPL service provider in pre-decided installments. And if the vendor misses paying on time, the BNPL service provider may charge a certain interest. Speaking of which, Buy Now Pay Later apps can also charge a minimal service fee from the supplier.
How does the BNPL solution work?
To understand how the Buy Now Pay Later app works, let us take an example of the world-famous BNPL app solution, Klarna.
Payment option at checkout: When a customer is making a purchase online or in-store, they can choose Klarna as their payment option during checkout.
Klarna pays the merchant: Once the customer selects Klarna as their payment option, Klarna pays the merchant for the full amount of the purchase.
Customers pay in installments: Instead of paying the full amount upfront, customers can pay for their purchase in four interest-free installments. The first payment is due at the time of purchase, and the remaining three payments are due every two weeks.
Customers can pay over a longer period: Customers also have the option to pay over a longer period with interest, depending on the merchant and the terms of their agreement with Klarna.
Klarna assumes the credit risk: Klarna assumes the credit risk of the transaction, meaning that if the customer fails to pay, Klarna is responsible for collecting the debt from the customer.
Customers can manage their payments: Customers can manage their payments, view their payment schedule, and make payments through the Klarna app.
So, the BNPL apps like Klarna, AfterPay, etc., work somewhat similarly offering a win-win solution for customers and merchants alike.
Why are BNPL solutions trending?
Same as you, we also were in awe of what is so magnetizing in BNPL. It has hooked businesses', retailers', and customers' attention. So, we studied and studied until we hit rock bottom. And found several impressive reasons, proving Buy Now Pay Later is the real sigma.
Convenience is key
Let's face it, we all love the ease of online shopping, but sometimes the sticker shock can be a real downer. With BNPL, shoppers can split the cost into smaller, more manageable payments, making those must-have purchases a lot more attainable.
It's all about the Benjamins
Speaking of attainable, BNPL can also be a real boon for retailers. By offering this payment option, they can attract more customers who might have been turned off by the idea of dropping a lot of cash upfront. Plus, they can make more sales without worrying about the risk of chargebacks or late payments.
FOMO is real
Let's be honest; nobody wants to miss out on the latest and most significant trends. With BNPL, shoppers can stay on top of the latest fashion, tech, and more without breaking the bank. And who doesn't love staying on-trend without a pesky price tag?
Interest-free is the way to be
Many BNPL providers offer interest-free options. This offering can be a real game-changer for shoppers who want to spread out their payments without incurring extra fees. It's like having your cake and eating it too!
That said, it's clear that BNPL is the future of payment methods.
What is the business model for a BNPL solution?
The business model of a BNPL solution offers consumers the option to make purchases and pay for them in installments. The BNPL provider pays the merchant upfront, and the consumer then repays the BNPL provider in installments. Typically for a few weeks to a few months.
The BNPL provider earns revenue by charging the merchant a fee for each transaction. They may also charge consumer interest or fees for late payments. The key to success in the BNPL industry is providing an attractive value proposition for both consumers and merchants, ensuring responsible lending practices.
Let us plunge into various aspects of the BNPL business model to clear your fundamentals about Buy Now Pay Later app development like Klarna.
Key Features in BNPL Solution
Here are the essential features to consider while developing a BNPL solution of your own.
Quick and Easy Sign-Up – Allow users to sign up for the BNPL service quickly and easily using their mobile devices.
Seamless Checkout Integration – Integration with merchant checkout systems for a seamless payment experience.
Personalized Payment Schedules – Offer users personalized payment schedules that align with their pay periods.
Instant Credit Approval – Enable instant credit approval to streamline checkout and increase conversion rates.
Interest and Fee Calculators – Provide users with tools to calculate interest and fees associated with BNPL purchases.
Credit Score Monitoring – Offer users the ability to monitor their credit score to help them make informed financial decisions.
Fraud Detection and Prevention – Incorporate fraud detection and prevention measures to protect users and merchants from fraudulent activity.
In-App Customer Support – Provide users with in-app customer support options to address any issues or concerns.
Budgeting Tools – Offer users budgeting tools to help them manage their finances and stay on track with their payments.
Loyalty Programs – Integrate loyalty programs to incentivize users to purchase more and increase customer retention.

Business Model Canvas
The Business Model Canvas is a strategic management tool that can be used to define and communicate the key elements of a business model. For a Buy Now Pay Later (BNPL) application, it can help you analyze the key components of the business model.
So, let's drill down the business model canvas for BNPL app development that can be divided into nine sections:
Customer Segments – Identify the target audience for the BNPL application, such as online shoppers or brick-and-mortar retailers.
Value Proposition – Define the unique value proposition of the BNPL application, such as providing flexible payment options and convenient checkout.
Channels – Identify the distribution channels to reach the target audience, such as partnering with eCommerce platforms or integrating point-of-sale systems.
Customer Relationships – Define the types of relationships that will be established with customers, such as providing personalized support and offering loyalty programs.
Key Activities – Outline the key activities required to successfully run the BNPL application, such as underwriting, risk management, and customer service.
Revenue Streams – Identify the various revenue streams that will be generated, such as transaction fees or interest charges.
Key Resources – Identify the key resources required to support the BNPL application, such as technology infrastructure and human capital.
Key Partnerships – Define the key partnerships required to support the BNPL application, such as partnering with banks or financial institutions.
Cost Structure – Identify the various costs associated with running the BNPL application, such as technology development and compliance costs.
By filling out each section of the Business Model Canvas, you can identify the key elements of its business model. And can also ensure that all areas are adequately addressed to create a successful business model.
By the way, we also have designed a guide on how to build a banking app, just in case.
Top Industries to witness a great demand for BNPL app solutions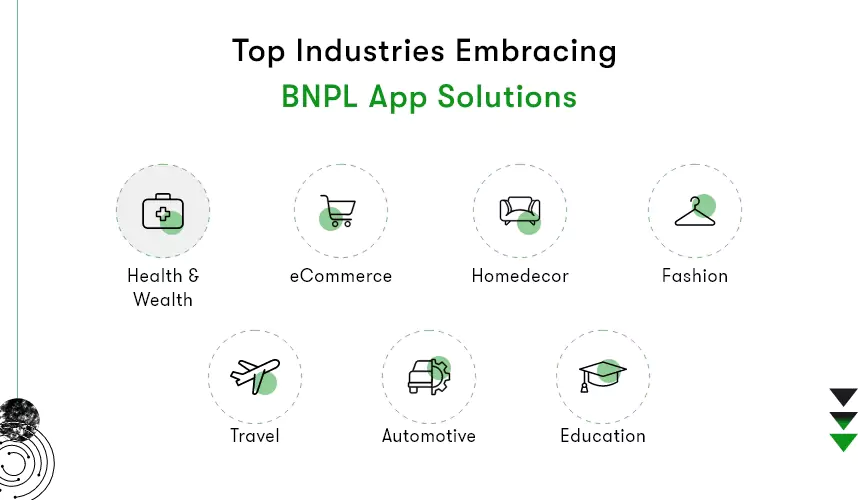 From e-commerce to travel and everything in between, BNPL app development doesn't seem to disappoint any industry. By offering customers a flexible and convenient payment option, businesses can increase sales, attract new customers, and improve customer loyalty.
Let us explore some of the industries that stand to benefit the most from BNPL app development and how they can use these solutions to drive growth and revenue.
eCommerce
BNPL solutions can help online retailers increase conversion rates and reduce cart abandonment by providing customers with a flexible and convenient payment option.
Fashion
With BNPL solutions, fashion retailers can encourage customers to purchase more items and increase average order value by offering payment plans. It's the best way to let fashionistas have new outfits, even if their wallet disagrees at the moment.
Home Decor
It's an excellent solution for furniture & decor companies seeking to increase their sales and attract new customers by making large purchases more affordable. And no one would have to look into their bank account before redecorating their homes.
Travel
Offering buy now, pay later options for trips to make breaks affordable for everyone, you can boost your travel company's bookings, revenue with this solution, and customer satisfaction.
Health and wellness
BNPL solutions can be a real hero when someone needs an urgent treatment but lacks enough budget. On the other hand, it helps health and wellness businesses increase revenue and customer loyalty by providing a way to pay for services over time.
Automobile
BNPL solutions can help auto repair and upgrade businesses increase sales and customer satisfaction by offering a flexible payment option.
Education
BNPL solutions can help educational institutions increase enrollment and student satisfaction by providing a way to pay for tuition and other expenses over time.
BNPL has befriended all Industries!
That said, businesses from any industry can provide customers with a more convenient and flexible way to make purchases while also increasing sales and revenue by integrating BNPL solutions.
Well, it is just one way to leverage the Buy Now Pay Later Solution.
Now, let's think the other way around. What if you are developing a Buy Now, Pay Later app? In that case, you can be in as many industries as possible by partnering with such businesses to offer BNPL solutions to their customers. We will explore this topic more, but first, wrap your head around what you should do and avoid during the BNPL development.
What to Do and What to Avoid When Developing Your BNPL APP Solution
Developing a successful Buy Now Pay Later (BNPL) app requires careful planning and attention to detail. However, you can also analyze other solutions and understand what you should do and don't, just like we deduce after studying the market.
By following these dos and don'ts, you can create an app that is both user-friendly and financially responsible while also building trust with your customers.
BNPL app development Dos:
Offer a simple and easy-to-understand user interface to make it easy for customers to use your BNPL app;
Provide transparent and clear information on the terms and conditions of BNPL plans, including interest rates and fees;
Use data analytics and machine learning to personalize BNPL plans for each individual customer;
Make it easy for customers to manage their BNPL plans and make payments through the app;
Prioritize security and data privacy to ensure customers' financial information is protected.
BNPL app development Don'ts:
Never hide important information in fine print or legal jargon – customers should have a clear understanding of what they're signing up for;
Since it's not a credit card service, avoid relying solely on credit checks to assess a customer's creditworthiness – consider other factors like spending habits and income.
DON'T offer unrealistic repayment plans that could put customers in a difficult financial situation.
Do not neglect customer support – provide multiple channels for customers to get help if they have questions or issues with the app.
DON'T compromise on security and data privacy or overlook regulations – customers need to trust that their financial information is protected.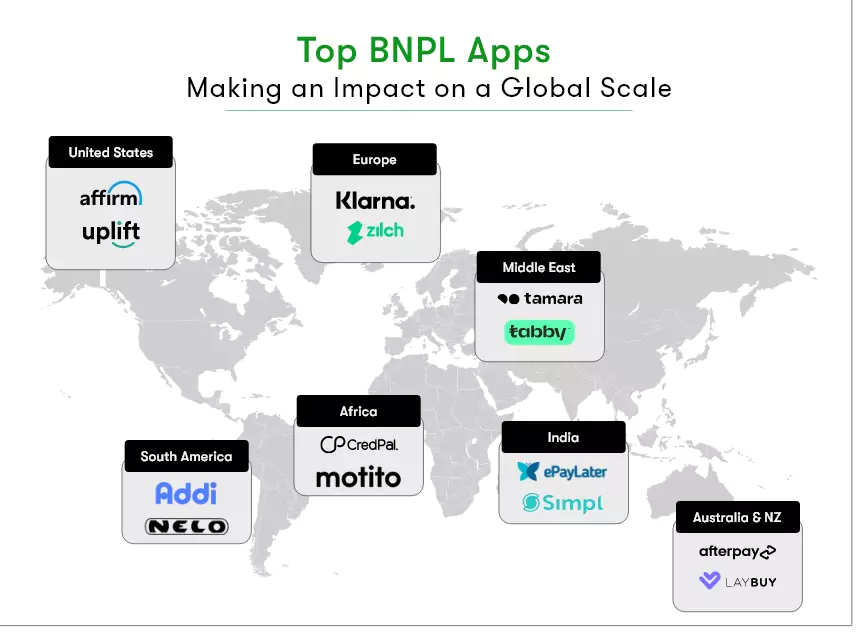 Top BNPL Apps & Their Funding Details
Now, get ready to be inspired by some of the top BNPL solutions from around the world! Whether you're a Fintech enthusiast looking to develop your own app or just curious about the latest trends in the industry, these apps are sure to impress. We'll explore famous BNPL apps in different continents of the world with the funding details of each app. So, you can see how potential this microfinance app solution is.
| | | | |
| --- | --- | --- | --- |
| App Name | Country | Founding Year | Total Funding |
| Affirm | San Francisco, US | 2012 | $1.5B |
| Uplift | Menlo Park, US | 2014 | $689M |
| Quadpay (now Zip) | Greater New York, US | 2017 | $893.6M |
| Klarna | Stockholm, Sweden | 2005 | $4.5B |
| Zilch | London, UK | 2018 | $389.3M |
| Alma | France | 2018 | €271.5M |
| Tamara | Riyadh, SA | 2020 | $215.6M |
| Tabby | Dubai | 2019 | $394M |
| Addi | Bogota | 2018 | $376.3M |
| Nelo | Mexico | 2019 | $123M |
| CredPal | Legos | 2018 | $16.8M |
| Motito | Ghana, Africa | 2020 | $144K |
| ePayLater | Mumbai, India | 2015 | $15.7M |
| Simpl | Bangalore, India | 2015 | $71.7M |
| AfterPay (Acquired by Square ) | Melbourne | 2014 | $448.7M |
| LayBuy | Auckland | 2016 | $130.9M |
| Brighte | Sydney | 2015 | $306.5M |
| FinAccel | Jakarta | 2015 | $260M |
| TendoPay | Philippines | 2019 | $150K |
Opportunities BNPL solutions Offer to Companies
For FinTech companies and startups, building a BNPL app can be a smart way to tap into the growing demand for this payment option and carve out a niche in a fast-growing market. With the right features and user experience, a BNPL app can become a go-to payment solution for customers worldwide.
Increased customer loyalty: By offering customers a BNPL option, you can make their purchasing experience more convenient and increase the likelihood that they will return to your business.
Higher conversion rates: BNPL solutions have been shown to increase conversion rates, making it easier for customers to make purchases by spreading out the cost.
Increased revenue: With more people buying your products or services, your business can generate more revenue and ultimately grow faster.
Competitive advantage: In today's market, having a BNPL solution can help you stand out and attract more customers to your business.
Access to valuable data: By offering a BNPL solution, you can gain valuable insights into your customer's purchasing habits and use that data to make more informed business decisions.
On the other hand, customers are demanding more BNPL app solutions for various reasons.
Flexibility: BNPL solutions offer customers greater flexibility in paying for purchases, allowing them to spread out the cost over time rather than paying all at once. This can make it easier for them to manage their budgets and make purchases they might not otherwise be able to afford.
Convenience: BNPL solutions are typically straightforward to use and can seamlessly integrate into online checkout processes. This convenience can make the purchasing experience more enjoyable and hassle-free for customers.
No interest or fees: Many BNPL solutions offer interest-free or low-fee payment options, making them a more attractive alternative to traditional credit cards or loans.
Transparency: Unlike credit cards, which can come with hidden fees and confusing terms, BNPL solutions are often very transparent about the fees and repayment terms involved. This can make them more appealing to customers who want to avoid surprises down the road.
Access to credit: For customers who may not have access to traditional credit options, BNPL solutions can provide a way to make purchases and build a credit history. This can be particularly important for younger or lower-income customers who may have limited credit options.
Potential Challenges in BNPL solution
Well, developing a BNPL solution is not a walk in the park. There are some potential challenges you should be aware of. For instance, building a reliable and secure platform that can handle many transactions requires significant investment in infrastructure and technology. Not to mention, meeting compliance and regulatory requirements can be a real headache.
Moreover, competition in the BNPL space is heating up, with established players like Afterpay and Klarna dominating the market. So, developing a unique value proposition and standing out from the crowd can be challenging.
Another challenge is managing credit risk and ensuring customers can repay their debts. This is particularly important since late or missed payments can impact your business's revenue and reputation. Some other challenges you must be aware of and plan beforehand include the following;
High investment in infrastructure and technology to ensure a reliable and secure platform;
Meeting compliance and regulatory requirements can be a real headache.
Tough competition in the BNPL space from established players like Afterpay and Klarna;
Developing a unique value proposition that stands out from the crowd;
Managing credit risk and ensuring customers can pay back what they owe;
Late or missed payments can impact your business's revenue and reputation;
Building trust and credibility with customers who may be wary of using BNPL services;
Maintaining profitability while offering competitive rates and fees;
Addressing concerns about potential negative impacts on consumers' financial well-being;
Adapting to changing customer needs and preferences over time.
To overcome these challenges, it's important to conduct thorough market research, understand your target audience, and create a robust strategy that addresses these challenges is important. It may not be easy, but with the right approach and mindset, you can build a successful BNPL solution that customers will love!
How to develop your own BNPL solution?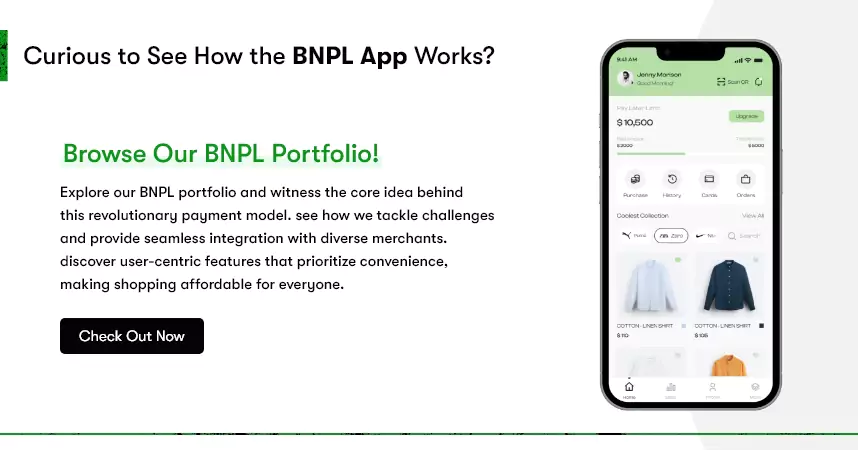 Select the Business Model
Selecting the right business model is the first step toward developing a BNPL solution. Are you going for B2B or B2C? The choice is yours, but remember that you can't please everyone!
B2B — B2B stands for "Business to Business" and refers to apps that are sold directly to businesses, like retailers or manufacturers.
B2C — B2C stands for "Business to Consumer" and refers to apps that are sold directly to consumers, like individuals looking for a loan or credit card balance transfer.
B2B is a smart choice if you want to cater to businesses looking to offer BNPL solutions, while B2C is suitable if you want to target individual customers. This choice completely depends on who you want to target and serve with your solution. So, choose wisely and don't get caught in a dilemma!
What is different between B2B and B2C BNPL?
The key difference between both models is the size of transactions. B2C BNPL apps usually have a smaller amount of transactions as it facilitates individual customers to buy their stuff now and pay later. If you want to develop a BNPL app like Klarna, Affirm, or AfterPay, B2C is the business model to follow.
On the other hand, B2B is an often overlooked business model that revolutionizes B2B payments. It allows brands and companies to divide the purchase costs over a period of time for buyers while sellers receive the full payment immediately.
If you want to know more on B2B Buy now, pay later solution read: B2B Buy Now, Pay Later Solution & How it works!
Whether to keep One-time pay or Installment Pay?
What's the difference between one-time pay and installment pay? You might be thinking, "It's obvious!" But wait, don't get ahead of yourself. With one-time pay, customers pay the entire amount upfront.
With installment pay, they pay in installments over a period of time. Sounds simple, right? But you need to know the right time and place to offer these options to your customers. That can only be known by studying your market, which may differ from one country to another.
Understand the market (Buyer & Seller)
To build a successful BNPL app like Klarna, it is essential to understand the market in which you are operating.
Understanding the market is crucial. You need to research your target market to know how often they make purchases and the amount they spend on them. What's the market size? How many are other similar apps out there? You need to know these things to stay ahead of the competition.
Frequency – You need to research your target market to know how often they make purchases, what device they use to purchase, and what kind of products or items they wish to buy now but prefer to pay for later.
Amount – Studying what is the average transaction size of your ideal customers as well as whether they use similar apps for mall transactions or for more significant purchases, will help you strategize your offering with a personalized touch for your audiences.
Market size – Before starting your BNPL app development, address questions such as What is the potential market size for your app? Is it worth investing in? To avoid common challenges, you would face post-launch of your app.
Variety of similar apps – You should also analyze the competition and the type of existing similar apps. For instance, if you are launching an app in a market where there are already established BNPL players, you need to ensure that your app offers a unique value proposition that can differentiate it from others.
List out the Key Features
This is where your creativity comes in. What unique features can you offer? For instance, allowing users to split the payment among their friends or offering customized payment plans can set you apart.
Also, refer to the key feature set we list out earlier in the blog to get help and innovate your BNPL app features list.
Get Estimation
Getting an estimation for your BNPL app development project is like ordering pizza without knowing the toppings you want. You might end up with a meat lover when you're a vegetarian. But fear not; you can avoid this tragedy by considering key factors such as technology stack, required features, and the pizza – I mean app – size. This will help you get an accurate cost estimation and ensure you don't end up with a bad taste in your mouth.
So far, you have an understanding of basic features and that you want to come up with unique features as your USP. So, let us now understand the technology part. What is the optimum technology stack for developing a Buy Now Pay Later app solution like AfterPay or Klarna?
Technology stack to build a BNPL app like Klarna
For your BNPL app to succeed, you need to choose a tech stack that is both powerful and flexible enough to handle a large volume of transactions. One excellent option is Flutter, a popular open-source mobile application development framework that offers a range of powerful features, including widgets, APIs, and a robust SDK.
Additionally, for server-side development, you can consider using technologies such as Laravel, Ruby on Rails, or Express.js, as well as databases like MySQL or MongoDB to store and manage data efficiently. With the right technology stack in place, you can be confident that your BNPL app will perform at its best, providing your customers with a seamless and hassle-free shopping experience.
How do you find the right development company for BNPL app development?
Ahem, selecting the development company is paramount. You don't want to go with any old ragtag team of amateurs, after all. No, no, no! You want to ensure the team is strong enough to carry your BNPL app development to the finish line.
Here are some factors to consider when selecting a Fintech app development company:
First, look at the team's strength – This includes the team size, their level of expertise, and the kind of work they have done in the past. A good development company should have a well-equipped team to handle the complexities of developing a BNPL app.
Next, consider the development cost – You want to find a company that is within your budget and also provides quality work. Don't go for the cheapest option and end up with a sub-par product, but don't overspend, either.
Long-term visibility is another important factor to consider. Look for a development company with a long-term vision for your app and can provide ongoing support and maintenance even after the app is launched.
Relative experience is also essential. Find a development company that has experience in developing similar apps in the past. They will be better equipped to understand your business needs and provide insights to make your BNPL app stand out.
Design capabilities are also critical to the success of your BNPL app. The design of your app can impact user experience, so it's important to find a development company with a good eye for design.
Support terms and flexibility are also key factors when selecting a development company. Ensure the development company has a clear support plan for your app post-launch and is flexible enough to accommodate any changes you may want to make in the future.
Development review
This stage involves thoroughly reviewing your BNPL app to check for any bugs, glitches, or technical issues that must be fixed before the app goes live. The team of BNPL app developers should test the app on different devices and operating systems to ensure that it is working correctly.
QA & Improvement
After identifying the issues in the development review stage, the development team must work to fix them and make necessary improvements. This stage ensures your BNPL app is optimized for high performance and delivers a seamless user experience across various devices.
Deploy on a Cloud Server
Once your BNPL app has passed the development review and QA stages, it is time to deploy it on a cloud server. This step ensures that the app can handle high traffic and offers uninterrupted service to users. Deploying on a cloud server also provides scalability, which is crucial for a BNPL app to handle a large number of transactions.
How much does it cost to develop a BNPL solution?
Don't let all Buy Now Pay Later app development hype overwhelm you and make you forget about the investment you will need to make. Developing a BNPL solution is no joke, and the cost of developing a BNPL app solution can vary depending on several factors. Here are a few things to consider:
Features
The more features your app has, the more it's going to cost to build a Buy Now Pay Later application. Do you want one-time pay or installment pay? Want to integrate multiple payment gateways? Do you want to have a referral program? The possibilities are endless.
Technology
The technology stack you choose can affect the cost. Are you going to use Flutter to develop iOS and Android apps simultaneously, or will you develop apps natively using Objective-C and Kotlin? Each technology has its pros and cons, and each can affect the cost differently.
Team strength
The bigger the team, the more it's going to cost. Do you want a full-stack team or just a few developers? Besides, how do you want to employ them on a part-time, full-time, or on a contract basis? The best option is to outsource your project or hire a dedicated mobile app developers team from an offshore software agency like Kody Techhnolab.
Development time
The longer it takes to develop your app, the more the BNPL application development cost. Here you need to consider factors that can increase or delay the development time. For example, your BNPL app is ready, but quality testing resulted in numerous bug fixing and performance enhancements. That's why we at Kody Technolab practice an agile methodology to enhance your app's time to market, offering room for performance enhancement as well as important changes.
Design
Do you want a basic or a fancy design? The more elaborate your design, the more it's going to cost. Of course, it will take time for designers to serve your design changes and tailor the app to look as you want. And more working hours equal more costs.
Overall, the cost to develop a BNPL solution can range from $30000 to $100,000, depending on the factors mentioned above. It's crucial to work with an experienced development team to get an accurate estimation and ensure that you stay within your budget.
How to launch your Buy Now Pay Later App solution?
Launching a BNPL solution can be a daunting task, but don't worry; we're here to make it fun and exciting! So, let's get started.
Selecting the market
Choose a market that is both profitable and aligns with your brand. It's like picking the perfect outfit; it has to look good and feel comfortable simultaneously!
Have a supportive team
You need an operation team to ensure everything is running smoothly. Depending on the size of your business, there could be various teams: a marketing team to market your app, a support team to deal with questions and concerns of customers, a development team to create your solution, and an executive team to ensure everything is on track.
It's like creating your own version of the Avengers, but instead of saving the world, you're saving people from high-interest rates.
Have a sound onboarding strategy
You don't want users to feel lost and confused like tourists in a foreign country. Instead, make them feel like a local with your user-friendly onboarding process. You can offer an interactive app tour when they successfully register or an animated video to educate them about your app functionality.
Define your KPIs success metrics
Metrics help you measure your app's progress and success, just like how you measure your height on the wall during your teenage years. Some of the crucial Key Performance Indicators to measure your BNPL app success are
Mobile App Downloads
Numbers of Installs and Uninstalls
DAU – Daily Active Users
MAU – Monthly Active Users
Churn Rate
Conversion Rate
Retention Rate
Average Screen per Visit
Average order value
Reviews and Ratings
Now let us move on to the post-launch care for your BNPL app and explain how to ensure you achieve all of the goals and meet the KPIs you set.
Reduce the friction
A Baymard Institute survey discovered that if the checkout process takes too long or is complicated, about 17% of shoppers will abandon their shopping carts. So, making your checkout process is not an option but a necessity. Therefore, you have to ensure there is no possible hiccup to conflict or sway away your users.
Set up Aggressive Goals
FinTechs are adopting the Buy Now Pay Later trend quite aggressively, which makes it even harder for BNPL startups to earn recognition in the market. Hence, you need to be assertive when setting up goals and KPIs that measure your app's success. You can consider the SMART formula as well, which stands for – Specific, Measurable, Attentive, Relevant, and Time-bound.
Hire a Marketing Agency
When users are satisfied with your BNPL app service, they will naturally suggest your app to their friends. So, yes, word of mouth is a fantastic organic way to market your product. But until you start gaining users, there is nothing wrong with trying the latest marketing tactics to reach your target audience.
For example, Social Media Marketing is quite trending. And everybody knows social media is widely used by millennials and Gen-Z, while a study says 75% of BNPL users are also millennials and Gen-Z, which makes social media marketing a must for your BNPL app.
You can also employ a marketing agency to help you develop a comprehensive marketing plan that considers your app's unique characteristics and the needs of your target customers.
Iterate campaigns
It's important to iterate your marketing campaigns and strategies regularly to keep up with changes in customer preferences and market trends. This means that you should continuously evaluate the effectiveness of your marketing campaigns and make changes to improve their performance.
Improve the solution based on Feedback
At last, it is crucial to listen to customer feedback and use it to improve your BNPL app. You can collect feedback through surveys, user reviews, and other methods and use it to identify areas for improvement. This can help ensure that your app meets the needs and expectations of your target customers.
Time to take action toward your BNPL App Development!
After a thorough analysis of the BNPL app development, it is clear that the technology is rapidly growing and evolving. Such an app could help streamline payment processes, attract new customers, and increase customer loyalty. Additionally, BNPL apps could provide customers with more options and greater transparency when it comes to their payment options.
For businesses, the ability to offer BNPL as a payment option could open up new sources of growth and attract a larger customer base. However, launching your BNPL app can be quite an adventure, filled with obstacles and challenges that make even the most daring entrepreneur quiver in their boots.
But with the right custom software development team, the right market, and the right technology stack, you, too, can be the proud owner of a successful BNPL app. Just remember to reduce the friction, set aggressive goals, hire a marketing agency, iterate the campaigns, and improve based on feedback… or not; I mean, who needs success anyway? It's all about the journey, right?