The on-demand concept has been widespread in many businesses covering almost all types of business niche, from ordering food to groceries and from getting your medicines to getting your car services done. Most of the companies are adopting this new age concept to add digitization into their business. Many companies are also adopting other popular ideas into their business and gaining popularity.
However, just copying the popular app idea is not enough. If you are willing to develop an on-demand delivery app, you must consider that there are many drawbacks connected with just copying such concepts. Let's say, for example, the gigantic Uber for delivery miserably failed.
Do you know why?
The reason being the company build the app on a premium versions base, and they thought people wouldn't mind spending more money to get their deliveries faster.
However, this presumption led the company to shut down the business model. Developing an On-demand application for your business is not easy at all; you have to do more than just copying a concept. So, what else can you do? What other factors can you look up to? In this blog, we will discover all the aspects of developing an on-demand delivery application.
As the demand for developing delivery applications increases, the companies are trying hard to develop the best and reliable online delivery apps.
Before jumping to anything else, you have to ask yourself these questions.
How do you distinguish your app from others?
What are your on-demand services? And if you are an upcoming startupper, then what you offer should differentiate from others?
Can't find the answer? Well, you don't have to worry because we are going to help you find solutions.
We have taken Favor as an example; from the past few months, this company is snowballing. The favor was founded in 2013 in Austin, Texas, and then the success took them to cover more cities like Dallas, Denver, and Huston. The company has reportedly raised $13 million funding, and now they are planning to expand the business countrywide. Now you must wonder how they did it and what made them stand different from others, right? Let's see.
What is Favor?
Favor is a one-stop solution for users who want to buy anything and get it delivered in a couple of hours right from groceries to medicines. Now getting things on an urgent basis is something that differentiates Favor from others.
As mentioned above, you need to differentiate yourself from the competitors around to mark your presence. Favor stands out in the immediate delivery of products and thereby gained so much popularity.
How is Favor different from other delivery apps?
Here is why favor has become a whirl ever since it was launched. Favor has a unique feature called "Personal assistant," which makes Favor stand different from others.
How does Favor's personal assistant work?
The founder of Favor claims that this feature is the core strength of their company, and it is nothing but a team of personal assistants. The company has a team of personal assistants who delivers all the items. This feature adds a personal touch to the business model and ensures customers' reliability. And overall, this makes the service experience more appealing.
What Favor offers?
If we talk about what Favor offers, then fast delivery and instant order will be on the top of the list. The moment a customer places an order on the app, Favor will deliver it within a couple of hours. In some central areas, they provide everything within just a few minutes.
Now, that is something no other apps offer; you have to wait for days to get your orders, and that isn't very pleasant. If you want your orders on certain days, then you have to order it prior to that.
The food department in Favor app is most fabulous, and it is fast and most reliable as you get it pretty instantly.
If you are thinking about developing an app like Favor, then the first thing you need to know is how it works? What are the features and functionality that Favor offers? Let us understand the features and functionalities of Favor for your better understanding.
Features and Functionality of Favor
The registration process with social media integration
Log in or Sign up via email or phone.
Browse through the created list or menus.
Place an order from various associated restaurants, Walmarts, and malls.
The Favor app shows unique status bar where you can directly connect with the Runner (The delivery person at Favor are called "Runners")
Geolocation tracking system
Various payment methods, you can also tip the runner via the app.
Real-time message and calls
What are the characteristics you'll need to develop an On-demand delivery app like Favor?
Mobile user experience
Quick order placement
Faster delivery
Comparatively lower prices than other competitors
Hassle-free payment system
Reliable customer service
Workable review and rating system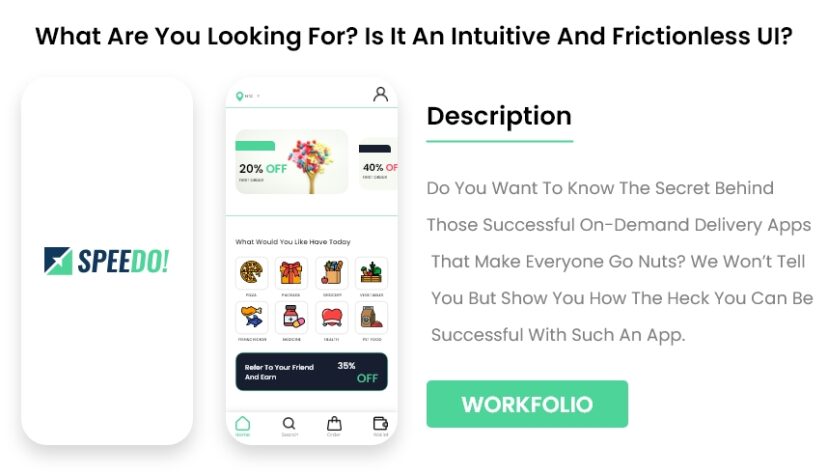 How to retain customers if you are planning to develop an app like Favor?
Customers of delivery applications are very tricky, and if you want them to hook to your application then you should give them the best customer service. Doing so, you will make sure your customers come back to your application and stay with it.
The two most important factors that hold power to retain customers are Reliability and excellent customer service. Let's discuss a few other things that will take you in the long run of gaining your customer's trust.
Customer support: It should be super quick and useful while you have to revert your customers quickly and provide them with the best solution.
Revert on Reviews and Rating: Customer feedback is very essential; it can help you improve your services and is a great way to communicate with your customers.
Offers and discounts: You can run various discounts and offers on your application as such programs attract customers. If the customer uses your product/ services for an extended period, then reward them back with some alluring offers.
How much does it cost to develop an on-demand delivery app like Favor?
Since we have developed many on-demand applications, we have calculated the cost of acquiring such an application. If you go for single-platform app development, it will cost you about 20,000 USD, but if you go for cross-platform app development, then the cost will be cut and will cost you around 15,000 USD. 
However, this is a rough estimation, and the price will vary depending on the number of screens, complexity, backend, and many more things.
Final words:
Lastly, we would like to add that the reason why Favor has gained this much popularity is that they give their users an impeccable user experience and fantastic services. If you want your app to get successful, then this is the first thing you have to do.
If you have any such app ideas on your mind that can be a huge success, share them with us. We have full-fledged experience in developing on-demand platforms, and we have many happy clients across the globe.