eCommerce businesses are admired by one and all today. With digitalization and increasing admiration for online shopping, businesses always think of innovative ideas to set up their eCommerce stores. Having ideas is a must to start something new, but do you think ideas alone are enough?
When businesses plan to develop their eCommerce store, they research, gather ideas from other successful businesses, look for ongoing industry trends, etc. These steps are undoubtedly necessary, but they mean nothing until and unless one takes reasonable actions to transform these ideas into reality.
The biggest hurdle in starting an eCommerce business is the right execution of the business ideas. In fact, many businesses fail to move ahead with their ideas because they get overwhelmed with the whole process of development. Another important factor that works as a roadblock for many businesses is the cost of eCommerce store development.
Don't worry, though; this blog will help you get out of your fears and go ahead with your brilliant eCommerce project ideas. We will discuss the benefits of eCommerce business, the cost for eCommerce marketplace startup, and much more here, so stay glued and keep reading.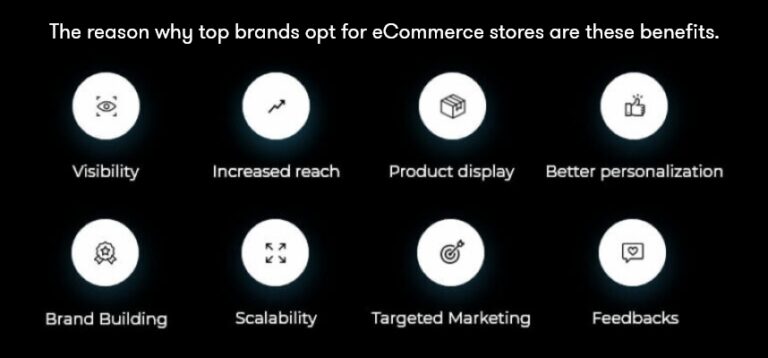 What are the benefits of having an eCommerce store for your business?
This question might have crossed your mind, and it's totally valid. We must know the hype behind eCommerce businesses and why you should invest in them.
So, without wasting any minute, let's have a look at the benefits of developing eCommerce stores for a business. And, let's begin!
Visibility
Businesses can boost their visibility with eCommerce stores. People are getting hooked on their smartphones, and eCommerce can benefit from that significantly.
Increased reach
With an eCommerce store, businesses can connect with more potential audiences online. An eCommerce store increases the overall reach of a business and helps to engage with more customers.
Product display
With an eCommerce store, businesses can display their products in a more organized and categorized manner. Unlike traditional shopping, eCommerce allows displaying the products with pictures and other details.
Better personalization
eCommerce stores understand their customers' history and recommend personalized products based on past records. Customers feel special when they get personalized services and, therefore, like shopping from eCommerce stores regularly.
Scalability
Scaling up an online store is easier than scaling up a physical store. Compared to a physical store, setting up an eCommerce store requires much less effort, time, and resources. Moreover, unlike physical stores, eCommerce stores are connected to a global marketplace.
Targeted marketing
When you run a business online, there's a certain audience you want to reach. Your marketing budget would be based on reaching out to specific customers who are interested in purchasing your products. Thus, the business can save a huge sum of money and reach their targeted audience strategically with targeted marketing.
Reviews and feedbacks
Customers can leave reviews and feedback on eCommerce websites about their experience with a particular product. These reviews also help other customers as they can go through the reviews before buying the same product. Moreover, these reviews also help businesses improve their services and user experiences.
Brand building
The cost of developing an eCommerce brand is worth the brand-building tools it offers. Businesses can make a solid brand online with attractive design, user-friendly shopping experience, and memorable logo. Building tools help businesses to create a brand that makes a lasting impact on the customers.
Read also: – eCommerce app vs website – Which one is ruling today and why?
After discussing the benefits of eCommerce business, it's time to focus on eCommerce startup costs. So, how much do you think it would cost? Well, we know that's a difficult question to answer, but we hope our attempt to help you with the costs will be fruitful. So, don't go anywhere and keep reading.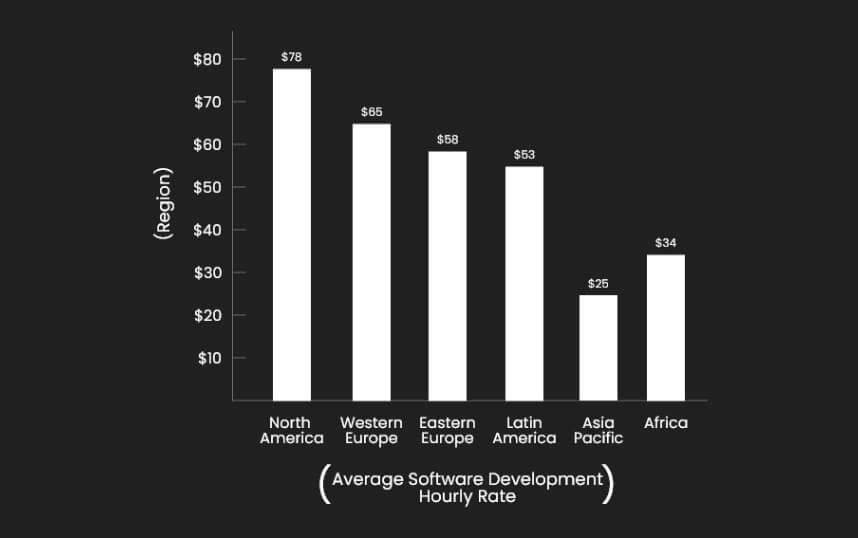 How much money do you need to start an eCommerce store? Let's discuss!
Now we come to the part you were waiting for. So, first and foremost, we need to know about the factors that affect the overall eCommerce startup costs. Let us take you through these factors one-by-one and discuss them briefly. So, here we go!
The eCommerce app platform
This is an important cost deciding factor and therefore, one must carefully choose a platform to develop the store. There is a long list of eCommerce platforms one can choose from. Moreover, if one decides to build a native or hybrid app, the costs will increase accordingly
Further, one must pay attention to the operating system as well. Choosing between Android and iOS also matters quite a lot. Hence, these things are prime factors that will affect the overall eCommerce startup costs.
App features and functionality
Next, we come to the features and functionality to integrate into the eCommerce app. In this, the businesses need to decide on the unique features and technical specifications they want to integrate into their eCommerce store. Businesses can create a custom eCommerce app with distinct features and powerful functionality.
Features like social sharing, app analytics, multiple payment gateways, wish lists, coupon codes, referrals, etc., add to the overall cost. Thus, you can decide which features to keep and which you can eliminate. Moreover, you can also seek advice from an eCommerce development company about choosing the appropriate features for your eCommerce project.
Location of the developers
The location of the eCommerce developers is another factor that requires attention. Do you know developers from different countries charge different prices for their eCommerce services? For example, the UK and US charge higher prices than developing countries like India.
So, make sure to check the location and hourly rates of developers you are planning to hire. You can also find out the estimated cost by multiplying the total hours of development by developers' hourly rates. This will help in planning the budget in advance.
What is the cost for an eCommerce marketplace startup in India?
Hiring an Indian eCommerce development company can be a great choice for an online business startup. An Indian company charges around $30 to $50 per hour for its eCommerce development services. However, this figure might vary from one project to another.
The cost of development also differs according to the seniority of developers. A senior eCommerce developer with 5+ years of experience with more expertise might charge more than a beginner developer. Thus, if you want to hire Indian eCommerce developers, you must hire expert developers from our renowned company.
Read also:- What are the best eCommerce business startup ideas for 2022? Let's find out!

Conclusion
Since eCommerce development is gaining popularity every minute, businesses are not leaving any chance to develop their own eCommerce store. If you too want to have your eCommerce store, meet a team that knows what it takes to develop a high-end eCommerce store.
If you are looking for developers who have in-depth expertise in eCommerce development, you can reach out to us anytime and discuss your project at length. Moreover, you can check this checklist to start an eCommerce business from scratch to understand our eCommerce app development process clearly.
FAQs
How much time does it take to develop an eCommerce store?
Honestly, it differs from one project to another as different clients have different requirements. Giving an average time in the beginning, is tough for most of the developers just like the total costs. However, the developers you hire can give you an estimated time keeping in mind your project's core requirements.
Do the developers offer customization services for eCommerce projects?
Talented developers who have been practicing eCommerce development for years will definitely offer customization services. To be sure, don't forget to discuss your unique requirements with the developers and make sure they are good at custom app development.
Are there different hiring models to hire eCommerce developers?
Yes, most of the companies offer multiple hiring models to their clients. The most common hiring models that you can choose from are part-time hiring model, hourly hiring model and dedicated hiring model. You can choose the most suitable model for your project among these three.