Hey, are you planning to start an eCommerce business anytime soon? If yes, we know you must have a hundred things going on in your mind. Deciding on the business niche, deciding between an eCommerce app vs. a website, choosing the right eCommerce platform, and picking the best business model for eCommerce business. These are all the fundamentals of starting an eCommerce business today.
Ask any budding entrepreneur, and she/he will say that the initial decisions of starting a business are the most crucial. And among these decisions, the one which requires your full attention is choosing the right eCommerce business model for YOUR business. Yes, different business models work for different businesses, and that's why what worked for others might not work for you.
If you are thinking about how you can choose a business model that works for you hundred percent, this blog is your one-stop solution. We swear this blog is not to confuse you, it is to genuinely help you choose a business model that helps you thrive. So, stay with us as we move along with our insights.
Let us first begin by understanding the term 'business model' before getting into its technicalities. So, let's start!
What is an eCommerce business model?
A business model basically defines how your eCommerce business is structured to reach your targeted customers and drive sales. Business models are crucial for both new and existing businesses equally. Not only do they help the companies in acquiring customers, attracting investment, and recruiting talent, but they also keep the whole staff and management motivated.
If you want to run your business and earn good profit and revenue, choosing the right business model would lead you towards it.
So, to help you further with the best eCommerce business model for your business, let us discuss the types of eCommerce business models.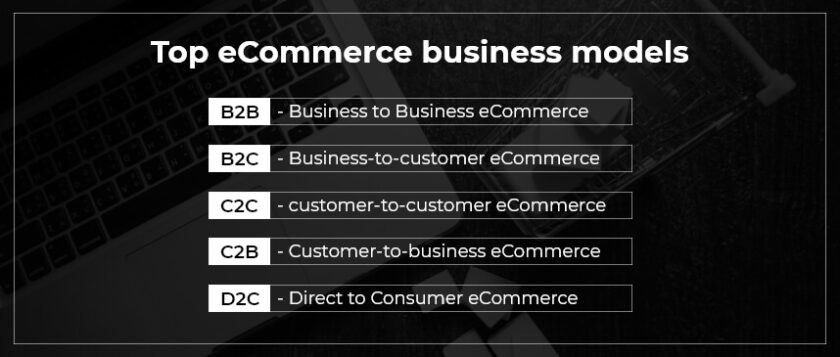 Which are the top eCommerce business models?
To decide on the right eCommerce business model, it's a must to first know about the types of eCommerce business models that exist in the industry. So, we will discuss that next. Keep reading!
B2B- Business to Business eCommerce business model
B2B, as we mentioned above, is the abbreviation for the business-to-business eCommerce model. As obvious by its name, a B2B business model focuses on providing products from one business to another. This niche isn't only for service providers anymore because software companies, supply companies, hosting companies, and several other eCommerce businesses are adopting this business model to level up.
B2B business model is also your go-to model if you manufacture your own product and sell wholesale to other businesses. According to research, the B2B eCommerce market will reach $20.9 trillion by 2027.
Let's watch out for some pros and cons of the B2B business model now.
Pros of B2B business model
Enables bulk orders and thus is suitable for businesses more likely to engage in bulk buying
B2B eCommerce business models have higher buyer intent.
The B2B business model has a strong growth curve.
Cons of B2B business model
The B2B business model has a steep learning curve because selling to other businesses can be challenging for a beginner.
As the B2B business model is best for bulk buying, there are more chances of negotiation, and thus, there is price competition.
B2C- Business-to-customer eCommerce business model
B2C is probably the most traditional business model out there. Moreover, it's the easiest business model for eCommerce newbies. Since traditional brick-and-mortar stores are history and customers are shifting towards online shopping at an impressive rate, the B2C business model is also experiencing massive growth.
According to statistics, the next few years will witness a massive growth of B2C eCommerce in the retail industry. Moreover, the global revenue is about to grow by 85% by 2023.
Now, let's have a quick look at the pros and cons of the B2C business model.
Pros of B2C business model
A B2C eCommerce has low set-up costs as B2C business can be started easily using drop shipping.
B2C enables high sales volume that keeps the cash flowing and provides a steady income stream
With B2C, there's a high potential of making income 24*7 as B2C commerce is not strictly passive.
Here are a few cons of the B2C eCommerce model
B2C is a highly competitive and crowded marketplace as there is stiff competition against multinational corporations, big brands, and multiple other sellers.
Customers generally have high expectations when it comes to eCommerce these days.
C2C- customer-to-customer eCommerce business model
The C2C business model is the result of the rise of the eCommerce sector and growing confidence in online businesses. The C2C business model allows the customers to trade, buy, and sell products in exchange for a small commission payable to the site. C2C business models require careful planning and execution as compared to B2B and B2C models.
Some of the successful platforms that have adopted this model successfully are eBay and Craigslist.
Let's focus on some of the pros and cons of this model.
Pros of the C2C business model are the following
As there are no intermediaries in the C2C business model, the profitability of the product increases
With the C2C business model, the products and services are visible to the audience globally and thus, increase the customer base as well as conversions.
Now let's look at the cons of the C2C model.
Selling on a C2C marketplace can be daunting as there are multiple sellers dealing in the same products or services.
A C2C model encounters payment issues as many C2C sellers have reported that customers have scammed them.
C2B- Customer-to-business eCommerce business model
C2B is still a lesser-known eCommerce business model, but it is gaining prominence gradually. This type of business model is for customers selling products and services to a business. This eCommerce business model is similar to a sole proprietorship that usually serves a large business.
It is a C2B marketplace where the customers can advertise their products and even negotiate the bid proposals.
Let's go through the key pros and cons of this business model.
Pros of C2B business model
C2B has brought in a new source of revenue for the businesses
This model allows the customers to directly reach out to the businesses, which was quite unlikely earlier
Now, here are some of the cons of this model
C2B often encounters issues related to responsiveness, delayed delivery, etc.
There are also chances of loss of privacy or information in this business model
Many people use this model maliciously, which is the biggest downside of C2B.
D2C- Direct to Consumer
D2C means direct-to-consumer. It is a type of business model where a company produces products in its own manufacturing unit and then sells or distributes it across various channels of its own. These channels can be an eCommerce store or retail store.
Let's look into the pros and cons of the D2C business model.
Here are the pros of this model
No middlemen result in increased profits
Helps in gaining access to more targeted customer data
Offers a high degree of personalization in the product range
There's more room for product testing
Now let's peek over some of the cons of D2C
Without resellers, making brand identity becomes challenging
Competing in a D2C requires putting a lot of effort in marketing
Building an online presence with D2C is tough than other business models

What are the types of eCommerce business revenue models?
After a thorough discussion of eCommerce business models, we come to discuss the revenue models. It's crucial to think about the ways a business handles inventory management and sources products and that's what revenue models make possible.
So, here we begin discussing the most sought-after business revenue models.
Dropshipping
Known as one of the simplest forms of eCommerce, dropshipping allows the setting up of a store and accepts customers' payments through debit and credit cards and PayPal.
Here is a glimpse of how dropshipping works-
It connects your website to a dropship seller
The customer places an order on the online store
The supplier ships the products directly to the customers
The online store passes the order to the dropship supplier
Wholesaling or warehousing
We are certain that you must have heard these terms before. But, let's go through them again. In common words, wholesaling is the opposite of retailing which means selling products to a customer directly without any middlemen. Consequently, warehousing is an aspect of wholesaling which deals in storing products and goods in bulk so that the wholesalers can supply the stock whenever needed.
Wholesaling and warehousing are popular business revenue models, but they require a huge chunk of investment from the very start. Managing inventory, tracking the customers' orders, shipping-related information, and investing in the warehouse- these all require a lot of investment. Thus, this revenue model is apt for businesses having the required budget.
Freemium model
Freemium is a type of business revenue model in which the company offers the users access to its products for no initial charge. However, in the freemium model, there is a licensing fee to avail of freemium features and functionality of the app. Many businesses use this business revenue model as a monetization strategy for their apps.
Subscription-based
We are not wrong when we say the subscription-based revenue model is one of the most widely used models out there. Some of the most popular eCommerce brands like Dollar Shave Club, Blue Apron, and Nature Box are relying on a subscription model for their business.
Thus, businesses wishing to deliver subscription boxes of products at regular intervals can go for this revenue model.
White labeling
In white labeling, the business can pick a product already sold by another company, but this company should offer white-label options, design packages, and labels, and sell the product. Although this business revenue model is quite popular in the beauty and wellness industries., it fails to reach out to other niches.
Print on demand is one common type of white labeling gaining prominence lately. 

What are some examples of innovative eCommerce business plans? Let's have a look!
Below, we will have a look at some of the top eCommerce businesses and the business model that helped them to reach where they are today.
Beer Cartel- subscription-based model
Spotify- freemium model
Berlin packaging- B2B model
Atlanta light bulbs- B2B model
Skype- freemium model
Mountain Crest Gardens- Wholesaling
Upwork- C2B model
How to select the right eCommerce business model for your business?
If you want to start an eCommerce business from scratch, choosing the best business model for eCommerce should be the top priority. Moreover, to pick the right business model, there are a few crucial things to consider and pay attention to. So, let's see what these things are.
Know your customers well
First and foremost, having clarity of the targeted audience is a must. Secondly, understanding the customers and their expectations from the product should be analyzed. Most businesses that understand the customers' behaviors will find success sooner than those that fail to do so.
Top businesses identify their customers' behaviors by focusing on their current pain points and then come up with a solution for the same.
Identify your core capabilities.
What is it about you that makes you different from others? Ask this question to yourself. Identify your core strengths, capabilities, and even limitations. Sometimes, it becomes challenging for a business to identify its limitations but doing this will help the business in improving and making better decisions.
Decide what is best for your product.
As we already mentioned above, each business has different needs, and thus, their eCommerce business models will also vary. For example, if you are into manufacturing, naturally, you will go for wholesaling to cover the production costs and supply enough to meet the demand. However, if you are a retailer or into distribution, the wholesaling model will not work for you.
Thus, the better you understand your business and its products/services, choosing the right eCommerce business model would become simpler for you.
Let's conclude it.
Having eCommerce startup ideas and the vision of developing an eCommerce store with those ideas feel so damn good, doesn't it? But, the real challenge begins when it comes to making crucial decisions to bring that vision to reality. And one of them is to decide on the best business model for eCommerce business. We know how daunting it can be to manage everything on your own, but the option of hiring eCommerce developers is always open.
To reduce the stress and choose the best, you can hire eCommerce developers from a reliable eCommerce development company. Moreover, the best part of hiring developers is that they will help you choose the best eCommerce platform and business model. Lastly, they will help you in analyzing the eCommerce startup costs as well.
If you are considering hiring eCommerce developers with the best industry knowledge, our experts are all excited to meet you. Talk to us, discuss your projects and let us take your project forward.