With the massive competition in the marketplace, delivering quality services in the smallest amount of time has become crucial. So, whether it's a small company or a large one, there is a cut-throat rivalry everywhere. Every company wants to provide their products at the fastest pace that is possible. This is because, with the advancement in technology, the overall pace has also gone up in whatever that we do.
Nowadays, we order almost everything online as per our convenient at an impressive discount. Isn't it the digital scenario? So, if you are looking forward to build an On-Demand Courier Delivery App, you would have to ensure to go through every aspect that impacts it. Because even a small thing that gets missed can prove to be a big issue later on.
And hence, make sure to follow the overall guide step by step and grasp every bit of information carefully. Moreover, make sure to hire professional on-demand app developers who have expertise in Courier Delivery App Development. You may also opt for a Mobile App Development Company to get your app done. Let's examine the aspects that are crucial to developing Parcel Delivery Application:
Why make a Courier Delivery Tracking App?
Well, investing in the On-Demand Courier Delivery App Development has many benefits attached to it. Delivering goods and services has become one of the largest market arenas. Since people prefer buying most of the things online, the salaries of a good percentage of people depend upon this, getting into this business is worth in today's time.
However, make sure that you opt for a professional Courier Delivery Application Development Company. Here are many other benefits of courier app development:
It removes the requirement of hiring any in-house couriers.
Courier Delivery Apps provide the user with easy tracking of their courier packages.
Since these apps provide us with flexible options, the overall operational cost is reduced to a huge extent.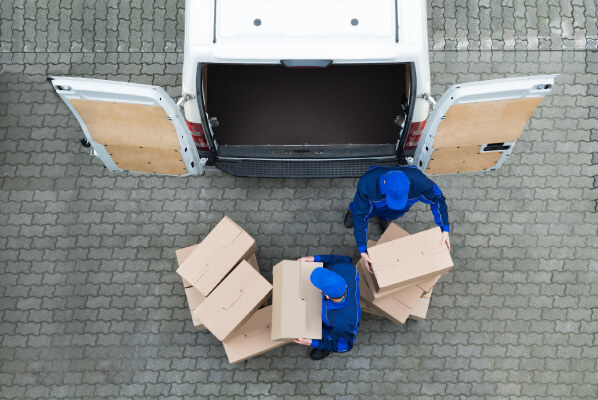 Must-have Features for the On-Demand Courier Delivery App Development
Courier Panel Features
Management Of Delivery Status
Complete order history
Login For Manager
Courier Account Creation
In-App Messaging
List of Available Orders
Customer Panel Features
Profile Creation
Push Notification
Sign-In and Sign-Up
Service Rating & reviews
Map View- Tracking Order
In-App Chat Feature
Integrated Payment Gateway
Admin Panel
Registration
Login
Email verification
App usage tracking
Third-party analytics tools
User behavior tracking, and more.
Additional Features for Courier Delivery Service App like Wefast
Various modes of payments are crucial in a Courier Delivery app like Wefast
Courier delivery service application has to be user-friendly
Online activity and booking records
Coupons or discount codes
Courier Delivery app must ensure real-time monitoring feature
24×7 GPS tracking of the vehicles and packages.
Easy and simple app navigation
Appropriate filters
Users' time-stamped or digital signature
Business Models for Courier Delivery Service App like Wefast
Well, it doesn't matter which app you are developing for your business or services, the business model is crucial for every business mobile application. The business or revenue model helps businesses just like a backbone. It keeps business on track to generate adequate return of investment. You can further invest the earned revenue in your venture to take it on a larger scale or improve your business services. Here are a few suggested things that you should follow to make an app like Wefast:
Package Tracking Aggregators
This involves keeping the data tracked at one place from all the available carriers. It would be helpful when it comes to keeping the users notified about their packages' location and push notification also plays a vital role for the same. Moreover, depending upon a unique ID that is given to every package, they get added manually.
Postal & Courier Service Applications
This involves various courier service apps such as DPD, FedEx, etc., which comprises further features such as the prints related to shipments, customer/admin panel, package labels, and more.
Uber-like Marketplace for delivering Parcels
Well, as we all know, Uber has completely changed the marketplace. Also, with the provision to so many people of the jobs of driving cars or vehicles for their only income source, it has set an example to be followed. And hence, an on-demand service, which involves the delivery of goods has erupted this line for the good.

How does the courier delivery app work?
Well, below-given is the step-by-step process of how the courier delivery app works:
1: Delivery request: This involves a request made by the customer in order to deliver the package or courier.
2: Accept Delivery: This involves acceptance of the customers' request by one of the delivery agents, so it can be processed.
3: Pickup: At this step, the delivery boy has to pick-up the courier or package as requested by the customer from the mentioned location.
4: Live Tracking: This involves real-time tracking of the parcel via the customer till the time the package is delivered.
5: Payments: This step involves paying for the services consumed by the customer.
6: Delivery proof: This involves an OTP (one-time-password) or digital signature in order to provide proof for the delivered package.
7: Reviews and ratings: This last and final step involves reviews or ratings that are given by the customer for the service experience.
Moreover, when it comes to making a Courier Delivery Tracking App, the overall cost factor also has to be kept into account. The cost to make a Courier Delivery Tracking App depends on various aspects like app platform iOS, Android, or any other and app development team.
It further depends upon what technologies to be used for the app development and the app features (i.e. must-have and advanced). Another thing that plays a very crucial role in estimating the overall app cost is the number of hours that are required by the development team. Therefore, ensure keeping a check at the above-mentioned aspects before starting with the courier delivery app development.