Ever since technology has entered education, the traditional education system has taken a backseat. Gone are the days when learning was limited to a classroom and blackboard. Today, technology has made it possible for students to learn from anywhere in the world seamlessly.
Breaking away from the traditional classrooms, modern classrooms have brought in a new era of education and learning globally. Earlier in medieval times, only a few elites used to have access to education opportunities, but the scenario changed with time. Today, education is not only available to everyone but is also available at the fingertips through edtech technology.
If you are not aware of edtech and online learning, you might have several doubts and questions. We totally understand you and intend to help you with everything about edtech steadily. And we will start with a very basic introduction to edtech technology. So, let's start.
So, what is edtech?
Edtech is a technology or rather a practice of introducing IT tools into the traditional classroom to create a more engaging, inclusive, and global learning experience for the students. It provides the students new opportunities to learn and makes it easy for them to stay engaged through fun forms of learning.
Edtech has replaced the traditional classrooms and hardcover books with screens of devices like mobile phones and laptops. Looking at the current impact of edtech on education, it's no exaggeration when we say that the future of education technology is quite promising.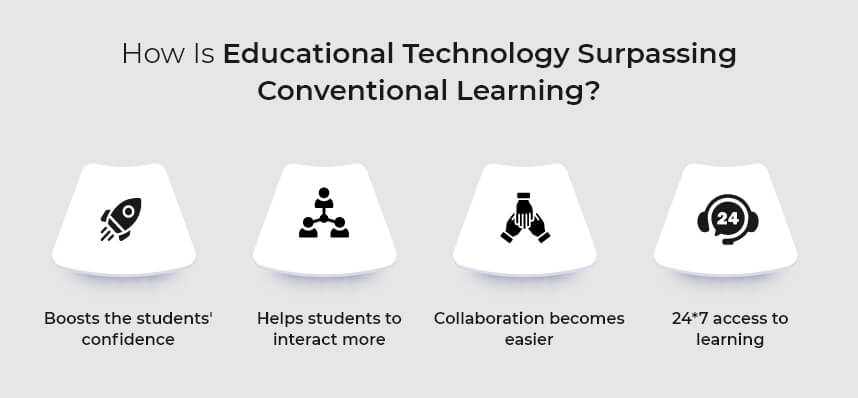 How is educational technology surpassing conventional learning?
Gone are the days when conventional learning was the only way of learning. Today, technology has enabled enthusiastic students and learners to learn beyond any geological restriction.
Moreover, it allows for types of communication and collaboration that were not imagined before. With the advent of edtech technology in education, classrooms are no longer a barrier in learning, communicating, and working collaboratively.
Let's dig deeper into how edtech is surpassing conventional learning and making education more fun and engaging for both teachers and learners globally.
Boosts the students' confidence
Interactive learning with edtech boosts the children's confidence to learn new things. With a world-class online education using edtech learning approaches, students will be equipped to do better in their lives.
Helps students to interact more
Interactive learning is much more engaging than lengthy textbooks or long lectures. Overall, edtech technology and eLearning offer more interactive learning experiences than the traditional education system.
Collaboration becomes easier
Interactive learning with edtech enables building and managing groups for teachers. It enables the teachers to exchange study material with other teachers easily in real-time.
24*7 access to learning
With edtech technology and IoT devices, students can have access to education in a digital environment. Moreover, students have 24*7 access to education that too from anywhere. Whether they are at school, home, or somewhere else, all they need is an internet connection to complete work at their own pace.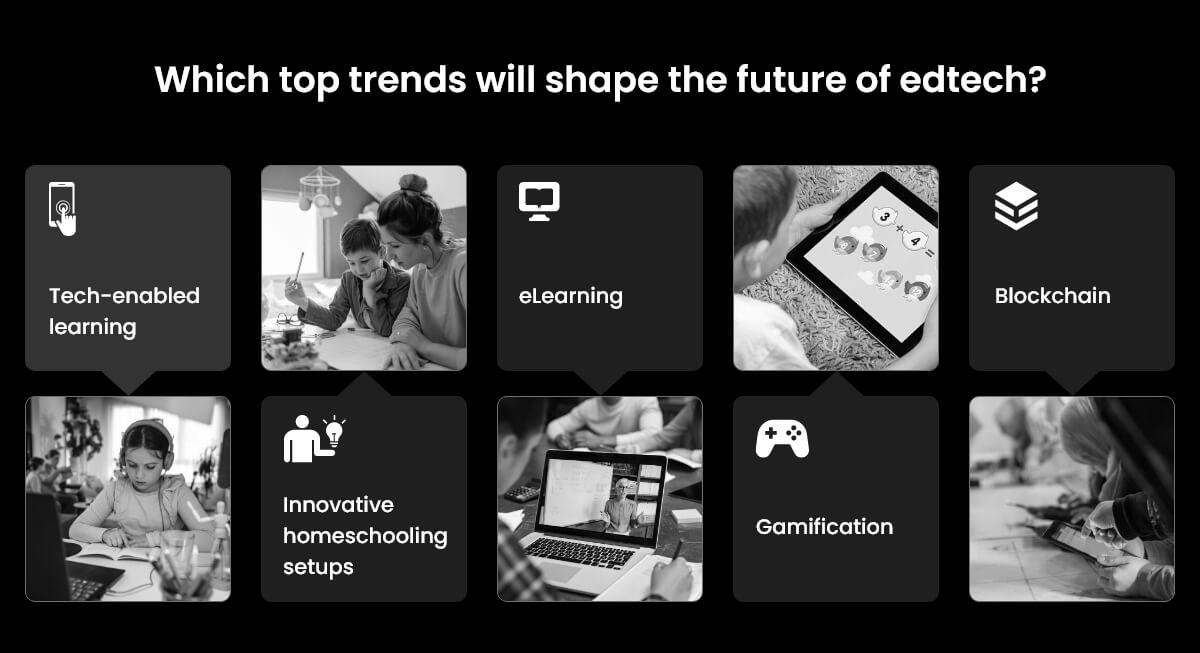 Which top trends will shape the future of edtech?
Since education technology is all set to transform the learning experiences of students, there are several edtech trends to look for. So, let's discuss these trends and their impact on the future of technology in education. Now, without any further delay, let's see what these trends are.
Tech-enabled learning
Extended reality is one of the biggest edtech trends right now. Extended reality is the umbrella term for augmented reality, virtual reality, and other IoT-enabled technologies. These technologies together enhance the future of edtech.
With AR, students can see 3D depictions of animals, chemical elements, or any other graphics used for education.
VR technology can be used to save money on physical equipment. Moreover, students with disabilities can also use VR to see things they can't access physically. Thus, AR and VR technologies can offer an immersive learning experience and seem promising enough to shape the future of edtech.
Innovative homeschooling setups
Homeschooling is prevailing in the US in recent years. After the coronavirus pandemic, homeschooling has become even more popular in many countries. However, with traditional education, homeschooling can also become expensive.
To make homeschooling affordable, a lot of edtech companies are taking the initiative to offer tech-enabled homeschooling solutions. With these solutions, students can get a blend of in-person and live learning experiences and make the most out of homeschooling.
eLearning
There's no bigger edtech trend than eLearning since 2021. Elearning enables reaching many students simultaneously and at a much lower cost than traditional education. Additionally, there are apps used for teaching the masses online.
Some of the prime examples are Zoom, Google Meet, and Microsoft Teams. Moreover, you can check out these top education app ideas for your next eLearning app project. 
Since eLearning has helped millions of students during a pandemic, students' trust in this learning method has also strengthened over time. Hence, eLearning is a trend to watch out for.
Gamification
Gamification in education is not something new and has been around for a while now. Teachers often offer prizes to students for reading books, achieving good marks on the test, and scoring ranks in the class. This boosts the students' confidence and motivates them to do better.
In digital learning, gamification can be used in more innovative ways. In fact, there are many educational tools for games.
Blockchain
Blockchain can be found in many sectors today, and education is one of them. It provides a decentralized and secure education ecosystem. Edtech platforms can use blockchain to connect learners, professionals, and teachers to offer courses and resources.
Furthermore, the blockchain trend also helps the organizations to secure various documents and keep records of admission, attendance, payments, fee collection, and marks and grades of the students.

Let's sum up!
After discussing edtech technology, its benefits, and trends, we assume you must be excited to develop an education app of your own. If that's the case, you must get in touch with a software development company at the soonest.
Many businesses opt to develop an education app that can transform the learning and teaching experiences, and you can do the same.
If you are wondering who would understand your project the best and use the best
resources, maybe our experts can do that job well. Talk to us about your edtech learning app, discuss your goals and let us build an innovative education app for you.
FAQs
How much is the cost to develop an education app?
It's challenging to give an exact answer when it comes to cost as various factors affect the overall cost. The location and hours of development are key cost deciding factors, though. Thus, you can find the estimated cost by multiplying developers' hourly rates with the total hours of development.
Are there different hiring models to hire developers for edtech app development?
Yes, most app development companies offer multiple hiring models to their clients. The most common hiring models are the part-time hiring model, hourly hiring model, and dedicated hiring model. You can choose the most suitable model for your project among these three.