Today, the healthcare sector is not just limited to providing medical services in hospitals in the old traditional way. Since the past few years, healthcare services and insititutions have witnessing great transformation with the increasing adoption of telehealth and other technology trends.
Healthcare service providers are like angels in the face of humans. We cannot do without healthcare and healthcare institutions ever. As every individual relies on healthcare and medical services, it has become one of the largest sectors today in terms of revenue and employment.
If we talk about the healthcare sector of India, According to ibef.org, it will record a three-fold rise, growing at a CAGR of 22% between 2016-2022. Moreover, it is expected to reach $372 billion in 2022 from $116 billion in 2016. In terms of employment, the healthcare sector in India generated 2.7 million jobs between 2017 to 2021.
The figures above show how healthcare is growing consistently and will continue to grow in the future. In addition to the soaring demand for affordable and quality healthcare, more and more service providers welcomed the technology trends in healthcare with open arms. Moreover, the e-health market size is also estimated to skyrocket to $10.6 billion by the end of 2025.
Do you know despite continuous growth of the healthcare and medical sector, reports suggest that some hospitals in the US are going bankrupt? Yes, it is quite a shock for many, but it is true, actually.
"What led to the bankruptcy of US healthcare institutions?", "How could hospitals go bankrupt despite ever-growing demand for medical services?" We know these are a few questions that you might have in mind right now. Don't worry, though; we will put forth some reasons to justify this.

What could be the reasons behind the downfall and bankruptcy of medical systems?
There are several not-so-talked about reasons that result in the downfall of medical systems and even lead to bankruptcy. So, we will elaborate on some of those reasons below. Stay tuned!
Rising number of healthcare institutions
The ever-growing demand of healthcare has resulted in the opening of new healthcare institutions every day. Although it's considered a good thing for the economy, running a healthcare institution successfully is quite challenging.
Hiring the best healthcare experts and practitioners, establishing the best healthcare systems, and maintaining a hospital requires a huge investment. If a hospital lacks any of these things, it might not survive the competition and go bankrupt.
Rising competition
As we know that the healthcare sector is one of the biggest sectors today, the competition in the industry is quite fierce. Every healthcare institution wants to provide the best services, but sometimes, in trying to be the best, they often indulge in unfair money-making practices. As a result, the quality and reputation of their service also degrade.
If these unfair practices continue over a period of time, patients start losing their trust in the hospital, and this results in the downfall or bankruptcy of healthcare institutions. Thus, the key is not just to stay competitive but also to follow fair practices to provide the best healthcare services.
Expensive healthcare services
Not everyone can afford expensive medical facilities, and therefore, some sections of society find it very difficult to seek medical care. In a developing country like India, a huge portion of the population lives below the poverty line and for them, accessing medical care is the biggest challenge.
Although there are several government medical care centres and hospitals, the healthcare quality is often not up to the mark. Thus, this reason also contributes to the downfall and bankruptcy of various healthcare institutions globally.

How can healthcare institutions survive in 2022?
Now, as we understand a few reasons that could cause the bankruptcy of some hospitals in developing as well as developed countries, the big question is how to tackle this situation? If you, too, are wondering this, we will tell you what can be possibly done to revive the healthcare sector in 2022 and beyond.
The most crucial pathway for the healthcare institutions to survive is by adapting and implementing the digitalization and technology trends in the healthcare industry. Digitalization in healthcare is shaping the way patients interact with healthcare professionals, share medical data or make treatment-related decisions.
Therefore, healthcare should not stick to the old conventional healthcare practices. Instead, explore a pool of innovative trends that could really benefit them in surviving the fierce competitive environment of the healthcare industry.
Today, there are plenty of healthcare technology trends that can be implemented in healthcare and medical services. The main aim of these innovative trends is to streamline the medical processes in a healthcare institution, optimise medical software systems, improve patient outcomes, save time by reducing human errors, and increase revenue through integrated web and mobile experiences.
After identifying the importance of healthcare technology trends to revive and survive amidst the rising competition, we will talk about these emerging healthcare technology trends in detail. So, let's jump straight into this discussion.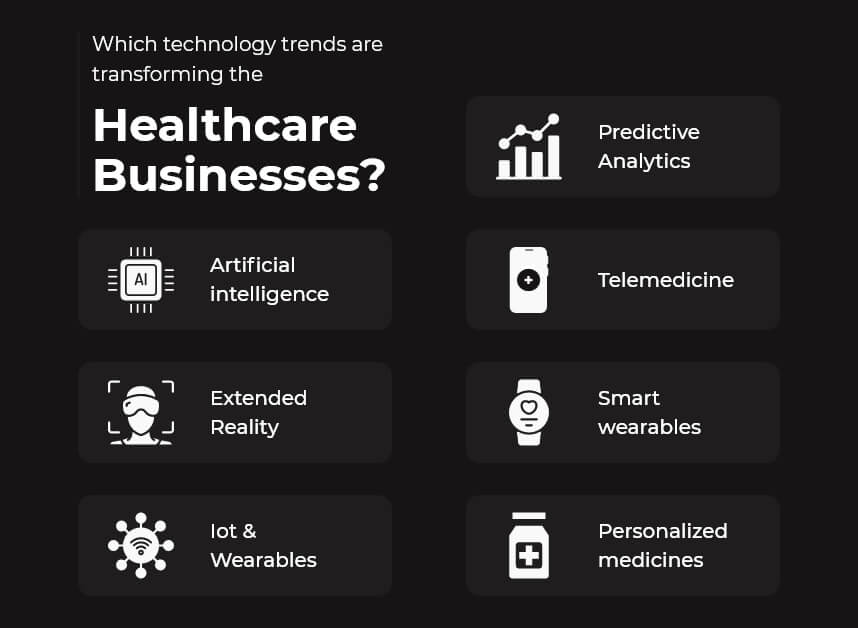 Which healthcare technology trends are transforming the healthcare businesses? Let's watch out!
Stay with us as we discuss some of the top emerging healthcare technology trends that have the potential to transform the healthcare sector from now onwards. So, here we begin!
Artificial intelligence
It is very much expected to have artificial intelligence in the list of top technology trends. AI emerged as one of the most useful technologies in the healthcare industry in the past few years. Especially during the Covid-19 outbreak, AI and machine learning devices could help in identifying symptomatic individuals on time so that they could get the treatment ASAP.
Here are the areas where AI is used in healthcare-
Diagnosis and drug development
Mental health
Natural language processing
Maintaining and processing training data in healthcare
Telemedicine
Telehealth and telemedicine have come a long way in the past few years. These technology trends are changing the dynamics of healthcare significantly. Telehealth and medicine solutions have enabled healthcare providers to have video meetings with their patients regularly.
With the telemedicine trend, providing remote medical care has become simpler than ever. In remote regions where there is a shortage of doctors and medical facilities, telemedicine works like a boon. As medical care can reach every nook and corner, the telemedicine trend in the healthcare industry has the potential to save lives by expanding access to medical treatment to the remotest regions.
The extended reality for training and treatment
Extended reality is an umbrella term that includes virtual reality, augmented reality, and mixed reality. Extended reality devices, apps, and solutions have been proven to dramatically transform the healthcare sector in the past few years.
VR headsets are mostly used to train doctors and practitioners in learning and understanding the functioning of a human body without harming the human body in real. Moreover, VR is also used in treatment, mostly in providing therapy. It also enables training children with autism in coping skills.
Looking at the successful implementation of AR and VR applications in healthcare, we can say this trend is here to stay for good.
IoT and wearables
You were wondering why IoT has not appeared on the list, isn't it? As IoT applications and technologies are giving a breath of fresh air to many industries, it is impacting the healthcare sector significantly as well.
The use of IoT devices and applications has seen immense growth since 2021. In fact, global IoT medical device market is expected to reach $94.2 billion by 2026. In the current scenario where healthcare is adapting the latest technology to survive and provide the best medical facility to the masses, we cannot side-line the IoT apps and devices.
Read Also: Which IoT Trends are Making it Big in 2022?
Smart wearables
Probably one of the most innovative technology trends in healthcare has to be smart wearables. Wearable devices enable patients, doctors, and health experts to monitor the health status of a patient remotely. With IoT wearable devices like a smartwatch, keeping a watch on one's health is possible with the least effort.
A smartwatch doesn't just monitor the heart rat but also offers a range of other features for overall well-being. The devices can monitor physical health, measure blood oxygen saturation and vitals and offer the best possible diagnosis.
Apart from smartwatches, other IoT devices that are getting recognition in the healthcare sector are bio patches and smart hearing aids.
Personalized medicines
With the inception of modern technology, the concept of personalized medicines has gained momentum. Technology like genomics, AI, and digital twins leverage more personalized approach to treating every individual based on their diverse conditions.
Digitally advanced healthcare centers around the globe are using AI and modeling software to predict the exact dosage of painkillers for the patients. Personalized medications can be highly effective for patients as they will not have to take any dangerous high doses.
Genomics is the study of genes which is highly useful for creating personalized medicines for patients. Thus, with the help of genomics and other AI solutions, personalized medication is one of the emerging healthcare technology trends.
Using predictive analytics in healthcare
Predictive analytics has now entered the healthcare sector as well. It provides benefits mainly in clinical care, administrative tasks, and management. Whenever the hospitals encounter a surge in the number of patients and cases, they can rely on predictive analytics.
With AI and predictive analytics, healthcare providers can extract relevant insights on patient flow and prepare for future demand. Moreover, predictive analytics uses a vast amount of real-time and historical data and help doctors provide optimal care in due time.
By implanting such data-driven technology trends, healthcare institutions will make the most out of their resources and manage the transaction of care more efficiently.
Brainstorming ways to transform your healthcare business? Kody Technolab can help!
So, hire a team of experts having prior experience in healthcare or telemedicine app development. Let them work their charm in embedding the best technology trends in healthcare in your business. If you have not met your dream team yet, you can hire dedicated developers from Kody Technolab. Our experts have helped many healthcare institutions in surviving the competition with the best digital means and trends.
Reach out to our team of developers and become the king of the healthcare sector. Let us help you take you one step closer to your goal.