Don't ever take PHP developers for granted. With the evolution of the scripting language, the demand for PHP developers for hire also increases. We have already discussed why big brands use PHP, and you should consider it, too. Besides, there is a rise in PHP web development trends, empowering businesses to make the most out of sophisticated technology, including IoT and AI.
However, to reap all the benefits offered by PHP, you need dedicated PHP developers. Given as a business owner, you get bigger fish to fry than learning and staying up-to-date with all the coding stuff. Hiring PHP web developers, on the flip side, relieves you from the hassle and worries of creating and maintaining your web presence.
The crux of this post is to get you lucky in finding the right PHP developer who will lead you to rapid growth and success. So, let us now dive right into the insights of how to hire PHP developers.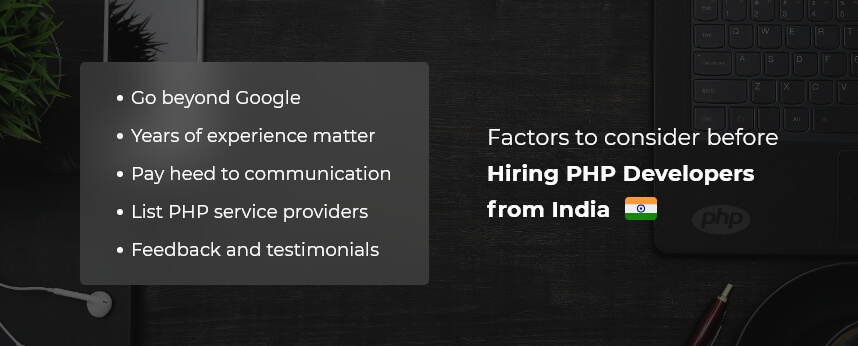 Factors to consider before Hiring PHP Developers from India
There is an entire ecosystem of Indian tech talent working at companies like Google, Facebook, and Amazon. Indian engineers are experienced and have demonstrated skills in languages like PHP. The reasons to hire PHP developers from India are numerous, and the most influential one is that it's cost-effective comparatively.
Yet, before you start head hunting, you should look into the below things to strategize your PHP app developer hiring.
Go beyond Google
Hiring developers is hard. Hiring developers in India is even harder. When you need to find a PHP developer, where do you turn first? Most people would answer Google, where they'll likely hit on the results appearing at the top. Instead, you need to think outside of Google to find the PHP developers you're looking for.
You can find good PHP developers in India from a variety of sources, not just Google. For example, you can connect with suitable PHP developers on LinkedIn and other social media or in communities around you.
Years of experience matter
When searching for a PHP developer, you should keep in mind your web requirements and look for a developer with the corresponding experience. Furthermore, it is beneficial to find a developer who is well-versed in current PHP trends and has a strong portfolio.
In addition, testing their grasp of PHP frameworks is a must. You can do this by asking them to create a project using one of the popular frameworks like Laravel or CakePHP. Also, PHP developers should be familiar with various databases, plugins, and top PHP servers.
Pay heed to communication
Good communication is a must in any industry or tech partnership. This is especially relevant when outsourcing or hiring a team of PHP developers in India.
Whereas clear communication means being able to talk to people and making sure there are no problems between you, your team, and the developers of the PHP website development company.
Also, make sure they know your requirements, purposes, and intentions to keep your PHP team on the same page. You can have a regular conversation for an agile development method to work. Eventually, real-time communication will ensure your PHP-based web development goes smoothly.
List PHP web service providers
Hiring a PHP development firm in India can be a daunting task. You have to find a company that meets your needs and also fits within your budget from a labyrinth of a wide range of PHP developers'. Besides, you need to ensure that the company has the right expertise including Laravel developers, and background to help you build your project the right way.
To substantiate that, you can shortlist qualified firms and gather as much information as possible about the company. So that you can make an informed decision when it comes to hiring them.
Feedback and testimonials
When you're looking for a PHP development company, testimonials from past customers can give you an idea of what to expect. If you see a lot of positive feedback, that's a good sign!
If you want to get a sense of how the company treats its customers, take a look at the testimonials and see if you can reach out to anyone who wrote them.

Where to Look for Reliable PHP Developers?
When looking to hire a PHP developer, there are a few things to keep in mind:
Scope of expertise: You'll want to find an experienced and skilled developer in PHP programming.
Grasp your culture and vision: Choosing a developer who is a good fit for your company's culture and understands your goals is essential.
Adaptable: Having PHP developers who keep an eye on changing market demands and technological advancement is a must.
Cost-effectiveness: You'll want to make sure you're getting a fair price for the developer's services.
When you're looking to hire someone, selecting the best possible source is essential. To do this, you should ask yourself the following questions:
How soon do you need to hire a developer?
How many developers do you need to bring on board?
What level of experience and expertise do you expect?
Are you open to remote workers?
Are there any budget constraints?
You can find some great developers on sites like StackOverflow and GitHub if you're not already under pressure to find one. These websites are popular among developers for sharing information and networking with others who have similar interests.
These websites are a great place to find talented and qualified candidates for open positions. Many top companies, such as Google, use these websites as a source for new hires. This is because they know that the candidates on these websites are highly qualified and have the skills they need.
If you're short on time, you might want to use traditional job boards. These portals are a great way to find a job, as they aggregate listings from a variety of sources.
Indeed
Career Builder
Monster
LinkedIn Jobs
Glassdoor
If you're in need of quality developers but don't want to go through the trouble of in-house hiring, consider using platforms where you can find freelance PHP developers like –
Toptal
Hired
Stack Overflow
GitHub Jobs
Hiring a PHP developer from an Indian organization can save you time and money. You are more likely to find a developer with the specific skill set you need, and you will have access to a larger pool of developers to choose from. You can also establish a long-term relationship with the developer, which can lead to better results.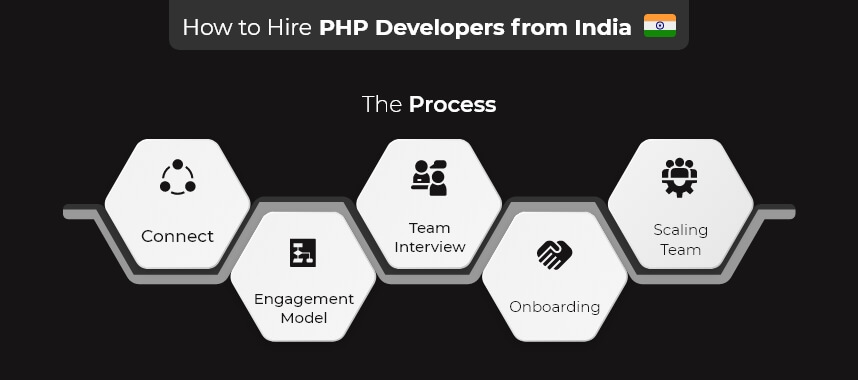 How to Hire PHP Developers from India: The Process
Now that you know hiring PHP developers in India is a win-win, let us clear another common concern of companies. Whether you are from the USA, the UK, or any corner of the world, nothing can stop you from hiring the best programmers from India.
All you need is a legitimate process to approach and partner with top-notch Indian software service providers. The fun part, you can access experienced PHP programmers at half the cost of in-house or hiring developers in your country.
So, here is the process of how to hire PHP web developers.
Connect
The first step is finding and getting in touch with potential PHP web development outsourcing companies. We just discussed the places you can look for them in the last section. So, when you come across software firms offering their PHP developers for hire, you want to visit their website. From the website, you can easily find a way to contact and convey your requirements to them.
1:1 Discussion
The second step is to be straight in the conversation with the company that just approached to hire developers. Whether you want to develop a custom PHP website, CMS, or a modern web app is crucial to decide. Being clear about the project will help you find the most qualified talent. Kody Technolab generally offers industry specialist PHP developers for hire, making it easier for clients to build competitive solutions.
Select Engagement Model
After a virtual round-table discussion, when you're ready to hire PHP developers for your next project, you'll need to decide on the engagement model. As well as how many developers you want to hire. This can be a tricky decision, as there are a few factors to consider, such as the scope of the project and your budget.
Team Interview
After you've selected the engagement model that's right for your project, the next step is to screen candidates for their PHP skills. This is necessary to ensure that the dedicated PHP developer you hire is capable of meeting your project's needs.
Onboarding
By screening candidates, you can figure out who would be the best fit for your PHP project. Once you've done that, you can finally start your project by working with the professional PHP developers you just hired.
Scaling Team
Outsourcing your development team always also makes it easier to scale your team quickly when your project grows. You don't have to worry about finding and training new PHP developers. You can simply onboard more PHP developers or reduce the workforce when your project doesn't need it.

What is the Cost to Hire PHP Developers?
Unlike in-house recruitment, you don't have to pay for talent acquisition services when you outsource PHP developers. Neither will there be any office maintenance, training expenditure, or other labor costs. But that doesn't mean you won't have to pay at all. Universally, if you hire PHP developers from India or any country, they charge per hour. And their hourly rate varies depending on a couple of factors.
Level of expertise: Developers with five or more experience ask for an hourly rate compared to PHP developers with two to three years of experience.
Hiring model: Whether you hire full-time remote PHP developers or part-time ones, your decision of engagement model can also cause variation in the cost of hiring PHP developers.
Location: Geographical regions play a crucial role in PHP developers' wages. In other words, the location of your outsourcing company where you hire developers can also impact your hiring budget. For example, below is the average PHP developer hourly rate in different countries.
North America- $150- $200 per hour
Latin America- $ 50 per hour
Western Europe- $50- $100 per hour
Eastern Europe- $ 25-$50 per hour
India- $30-$50 per hour
Australia- $100- $150 per hour
Seal the deal!
Hiring a PHP developer is tough for most companies. There are just too many talented candidates out there to find good ones. It can take months to find the right person, and by then, your developers are often already too busy to help.
But if you want to make swift progress, do not look away; connect with our tech expert today. You know the rest of the process, as we discussed in the post. We have a wide pool of PHP talents that fit your PHP project requirement. Try it yourself; it's free!