Let's put it straight; you need "Money" to give any startup idea a physical form! It is the resources that are going to lay down the foundation of your startup. But the real challenge lies in seeking funding for acquiring resources. Especially when the idea is fresh and new, it is difficult to convince people to invest in your startup. You may self-fund your business startup, but that doesn't always work. This challenge of raising venture capital varies from startup to startup and has many macroeconomic factors playing a role. So, what are the effective ways in which you can get funding for your app? Read this blog and find out how you can generate funding for your startup app.
It is almost a pipe-dream for a startup to invest around $85,000 in building their first app without any funding. And the lack of funds is a major reason why startups hold their thought back on developing an awesome, unique application
Firstly, you do not get an investor at first. Secondly, it is difficult to convince them about your idea of business and ask for funds. This results in project complications even before the idea is executed. So how will you get through this fundraising round?
We understand your pain and hence have tried to share our experience using which you can seek funding for your startup. Our journey to success is interesting, and so are our pragmatic ways.
Well, you would have done your part of the research, but this blog shares some practical and effective tips to get funding from potential investors and other sources. Find out more about how you can raise funds.
Before you jump into an investor and ask for money, you need to decide upon how much money you actually need for app development?
You can not make a random assumption about the fund figure you may need to uplift your business. This guessing many times lands you up in an underfunding situation. And this further leads to startup failure. Hence, divide the process of mobile app development into various stages like pre-launch needs, development needs, marketing needs, and post-launch needs.
Decide an estimated amount for each stage and then calculate the total. The figures are a rough estimate but are important to represent to the potential investors. You may clarify that the precise figures will depend on the execution of the idea, the complexity, and the team you hire for development.
The objective of doing this is to determine the estimate of funds required and to secure it from the investors.
Also, you can have an idea of how much effort you will have to put into this fundraising exercise. This exercise needs to be followed for all the scenarios, whether you are self-funding your business, asking it from family members, or pitching an investor.
The decision to get an "X" amount of money depends on a lot of factors. The potential investor may encounter you with a series of questions related to your business plan and your strategy. And the only thing you need to do is "Be Prepared, Be Presentable."
So how will you confirm that you are prepared to approach the investor for app funding?
The first thing you have to do is,
Consolidate your unique idea:
With the competition rising at a burgeoning speed, you have to ensure that you have a unique idea for the startup. The startup app should have a clear purpose for distinctively solving human problems. Unless your app plans to solve a problem, like a real problem, you can not expect the investors to be excited about the idea.
You can do enough research and make yourself prepared for the journey ahead.
Make a business plan:
If you have experience in launching a successful startup in the past, it may become easy for you to convince the investors. But, if it is your first time, then you need to represent a full-proof plan along with your business expansion strategy. A persuasive business plan attracts many investors, and you are likely to get a big yes from them.
Build your clickable prototype or an MVP:
A prototype or a minimal viable product holds a better potential to describe your startup plan and revenue generation. It gives the investors a chance to believe in you and your idea. A prototype or an MVP shows your dedication toward what you are planning to launch and can be your effective step for mobile app funding.
Prepare your elevator pitch:
An elevator pitch is the description of your idea or the concept in a compiled form. It should be short, informative, and grab the eyeballs within seconds. Using the elevator pitch, you can summarize your startup idea to the investors and get the required funding for an app idea. A long and aimless pitch is likely to bore the investor, and there is a maximum possibility that they may deny your business idea.
Wait till you find the right investor:
Not every prospective investor says yes to your idea, and in the same way, you don't need to say yes to every investor deal. Every time you don't need to listen to a yes, many times, you may get a No, or other times; you may have to turn down the offer. Analyze the times when you are getting a No if it is more frequent then try to modify your strategy of raising funds for a mobile application startup. Be more prepared when you plan to visit the investors.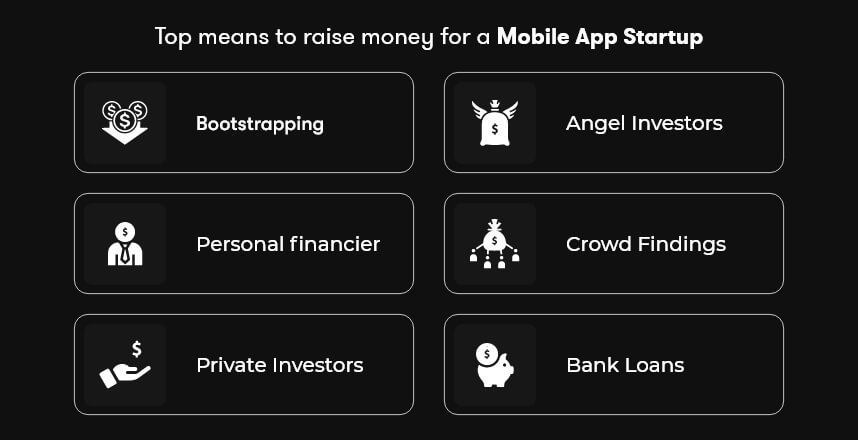 What are the different means to raise money for a mobile app startup?
Here comes the important part of the blog, the ways to get funding for an app idea. You have plenty of means by which you can raise funding for your startup.
Bootstrapping, Personal financier, Private investors, Angel investors, Crowdfundings, or Bank loans. However, each one of these has its limitations.
In the next section, we are going to describe these funding options; in brief, do your proper research and decide the best fit option for your startup.
Bootstrapping:
The most secure way of raising funds is by Bootstrapping, aka Self-funding. Why? Because, if you hit it right, the profit is all yours, and if you fail, you don't owe money to anyone. You can invest your savings, and be completely responsible for your results. Bootstrapping also doesn't put this extra pressure on you to recover the amount and pay the debts.
Personal financier:
It is the next secured way of raising funds from family and friends. Family and friends know you trust you and always wish to extend their support without doubting your idea of the startup. You just need a strong startup plan, and a persuasive sales pitch to convince them to invest in your startup. Since they are your known faces, it becomes easy to satisfy their anxiety about the startup. If you wish to increase your chances of getting a Yes from them, you can create a clickable prototype or a Minimal Viable Product (MVP).
Private Investors:
The next on the list is the private investors. You can pitch your startup idea to a niche business related to your startup and ask them to invest in your account. You need to reassure the private investors repeatedly that your business is going to be a game-changer for the industry and explain to them how they are going to earn the profits. Since they would be related to your business, it would be easy for you to communicate with them and think of ideas for business expansion.

Angel Investors:
Don't go by the name "Angel" investors do seek their own profit for investing in your business startup idea. Angel investors are the people who wish to invest their extra money in a valuable business venture. They really don't care much about the money, but yes, they may ask for a share of the profits or a convertible bond. Hence, this category of investors is a favorite of business startups.
Angel investors may ask for around 10 to 25% of the shareholding in your business startup. This percentage also depends on the final amount they would like to invest in. Since they would be investing without asking you to return the invested money, they will need a strong and compelling business idea. Hence, you have to prepare well for your business pitch, create an MVP, and share it across to them. If the angel investors find it promising, they would easily invest in the business.
It is not necessary that only a third party can be your angel investor; even your family and friends can be your Angel investors.
Crowd Fundings:
Crowdfunding platforms are the next treasured way of raising money for your business startup. There are many crowdfunding platforms like GoFundMe, IndieGoGo, and Kickstarter, on which you can market your startup idea and seek funding from multiple investors. You can pick up industry-specific crowdfunding platforms and pitch to potential investors. There are three different types of crowdfunding,
1. Donation-based crowdfunding: Here, investors donate to a startup venture without expecting much in return. In return, some of the investors may ask for early access to the app or some special features.
2. Debt-based crowdfunding: Investors of this category want your complete confirmation on the repayment of the money. You need to repay the lent money once you start earning profits or on the decided timeframe.
3. Equity-based crowdfunding: Investors of this category are similar to Angel investors and venture capitalists. They seek their shares in return for their invested money into your business.
Crowdfunding platforms allow you to connect and interact with people driving the same interest. You just have to pitch your unique app idea in front of the audience, and the ones who are interested in it will contact you. It's also an effective way to market your product even before it is ready.
Bank Loans:
You can always resort to banks for getting funds. But, they always want their money back, and this is the obvious reason why startup founders avoid taking bank loans. They don't care whether you are making profits or doomed even before the launch; they just need their money (with interest).
Additionally, the process of acquiring bank funds is long, tedious, and needs a lot of paperwork. The rules of issuing bank loans differ from bank to bank and state to state. If you are opting for bank loans, then you should check everything on a prior basis.
However, you have to be very cautious while asking for a bank loan. You have to be clear on the exact amount of money you need for the startup, the timeframe in which you can pay it back along with the rate of interest. Hence, do thorough research before you apply with the banks.

What do tech startups need funding for?
Without a clickable prototype, it will be very difficult to convince investors for your mobile app funding and that your startup is worthy of their money. Hence, the purpose of the first app funding round is to develop the MVP (minimum viable product) so that the product can be released quickly, feedback can be collected, and investments can be secured for further development.
So, here are the necessary steps you can follow to create your MVP rapidly.
Market research
It is essential to conduct market research to determine if your product will be of interest and use to consumers. Platforms that provide paid surveys, such as Toluna, can give you insights into your main competitors and how they develop MVP products.
Data Acquisition
You cannot create an MVP until you have defined the customer's problems and whether your product is the solution. For example, Airbnb met the needs of customers who found hotel rooms to be too expensive. BlaBlaCar, on the other hand, provides users with flexible routes and schedules. You can create an MVP version of your software by identifying the users' pain points and solutions.
Define project requirements
Having a clear vision for the future application will make the process of finding a tech partner easier. When preparing a list of desired features, leave out those necessary components for a minimum viable product concept. Note that an MVP doesn't require complicated functionality or trendy design.
Acquire a team
Once you have defined the requirements, you can begin to look for a dependable technology partner with verified experience in the field you require. When making your decision for an IT vendor, consider the number of successful projects, the complexity of those projects, the technologies used during the development process, and reviews from past clients.
Development
Once you have all the app elements defined, you can develop your MVP product. Keep it concise and focused on quality rather than overloaded with features. The software development process has a few steps:
Discovery and scope of working project
UI/UX design
Coding
Quality Assurance
Launch
So, When should you raise funds for your Startup idea?
There are various funding stages, namely, Pre-seed, Seed, Series A, Series B, Series C, etc. And at various stages, you need a different amount of money to execute your startup idea. However, the preferable time when you should be asking for funds is when you have crossed the app validation process.
Summing up:
You can not initiate your startup idea with limited resources; because you need funds to deliver a final product. You need funds to buy computers, to pay for the hired mobile app developers or the development company, to pay the bills, and many more such things.
Hence, to get enough funding from potential investors, you need to walk the extra mile and be well prepared with the idea. Be clear with the fundamentals of the business module, check how good your product is, how much potential it holds, how much profit you may earn, and what things you can give back to the investors.
The answers to these queries will help you in analyzing your financial situation.