Once you build and release your app, your work is done. Is it true? Not even remotely.
However, many business owners make this assumption and focus on development costs solely, giving the Total Cost of Ownership the cold shoulder. They overlook app upgrades, changes, and other mobile app maintenance expenses. While the truth is you need more time and money maintaining your app in the long run than its development cost itself.
Cross-platform or native app, basic or complex app, whatever the type of the app is, it needs detox every few months. That said, an app cannot be developed perfectly right away. The owner and the developer learn more about the app, demand, and users in that particular market After the app is published. You cannot predict how the audience in the field would use the app by any means.
Sometimes, app features that make sense during development don't tickle your audience and vice versa. Mobile apps are living and iterative things, needing updates every now and then. An update to be optimized to run smoothly on updated browsers and operating systems. You want your app to update when the integrated APIs in the app change to be more efficient and faster. Your app needs maintenance to be alive and kicking in all seasons.
Let us be a little more specific about why mobile app maintenance is as crucial as the business model and project requirements.
Why you should care about mobile application maintenance
Software and device versions updates
Operating systems updates bring changes in layout guidelines, features, and even developer tools. iOS13 is a practical example that changed the UI drastically, compelling all iOS apps to be adapted because incompatible apps with the latest updates can cause security and UI/UX issues.
Moreover, new smartphones with various screen resolutions are released in the market more often than not. In that case, you need to ensure your mobile app is adaptable to new screen sizes. Following a regular app maintenance practice, you can avoid these likely issues.
Latest market trends and rules
A few years ago, mobile apps used to have side menus, while today, keeping essential features at the bottom is the best practice. Most mobile app trends appear in the app design, enhancing user experience. Be it style, new features, split-screen, animation, transition; the list goes on.
Such design elements become popular after a brand uses them and users love them. For example, Instagram's story feature, you can see on maximum social media apps. These trends are surefire for other apps as audiences already liked them. Thereby, you should update the relevant trends in your app as and when they pop up.
Fixes technical issues
No software in the world is perfect. Even tech-giant Google and Facebook have witnessed data leaks, imperfections, and bugs after investing millions of dollars. If that consolidates you, you should also know that continuous maintenance and testing are inevitable to save your app from drowning.
Technical issues like producing wrong results, tapping a button repeatedly, or crashing after clicking a button can happen for a number of reasons. Such errors could also emerge even long after the app launch and hamper the user experience making users leave. To avoid losing your prospects, you should frequently test your app compatibility across mobile devices.
Intensify user experience
The secret key to most successful apps is that they constantly provide a better user experience in all given conditions. Mobile apps keep coming up with new features and functionalities. You don't want your audience to replace your app with a new app just because it has modern functionality. You'd instead evaluate your app time-to-time to know what it lacks or needs to enhance for a better user experience.
Polished user experience helps you:
Build long-term relationships with users
Receive better feedback and positive reviews
Increase user retention
Enhance customer loyalty
Increased ROI in the Long Run
Maintaining and regularly updating your app offers incredible benefits and room for maximizing ROI in the long run. When you look for ways to innovate your app, it decreases the cost of acquiring new users. Improved UI/UX and new features retain users. Identifying and fixing bugs ahead of time saves you from costly affairs. All these regular maintenance practices ensure a productive app life cycle.

What does Mobile App Maintenance Cost in 2023 include?
Upgrade the app version and add new features
Mobile app maintenance includes building, testing, and launching new features in the app. Such features are based on the current trends or in accordance with new services released on the app.
Considering new smartphone releases and operating system updates to polish your app experience is also app maintenance. Furthermore, you can modify the app UI/UX design according to app user feedback and reviews to make it more user-friendly.
Check out our approach to mobile app design.
Ensure compatibility with emerging operating systems and devices
The APIs also update their mechanism to strengthen their security, which your development team used in building your app. Thereby, checking on these APIs and updating your app is also a part of your app maintenance.
Identifying and bug fixing
There are various testing exercises to recognize potential bugs and ensure your app is bug-free. Practicing such testing helps you resolve the chaos hidden bugs could create.
Hosting service is something not a single app can function without. Not to mention, it's a recurring and ongoing expense. What kind of hosting service your app needs is based on the type of data your app collects. There are multiple options available, with prices ranging from $70 to $320 per month.
How much does it cost to maintain an application in 2023?
They say mobile app maintenance costs you 15-20% of your total app development cost. However, it does not have to be true all the time. If you look at popular apps, they are always on the move to enhance based on their analytical data and external factors. Besides, mobile app maintenance is not only about bug fixing instead, but it's also an inclusive process of the below practices;
Upgrading the app to the latest OS version.
Creating new content
Performance enhancement
Synchronizing with the latest technological trends
Acquiring the latest push notifications
Maintaining a robust backup
Enhancing app analytics
The mobile app maintenance cost depends on;
Platforms your app is live on iOS and Android;
App development method you have acquired: Cross-platform or Native app development;
The number of your app features;
Technologies and APIs you have integrated into your app: Push Notifications, Payment Gateways;
App Hosting server;
How often do you test the app;
How you maintain your app: in-house or partnering with a mobile app development company
Mobile app maintenance cost differs for tens of reasons. So, here's a piece of advice: consult with a tech business analyst prior to developing an app rather than believing prejudice.
We have been helping startups to enterprises with adequate development and maintenance services. Our mobile app development company also offers mobile app developers for hire and augments your existing development company. You can leverage our expertise in technology as well as business development. Try out by asking any questions in the chat right away!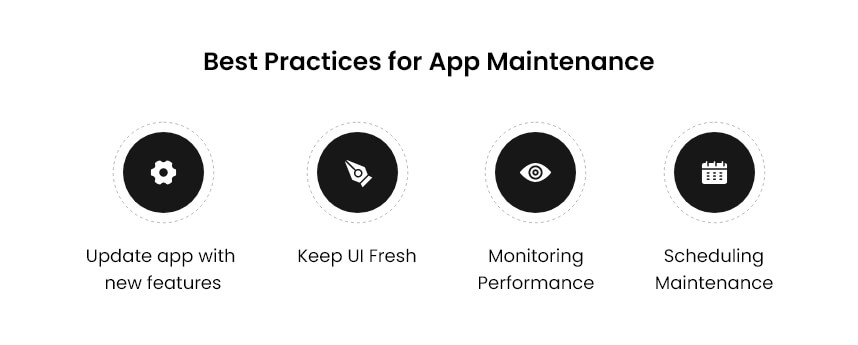 Best Practices for App Maintenance
Since maintenance enables you to ensure that your users have a seamless and excellent app experience, considering these practices will help keep your app competent.
1. Update your app with new features
It is always a good idea to reflect upon your app's functionality and look for improvement areas to find out what new features you can introduce to add more value to your app compared to your competitors.
2. Keep the User Interface (UI) Fresh
UI/UX trends evolve with usage habits and can be valuable in making your app engaging for your users. Hence, always keep an eye on trends to maintain your app's trendy look and feel.
3. Monitoring Performance
No one would like to use an app that halts every now and then or takes a longer time to load the content, right? Therefore, you need to constantly monitor your app's performance and create analytical reports to enhance the app's performance. You can also track KPIs, such as churn rates, usage patterns of users, engagement, and conversion rates, to recognize if there is anything unusual.
4. Scheduling Maintenance
Scheduling regular app maintenance is one of the best practices that will never let you miss out on the latest issues and bugs. Moreover, you can inform users about the system down for maintenance in advance.