The Beauty industry and salon businesses are heavily driven by repeat business. Haircut, manicure/pedicure, facial, massage, and other beauty services are essential and often sought after. On the contrary, the market is oversaturated with big and small businesses offering similar beauty services.
Above all, beauty services providers have acquired software solutions to a great degree after getting through the global crisis. Consequently,
The Global Salon & Spa Software Market is expected to grow from USD 162.36 Million in 2020 to USD 314.46 Million by the end of 2025 at a Compound Annual Growth Rate (CAGR) of 14.13%.
Today's beauty salon and spa business competitors know why their salons need an app, specifically a mobile application. It aids in automating and streamlining the salon appointment booking process, making it manageable on mobile devices on the go.
Nevertheless, when it comes to—
ATTRACT new clients for revenue,
BUILD your customer base for sales,
GROW your salon for brand recognition in the market—
You need a Salon appointment booking solution tailored to your client's expectations. Because
"Customers buy for their reasons, not yours." —Orvel Ray Wilson.
Knowing what clients want from your salon app by putting yourself into their shoes helps you incorporate the right value propositions into your offerings.
In this blog, we express clients' expectations from a barber app or salon app. We learn about salon clients' wants by studying them on different apps for barbers and beauty studios, what they discuss on social media, etc. So, it will teach how to interact with your new and existing clients to stick them to your beauty salon services.
Clients Expect A Salon App To Be Secured
An excellent salon app is one, which is 100% secured for both clients and salon owners. Even a slight security issue can make a client not trust a salon app and not use it. If the client uses the salon app and their data can be stolen, it can be bad for your business, so you need to be careful with the security.
A salon app should be developed by an expert team that knows how to handle the security aspect. It's not so easy to create an app with high security. You need to know the latest technology and tools for developing a secure salon app.
For more, refer —> How to Develop a Beauty & Salon Appointments Booking App like StyleSeat?
Clients Want Tangible Proof On The Hair Salon And Barbershop Apps To Trust You
Today's clients are more informed than ever before, which means the bar is set higher than ever for salons and barbershops. The same can be said for the technology salon businesses use to communicate with their clients. Despite offering special offers online, you need to gain their trust in your beauty services.
Clients always need to trust the professional who is taking their nails, hair, skin into their hands beforehand. And if you have a mobile app, you can keep a profile of every professional working at your facility. You must list their areas of expertise along with their certifications. In addition, attaching their work and previous client feedback would not only attract more eyeballs but also win them over.

Beauty Businesses' Clients Seek Value For Their Money To Be Spent
Clients want deals and promotions that are geared toward them and that offer value for their money. However, they won't spend money on a beauty service if they do not find a deal worthwhile. Basically, deals and promotions customized to the specific needs and wants of your target audience work well. And not the ones good for your business only.
On that note, salon businesses should offer deals and incentives, enticing consumers to spend their money intuitively. Speaking of how you would tailor such deals, you can always refer to clients' behavior on your app.
For example, if they leave the cart without checking out, what services they often search for, how they respond to deals you offer, and so on. The best part, you can tailor push notifications and send them on your clients' mobile devices in real-time.

Besides Loyalty Programs, Clients Love To Be In A Beauty Community
As said earlier, today, a lot of salons have a mobile app, but how many of their clients really use the app? Apparently, most of them don't. The reason is that there aren't many mobile apps dedicated to the beauty industry. Of course, there are a lot of apps for booking appointments, but there are very few apps that make a person feel like a part of a beauty community.
A mobile salon app created to help a person feel a part of a community can help a person feel a part of a beauty business. If a person feels a part of a beauty business, a person will be more likely to become a loyal client. And, it's imperative to give a sense of belonging when a person is visiting a salon or spa.
You can make a person feel joyful and welcoming from the moment they open your salon app. By uploading engaging content regularly, leaving space for comments and suggestions, you can create an in-app community of your beauty business. Promoting user-generated content is another way to boost your own community.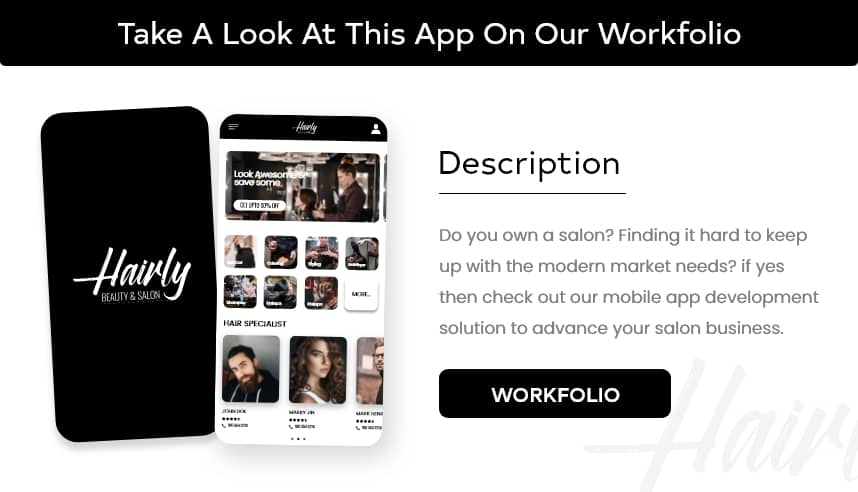 Summing up
For a hair salon business, it's crucial to make their customer happy to keep them coming back. Besides providing deluxe beauty services, to make clients feel content, you need an app that meets their expectations.
That is why you must find out what your clients want from your hair salon app. And calculate how to manage to provide them the service they want. It is not enough to have an app that is pretty to look at or has a lot of features. Your clients want a reason to trust you, and if you have a mobile app, they want a reason to carry it with them.