Warehouse Management Software (WMS) is essential for organizations as it effectively oversees inventory, optimizes operational processes, and improves overall efficiency. Often, off-the-shelf WMS solutions correspond differently from the specific workflows.
Whereas, a custom WMS solution ensures that the software meets the organization's precise requirements. It also integrates seamlessly with existing enterprise systems such as ERP and accounting software, allowing for data synchronization and eliminating the need for manual data output.
Nevertheless, choosing a warehouse management software tailored to the organization's requirements is a strategic investment that yields long-term returns. Determining the financial impact is essential for budgeting and making well-informed decisions, so it is worth considering. It is a difficult but fruitful endeavor influenced by a multitude of variables.
In this blog, we will look into the parameters that affect the WMS cost and provide valuable insight into the financial considerations involved in implementing a WMS.
Factors that Influence the Warehouse Management Software Cost
The development cost of warehouse management software can range between $20,000 and $70,000 or more. Several factors impact the overall WMS software cost.
Complexity of the Warehouse Management System
The overall complexity of the WMS is the primary factor influencing the warehouse management software price. A custom warehouse management system allows the users to configure the solution precisely to their needs, as per the level of complexity that corresponds with the business needs.
| | |
| --- | --- |
| WMS: Level of Complexity | Pricing |
| Simple Complexity | $20,000-$30,000 |
| Medium-Level Complexity | $40,000-$50,000 |
| Highly Complex | $70,000 and above |
*Costs may vary considerably based on the features you choose.
Size and Scale of the Warehouse Operations
The magnitude of warehouse operations determines warehouse management software cost. Ask the following questions to assess the WMS operations based on the size and scale of the warehouse operations:
How many users need access to the WMS?
Which degree of real-time visibility and control over the inventory and warehouse operations is required?
How many unique Stock Keeping Units (SKUs) must be incorporated?
How big is the volume of inventory?
Are there any specific reporting and analytics needs?
What distinctive difficulties or pain points must be resolved in administering the warehouse?
What are the requirements for scalability to facilitate future growth?
The software must accommodate the business expansion plans with increased inventory volumes or additional warehouse locations. Developing a scalable WMS that meets future needs necessitates further development, affecting warehouse management software prices.
However, it will lessen the need for high-level development of the system's new modules, leading to decreased warehouse management software cost in the long term.
Number of Features and Functionalities Required
Various features determine the system's functionality, complexity, and customization needs. Inventory management, data analysis, order administration, and reporting tools are the main components. According to the system's level of complexity, the advanced features would be incorporated. A custom warehouse management system enables the operations to focus on the essential aspects of the WMS. It saves money and eliminates the complications and distractions associated with managing irrelevant features.
Here are a few critical features for different-level warehouse management systems that determine the WMS software cost:
| | | |
| --- | --- | --- |
| Simple Complexity | Medium-Level Complexity | Highly Complex |
| Inventory Management | Order Fulfillment Optimization | Cross-Docking and Transloading |
| Order Management | Integration with Business Systems | Dynamic Slotting Optimization |
| Barcode Scanning | Vendor and Supplier Management | IoT Automation |
| Warehouse Mapping | Warehouse Mapping and Slotting | Industry Compliance Support |
| Basic Reporting | Labor Management | Real-Time Supply Chain Visibility |
| Mobile Access | Multi-Location Inventory Management | Omni-Channel Fulfillment |
*This is not an exhaustive list.
Integration with Other Systems
Integration with other systems, including Enterprise Resource Planning (ERP), Customer Relationship Management (CRM), and other software applications, can affect the WMS software cost. It necessitates configuration efforts to establish a synchronized data exchange. The complexity of the integration, which includes the involved data formats, protocols, and APIs, can affect the development effort and, by implication, the cost. Rather than paying for bundled solutions with integrations to various systems, which may include irrelevant systems, custom WMS enables cost-effective integration with specific systems crucial for business. 
Integrated systems may experience enhancements or updates over time. Maintenance and support costs should be accounted for in the overall warehouse management software cost to ensure ongoing compatibility and resolve potential problems or modifications.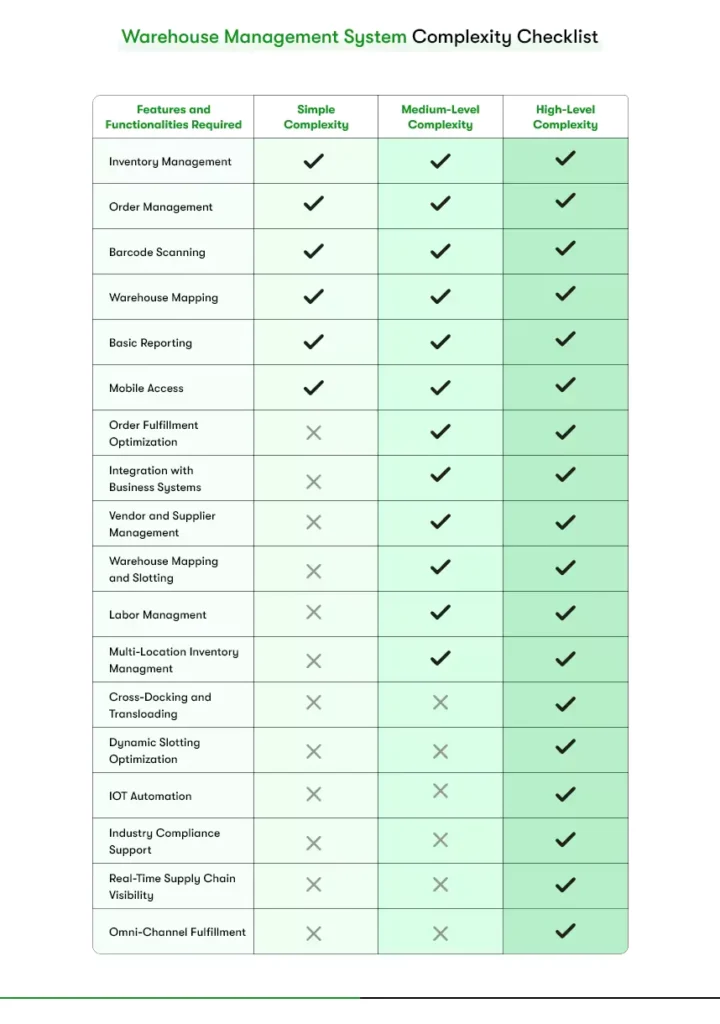 Customization Requirements
Each organization has distinct workflow, reporting, and integration needs, which affect the complexity and development efforts of a custom WMS. Considering these factors guarantees a WMS solution that maximizes operational efficiency and accuracy at a cost proportional to the value it provides. Customized warehouse management software (WMS) is ideal for businesses because it precisely fulfills their warehouse operation requirements.
Tailoring the Software to the Specific Business Needs
Building customized software to meet the business's unique requirements can impact warehouse management software cost for several reasons.
Needs in-depth analysis of the requirements:
The customization process begins with an in-depth analysis and requirements gathering to comprehend the organization's particular needs. This procedure requires additional time and resources due to the extensive discussions, seminars, and consultations.
Development effort:
It entails modifying existing features or developing new ones to meet the organization's needs. This customization work necessitates skilled developers, which makes it worth the investment.
Testing the software:
To ensure data accuracy, suitable functionality, and system stability, customized warehouse management software undergo rigorous testing, ensuring optimal functioning on implementation.
Consideration for future upgrades:
Scalability and future upgrades must be considered when adapting software to specific business requirements. Assuring that the software can accommodate expanding inventory quantities, additional warehouse locations, and changing needs may necessitate additional warehouse management software costs.
Designing User Interface and Workflows
Devising user interfaces and workflows may affect WMS software costs. Nevertheless, it is a beneficial investment because it ensures an intuitive and practical user experience. It can increase user adoption and productivity yielding long-term advantages for the organization. The following factors are responsible for increasing warehouse management software cost:
Customization: Designing a UI requires customization, and the designers must be well-known for the specific business requirements. It increases development effort and complexity.
Iterative process: Designing user interfaces and protocols typically entails wireframing, prototyping, and collecting user feedback. Each iteration necessitates time, effort, and resources from designers and developers.
Interoperability: The UI design must be compatible with multiple platforms and devices. Designing for various operating systems and screen sizes increases the WMS software cost.
Data Migration and System Integration
Warehouse management software cost is increased due to data migration and system integration. However, effectively accounting for the complexities involved can help designate the necessary assets and budget to ensure a successful integration while managing WMS software costs efficiently.
Data cleansing and validation: It is essential to guarantee the accuracy and integrity of the data. The execution of data cleansing tasks, which involve the elimination of duplicate entries, the resolution of inconsistencies, as well as the standardization of formats, necessitates supplementary development and quality assurance endeavors.
API development and integration: Integrating the WMS with pre-existing systems, such as ERP, CRM, etc., typically requires the development and configuration of APIs. It necessitates additional investment in development resources to guarantee a smooth data exchange and synchronization flow.
Data mapping: It entails data field mapping between the current systems and the WMS to guarantee accurate data transfer. Implementing this requires further development and potentially impacts the overall WMS software costs.
Cost Components in Warehouse Management Software Development
Warehouse management software cost components are essential for budgeting and making sound business decisions. Let's examine the key cost components for developing WMS.
Development Team and Resources
Effectively managing WMS development costs involves taking into account several key considerations. These include striking a balance between the expertise and size of the development team, optimizing development hours, utilizing appropriate technology, ensuring robust testing, and providing adequate project management, training, and support. These cost components play a pivotal role in determining the overall warehouse management software cost.
Roles and Expertise Needed
The presence of a proficient and varied team guarantees an effective strategy for customized WMS development that fulfills the requirements of the organization while enhancing operational efficiency.
| | | |
| --- | --- | --- |
| No. | Role | Responsibilities in WMS Development |
| 1 | Business Analyst | Comprehend requirements, protocols, and translate them into technical specifications ensuring that WMS aligns with the objectives. |
| 2 | Project Manager | Coordinate team members, manage project scope, and communicate with stakeholders. |
| 3 | Software Designers | Devise WMS's overall framework and structure, determine the technology architecture, and make decisions that have a significant impact on system performance, scalability, and security. |
| 4 | Team of Developers | Expert in programming languages, databases, and system integration. |
| 5 | UI/UX Designers | Develop an intuitive and user-friendly interface for WMS. |
| 6 | QA Specialists | Test WMS to identify and resolve any defects or performance issues. Ensure that WMS meets the intended quality standards. |
Every role necessitates distinct expertise, prior experience, and a designated time commitment. Having the appropriate functions and expertise throughout the custom WMS development process helps guarantee that the system is developed with a thorough comprehension of warehouse operations, adheres to technical best practices, meets user requirements, and is subjected to stringent quality control. This comprehensive approach results in a highly functional, dependable, and cost-effective custom WMS that meets the organization's unique needs and contributes to enhanced warehouse management efficiency.
In-House Team vs. Outsourcing
The choice between an in-house team and outsourcing WMS development significantly impacts warehouse management software development costs. Building an in-house team necessitates the hiring of competent professionals, the establishment of necessary infrastructure, and the payment of administrative expenses.
In contrast, outsourcing WMS development to a specialized company such as Kody Technolabs can frequently result in substantial cost savings. Outsourcing provides access to a pool of highly qualified WMS development professionals. These companies have specialized teams with extensive knowledge and experience in developing warehouse management solutions. Outsourcing eliminates internal team maintenance expenses such as salaries, benefits, infrastructure, and overhead.
Development Time and Effort Estimation
An accurate assessment of development time and effort is vital for optimal cost management and project planning in WMS development. For precise time and effort estimation, it is essential to thoroughly analyze and document the functional and non-functional requirements of the WMS. Moreover, the complexity of the intended WMS functionalities and features significantly impacts the time and effort required for development. Complex features, such as advanced inventory monitoring, automated selecting and packaging, and integration with autonomous systems, necessitate additional design, development, testing, deployment time, and effort.
Solid project management, communication, and collaboration between the development team and stakeholders affect the development time and effort. The better the administration, the lesser the time and the WMS software costs.

Tips to Optimize Warehouse Management Software Cost
By implementing intelligent strategies, and concentrating on key areas, businesses can reduce WMS software cost without sacrificing the functionality. Here are a few tips for optimizing warehouse management software cost and achieving cost-effective warehouse management solution.
Prioritize Must-Have Features
Identify and rank the must-have warehouse management system features that align directly with the operations and business objectives. This way, unneeded development efforts, and WMS software costs can be avoided. Focus on required features such as inventory management, order fulfillment optimization, integration, reporting and analytics, and an intuitive interface. This methodology ensures that the development team delivers functionality that maximizes value, correlates with business goals, and optimizes logistic operations. This results in a more cost-effective WMS solution.
Agile Methodology and Iterative Approach
The agile methodology emphasizes delivering functional software in shorter iterations called sprints. This strategy permits early and continuous input from stakeholders and end-users. By obtaining feedback early in the development process, prospective issues or adjustments can be identified and addressed expeditiously, preventing costly revisions in later stages. Not only his, but it also facilitates prioritizing features based on business value. It optimizes the use of development resources, ensuring that the highest-value features are addressed within budgetary constraints.
Choosing the Right Partner
The ability to choose the correct partner is crucial for a successful outcome. With a team of qualified and seasoned professionals, they employ agile methodologies and effective project management techniques. Drawing on their expertise, they may offer a high-quality WMS solution within the allotted budget and timeframe. Kody Technolab specializes in customizing WMS solutions to meet specific business requirements. Understanding particular needs, workflows, and goals aids in developing specialized features and functionalities. This strategy eliminates superfluous features and issues, reducing development costs while providing a WMS that accurately fulfills the organization's requirements.
Scalability and Flexibility for Future Growth
As the business grows, a scalable WMS solution negates the need for expensive system replacements. By dividing the software into smaller, autonomous modules, adding or modifying specific features is simple without affecting the entire system. This modular architecture mitigates development expenses by focusing on particular enhancements instead of rewriting the solution. It is simple to reduce the costs associated with system enhancements, redevelopments, and maintenance when WMS development takes place, considering scalability and flexibility for future growth.
Conclusion
The perks of implementing a custom WMS system significantly outweigh the initial warehouse management software cost. It gives you an edge over your competitors with a higher level of operational intelligence, allowing you to be more adaptable and provide higher-quality client experiences when used correctly.
If you intend to invest in custom WMS software, Kody Technolab is a prominent warehouse management software development company. We can partner with you and assist you in maximizing your operational efficiency.