$20,000 to $250,000, or maybe more! Though it seems like random amounts. But it is what it is. The cost to develop a Fintech app ranges from as low as $20K to as high as, well, there is no bar.
If you wonder why and how the Fintech app development cost fluctuates dramatically, you want to stick to the post until the end. However, if you just want to know the amount, you should connect with our Fintech app expert to get a rough estimation for your Fintech app idea.
Why is the Fintech app development cost roaring?
There is no surprise the Financial Technology market is at its peak, with an approximate value of $165.17 billion. Not only that, but the market is also growing at a CAGR of 25.18% and is projected to cross $400 billion soon.
The market is growing because the number of Fintech startups is increasing. Over 26,000 Fintech startup has sprouted in 2021 (10,000 from the USA only).
How this many business people can opt for the same market, you may ask.
I didn't want to bring this up. But I have to. Remember the deadliest time of the century. Yes, you guessed it– COVID. The period that forced us to live differently. Affected many businesses. Disrupted supply chain. And what not!
During that time, digital lending and online payment platforms saw terrific growth. Consequently, the usage of mobile banking and online payment apps skyrocketed by an average of 72% across the world.
Contactless, remote, and convenient were enough benefits to compel people.
But after witnessing the growth of such finance platforms, other financial institutions started to join the revolution to expand into new markets.
This explains why the Fintech market has kept growing exponentially.
The convenience that comes as a by-product of mobile banking and digital finance services has spoiled customers. And now, with the increase in mobile device usage, every business wants their app installed on their customers' devices.
Technology helps advance every facet of the financial market–from banking, insurance, investment, and loans to cryptocurrencies.
Therefore, financial institutions look for emerging Fintech app development companies to seize new revenue opportunities, access greater efficiencies, or innovate their organizations.
Consequently, Fintech apps and Fintech app developers' value is on the constant rise. That's not the only factor that constitutes the cost of building a Fintech application.
How much does it cost to build a Fintech app?
To understand the constitution of the cost to build a Fintech app, let us get deeper into the core variable. Understanding these factors should be enough for you to create a rough estimation of the budget you need to create a Fintech app for your financial firm.
Fintech app development Cost by Types of a Development Team
When it comes to developing a fintech app, there are different types of development teams that can help you out. Let me tell you about them in a way you can understand.
– First, there's the "solo" developer known as freelancers. They work independently and work on multiple projects simultaneously. Hence, it may take longer for freelancers to complete your Fintech app project.
– Next, there's the "small team" of in-house developers you hire through a recruitment agency to work on your site. In addition to monthly wages, the responsibility to handle the team and their software and hardware requirements will be yours.
– Then, you have the "local app development agency" of developers. They offer their developers to work on your project temporarily, but the rates might be higher compared to off-shore software agencies.
– Lastly, there's the "dedicated team" of developers you can outsource from any off-shore software company. They're like an entire army of superheroes! The best part, they work dedicatedly only on your app until the project finishes, and their rates are also low compared to local agencies.
Now, you might be wondering how much each of these teams would cost. Well, the charges dramatically differ.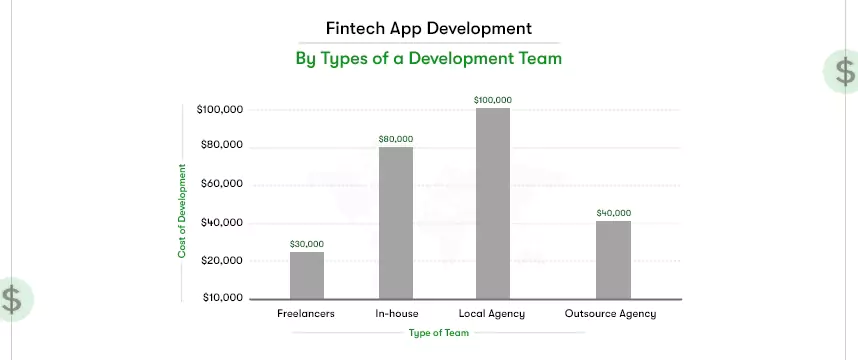 So, there you have it! That's a quick rundown of the different types of development teams and how much they might charge for fintech app development.
Cost by Types of a FinTech App
The Fintech market is flooded by a variety of financial apps. Hence, the cost to develop a Fintech app couldn't be fixed. Because every app has its different requirements for features, UI/UX design, technology integrations, and more. Besides, the time and expertise required to achieve the unique requirements of the Fintech app also differ.
Let us look into various types of Fintech apps along with the approximate cost to develop one.
| | | |
| --- | --- | --- |
| Type of the app | Development Time | Development Cost |
| Banking app | 3200 hours | $30,000 to $300,000 |
| Insurance app | 2800 hours | $45,000 to $200,000 |
| Lending app | 2300 hours | $50,000 to $150,000 |
| Investment app | 2500 hours | $50,000 to $125,000 |
| Buy Now Pay Later App | 1350 hours | $35,000 to $100,000 |
In case you wonder what kind of features set one Fintech app apart from the other, let us see some examples.
Chime-like Banking app features:
Mobile check deposit
Fee-free overdraft
Instant transaction notifications
Budgeting tools and alerts
Savings account with high-interest rate
Early direct deposit
Debit card lock and unlock functionality.
Insurance app features:
Personalized policy recommendations
Instant coverage purchase and renewals
Claims submission and tracking
Digital insurance ID cards
In-app virtual chat with customer service reps
Smart home assessment
Accident and emergency support services
Zest-like Lending app features:
Quick loan application
Personalized interest rates
Flexible repayment schedule
Multiple loan products (personal loans, debt consolidation loans, etc.)
Automated payments
Credit score monitoring and improvement recommendations
Robinhood-like Investment app features:
Commission-free stock trading
Fractional shares purchase
Real-time market data and news updates
Robo-advisory tools
Advanced order types (limit, stop-loss, etc.)
Investment education and resources
Portfolio analysis and monitoring tools.
Affirm-like Buy Now Pay Later app features:
Interest-free Financing
Flexible payment terms (monthly, bi-weekly, etc.)
Instant loan approval
Mobile shopping integration
Spend limit management features
Early payoff options
Automated payment reminders.

Fintech App Development Cost to Leverage the Latest Technology
Developing a Fintech app is much more than just making financial services available digitally. It opens up more opportunities for finance agencies than ever before, allowing them to gain accurate insights into their customers.
Fintech companies then use this insight to market the right financial products to the right customers. Hence, the conversion rate automatically gets a boost.
But how does a Fintech app gain insights into its users?
That's where emerging technologies come to play. Data Analytics, Artificial Intelligence, and Machine Learning are not new. But Blockchain breakthrough has also now penetrated the Fintech market, strengthening the security aspect.
And just like there are many technology integrations that can enhance the efficiency of the Fintech app by multifold. However, in this world, even if the technology is open source and free, you will need to pay developers. Of course, because you cannot implement algorithms or Blockchain yourself.
So, that is also a factor that increases the cost to build a Fintech app slightly more.
Artificial Intelligence (AI): Implementing artificial intelligence (AI) functionality in your fintech app can cost between $10,000 to $300,000 or more, depending on the complexity of the AI features and the size of the app.
Machine Learning (ML): Developing features based on machine learning can cost around $25,000 to $100,000, depending on the complexity and size of your app.
Blockchain: Implementing Blockchain technology into your fintech app can cost between $30,000 to $500,000+, depending on the complexity of the Blockchain features you want to implement.
Data Analytics: Building data analytics features into your fintech app can cost around $5,000 to $50,000 or more, depending on the complexity and size of your app.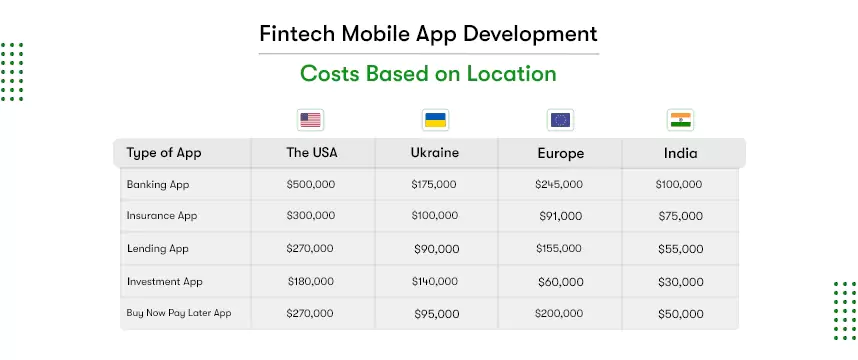 Fintech Mobile App Development Costs Based on Location
In the mobile app development world, the location of choosing to outsource your project or development team matters a lot. Not only expertise and experience but the location significantly affects the overall development budget.
How? Well, the living costs across the world and the currency value of different nations are not the same.

Hence, the development charges, be it hourly, project-based, or hiring a dedicated team, also vary.
Fintech app development Cost by Types of a Development Team
Potential Challenges of Fintech App Development that Can be Very Costly
After all the factors discussed, I feel obliged to shed light on some other elements that can affect the cost remotely. Overlooking these challenges means inviting your Fintech app's failure (may God forbid!).
Let me tell you how you can give the cold shoulder to such pitfalls and raise your Fintech app above all the hindrances.
Data Security:
Ensuring the highest level of data protection due to the sensitive nature of financial information is crucial. Hence, you must implement robust encryption and authentication protocols, as well as continuously update the security measures of your Fintech app.
Regulatory Compliance:
Fintech app owners must adhere to regulations and guidelines set forth by various financial authorities. Bear in mind that it can vary by country or region. Besides, it may include know-your-customer (KYC) procedures, anti-money laundering (AML) regulations, and data privacy guidelines, among others. So, take care of such regulations in advance so that you won't have to face any legal fines or penalties later.
Integration with Existing Systems:
Fintech apps often fail to validate seamless integration with banks, payment gateways, and other financial institutions. Now that I've told you, you must ensure your app is compatible with numerous protocols and standards. This will elevate your customer experience as well as help in the conversion rate.
Scalability:
Fintech apps should be able to handle large numbers of users and transactions without compromising performance or response times. Because you haven't invested thousands of $ just for a few thousand users, have you?
Hence, DO NOT fail to ask your developers to focus on creating a scalable architecture that can adapt to increasing demand and a growing customer base.
User Experience (UX):
A fintech app's success heavily relies on its usability and how intuitively users can navigate its features. Just because it's a finance app doesn't mean it can't be fun to use.
However, striking a balance between simplicity and functionality can be tricky. So, integrate constant user testing into your UI/UX designing process if you want to create an app that customers enjoy.
Cross-Platform Compatibility:
Ensuring that your fintech app functions smoothly on various devices, operating systems, and platforms is essential. Developers must ensure consistent design and performance across multiple platforms, which can be resource-intensive.
Resource Constraints:
Fintech app development requires skilled teams of developers, designers, and analysts. On the other hand, acquiring and retaining top talent can significantly impact development costs.
In this case, you should make a smart decision. For example, look for a Fintech app developer for hire in a region like India, where the world's most qualified and experienced developers reside.
Post-Launch Support:
After launching a Fintech app, many firms think they have achieved the milestone, and nothing is required further. But when their app crashes due to bugs or performance issues, they get panicked by the fixing cost.
But you save yourself from such panic by focusing on ongoing maintenance, feature updates, bug fixes, and customer support. DO Not forget this requires considerable effort and investment beyond the initial development phase.
As a Fintech App Founder, you must Keep these things in mind!
After a thorough reading on how much it costs to develop a Fintech app, let me give you a brief recap of valuable insights you learned today.
The Fintech app development cost fluctuates dramatically, ranging from $20K to $250k or more.
Different types of development teams have varying costs associated with them that can range from $30k to $120k or more.
The cost also varies depending on the type of Fintech app and the requirements associated with them.
Hiring a dedicated Fintech app development team from an Asian region is one of the best ways to get your Fintech app developed by professionals at a low cost.
Note: The rates and cost estimates in the post are just a rough guide, and the actual cost of developing a fintech app will depend on the specific requirements and goals of the app, as well as the expertise and experience of the development team.
That's it. But if you still need support to understand any aspect, do not hesitate to connect with our expert.