Finance, once synonymous with brick-and-mortar institutions, is now a realm where innovation knows no limits. The question is no longer, "Where is the nearest bank?" but rather, "Which app do I open today to manage my finances?"
FinTech has become an integral part of the financial ecosystem. Offering an API, FinTechs leverage customers' account data, including balances and transactions, to make financial products and services accessible digitally. It could be anything from money transfer, loan processing, insurance, trading, and more or all on a single platform. According to a FinTech effect report, 
The average Gen Z bank account is connected to 4.6 FinTech apps!
Basically, FinTech companies bridge the gap between financial institutions and customers through a technology solution. That said, the opportunity to innovate in the FinTech realm is as much as customers' financial needs and pain points.
To eliminate the need to rely on third-party FinTech API, banks and finance institutes have also started developing FinTech apps. However, what apps to build remains a tough question to address.
Therefore, we have compiled here the list of the best FinTech app ideas that you can choose from to innovate. Furthermore, we'll also look into some of the famous FinTech apps from the Netherlands and Germany.
So, let us kick start our guide by clarifying the FinTech concept in plain language.
What is a FinTech app?
FinTech, aka financial technology, comprises innovative companies that leverage advanced technologies, such as APIs, cloud computing, big data analytics, and artificial intelligence. You build FinTech apps on top of these cutting-edge technologies, connecting existing banks, and revolutionizing investing, paying, lending, and managing finance.
"We're witnessing the creative destruction of financial services, rearranging itself around the consumer. Who does this in the most relevant, exciting way using data and digital wins!" – Arvind Sankaran.
With FinTech apps users can easily access financial products and services through user-friendly FinTech apps, gaining insights into their financial health. Ultimately, FinTech's core mission is to make financial services more digital, accessible, and tailored to individual needs.
What is so fascinating about Finance App Development?
Mobile apps can do wonders, and the same holds for the finance industry. A finance mobile app can help people track their investments, assist them in splitting the bills, give them regulated tax information, and more. You will know Finance app capabilities while exploring financial app ideas for startups ahead.
"Financial institutions must be able to deliver an easy-to-navigate, a seamless digital platform that goes far beyond a miniaturized online banking offering." – Jim Marous.
The following temptations stimulate entrepreneurs to initiate a FinTech startup app development.
As the demand for FinTech apps skyrockets, the market has plenty of space for your innovative idea to flourish, mainly if it solves a significant financial problem for your target audience.
With millions of people already turning to mobile apps for finance-related tasks, there is a massive opportunity for a new app that simplifies bill paying and other essential functions.
In today's world, where data security is a top priority, a reliable mobile finance app that mitigates the risk of cybercrimes and human errors is more critical than ever.
So, the time has come when we finally unleash the top-tier, surefire-to-succeed in Finance Technology App Ideas. Let's dive right in.
Top 15+ FinTech App Ideas That Will Set the Standard for Innovative Finance Solutions
Many FinTechas are emerging, harnessing the collaboration between traditional financial organizations and tech companies. In such times, banks and finance companies should consider building an app to secure the authority of their customer and data. If not a complete digital banking transformation, you can also create an app for a specific financial service or product.
You have plenty of FinTech app ideas to choose from, and that's what we'll explore now. Because as FinTech pioneer David M. Brear says,
"Technological innovations will be the heart and blood of the banking industry for many years to come, and if big banks do not make the most of it, the new players from Fin-Tech and large technology companies surely will."
1) Invoice Financing App Development
Invoice financing app development aims to help businesses obtain immediate cash flow by selling their invoices to a third-party financing company at a discount. It enables companies to access working capital quickly without waiting for payment from their clients.
Examples – Fundbox, BlueVine, MarketInvoice, KredX, and Behalf.
Features of Invoice Financing App Development are:
Instant invoice financing,
Online invoice submission and tracking,
Automatic invoice verification and approval,
Easy payment processing,
Customizable funding limits,
Transparent fees and rates.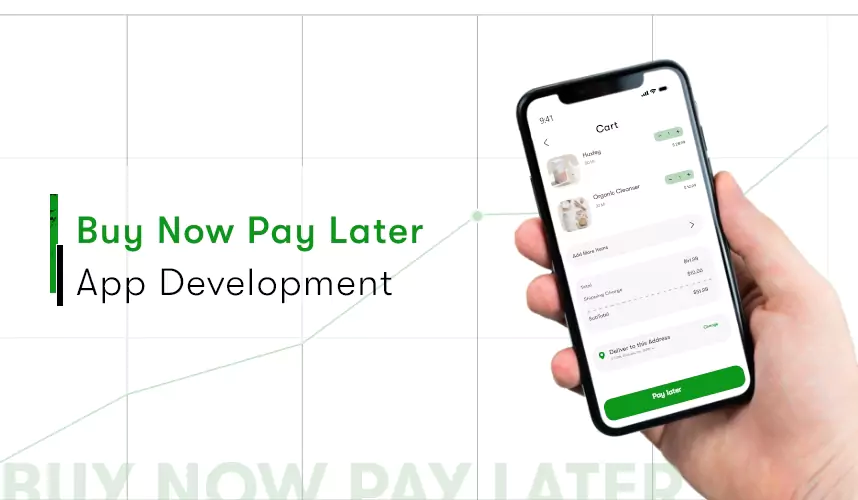 2) BNPL App Development
Buy now, pay later (BNPL) app development allows customers to purchase goods or services and pay for them later in installments. It enables consumers to spread their payments over time and avoid high-interest credit card debt.
Examples–: Afterpay, Klarna, Affirm, Sezzle, and QuadPay.
Features of BNPL apps are:
Instant approval and checkout,
Flexible payment options,
Customizable payment plans,
No interest or hidden fees,
In-app purchase tracking,
Easy returns and refunds.
3) Credit Scoring App
Credit scoring app development aims to help consumers improve their credit scores by providing personalized advice and tools. It enables users to monitor their credit reports, identify areas of improvement, and track their progress over time.
Examples– Credit Karma, Credit Sesame, Experian Boost, Mint, and NerdWallet.
Features of Credit Scoring apps:
Personalized credit score analysis,
Credit report monitoring,
Credit score tracking and improvement tools,
Financial planning and budgeting,
In-app educational resources.
4) Bill reminder apps
Bill reminder app development aims to help users manage their bills and avoid late payments. It enables users to set reminders for upcoming bills, track their payment history, and receive alerts for due dates.
Examples– Mint Bills, Prism, BillTracker, My Bills, and BillMinder.
Features of Bill reminder apps:
Automatic bill tracking and reminders,
Push notifications for upcoming and overdue bills,
Customizable payment options,
In-app payment processing.
5) Personal finance management app
Personal finance management app development aims to help users manage their finances and achieve their financial goals. It enables users to track their spending, create budgets, and save money.
Examples– Mint, PocketGuard, YNAB, Personal Capital, and Wally.
Features of Personal finance apps:
Automated spending tracking and categorization,
Customizable budget creation and tracking,
Investment tracking and analysis,
Goal setting and tracking,
Financial planning and forecasting.
6) Payday Loan App or Microfinance app
This app idea is for a payday loan or microfinance app, which aims to provide small, short-term loans to individuals who need financial assistance quickly. The app will have an easy application process, quick approval times, and flexible repayment options to make it accessible to a wide range of users.
Examples– Possible examples of similar apps include CashNetUSA, LendUp, and ACE Cash Express.
Features of Payday Loan/Microfinance Apps:
Simple and user-friendly application process,
Quick approval times,
Flexible repayment options,
Maximum loan amount based on income and credit score,
Transparent interest rates and fees,
Secure and private platform.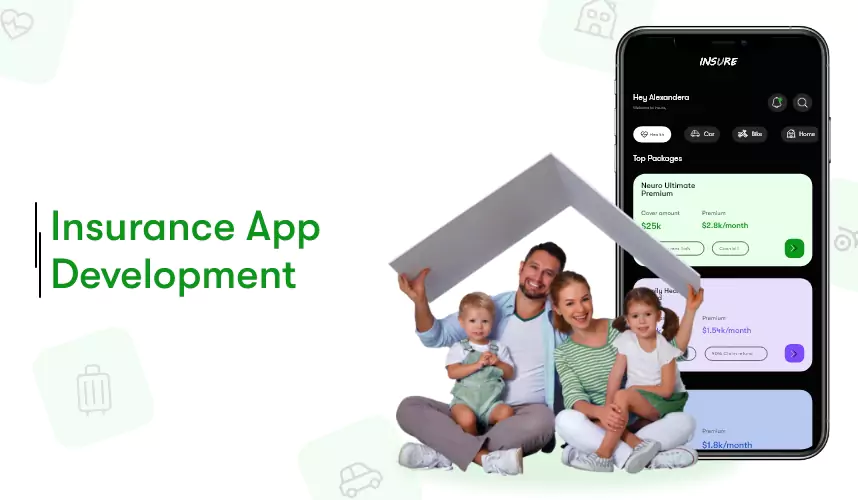 7)Insurance App Development
Insurance app development focuses on providing customers with a hassle-free and personalized insurance experience. It enables users to purchase, manage, and track their insurance policies through their mobile devices.
Examples– Lemonade, Root, Metromile, Policygenius, and Hippo.

Features of Insurance Apps:
Instant policy quotes and purchases,
Policy management and tracking,
Personalized coverage options,
Easy claims submission and tracking,
Push notifications for policy updates,
Customizable privacy settings.
8) E-mortgage apps
This app idea is for an e-mortgage app, which aims to provide a simplified and convenient way for users to apply for a mortgage. The app will allow users to apply for a mortgage online, receive pre-approval, and track the progress of their application in real-time.
Examples– Possible examples of similar apps include Better.com, Rocket Mortgage, and Quicken Loans.
Features of E-mortgage apps:
Real-time progress tracking
Automated documentation collection
Transparent interest rates and fees
Communication tools with mortgage lenders
9) P2P payment application:
Next-gen is already adapted to various in-app wallet systems. However, a general mobile wallet application like GooglePay, Venmo, etc., will keep every transaction in sync. The user has to set up an identity and attach a bank account to handle the transaction. The biometric login will secure the data and the activity.
Once the app is developed, you can approach various eCommerce or shopping apps to integrate the same with your platform. This will ease the transaction initiation process in many ways. Customers can earn reward points in return for using your app.
Features of the Peer to Peer payment application are:
Profile creation
Bank account details
No hidden transaction fees
Payment notification
Transfer money using mobile numbers
Earn rewards
View transaction details & history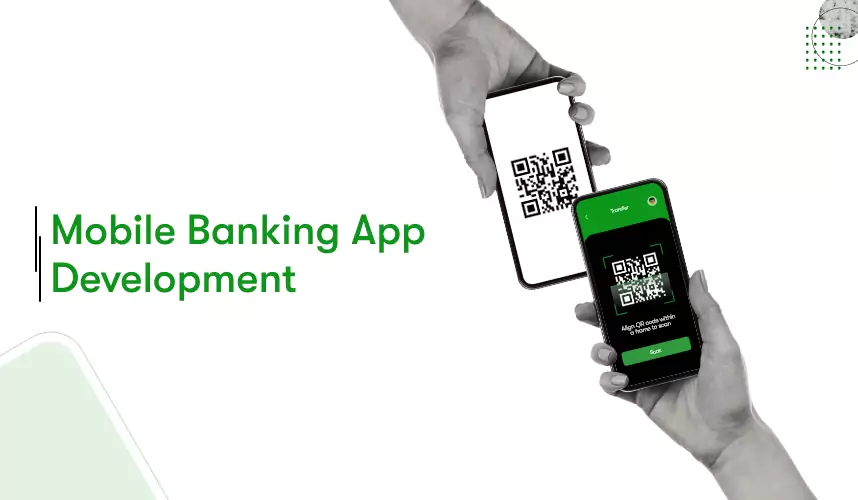 10) Banking App Development
Banking app development aims to provide customers with a seamless and convenient banking experience. It enables users to perform various banking tasks such as depositing checks, paying bills, transferring funds, and managing their finances.
Examples– Chime, Ally Bank, Capital One, Simple, and Varo Bank.
Features of Banking apps:
Mobile check deposit,
Bill payment and tracking,
Budgeting and savings tools,
Fund transfers, ATM locator,
Push notifications for account activity,
Customizable security settings.
11) Loan lending application:
More than ever, we need loan lending applications in place. In the current scenario, it is difficult for a lender and a borrower to meet physically and discuss the rates.
A loan lending application will seamlessly connect a suitable lender to the borrower. The borrower can browse through the list of interested money lenders in a project and contact them for further discussion. The platform allows them to discuss/negotiate loan rates and gain funding.
The application uses AI-powered tools to keep track of users' behavior and spending history.
Features of loan landing application:
Lenders profile
Speedy transfer directly into the account
Live alerts for spending
Credit score checking
No-fee transaction
12) Crowdfunding finance application:
Startups and small businesses are always hunting for crowdfunding solutions. A crowdfunding finance application will help fund hunters with a list of contributors and venture capitalists. There are very limited options as of today providing crowdfunding finance, and if you have a finance app idea in this segment, it will prosper like anything.
Features of a crowdfunding finance application are:
Profile setup
List of contributors and venture capitalists
In-app chat and call
Secured transaction
Safety check
User Verification
13) Investment & trading application:
The new generation believes in investment—investments in stocks, shares, forex, funds, etc. And an investment & trading application will give them a clear understanding of various shares and funds so that the user can invest fearlessly.
It will help users in scheduling their investments and managing funding at convenience.
Features of investment & trading applications are:
User profile setup
Share and stock wishlist
Investment prices
Investment details
Investment profile
Investment scheduling
Canceling/selling a trade
History of investments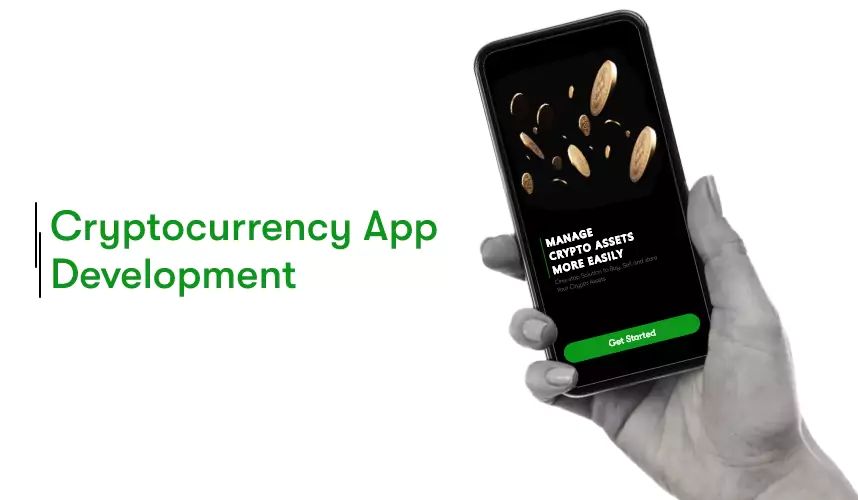 14) Cryptocurrency apps:
Well, we all would read or explore cryptocurrency app topics in one way or the other. Some of you would even be interested in making an investment that is ringing bells in the market.
The crypto market's popularity is rising in leaps and bounds, and people are excited to trade crypto goods over various platforms. A cryptocurrency app will assist users in purchasing or exchanging various digital currencies in return for currency.
Features of cryptocurrency application are:
Transparent transaction
Lower fees
Various cryptocurrencies & exchange rates
International currency exchange
Portfolio management
Secured withdrawals
Bitcoin deposits
15) RegTech application:
Regulatory compliances are the toughest to achieve. Each country, many times, even regions, has its own set of rules to comply with. A RegTech application will help financial companies to comply with various local and global regulations.
It would be best to follow a detailed mobile app development process to initiate a RegTech app development. 
8 Emerging FinTech Companies from the Netherlands and Germany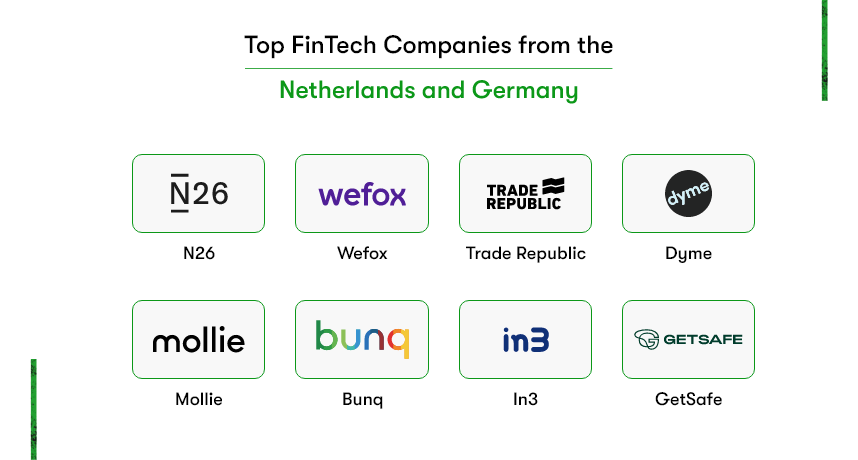 The FinTech landscape in the Netherlands and Germany is flourishing with innovation as companies redefine how financial services are delivered to users. After discussing the top 15 FinTech app ideas, let's explore remarkable FinTech apps from the Netherlands and Germany. These apps showcase the power of technology in enhancing financial services, emphasizing user-centric design, accessibility, and innovation.
N26 – The Future of Mobile Banking:
Location: Germany
N26 is a pioneer in mobile banking, offering a comprehensive banking experience through its user-friendly app. It provides real-time notifications, budgeting tools, and fee-free international transactions, making it a top choice for modern consumers. N26 demonstrates the potential of mobile banking to improve customer engagement and convenience.
Learn more about how much it costs to develop a mobile banking app like N26.
Wefox – Data-Driven InsurTech:
Location: Germany
Description: Wefox is reshaping the insurance industry in Germany with its data-driven approach. The app connects users with insurance advisors and streamlines claims processing through its digital platform. By leveraging data analytics, Wefox showcases the importance of harnessing technology to enhance customer experience and streamline complex processes.
Trade Republic – Commission-Free Investing:
Location: Germany
Trade Republic is a game-changer in the investing world, offering commission-free trading of stocks and ETFs via its app. Its user-centric design and accessibility cater to both seasoned investors and newcomers. Trade Republic exemplifies how technology can democratize investing, making it more accessible and affordable.
Dyme – Automated Expense Tracking:
Location: Netherlands
Dyme, a Dutch FinTech app, simplifies personal finance management by automating expense tracking and optimizing users' financial health. The app categorizes expenses, identifies potential savings, and even assists with canceling unwanted subscriptions. Dyme exemplifies how FinTech can empower individuals to take control of their finances through automation and data-driven insights.
Get the inside scoop on how to strategize a personal finance management app like Dyme.
Mollie – Simplifying Payments:
Location: Netherlands
Mollie focuses on payments and provides a wide range of business payment methods. Its simple integration and user-friendly dashboard make it a preferred choice for e-commerce ventures. Mollie's success underscores the importance of seamless payment solutions for businesses, improving their efficiency and customer satisfaction.
Bunq – Sustainability-Driven Challenger Bank:
Location: Netherlands
Bunq is a challenger bank with a strong sustainability ethos. Users can invest their money in socially responsible projects, aligning their finances with their values. Bunq's user-centric approach and transparent fee structure set it apart in the industry. The app is an example of how FinTech can drive positive social and environmental impact while delivering financial services.
In3 – Simplified Split Payments:
Location: Netherlands
In3 is a Dutch FinTech app that specializes in BNPL payments for consumers. It allows users to split the cost of their purchases over three equal monthly installments with zero interest. This innovative payment approach enhances affordability and flexibility for consumers, making it a precious tool for managing finances.
GetSafe – AI-Powered Insurance:
Location: Germany
GetSafe, based in Germany, is an InsurTech company that utilizes artificial intelligence to provide personalized insurance solutions. Their mobile app allows users to manage and customize their insurance coverage easily. By leveraging AI, GetSafe demonstrates the potential of technology to tailor insurance offerings to individual needs, ultimately improving customer satisfaction.
We have also discussed how to develop an AI-powered Insurtech app like GetSafe here.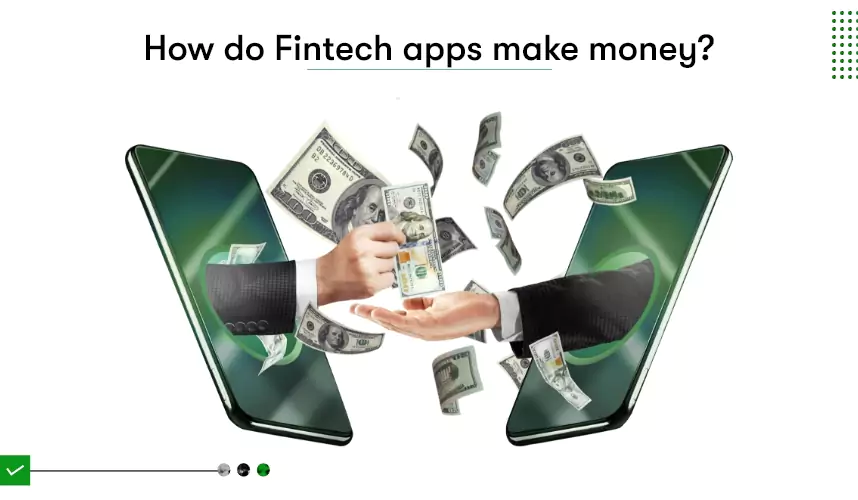 How do Fintech apps make money?
Just like any other free application, it is quite easy & lucrative for fintech to make money. Fintech app owners can either go for in-app advertising or go for a subscription model or earn through a referrals policy. They can even collaborate with various businesses to make money.
Coming to an end:
"By lowering the barrier to creating new digital currency applications, we will see an explosion in the number of ideas tried." – Brian Armstrong
The future of fintech is promising. And trust me, the best fintech app ideas for app development would ace the game if it is developed with the right approach. You can hire mobile app developers from an experienced app development company like Kody Technolab to implement your fintech app ideas. Well, let's all look at the brighter side of the story and the changes these apps will bring to the market.