Fashion is the largest B2C eCommerce market segment and its market value is calculated at US$668 billion in 2020, projected to reach US$1.2 trillion by 2025.
—Source.
Instead of going to a physical store to buy new clothes, customers love to browse products online and have their purchases delivered to their door in a few days. That said, Mobile apps for eCommerce businesses have transformed the retail industry and how people buy apparel and accessories. Fashion eCommerce apps appear as a convenient solution for customers. Because they enable them to save time and money from unnecessary trips to the mall or specialty clothing stores.
Let's not forget how eCommerce apps of fashion brands make it easier to discover new products, try them on, and return them if they don't fit or aren't what customers were hoping for. With all the convenience that mobile apps drive in the fashion eCommerce industry, apparel brands have seen an increased conversion rate in their eCommerce sales.
However, it's easier for big brands to adopt eCommerce trends by using their resources quickly. Now, this can be daunting, specifically for startup online retailers to get their piece of the pie in the industry. But it shouldn't be. Technology is easily accessible to everyone worldwide.
You just need more understanding of how and where to get started. And voila, you can also generate tons of revenue online and build a sustainable brand against larger ones.
On that note, let's start with the basics and gradually move to how you build a successful presence in the eCommerce Fashion Industry.
How Do Fashion Mobile Apps Work?
Mobile apps play a vital role in eCommerce. From acquiring customers to sales, they impact the lives of millions of shoppers. Like other eCommerce platforms, fashion eCommerce mobile apps also work as a bridge, connecting buyers with sellers over mobile devices through the internet connection.
However, the customers of a Fashion eCommerce mobile app can be different based on its nature. For example, a B2B fashion mobile app connects wholesalers (customers) with manufacturers (sellers), and a B2C app lets brands sell their apparel and accessories directly to end customers.
Furthermore, fashion brands and businesses either develop their own Fashion eCommerce app or collaborate with reputed platforms to list their items for sale. But listing products where multiple brands are competing can overshadow your brand identity.
Why do Fashion Brands Prefer Their Own Fashion eCommerce Mobile App?
It goes without saying that the COVID-19 pandemic and its precautionary actions have also pushed people over the edge of online shopping. Fortunately, the eCommerce platforms rescued merchandisers, converting them into online fashion retailers and enabling serving customers with an online shopping experience.
Now, the pandemic has settled down, but online shoppers cannot seem to stop enjoying binge shopping from the comfort of their homes. And we say it's all about CONVENIENCE. Consequently, there is an ongoing battle between brands in the eCommerce Fashion industry to achieve high customer satisfaction by offering elite CX.
Fashion eCommerce brands do not hesitate to invest in custom mobile app development to win the battle. Customizing an eCommerce app helps companies build a fast and easy-to-use app with intuitive and unique user interfaces. In essence, fashion eCommerce mobile apps are needed to make brand products more visible and reach a wider audience. This strategy has several advantages, including.
A dedicated mobile app is one of the most effective ways fashion brands can reach their target audience.
Fashion eCommerce mobile apps are tools designed to enhance a brand's communication and interactivity with its customers.
It can provide an added layer of personalization that can entice more shoppers.
Fashion eCommerce mobile apps can empower companies with the ability to collect valuable personal data, which is a unique and valuable asset in the marketing process.
Apps now account for nearly half of all retail sales, a figure that will only grow in the coming years. Because consumers continue to get more comfortable using mobile payment methods for on-the-go spending. So, whether you are a new or existing fashion brand, you should get your mobile app up and running immediately.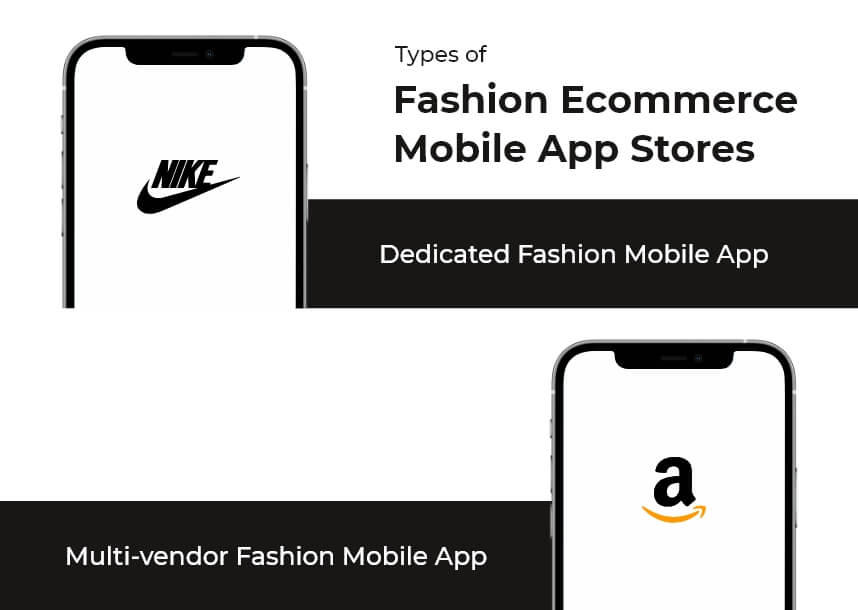 Types of Fashion eCommerce Mobile App Stores
Choosing the type of fashion eCommerce mobile app to build is a no-brainer. You just have to look into how your brand operates and which style suits your fashion business. Find below the primary type of eCommerce app in the fashion industry.
Dedicated Fashion Mobile App
Suppose you trade or manufacture clothes and attires for a single brand and want to open an eCommerce store. You build an eCommerce mobile app and list a range of women's and men's fashion items but of a single brand. Now your customers can enjoy the doorstep delivery and the services they used to receive while visiting your physical stores.
Since your fashion shopping app is dedicated to a sole brand, your mobile app is called a single vendor app. No other brand can access your app to sell their products on your app. By developing a dedicated fashion brand app, companies lure more customers as they can directly communicate their discounts and offers without any middleman.
For example, H&M and Zara have their own mobile apps.
Multi-vendor Fashion Mobile App
There are single-branded fashion stores, and then there are marketplaces or malls selling garments of various brands. They can be distributors, retailers, or just a platform that lets other brands sell their products in exchange for a commission. This type of eCommerce fashion app is known as a Multi-vendor app.
Besides customers, sellers can also register their stores on such eCommerce platforms to leverage the app's user base and sell their clothes. In return, the platform charges a transaction fee or a commission from sellers. ASOS and SHEIN are the most popular online fashion destinations.
You can also niche down and create a fashion eCommerce app like Modanisa, which is specifically for modest fashion, and or a buy-sell clothing app like Depop.
Popular Cult Brands In Fashion eCommerce Using Mobile Apps
Levi Strauss & Co.: The oldest blue jeans brand also has its own mobile app that allows Levi's lovers to be first in line for exclusive styles and special collections. It brings one-of-a-kind pieces and fresh collaborations to its shoppers' fingertips. Likewise, through personalized stories, offers, and suggestions, Levi's elevates the brand experience.
Louis Vuitton: The valuable luxurious fashion brand also leverages mobile technology to stay closer to its audience and offer a new personalized shopping experience and editorial content.
Forever21: One of the most talked about American fast fashion retailers, FOREVER21 has designed its app to enhance the in-store and online shopping experience. Its rising number of users reflects how smartphone-savvy shoppers increasingly use their mobile devices to shop online and read reviews as well as comparison shop while in a store.
Gap: Over 50 years old brand referring to the generation gap of the time, catches up with its customers on a mobile app, enabling them to shop the most lavish styles on the go. Moreover, by offering deals and promos on the Gap mobile app, the brand makes online shopping easier and faster as well as increases its loyal customer base.
Read our detailed case studies on popular eCommerce businesses

What Makes a Fashion Mobile App Successful?
The fashion industry is one of the most competitive industries out there. It's not enough to just have a good product; you need to be able to make it easily accessible and allow your customers to interact with it in many different ways. If you are willing to invest in an app, here are some tips to make it successful.
Make it easy to find
The first thing you need to do is make your app easy to find. You need to be able to market and promote it so that people will be able to find and download it easily. Make sure that users can easily search for your brand name or logo in the app store or other such online portals. This will help them identify your brand easily and make it easier for them to download your app.
Make it easy for users to shop
Once a user has downloaded your app, they should not have any difficulty navigating through your app in order to make purchases and engage with other features. The interface should be simple and clean so that users can easily navigate without getting lost in a maze of images or text.
Engaging user experience
In a mobile app, the UX is everything. It needs to be simple, fast, intuitive, and above all, offer a compelling user experience. This means a clean and intuitive interface, fast scrolling, beautiful animations, and a great, clean user experience for getting to the next screen or initiating a new action.
A secured app means more loyal customers
If someone hacks your account, they can do anything from deleting your account to taking money out without consent. Hence, the app should have a secure and updated login system, including two-factor authentication for extra security and authentication.

Important Features For An Engaging Fashion eCommerce App
Registration and login feature for getting users onboard;
Interactive home page and timeline to display categories;
Advanced Filter to allow users to find what they are looking for classified by their favourite brands, types, and price range;
Wishlist to help users save items they want to buy later;
Push Notification is an imperative feature to keep users informed about new arrivals and retain customers by notifying discount offers in real-time;
Multiple Payment Gateways to make the checkout process easy, specifically when you intend to serve your service worldwide;
Offer a real-time tracking feature to earn trust and create a loyal customer base;
Recommend items based on the previous orders;
Live chat and quick customer support.
Apart from the user side features, you will also need to outline the functionality of the admin panel, for example;
User authentication and registration management
Dashboard for an analytical overview of the app performance
Product category management
Discount and reward management
Create and manage marketing and ad campaign
Payment management
Push notification management
Customer support management
Development Team & Tech Stack Required for a Fashion Shopping App Store
You need to select development technologies for your fashion eCommerce based on the business model and functional requirements, keeping future plans in mind. If you are a non-technical person, you should seek consultation from a reliable source, such as an eCommerce app development company.
To give you a rough idea of a fashion eCommerce app development tech-stack looks, below we have curated an estimated list.
Backend technology: Kotlin/Java for Android and Objective-C or Swift for iOS, or for Flutter or React Native for cross-platform app development;
Front end technologies:
Payment gateways: PayPal, Braintree, and Stripe
Analytics tools: Hotjar, Woopra, and Piwik
SMS, Voice as well as Phone Verification: Twilio, Nexmo, or Sinch
Customer Relationship Management: Zoho, InfoFlo, or Microsoft Dynamics
Social media integration for easy login and sharing
Database management system
Moreover, the team you require to build or outsource to develop your fashion eCommerce mobile must include the below expertise;
Project Manager
Business analyst
Frontend and backend developers
UI/UX and graphic designers
Quality analysts and Testers
DevOps engineers
Marketing specialist