It is a human tendency to make frequent unaccounted small expenses. It isn't easy to keep track of such an outflow of cash, but when these expenses are aggregated, it turns out to be a massive amount. The recurrent spending habit eventually leads to spending more than you would have planned. Therefore, using a financial tool that gives you a 360-degree view of your cash in-flow and outflow is advisable.
A glance into your finances will clarify things and might compel you to change your financial behavior for the better. One of the finest money managers and financial tracker app developers is Mint. Mint is a free budgeting app trusted by almost 20 million users. It syncs all bank accounts and credit cards and offers an easy, efficient way to manage money.
The Mint app is a part of Intuit but was developed first by Aaron Patzer. In 2009, Intuit bought the company for $170 million and induced changes in the app. The Mint personal finance application is available for free on iOS, Android, Macintosh, and Windows devices.
A personal finance app allows us to take care of finances, which include cash investment, cash saving, cash budgeting, etc. Well, in our opinion, it is the need of the hour to develop a money manager and financial tracker app that can help us (users) improve our financial well-being.
If you are planning to develop an expense manager app like Mint, we are ready to help you. In this article, we will discuss the ins and outs of Mint and assist you in making an app like Mint.
Why do you need to develop a financial tracking app?
If you look at history, finance apps have time-traveled from desktops to smartphones. Quicken was the first on the list, followed by many popular apps like Personal Capital, GoodBudget, Wally, WalletHub, Toshl Finance, Qapital, etc. All these apps help in being financially secure and address any financial issues.
Talking about the rising market demand,
Statista states that most people under the age of 30 in the UK use any one of the financial apps to manage expenses. Almost 26% of the entire world's population is under 15 years of age. This means you can target the younger audience and serve them for their benefit.
The finance tracker app market looks lucrative, and it has become vital to opt for developing budget tracker & planner apps like Mint.
Additionally, the Covid 19 havoc disturbed the personal as well as the global economic equation. The instability in the overall economic scenario made people realize the importance of planning and managing their expenditures. The savings rate during this pandemic situation surged to 33%, and it is expected that people will make deliberated money-expense decisions in the future.
Another reason why you should build a money management and financial tracker app is, even traditional banks like Ally Mobile wish to enter the market. Bank-specific financial apps have either one or the other feature that assists users in tracking expenses. This means, if you become an early entrant, you can instantly grab popularity.
Cryptocurrency is soon becoming the talk of the town. And apps like Mint allow their users to manage their crypto wallets and track their balances.
You should also develop a money manager and financial tracker app because people want to feed themselves with financial knowledge and budgeting solutions. These people may resort to online apps that can serve as a guide for their financial decisions.
Do you see how badly you need to launch your app into the market?
We have a whole list of profitable Fintech app ideas! Do check out them as well.
Time for some statistics :
A survey conducted by Business Insider says that around 53% of users use mobile banking applications.
Finance apps captured around 24 billion downloads last year, 2020.
The personal finance transaction value might have crossed $700,000 million.
We also discussed how to create a Banking app in a previous blog, in case you want to know.
Thinking and writing from the user's perspective using an app like Mint :
Simplifies their financial management.
It allows them to control their expenditure and spend wisely.
The ease of use and customized financial report helps them in saving money for the future.
The taxation problem is made easier.
Users can keep themselves away from financially bumpy situations and handle emergency situations with ease.

Now let's talk about the development procedure for an app like Mint:
You can develop personal finance apps of two types :
First, where users manually have to input the financial data after every transaction performed.
Second, an application that aggregates all financial transactions automatically.
Like any other mobile application, the mobile app design process & development process remains the same. It starts from scratch with a Lean Canvas model, Product Requirement Document, Quality testing, and Release.
However, you need to pay a little extra attention to the app's design & usability, and user-friendly interface and ensure that the app is available for free in the market. Do not be in any haste to hire a mobile app development company. Do proper research before you make the final call and bring them on board.
Moving forward, we will be describing key features of a financial tracking app like Mint:
When a user downloads the Mint app, they are asked to sign up and connect their financial accounts with Mint. The application connects with all the US financial institutions and tracks bank, credit card accounts, loans as well as investments.
Everything under one umbrella :
The application downloads the transaction data of the past several months within a few minutes. The next download automatically happens in the application. You can connect as many accounts as you want and sync them with Mint. Once the accounts are in sync, you can have an overview of the financials. All in all, with a financial app, all your expenses are in one place.
Transaction by categories :
A financial track management app like Mint can have access to all your bank accounts. The app differentiates the transactions based on the past history or vendor connection. It offers an efficient way to manage expenses too in a customized manner.
How does this happen? The application database already contains information about hundreds of merchants and vendors. It also turns through the Yellow Pages search engine result to figure out who the vendor is and in what category it deal.
Thus, based on the feed, it instantly assigns a transaction to a particular category. If the user needs to update or correct the category, s/he can create a new category.
Probably, the application uses machine learning algorithms to categorize transactions. Also, the geolocation feature is an add-on to it. Users can search for a nearby merchant and register the transaction. Whenever the user withdraws cash from the ATM, the amount is reflected in the app, keeping the data the most accurate.
Think out-of-the-box and help users with budget planning :
To build a strong competitive application for Mint, you need to think about how your application can serve differently. Mint comes in handy and is efficient in budget planning.
The app should collect all the information divided into various categories and put forth the updated transactions in front of the users. This means the user can use only a pre-decided amount in the given category, and if it exceeds, it notifies them. The regular expenditure alerts stop users from making random and untracked monetary decisions.
Suppose the user thinks that for a given month/period, a particular category budget needs to be increased or decreased. In that case, the same can be done manually. This feature increases engagement and aids users in saving money.
Set your financial targets :
More often than ever, we buy products even if we do not need them urgently. This might look like a small expense during that time, but it is huge when such expenses pile up. These frequent purchases do not let you accomplish your bigger goals, which can be to buy a house, buy a car, or plan a luxurious trip or education.
There is this concept of Buy Now Pay Later app development, which is said to be very famous for being profitable for customers, merchants, and finance company as well. Make sure you do check this out.
Well, a financial planner app like Mint will work with you together in this journey of achieving goals. Once you set up your expectations, the app will shoot questions like: "how will you pay for the project" "where will you get the necessary amount" "how much does your goal cost" and many more.
The application perfectly does the next job. It lets you decide how you should budget out the expenses and distribute the paychecks. The application will remind you if you make any expenses that don't fit within the budget.
Keep track of the finances :
An application like Mint needs to be a pro when it comes to budget tracking. The application should efficiently track the expenses & income, recurring expenses and income, linked bank accounts, and more.
It should remind users when it is due to pay the bills and when the account balance goes too low to make any expenses. The tracking tool should track the account mileage and liabilities and print them as required.
Reports and trend :
The financial tracker app should allow users to print customized reports of their finances. Users should be able to filter the data they want to print by time period, category, merchant, etc.
The application should print all these reports in HTML, CSV, Excel, and PDF files. If the user wants an email of the report, s/he should be allowed to mail the same.
Backup and Automatic Synchronization feature :
The application should back up all the data on cloud storage automatically.
Some other features to include in the money manager and financial tracker application are :
Currency converter
Gamification
Voice commands
AI algorithms to analyze the spending habits
Create Note
Create a personal shopping list
Credit card payoff calculator
Regular calculator
Liabilities calculator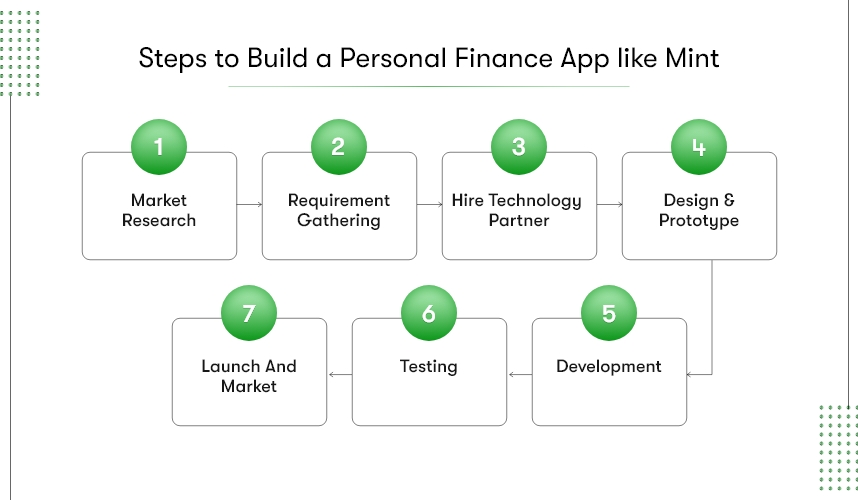 Steps to Build a Personal Financial Tracking App like Mint
Market Research
Before you delve into personal finance app development, you must know if the market even needs the product you will build. One way to discover this is by conducting thorough market research and understanding the aspects below.
Who is your target audience, and what problems do they face with personal finance management;
If there are existing apps available in the region you will target and does your audience use them;
What regulations and compliance do you need to adhere to as per your target location?
Requirement Gathering
The next step is to collect functional and non-functional requirements for your personal finance app. How do you do that? You can list out basic features and come up with value-added features that your competitors might not have, which can gain you a competitive edge in the market.
Hire Technology partner
You don't have to do everything on your own when you can hire an experienced team and leverage their skills to develop and grow your personal financial tracking app. The best option is to hire a software consulting firm from an Asian country that offers superior software services at reasonable rates.
Design & Prototype
Start shaping your personal financial tracking app with the team you hire based on the requirements you gather. You want to create a user-friendly financing app that even a non-tech-savvy person can get hold of easily. Hence, make sure the user interfaces and experience align with an intuitive workflow and use components that make the app easy to navigate for the users.
You can also create a prototype of the app and test it in the market to validate its feasibility.
Development
If you want to develop both iOS and Android apps to target a broader audience but cannot afford to develop two different apps, go with cross-platform. Cross-platform app development using Flutter or React Native can halve the cost and render nearly native performance.
There are many FinTech apps built with Flutter that cater to millions of users without any performance issues. Google Pay and Nubank demonstrate Flutter's capability the best.
Testing
There are numerous practices to test your app and ensure it doesn't have any bugs or performance errors and works as intended. From rigorous testing, unit testing, functional testing, speed testing, memory testing, usability testing, security testing, and so on.
All the testing methods are divided into two categories: manual and automated. You can choose any or both to test your app.
Launch and Market
Once you make sure that the app is bug-free and ready to use, you can deploy it on the platforms it's supposed to be available. Android and iOS platforms have design and security guidelines that your finance app must comply with. Otherwise, the platform won't approve your app.
After deploying your app successfully, it's time you start reaching out to your target audience using marketing campaigns. It is good to learn where your target audience hangout the most before strategizing the marketing campaign for the best results. For example, millennials and Gen-Z are easily found on social media platforms, including Instagram, YouTube, etc.
What are the monetizing ways for developing financial tracking app like Mint?
The business model for the Mint app is quite simple yet interesting. It is available for free but yet makes massive money from the Ways to Save feature.
Credit Card Comparison: It helps users save money by comparing prices from various sites. This means, if a user is paying higher interest rates on any of the credit cards, the Mint app runs a comparison and suggests another option. In return, the application earns money.
Personalized suggestions: Another way in which personal finance apps can make money is by giving users a paid guide or strategy book to earn money. Users who wish to read the guide can willingly pay the amount and access the book.
API Integrations: Offering paid access to the app's API to third parties is also a lucrative way to streamline additional revenue.
Sponsorships and Ads: It can be a very promising way to make money by allowing users to avail of third-parties finance services, including consulting, insurance, loans, etc., and earn commission on every conversion in return.
There is no breaching of any third-party data because these data are collected anonymously.
Can financial tracking apps be trusted? Is it safe to use an app like Mint?
The security of user data is of the highest concern when it comes to financial apps. Any infringement or leak goes against human rights.
If we talk about the Mint app uses 128-bit SSL encryption and third-party sites like TRUSTe and VeriSign.
Along with this, the application also uses 256-bit encryption and multi-factor authentication, passwords, etc., to add to the security. All these things ensure that the app doesn't become vulnerable to any digital threats.
While developing a money manager and financial tracking app, you too, have to focus on all of the above-mentioned aspects to ensure data security.
What is the money manager and financial tracker app development cost?
A full-fledged financial tracking app development might cost around $30K, subject to change. The cost to develop a financial tracker app like Mint may vary from company to company, including features, UX designing, Maintenance, location of an app development partner, the total number of hours, and many more.
If you choose to hire mobile app developers, you should ask them about the services they would cover in the given price quote.
You may also connect with us and discuss your project. We have helped hundreds of startups in their app development journey and satisfactorily delivered all our projects. You can send in your requirements and expect our call in 24 hours.
Parting words
Mint is a great app to take inspiration from for developing a money manager and financial tracking app. The fintech industry is expected to grow to $500 billion by 2030, and it is the right time to enter this booming market. We have skills and experience in developing apps for the financial industry. You can any day rely on us to get a unique solution.