You search through LinkedIn and other portals to hire a programmer to help you build software and grow your business online. But there is no guarantee you will find the right one on such platforms unless you know what it takes to hire a computer programmer.
A survey revealed that about 87% of developers said they had taught themselves a new language, framework, or tool without taking a formal course.
In such a scenario, if you don't know how to identify a genuine and skillful programmer, you are risking your project and business success.
Because…
Hiring mistakes clog your business's growth!
There are many mistakes entrepreneurs and businesses make while looking for computer programmers for hire.
Not looking into the right place.
Hiring a programmer with irrelevant technical skills.
Onboarding programmers on inadequate and unclear terms.
Not paying attention to hiring options.
Consequences?
Budget exceeds.
Delay in project deliveries.
Performance issues that take an eternity to solve.
Bad customer experience.
Inefficient architecture.
Broken functionalities.
If you don't want to go through such disasters, learning ropes is the only way.
Knowing how to hire a computer programmer, what types of programmers fit your project, and the hiring budget planning will save you a lot of trouble.
🚩 There is no assurance that you won't face any problems at all. But rest assured that you will be fool-proofed (avoiding all talk, no action programmers).
If that sounds good, let us start studying the matter!
Do you really need to hire computer programmers?
Many times, businesses don't understand what their business success actually demands. And you know, jumping on the bandwagon doesn't really work out for everyone. For example,
A small business owner wants to launch their eCommerce platform. However, they have a limited budget and tight timeline. Add salt to an injury; they need to get the platform up and running ASAP.
Now they have two options:
(i) decide on the technology stack and hire computer programmers to build the platform from scratch;
(ii) buy a reliable, customizable off-the-shelf eCommerce platform.
The latter option is more fruitful, given the situation. Because the business is yet to start making money, so, investing so much time and money in hiring programmers would only draw down debts.
On the contrary,
A large enterprise requires a highly complex and customized software solution to manage its operations. They have unique business processes and requirements that cannot be easily met by off-the-shelf software solutions.
It's best to hire computer programmers (in-house or freelance – discussed further in the post). Because they will need to use the particular technology that can make their business processes smooth like butter. Their software will also require frequent updates and upgrades that programmers who build the software can easily maintain.
The moral of the story is: Don't start hiring unless you have a vision or business goal that demands high-skilled programmers.
What type of qualifications should your programmers have?
You have decided to grow your business and give tough competition to the market digitally. Now, you will start hiring skillful computer programmers who build you potent software. But wait, do you know what skills you want your programmers to have?
Well, hundreds of programming languages and thousands of software development frameworks and tools are practiced by millions of programmers worldwide. That means you must know the current top technologies and which ones match your requirements before hiring programmers. For example:
If you want to develop an interactive website or web app, go for the following:
To develop a high-performing mobile app using native technology, go for:
If you want to develop a mobile app that can be launched on multiple platforms, go for:
This isn't the complete list. But some of the widely used software development solutions. We have also addressed how CEOs hire Flutter developers (just in case).
To be honest, if you are not CTO or friendly with programming technologies, seek an expert's advice.
See the right side at the bottom; our business consultant is always there to answer any technical or hiring programmer-related queries in real-time. So, take advantage of this feature right away!
Other skills to look for in your prospective computer programmers for hire are:
Writing code is, undoubtedly, a primary role of a programmer. But having hands-on experience with tools and resources of the development ecosystem is what makes them complete.
Below are necessary skills (in addition to coding) that validate if the programmer is worth hiring.
Knowledge of version control systems, such as Git, that help them manage changes to source code.
Understanding of SQL (Structured Query Language) and experience working with database management systems, such as MySQL, PostgreSQL, or MongoDB.
Experience with RESTfulAPI development and integration.
Basic understanding of DevOps principles.
Analytical thinking, troubleshooting, and debugging, as well as communication skills, will be an added advantage.
How many programmers should you hire?
Well, it depends on the project scope and specific requirements. For an enterprise-level software project, you might need to hire more developers. However, if it's a small-scale software application, you might need only a couple of developers.
For example,
If you are developing an eCommerce website, you might need 3 to 4 developers to handle front-end, back-end, and database development.
For developing a mobile app, you might need a team of 2-3 mobile app developers, one for each platform, depending on the complexity of the app.
For developing a complex software solution like an ERP system or banking software, you might need a team of 8 to 10 developers, along with business analysts, project managers, and testers.
In summary, the number of programmers you should hire largely depends on the nature, size, and complexity of the project at hand.
That said, always run down your project and prepare a document that contains all the requirements. You don't have to be tech-savvy to do this.
Trust me. Just pen down how you want your software to be. And present it to a business analyst or software agency (more on this later). Voila, you will get the most accurate estimation for your project with the number of professionals and skills your project needs.
P.S: many online tools and resources are available that you can use to get this job done. Just hit your browser.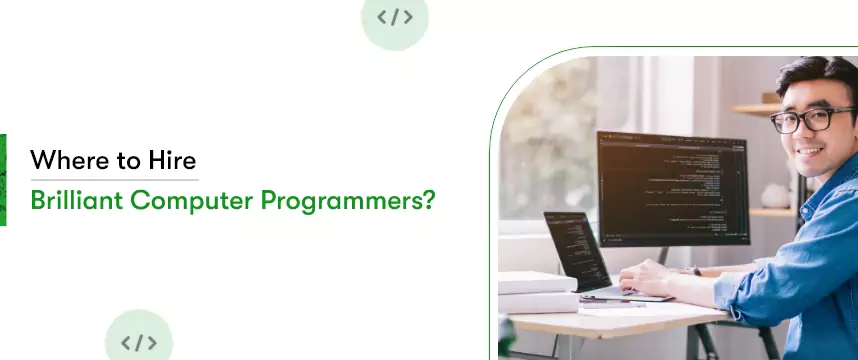 Where to hire brilliant computer programmers?
Once you are clear about your project requirements and how many programmers you would need to hire, hit the maze. A maze where considerable skillful programmers are available to get hired.
There is also a catch!
You need to decide what terms you want to hire programmers on– because that can change the game. For example:
If you decide to hire full-time programmers to work on your site:
The salary can range from $60000 to $120,000 or more depending on the programmers' experience and your location.
You will have to bear the software and hardware expenses as well as workplace rent and maintenance.
Hire a recruitment agency or an H.R. to help you find the right programmers.
So, hire full-time programmers only when you are a large enterprise that needs complete control over the development team. Look for them on the job portals.
If you decide to hire freelance programmers:
First off, it's challenging to find reliable freelance programmers.
Hiring multiple freelancers means a fragmented development team that affects the project quality and delivery time.
You can never say if they will disappear or complete the project after taking an advance.
The tip is hiring freelancers is a good option for carrying out minor tasks, such as software updates, bug fixes, API integrations, and alike. Look for them on LinkedIn, Upwork, Fiverr, and other freelancing platforms.

If you decide to hire full-time but Remote programmers:
The best way to hire full-time remote programmers is to partner with a software outsourcing company. Because outsourcing app development
You get to onboard highly experienced programmers.
Dedicated programmers work on a single project at a time.
They work as an extended team.
No hassle of management. Just sit back and enjoy the report. Ask for changes if needed.
Multiple options to hire dedicated programmers: hourly, project-based contract, and monthly/quarterly.
You can hire dedicated full-time remote programmers almost for any requirement. Whether it's long-term enterprise software with frequent update requirements or a startup app — going with this option to hire programmers will work in your favor.
How much do programmers charge hourly?
Reports say the cost of living in the U.K. is 0.49% lower than in the United States.
In a world where even the price of milk differs across nations, it's wrong to perceive that the hourly rate of computer programmers will be stagnant. But you can study the factors that cause the variation. And these are:
Experience level of the programmers
The location where the programmer lives
The size and domain of companies the programmer work with
Both technical and soft skill level
The programming language they excel in
According to Glassdoor data that also somewhat matches ZipRecruiter's, the average hourly rate of computer programmers is — $52/hour, with a range of $41 to $71/hr.
We have a ready list of the hourly rates charged by computer programmers in different countries. Let's save the hassle for you to check them separately.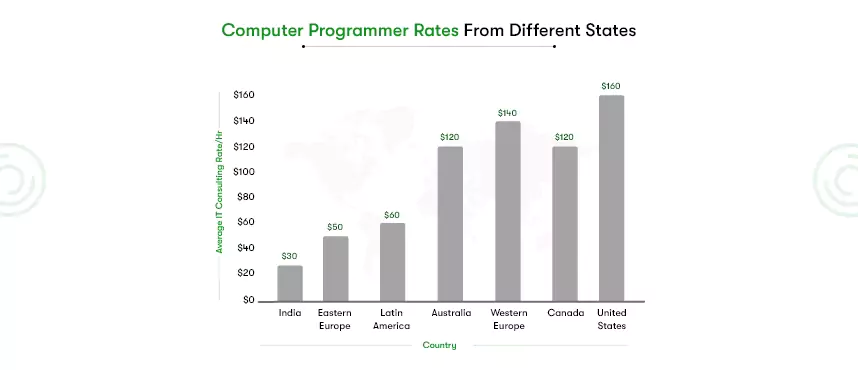 Secrets Recruitment Agencies Don't Want to Know about Hiring a Computer Programmers
Many organizations make mistakes, swaying away talent who could be a great asset for them. If you don't want to be an organization where programmers avoid working at, learn these things. You will be able to foster a better culture and environment where programmers see their long-term future.
Don't rely solely on technical knowledge and skills. Soft skills like communication, problem-solving, and teamwork are just as important.
Avoid being overly impressed by shiny resumes that flaunt impressive-sounding technology buzzwords or degrees. Someone who has a Computer Science degree may not necessarily be the best fit for the job.
Do a thorough background check. Check for the accuracy of their technical experience, work ethics, and interpersonal skills. Hire someone with a solid track record.
Look for passion and enthusiasm for technology. This is a crucial trait that signifies a person who learns quickly and desires to keep up with new trends and technologies.
Consider remote hiring. Hiring programmers from other countries can save your company money, but you should check out their credentials first.
Don't underestimate the importance of a great onboarding process. Ensure your new hires have the tools to succeed and feel welcome and supported.
Be willing to pay market value. High-quality programmers are in high demand and may not be willing to work for a below-average rate.
Build a strong employer brand. Many of the top tech talent network or rely on referrals before applying. Therefore, maintain a good reputation and foster an excellent work environment to attract top talent.
Finally, don't be afraid to make mistakes. Even with all the right measures in place, some hires may not work out. Learn from your mistakes and adjust your hiring process accordingly.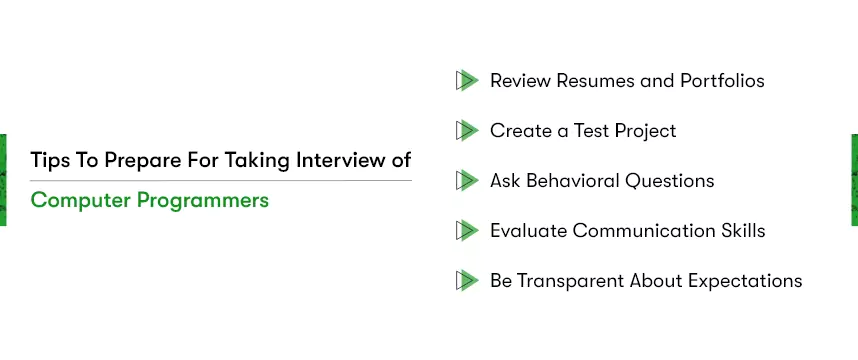 Tips to prepare for taking Interviews of computer programmers (with questions)
When it comes to hiring computer programmers, there are a few steps you should follow to ensure that you're making the best hire for your project. The following tips can help you prepare for interviewing computer programmers.
1. Review resumes and portfolios: Before the interview, carefully review each candidate's resume and portfolio to understand their experience and skills.
2. Create a test project: To assess the candidate's technical skills better, consider creating a test project relevant to the position. The project should be challenging yet achievable within a set amount of time.
3. Ask behavioral questions: Behavioral questions can help to assess a candidate's work ethic, problem-solving skills, and how they handle difficult situations.
4. Evaluate communication skills: Strong communication skills are critical for effective collaboration within a team. During the interview, assess the candidate's ability to communicate complex ideas clearly and concisely.
5. Be transparent about expectations: During the interview, be transparent about the job expectations, work schedule, and any other relevant information to ensure that the candidate has a clear understanding of the position.
Few Interview Questions you can include in your Questionnaire:
What programming languages are you most proficient in?
How do you approach problem-solving in your work?
Can you describe a particularly challenging project you worked on in the past?
How do you stay up-to-date with the latest technologies and trends in the industry?
Have you ever had to deal with a difficult co-worker or client? How did you handle the situation?
Describe your preferred work environment and collaborative process within a team.
Have you ever worked remotely before? How do you manage your time and stay focused?
These interview questions will help you assess a candidate's technical skills, problem-solving abilities, collaboration skills, and more. Nevertheless, it's important to customize the questions to fit the specific needs of the position and your company.
Want to escape the tiresome hiring process of programmers?
You see, hiring computer programmers is not anything like hiring a receptionist or any other profile. The process demands significant time and attention. Despite all the investment, you will need to do everything all over again in case the programmer skills don't work out for your project.
The solution?
Hiring full-time remote computer programmers from an outsource app development company!!
Because the company takes ownership of its programmers and even provides a replacement if you are not satisfied. Besides, hiring programmers this way saves you time and money you would spend on sourcing candidates and taking interviews.
Just share your requirements with a software agency, screen their best programmers, analyze their portfolio, and select the ones you find suitable.
The company will onboard its skilled programmers on your project who will work as your extended team members.
So, it's up to you. Whether to hire full-time programmers in-house, freelancers, or remotely– every approach will have a different cost structure and benefits.