As more people rely on the Internet for various tasks, it is essential to have a solid online presence. Web applications expedite processes and promote expansion, making them an indispensable instrument for reaching a larger audience.
Nevertheless, navigating the development process has its share of obstacles. A few challenges to tackle are finding the proper development team, maintaining robust security measures, and keeping apprised of technological advancements. Nonetheless, the cost of developing a web application remains a significant challenge that must be addressed. By dealing with these obstacles head-on, you will be able to create a budget that aligns with the objectives of your organization.
This blog post will examine the main factors affecting the cost of developing a web application. We will also evaluate the costs of the various levels of web applications. Not only that, but we will also discuss valuable tips for reducing web application development costs.
Factors that Affect the Cost of Developing a Web Application
Before estimating how much it costs to build a web application, it is essential to understand various factors that impact the total price.
Complexity
The complexity of a web application affects the amount of time, effort, and skill required for its development, affecting its costs. For example, a fundamental portfolio website is less complex than an e-commerce platform with multiple product categories and payment gateways.
Web applications are built according to the types, purposes, and target audiences. It has its own set of distinct features and prerequisites. Meeting these user expectations may necessitate additional design and development work, thereby increasing the total cost.
However, investing in complex features allows you to offer advanced functionalities, deliver exceptional user experiences, and gain a competitive edge in the market. It makes the web application development cost a beneficial investment in the long run.
Design
The level of customization and branding in a web application significantly influences both the user experience and the development of a solid brand identity. The layout, color palette, graphics, and animations influence how users interact with an application and perceive your brand.
The greater the customization and branding requirements, the greater the investment in design and testing. It ensures a seamless and aesthetically pleasing user experience. The web application development cost may increase, but the investment is worthwhile. Increased user engagement, enhanced conversion rates, and a positive impact on overall business growth result from the time, effort, and cost invested in building an attractive and user-centric design.
Technology
The technology stack comprises frameworks, libraries, databases, programming languages, and hosting services. Your decisions in choosing the tech stack can impact both web application development cost and the project's overall success. While sophisticated technology may increase initial web application development costs, the long-term benefits outweigh this expense.
Investing in cutting-edge technology guarantees a high-performing web application that exceeds customer requirements—enhanced efficacy results in seamless user experiences, which reduces bounce rates and improves customer retention. In addition, comprehensive security measures defend sensitive data, mitigating potential risks and safeguarding your company's reputation.
Team
Typically, a well-rounded team includes developers, designers, testers, project managers, and other professionals. Each contributes their expertise to the successful project completion. Their collective expertise not only ensures a seamless development process but also adds to the long-term success of the web application. Additionally, their effectiveness guarantees expeditious project completion, allowing you to launch your web application sooner and obtain a competitive advantage.
Investing in the right team is like putting your money on a winning horse, guaranteeing that the results will knock the socks off the customers. Hence, extensive evaluation of your custom web application development team is an important factor in managing cost.
Maintenance
Plowing money into maintenance means investing in updates and bug fixes regularly. It ensures a seamless user experience, averts potential disruptions, and improves customer satisfaction. In addition, the web application development cost will include ongoing enhancements and new features. It maintains the app's compatibility with changing market trends and user expectations.
In addition, proactive maintenance mitigates security risks, safeguarding your application and its users from potential threats. Ensuring the security of a web application inspires consumer confidence, resulting in increased brand loyalty and favorable perception.
How much does it Cost to Build a Web Application?
The cost of building a web application varies largely based on the complexity of the application you want to build. Hence, we have divided the cost of developing a web application into three parts as follows: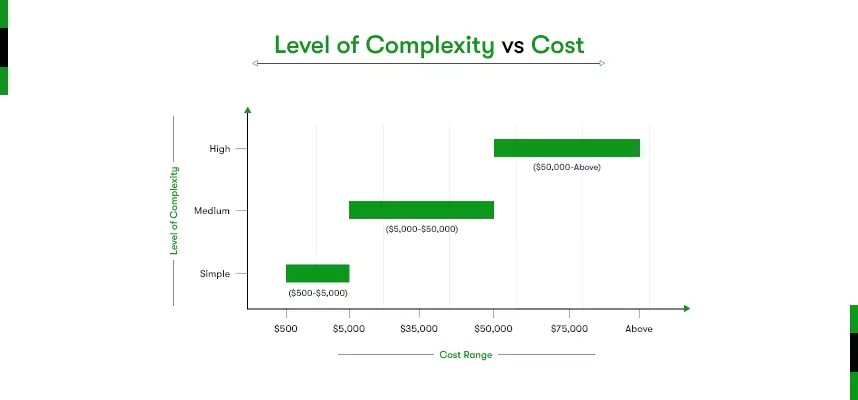 Low-Cost Web App: A simple portfolio page or a blog with basic features
Developing a low-cost web application with the minimum complexity, design, technology, team, and maintenance necessitates using simple and cost-efficient strategies. Typically, they demand interactive forms with minimal content.
Personal portfolios and hobby blogs are examples of low-cost web applications because they are simple and resource-efficient. A personal portfolio requires essential complication and typically consists of only a few pages to demonstrate a person's skills, projects, and resume. In contrast, a hobby blog entails sharing a specific interest or expertise. Both can be developed using no-cost or low-cost templates, content management systems, and open-source technologies, thereby reducing development costs.
Cost Range: Up to $5,000
Medium Cost Web-App: A e-commerce site or a social media platform with moderate features
These applications frequently feature interactive elements and abundant content. Therefore, their development time can last up to 3-4 months.
Given their higher complexity and functionality requirements, an online store or a community forum are examples of medium-cost web applications. Integrating features such as product catalogs, purchasing interfaces, payment gateways, and order processing into an online store requires specialized e-commerce platforms.
A community forum requires features such as user registration, discussion threads, moderation tools, and notifications, which may necessitate a more robust content management system or forum software. To facilitate seamless online purchasing or community engagement, the design and user experience of these applications must be more sophisticated, potentially resulting in a higher cost to develop a web application of medium complexity.
Cost Range: $5,000 to $50,000.
High-cost: Enterprise software solutions
This category contains enterprise websites for large organizations. They can include many exclusive features, extensive databases, and vast content.
A high-cost web application includes complex and feature-rich systems, such as Customer Relationship Management (CRM) software, Human Resources Management (HRM), Content Management Systems (CMS), Supply Chain Management (SCM), and more. These apps are carefully created and adapted to meet the needs of individual businesses, addressing their particular problems and streamlining their processes. These web apps undergo a lengthy and stringent development procedure. It begins with an understanding of the business's needs and continues through considerable coding, integration with other systems, and rigorous testing for quality and dependability.
Cost Range: $50000 & Above
Tips to Reduce Web App Development Cost
The costs provided above are approximations and may vary based on the complexity of your web application. However, by taking note of the following tips, you can manage the cost of custom web application development so that it does not cost you more than it should.
Define the scope and requirements.
Follow your vision of the final product. However, your conception of the final product may shift as development progresses, resulting in increased development time and costs. Defining the scope and requirements before starting the development process is essential. In addition to keeping everyone on the same page, it helps establish an expectation and a budget.
It will assist you to…
Set timelines for development stages
Create a definitive inventory of the features your ideas require
Define the platforms your app support
Estimate the costs for each of these steps.
Add specifications for UI design and user experience of your product.
Choose the most suitable and cost-effective technology.
You can significantly cut the cost of developing a web application by selecting the appropriate technology platform. Choosing hybrid app development would be sensible if you intend to reach a large customer base.
If you opt for native app development, the cost of employing developers for various app development projects will be reduced. Before selecting a technology platform, you must consult an expert and rely on their knowledge to make critical decisions.

Hire a professional and reliable team.
A dependable development team can significantly reduce web app development costs and time by proficiently handling all technical aspects. You don't need to be concerned about the complexities of the development process if you have a competent team.
Moreover, a trustworthy team like Kody Technolabs is well-versed in utilizing the industry's most recent technologies and finest practices. Their expertise in writing clear and maintainable code ensures that the web application will be scalable and readily upgradeable.
Regular updates and maintenance
Your web application requires routine maintenance and updates to remain functional, secure, and up-to-date. Addressing issues and adapting to technological changes can prevent significant problems and avoid expensive emergency repairs. In addition, user feedback and iterative enhancements enable you to fine-tune the application based on user requirements, increasing customer satisfaction and decreasing the need for costly significant overhauls.
Wrapping up…
Factors such as complexity, design, technology, team, and maintenance will impact the cost of web application development in 2023. In addition, the type, function, and intended audience of the web application have a substantial impact on price variations.
Effective planning of the development's scope, applying suitable technology, and routine maintenance are essential strategies to reduce costs. Moreover, partnering with a dependable web application development team is pivotal in managing your cost. By implementing these measures, you can optimize your web application development costs while ensuring the final product is functional, secure, and pertinent.
Contact our specialists if you are searching for top-tier web app development services. They will assist you throughout the entire process of developing an innovative web application for your organization.