The journey to finding a dedicated offshore developer is a like matching a jigsaw puzzle! It's a journey filled with challenges and intricacies, where some requirements align seamlessly while others may not fit until you work on it diligently. Just as each puzzle piece plays a crucial role in completing the picture, finding the right developer requires a meticulous approach and a keen eye for compatibility.
It's truly awe-inspiring to consider the immense pool of talent and diverse skill sets available in the world today. However, it's important to acknowledge the intense competition that arises as a result.
The Instant Surge To Opt For Offshore Development:
Given the abundance of choices in the market, it's only natural that the price range for hiring developers would vary significantly. As entrepreneurs and businesses navigate the process of application development, it becomes crucial to be mindful of their expenses and budget allocation. Making informed decisions about budget distribution is vital to ensure optimal utilization of resources and maximize the return on investment.
Hiring resources is undeniably a significant portion of any budget allocation. Many startup entrepreneurs believe that investing a large portion of the budget into hiring can significantly decrease profit margins. However, we are here to challenge this common misconception and provide you with insights on an optimal approach to hiring offshore developers, ensuring both profitability and quality.
Offshore development has emerged as a viable solution for businesses seeking cost-effective and high-quality development services.
Now the purpose of this blog is to navigate you through the process of offshore development, the reasons why you should opt for offshore development, and the cost of hiring app developers. 
What is Offshore development?
Offshoring is a strategic approach that involves collaborating with an external vendor to handle various aspects of software development. This vendor can be located anywhere in the world and becomes an integral part of your team, responsible for tasks such as website development, software engineering, mobile app creation, and product development.
When it comes to hiring offshore developers, it can be a game-changing decision for your business, leading to accelerated development processes and increased overall profitability.
This is precisely why countries like the United States and Canada often turn to offshore hiring to drive their software development initiatives.
Now let us look at the other compelling benefits of hiring offshore developers: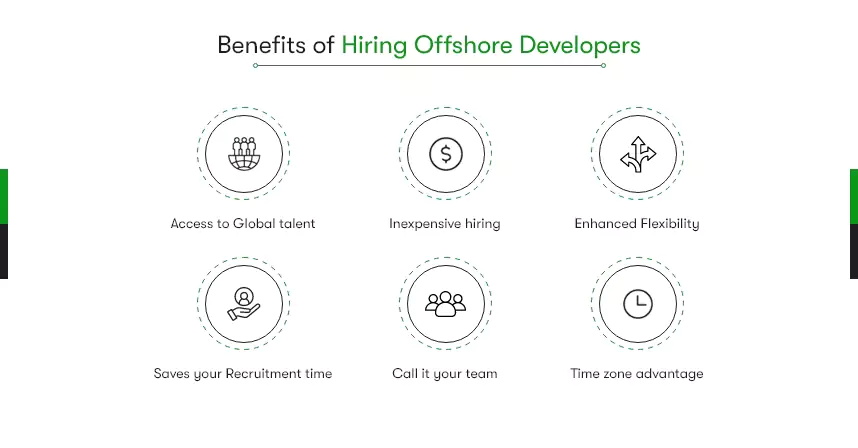 The business landscape has undergone a significant transformation in the wake of the COVID-19 pandemic. The unprecedented challenges it presented have compelled organizations to rethink their operational strategies and adapt to new ways of functioning.
Now, one pressing issue that arises is the need for hiring resources, and this is where offshore hiring options come into play.
Offshore hiring offers a plethora of benefits and opportunities for startups and businesses to thrive in the increasingly competitive market. Here are some compelling reasons why we believe offshore hiring will motivate you to explore talent from offshore countries.
Access to Global talent:
Offshoring opens up the gate to a vast pool of talent. It allows you to tap into the diverse range of skilled professionals from various countries. You can find individuals with specific expertise and experience that too at a very cost-effective rate.
So, this enables you to build high-performing teams without any hassle.
Inexpensive hiring:
Suppose you consider hiring a dedicated developer from India. Here, the cost of living and labor costs are pretty much lower as compared to other Western counties. 
This cost advantage becomes even more compelling when you take into account the high failure rate of startups, with 46% going bankrupt in their early stages. Opting for offshore hiring can be a wise choice in this scenario.
Cost efficiency allows you to optimize your budget and plan the allocation more strategically.
By hiring offshore developers, you can achieve high-quality work at a fraction of the cost, helping you stretch your resources further and improve your overall profitability. Additionally, since offshore developers or outsourcing development companies work remotely, you save on upfront costs such as renting office space, providing computers, and other recruitment benefits. This means you can direct your financial resources toward business growth initiatives.
Enhanced Flexibility:
In constantly changing business scenarios, it is difficult to keep up with the market demands. Imagine a situation where you have already spent heaven on hiring an in-house team with specific talent, only to face a sudden client request for a project that requires expertise in a technology you don't have.
This could result in significant financial losses if you need to hire additional talent to fulfill the project requirements. However, with offshore hiring, you can quickly scale your workforce up or down based on the project's needs. This level of agility allows you to adapt swiftly to market demands, explore profitable opportunities, and drive business growth.
Saves your Recruitment time:
The traditional hiring process involves, hunting candidates, shortlisting them, interviewing, negotiating, and finalizing. Furthermore, once a candidate is onboarded, you may need to invest additional months in training them, which can significantly impact your productivity.
Offshore hiring alleviates this burden by providing you with qualified individuals who are capable of handling the project independently. This allows you to focus on other crucial aspects of your business while trusting the offshore team to deliver results.
Call it your team:
An extended thought of the above explanations is,
The hired offshore developers would work with you as your extended team. You do not have to roam around and look out for individuals who you can call your team. The entire setup works in your favor and you can rely on the hired candidates for your project.
You can explain to them how you function, and what are your expectations from them, the same as you would do with your in-house team members.
Time zone advantage:
Offshore hiring can provide a significant time zone advantage. Collaborating with offshore teams allows you to extend your working hours and achieve round-the-clock productivity. While your in-house team rests, your offshore team can continue working, resulting in faster project turnaround times and increased efficiency.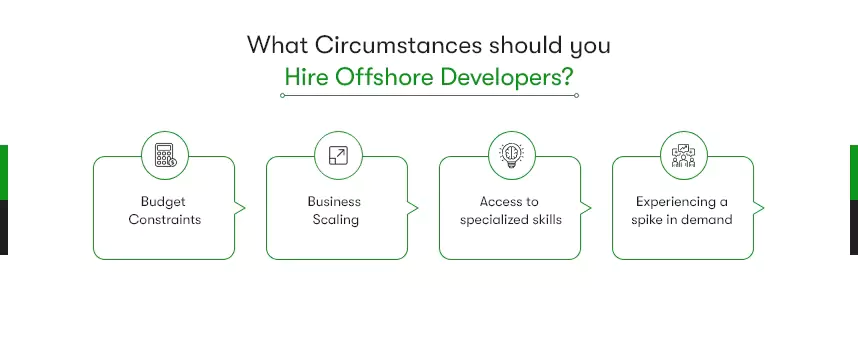 In what circumstances should you hire offshore developers?
Opting for offshore hiring can be a strategic choice in various project-specific scenarios. However, there are common reasons why we highly recommend considering offshore hiring, such as:
Budget Constraints:
Startups often encounter situations where they have limited funds or need to operate within strict budgetary constraints. In such cases, hiring offshore developers becomes a wise decision. Offshore hiring eliminates the need for setting up infrastructure or providing resources for the team. The offshore team operates independently, allowing you to save costs on physical infrastructure and focus your budget on other critical aspects of your business.
Business scaling:
Offshore hiring operates with utmost flexibility. If your business observes frequent ups and downs in terms of workforce, or you need a workforce only for a specific period, offshore hiring is your solution.
This option allows you to prosper in the international market, no matter the geography.
Access to specialized skills:
Offshore hiring enables you to access specialized expertise that may be scant or unavailable locally. Whether it's niche technologies, industry-specific knowledge, or specific domain expertise, offshore developers can bring valuable skills to your projects. This allows you to deliver high-quality solutions that meet your client's unique requirements and gain a competitive edge in the market.
Experiencing a spike in demand:
In an ever-changing market with unpredictable customer demands, it becomes challenging to anticipate the needs and plan ahead effectively. During periods of high demand, dividing the workforce and maintaining peak productivity can be a daunting task. If your business is currently facing such scenarios, hiring offshore developers can provide the solution you need.
Offshore hiring allows your business to grow at its own pace while you can focus on core growth aspects. By delegating certain tasks to offshore developers, you can ensure that your in-house team remains focused on strategic initiatives and core business functions. This division of labor enables you to maintain high productivity levels while effectively addressing the surge in demand.

Let's explore the platforms that help you find offshore developers.
Offshoring has emerged as a go-to solution for many businesses in Europe and America, with India and other Asian countries being preferred choices for hiring offshore developers. The time zone difference between these regions and the Western countries proves advantageous, as it facilitates round-the-clock productivity and seamless collaboration.
To initiate your search for offshore developers, you can begin by seeking recommendations from colleagues and friends who may have prior experience with offshore hiring. Alternatively, conducting a Google search for "hire offshore developers" will provide you with a list of platforms and resources to explore.
Popular platforms such as LinkedIn, GoodFirms, Clutch, and AppFutura can be excellent sources for finding validated and experienced offshore developers. These platforms typically provide reviews, ratings, and detailed profiles of developers, enabling you to assess their capabilities and select the most suitable candidates for your project.
Additionally, attending networking seminars and conferences in the software development industry can serve as a valuable opportunity to connect with offshore developers. These events bring together professionals from various backgrounds, providing a conducive environment for fostering connections and exploring potential collaborations.
What can be the prospective offshore development team structure?
Again, the team structure of the project can vary from project to project. Say, for example, you might have an entire team for development but need a quality tester. Or you are looking for either a front-end or back-end developer.
This is why, there is no generic team structure, but the requirements of the project define the team.
You can either hire,
Project Manager:
The Project Manager plays a crucial role in overseeing the entire project and its deliverables. They are responsible for ensuring effective team coordination, setting project milestones, and allocating the necessary resources. The Project Manager works closely with the client to understand their tailored requirements and ensures that the project is delivered on time and within budget.
Front-end and back-end developers:
Front-end developers are primarily responsible for implementing the visual aspects of a project, focusing on user interfaces and user experiences. They work with technologies such as HTML, CSS, and JavaScript to create the client side of the web or mobile applications.
Back-end developers, on the other hand, focus on the server-side and functional aspects of a project. They work with technologies like databases, server frameworks, and programming languages such as Python, Java, or Laravel to build the logic and functionality that powers the application.
Depending on the requirements of your project, you may choose to hire dedicated teams of front-end developers, back-end developers, or both to ensure a comprehensive development process.
Quality tester:
Quality Testers use various testing techniques and tools to validate the functionality, performance, and security of the application.
By having a dedicated Quality Tester in your offshore development team, you can ensure that the final product is thoroughly tested and meets the required quality benchmarks.
We have covered almost everything on hiring offshore developers. However, we feel like we should provide some of our bonus tips on managing offshore teams.
Offshore Team Management Tips:
Working with offshore developers might get tricky if you fail to make them understand your project requirements. This is why communication is of vital importance in offshore handling.
Here are some tips to facilitate smooth communication and avoid misunderstandings:
Rather than emailing lengthy project discussions, it's better to keep your communication concise and frequent. Break down your requirements into smaller, manageable tasks and communicate them in a clear and concise manner. This helps avoid confusion and ensures that the developers understand your expectations.
Decide on a communication platform that works best for both parties. Popular options include Slack, Asana, Microsoft Teams, or project management tools like Jira. Discuss with your offshore developers their preferred communication platform and establish clear channels for sharing information, updates, and feedback.
Share this with the offshore developers, allowing them to have a clear view of their responsibilities. By sharing a visual representation of the project plan, everyone can stay on the same page and track progress effectively.
Everything In a Nutshell:
Offshore hiring is extremely in demand. It is essential to calculate long-term benefits of offshore hiring. Offshore development offers a compelling solution for businesses looking to hire skilled developers while maintaining profitability and ensuring quality. By leveraging the global talent pool, you can access cost-effective resources, scale your team as needed, and focus on your core competencies. You can connect with us if you are looking for an offshore development partner!