Match-making with your outsourcing app development partner? This definitely instigates curiosity, doesn't it? Well, yes, you do not land up randomly with a mobile app development company out of nowhere. A lot of thinking and research (we call this process match-making) goes into the process of outsourcing mobile app development. Yes, match-making because you have a pool of options to select from; you need to cut short the ones who fall within your quality check, carry out discussions with them and then finalize that "ONE" app development company that satisfies your needs. Do you agree with our metaphorical match-making procedure? We are sure now you would!
An application released into the market needs to be a solid and robust app solution. With the striking number of 71.5 billion applications downloaded in 2022, you would have to struggle badly if you came up with "any" easy solution with no exquisite features in the running time. You may even get disbarred from the app store without having any significant number of app downloads if you come with no planning.
So, what backs the app development? An app development company plays a major role in deciding the success of the app. Outsourcing of app development has become a new norm, but there are many things to consider before outsourcing app development.
If you're headhunting outsourcing app development companies, you have a bucketful of options. Many of these gurus might claim you to save money and resources and promise you to put your app on the frontline, but they might not be trustworthy. That's why it is important to foresee things before finalizing an outsourcing partner.
There are multiple factors to consider for outsourcing app development. In this blog, we will highlight the things you should ask before outsourcing app development and guide you on how to outsource app development in 2023. Here we start,
An unbiased view of the app development industry:
Having a niche in app development is good, but it sometimes restricts the app development company's thought process and creativity. This means if your product deals with the same niche industry, the app development company might adopt the same development approach and might even repeat the features.
Stubbornness forbids them from accepting any new ideas or concepts, limiting your application's capabilities and performance.
Therefore while selecting an outpouring app development partner, you should check their mindset and ensure that they have a border skill set and outreach in various industries.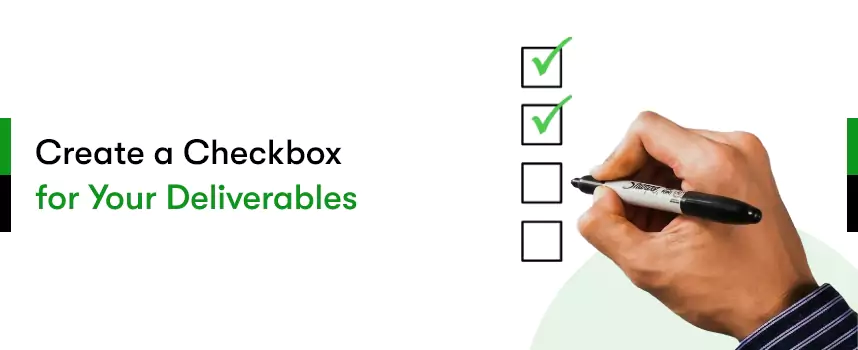 Create a checkbox for your deliverables:
The App development process is a wonderful journey of execution of your project's expectations. Obviously, you would have a list of things to accomplish when your application is launched into the market.
Along with this, you would have drawn a clear picture of how your product should look, isn't it? The same ideology has to be delivered to your prospective outsourcing app development partner for them to execute it rightly.
To ensure that you receive your deliverables timely and as anticipated,
Firstly, figure out the objective of the app. The core reason why you wish to develop an application and who will be your target audience.
Further, what features do you wish to integrate to make it an exceptional app in the market?
Do you wish to have a full-fledged product, or do you want to go for MVP development?
What skills are you looking for in your app development partner?
Figure out the platforms you wish to target with your app.
Also, ask yourself the things you want to customize and make your USP.
When do you want your product in your hands?
What budget do you have?
Having answers to all these questions will make it very easy for you to expect things from the outsourcing app development company.
Check for an enterprise-level outsourcing agency:
The blooming industry demands a lot of new concepts and ideation. Launching an application that can provide veracious results is an important step in marking your footstep.
An experienced mobile app development company can handle this job. Their years of industry experience can say a lot about their potential. Hence, before hiring an agency, check if they can develop an enterprise-level application that can handle any level of complexity. Ask the company if they have knowledge of all the procedural and operational challenges.
Do check if the company has enough skills to execute a challenging app development while bounding it to the legal system. Ensuring all these will lower your struggle and increase your chances of a successful app launch.
Ensure your budget:
App development entirely depends on the budget. The cost of outsourcing mobile app development may vary from agency to agency and country to country located in various time zones. Say, for example, the cost to outsource app development in India might start from $20 to $80 per hour. In comparison, in the US, it will start from $90 to $150 per hour in the US.
You can only afford to buy an exquisite agency if you have enough budget to handle their expenses. An estimated budget for outsourcing app development is $20K. Within this budget, you can have a developer team, testers' team, and other miscellaneous expenses being handled.
Employee retention:
This is the factor that nobody will ever tell you. But the fact is, you cannot afford to lose your key developer in the middle of your project development.
While hiring an award-winning app development agency, check or personally ask their teams about their views regards the company. You can also ensure honest reviews on Glassdoor and see if they have long-lasting relationships with their employees too.
If you have shortlisted a company already, ask them about the team who would work on your project. Talk to these professionals personally and ensure that they have no plan of leaving the organization any time soon.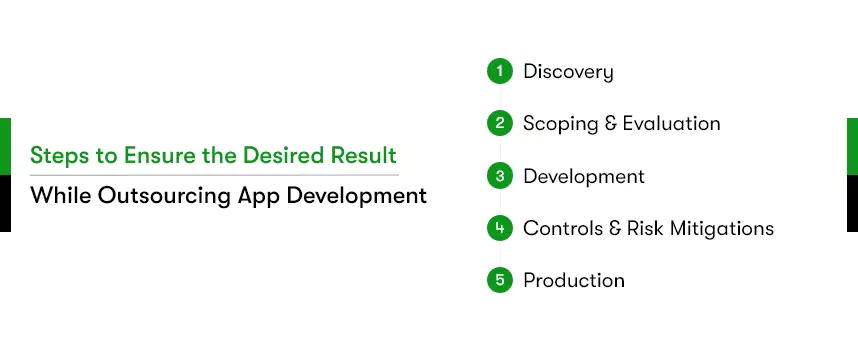 Procedures and Supervision
Once you have collaborated with a company, your work doesn't end here. It is just the beginning. You will have to review their app development outsourcing processes and what are the stages involved in the process. Moreover, coming up with certain steps will help you draft an effective strategy. These steps will ensure the best decision while you are looking forward to outsourcing an app Development Company:
Discovery: You will have to communicate your goals, motives, objectives of developing the app, the deadlines that they have to adhere to, and the terms associated with it.
Scoping and Evaluation: You will have to include all the features and specifications that you want to add to the app, its capabilities, and mock-ups.
Development: At this stage, the company will be developing the app by using the right tech stack according to platforms based on the requirements that you have provided them.
Controls, Risk Mitigations, and Production: Once the app is developed, the company will run diagnostics and perform the tests, putting the right controls in place. They will also mitigate the risks involved. Once everything is settled in place, they will assist you in launching the application in the market.
Moreover, before you are looking for the right companies to develop an app, you must determine the following things:
The drawbacks of outsourcing
A detailed analysis of the technical aspects involved
The hourly bids that the companies have requested for
Suppose an independent developer is able to develop the app. Or you will need a team of dedicated developers to work on it.
Performing regular checks and updates
Whether the app comprises essential features and an appealing user interface.
What are the risks involved?
When it comes to the risk of outsourcing the app development services of your company, the main threat identified by the experts is Quality. When you are compensating a specific amount to the company to outsource your project, it should be of adequate quality. Moreover, your efforts and time should not be wasted.
So, in such cases, ensure to have proper control. Also, keep a check on the performance via reports received from the company. Don't forget to look into the code they implement to ensure the outcome matches your expectation. Also, keep an eye on the platform that they use to develop your app.
Post-launch support:
Once the users have started onboarding the application, there is no looking back. But any bug or support issue may entirely affect the application's popularity.
What will you do at this stage? Who will have your back? It is important to ensure that the outsourcing company provides after-launch support. They should be willing to solve any project-related issues or even help you by including more advanced product features if necessary (which comes at a cost but doesn't matter). Working with the same outsourcing agency throughout the project is a healthy relationship to set up.
You should sort these things out before finalizing a deal with the agency. There are very few chances that somebody would deny the battling of challenges, but it is advisable to confirm the same in advance than regret it later.

How to come up with an efficient plan when you outsource application development?
You will also have to examine whether the app they are developing serves the purpose and meets the goals that you have set. Here are certain steps that will help you to come up with an effective plan while outsourcing:
First of all, determine the application objectives
Assess the risks involved in outsourcing the app development services
Research appropriately about the market conditions and companies
Interview the developers and identify their strengths and weaknesses
Have an effective project plan in place that must include a backup plan
Schedule weekly calls with the developers and address their issues or concerns
Perform regular tests before launching the product in the market
Release the app in the market.
These are some best tips that will help you outsource a trustworthy app development service for your app. Above all. You need to make sure a proper NDA (Non-Disclosure Agreement) is in place.
You shouldn't be ready to hire an outsourcing app development agency just yet. Here's why!
So far, we have uncovered a lot of things to consider before outsourcing app development. This was all about preparing you to trust your app development partner working thousands of miles away and ensuring a successful product launch.
You can make a list of companies and proceed with the above checklist.
But wait!
There is one very important thing being left out – the Cost to Outsource an App Development.
By now, you know how to identify your requirements, what to look for in the companies, and then make any decision. So, now let us dive deeper into how to calculate Outsourced Application Development Costs: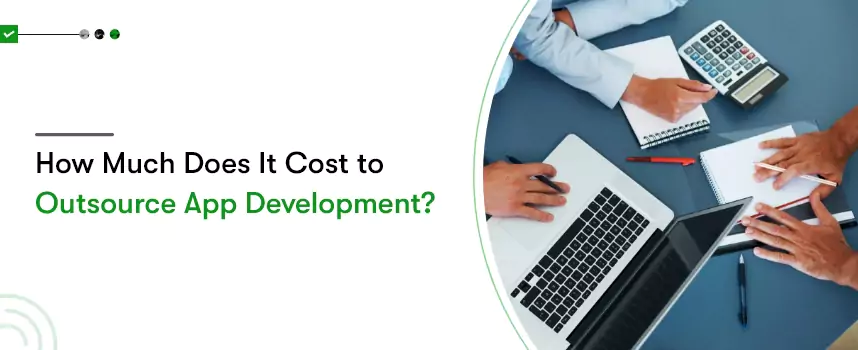 How much does it Cost to Outsource App Development?
Based on the location, the cost of outsourcing Mobile App Development will range between $25,000 to about $100,000. If you consider all the complexities and the scope of outsourcing mobile app development services, you can keep your budget restricted from about $20,000 to $50,000.
If you want to opt for multiple features, keep your budget open from $100,000 to $200,000 so that you can pay the outsourcing companies for what they deserve.
For example, you can look at the below prices to get an idea of how much it would cost for you to opt for the outsourcing services:
Real Estate Apps – about $12,000 to $15,000
Elder Healthcare Apps – about $20,000 to $70,000
Banking/Payment Apps – about $40,000 to $100,000
Grocery Delivery Apps – about $10,000 to $50,000
Movie Recommendation App – about $10,000 to $50,000
BNPL App – about $30,000 to $100,000
Drone Control App – about $30,000 to $100,000
Liquor Delivery Apps – about $10,000 to $50,000
Salon Appointment Booking Apps – about $10,000 to $30,000
So, now you must have an idea of how much it would cost to outsource app development. Further, you can take a look at the hourly rates that different companies charge you for developing mobile apps.
Hourly rates as per the location of the Company
Well, it would be helpful if you keep in mind that these figures are derived by taking an average from all the charges that every service provider offers. You can get to know the exact rates when you get in touch with a service provider personally.
India, Asia: Most of the companies in the Indian subcontinent or any other Asian country charge about $18 to $30 to develop an application for Apple and Android phones.
North America: The companies based out in North America charge about $150 per hour to develop an application that supports Apple's framework. For all the apps that are designed for Android users, they charge about $170 per hour.
Australia: The companies in Australia charge about $110 per hour to develop an application for iOS and Android platforms.
United Kingdom, EU: The companies located in the United Kingdom and EU charge about $70 per hour to create an application that supports both the Apple and Android platforms.
South America: The companies in this region charge about $50 per hour for developing applications that are suitable for Apple phones and about $40 per hour for all Android phones.
Eastern Europe: The companies charge about $35 per hour to develop an application for both Apple and Android frameworks.
Once you have determined the accurate project details and description, you can get in touch with the development company from any of these countries or continents. Discuss all the features that you want in your mobile app with the team. As you see how much it would cost you to outsource the development services worldwide, now you can decide where to get your app developed.
Conclusion
Hiring full-time remote developers and outsourcing software services have become a new norm to save money while digitizing the business. However, when you want to outsource app development services, choose the right company that can match your expectations.
They should be able to meet your requirements with ease. You can also get in touch with an expert who can help you collaborate with the potential outsource app development company.
That's it for the post on making outsourcing easy and affordable. If you need any assistance finding the right development partner, feel free to connect at your convenience.