Introduction:
The go-to payment option in today's fast-paced world is Buy Now Pay Later(BNPL). The concept is gaining extreme momentum in the world of eCommerce because of its convenience and flexibility. Every entrepreneur almost knows the concept, but very few of them know how to implement the same. And this blog is specially targeted to new entrepreneurs who wish to apply the BNPL concept or want to develop a shopping app like Tabby. Why Tabby, well, we will discuss the details and features but to cut it short, Tabby is a wholesome eCommerce application to inspire from.
So to begin with,
What is the Tabby app's BNPL concept hype all about?
The BNPL concept was conceptualized because of the constant instant need of the users to buy luxury items. However, the lack of funds was holding them back from making their dream purchases. The inability to buy dream products often led to frustration and disheartening for the users. This is why the BNPL concept was born.
It facilitates users to buy their favorite product without worrying about the payment at the time of purchase. This is a lucrative deal especially when anyone, you, or I have been eyeing a particular product for the longest time.
The concept got a tremendous hit with the launch of the Tabby application. Tabby is a Dubai-based buy now pay later service provider that also integrates with H&M, IKEA, Ali Express, and other well-known retailers. All thanks to the creators of the fintech app development company.
With the Tabby App, you no longer have to worry about having enough funds to purchase what you desire. You can pay for your purchases in four interest-free installments, taking the burden off of paying the entire amount at once.
Do you know what is the best part about the Tabby app? It is not limited to a particular category of products. Whether you want to buy electronics, fashion items, home appliances, or literally anything, you can use the Tabby application.
If we go by the statistics, Tabby has
nearly 3 million customers
800+ merchants
a total funding of $185 million to date
Without a doubt, this application is worth an inspiration for any budding entrepreneur wanting to develop a BNPL application.
How Much Does it Cost to Develop an App like Tabby?
Building a buy now pay later app like Tabby involves a lot of intricate details, and the cost of creating such an app can vary depending on several factors. The cost ranges from $15,000 and goes up to $40,000 for an app with mid-level UI and technology. However, for an app that requires multiple technology integrations and a high-end design system, the cost can skyrocket up to $150,000 or more.
There are several factors that contribute to the cost of building a buy now pay later app. The first factor is the complexity of the app's features. An app that requires more features and integrations will require more time and effort, resulting in higher costs.
The second factor influencing the cost is the choice of the platform the app is built on. Developing a cross-platform application for iOS and Android will affect the final cost of application development.
Also, the payment gateways you integrate or the third-party services affect the final cost of application development.
The next factor is the design of the app. An app with a high-end design system will require more attention to detail and take more time to develop, ultimately increasing the cost.
The fourth factor is the app's scalability. If the app is built to cater to a massive audience, it will require a robust infrastructure that can handle a high volume of traffic. This can result in higher costs.
Finally, the development team's experience and location can also affect the cost. Hiring a team with a higher level of experience and expertise can result in higher costs. Similarly, hiring a team located in a higher-cost region can also increase the overall cost.
This suggests that hiring fintech app developers from a low-cost region with top-notch talent like Asia is beneficial.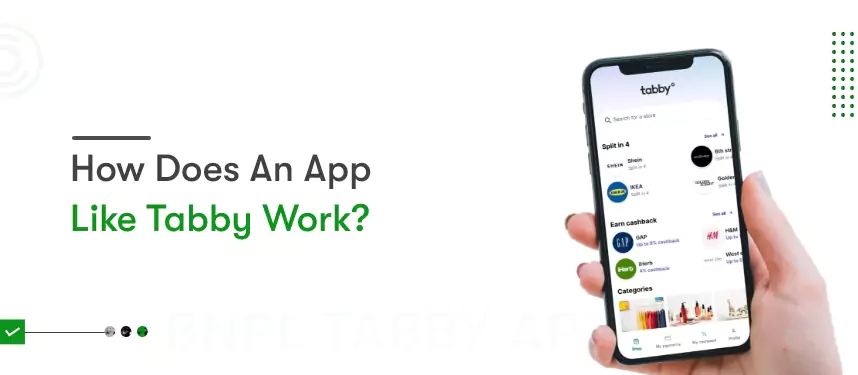 How Does an Application like Tabby Work?
The Tabby App is easy to use, and the process of purchasing through it is seamless. First of all, download the application and register using an email id or mobile number. Next, browse through the list and categories of products that you want to purchase.
You can simply select the product you want to buy, choose the Tabby App as your payment method, and complete the purchase. The app also allows you to track your payments and manage your installments effortlessly.
Customers can pay the Tabby app in four interest-free installments or choose to pay after 14 days of the purchase. Additionally, the app accepts major credit cards and debit cards, allowing payment without any extra costs.
However, if the customer fails to pay, the app charges a 15 AED late fee after its due date and 30 AED after two weeks.
Now, let us look at the list of features you need to incorporate in a Buy Now Pay Later app like Tabby.
Login and Verification:
To enhance the security of the application further, consider adding a verification code or incorporating two-factor authentication to allow only genuine users to log in.
This extra layer of security will help you build trust and loyalty toward the application.
Shop from categories:
After-pay apps have revolutionized the way people shop by providing an easy and convenient way to make purchases without having to pay the entire amount upfront. Tabby is one such app that has taken this concept to the next level by introducing a Shop feature.
With Tabby's Shop feature, you can create customized categories around the name of stores, products, and discounts. This makes it easier for customers to browse through products that they are interested in and find the best deals available.
The app works like an e-commerce store, providing users with detailed information about the products, such as their cost, specifications, and any available offers or discounts. Customers can also add items to their cart and check out securely using their preferred payment method.
Account Management:
Account management is crucial because it allows customers to view the history of financial transactions made using the application.
With this option, customers can access all the information about their past transactions along with the date of purchase, quantity, payment method, etc.
Split Payments:
Tabby is a popular buy now pay later application that has become increasingly popular due to its user-friendly features and flexibility. One such feature is the ability for customers to make advance payments against their scheduled split payment time.
This feature is particularly beneficial for customers who want to take control of their finances and make payments when they have enough funds available. By making advance payments, customers can pay off their balance more quickly and avoid late payment fees.
Reminders:
For a BNPL app development like Tabby, it is important that the customers never miss a payment.
In a world where people are busy and have multiple bills to pay, it's easy to forget when payments are due, which can lead to missed payments and late fees.
By incorporating a push notification reminder feature in your app, you can ensure that customers receive timely reminders when their payments are due. This feature is beneficial for both customers and businesses, as it helps customers avoid late fees and businesses ensure timely payments.
Automated deductions:
Shop-now-pay-later apps like Tabby allow customers to make purchases and manage their payments conveniently. One of the benefits of these apps is that customers can enter their card details once, and the app will automatically deduct the amount from their bank account when payments are due.
However, before deducting the amount, it's essential to notify customers of the upcoming payment. This is why Tabby and other similar apps send notifications to customers before deducting payments from their accounts.
Cashback:
Cashback offers are a lucrative way to help users stick to the brands. By providing cashback rewards to your customers for their loyalty and continued patronage, you can build a strong bond of trust and reliability, which will help you attract and retain more customers.
Furthermore, a cashback policy can also encourage customers to engage with your app more frequently, leading to increased usage and ultimately more sales.
Merchant analysis:
A BNPL app like Tabby should provide a merchant dashboard carrying all the insights regards orders, pending payments, and revenue generation.
By developing an application consisting of all the above-mentioned features, and by drawing a simplistic yet intriguing design of a BNPL application, there are maximum chances of you succeeding.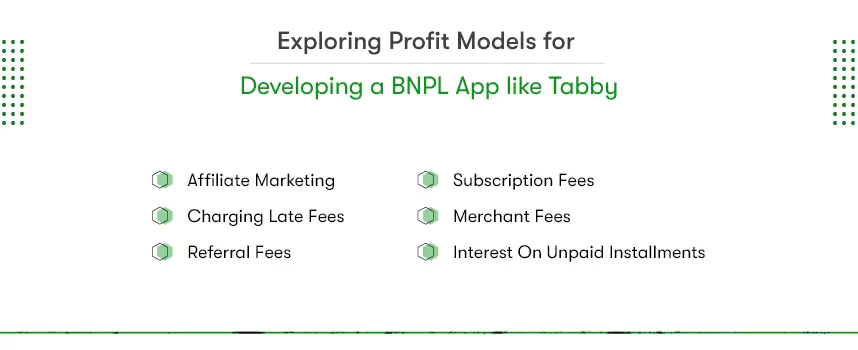 How Will You Make Money by Developing a BNPL Application like Tabby?
Here are a few monetization ways implementing which you could make money.
One potential source of revenue is through affiliate marketing, where you earn a commission on sales made through your app by promoting other businesses products or services. This is a win-win situation as you provide your customers with access to more options while earning a percentage of the sales made through your app.
Another potential source of income is by charging late fees or interest on unpaid installments. This not only incentivizes customers to pay on time but also generates revenue for your business.
You can also earn money from merchants by showcasing their products as features in your application. This allows them to reach a wider audience and potentially increase sales, while you earn a fee for promoting their products.
Additionally, you can consider offering premium features or subscription-based services to customers, allowing them to access exclusive benefits such as faster approval times or lower interest rates. This can create a recurring revenue stream for your business.
Our team of experienced business consultants can help you explore various options and find the best solutions to maximize your profits.
So, That's It:
Yeah, we come to an end of this brilliant topic of discussion. We hope that this guide for BNPL app development helps you in your project. However, if you feel you still have some unanswered questions, please comment below or reach out to us and discuss your fintech solution development. Thank you!