Does your insurance company rely on traditional underwriting and claim processing processes, leading to delays, errors, and increased operational costs?
Does your insurance company also store customer and policy data in fragmented systems, which makes it challenging to derive meaningful insights to offer personalized services?
Do your channels limit customer engagement, not meeting digital interaction expectations?
If you're nodding your head to any of the questions above, you're not alone. Many insurance companies worldwide have faced similar challenges, and the remedy lies in a revolutionary concept – Digital Transformation in the Insurance Industry.
According to a survey, 41% of customers say they are more likely to switch insurance providers due to a lack of digital capabilities. In contrast, 15% identify a lack of digital capabilities as the topmost challenge while interacting with insurers.
That said, traditional underwriting and claims processes, fragmented data systems, and limited customer engagement are no longer sustainable in this digital age. And increasing smartphone usage makes mobile apps a primary channel for insurers to get closer and provide personalized services to their customers.
But mobile app development is just a part of Digital transformation in the Insurance sector. Let's explore the true essence of Digital transformation specifically for insurance companies.
What is digital transformation for the insurance companies?
Digital transformation within the insurance industry is a strategic overhaul that embraces cutting-edge technologies to revolutionize how insurers conduct business and engage with policyholders. This transformation encompasses developing sophisticated software systems, web and mobile applications, and integrating AI, ML, Data Analytics, IoT, and Blockchain.
These innovations collectively streamline operations, automate processes, and elevate customer experiences to meet the digital demands of the modern insurance landscape. Digital transformation for insurance companies can be beneficial in many ways:
Improve risk management strategy,
Personalizing customer services,
Automate manual processes,
Eliminate human errors,
Enabled data-based business decisions
Besides the benefits, Insurance companies must consider digital transformation for the sake of staying competitive against InsurTechs. InsurTech, aka, Insurance and Technology, is a term for digital-only insurance providers. Such Insurance companies entirely operate digitally through websites and apps, allowing customers to buy and claim insurance without any manual paperwork.
For example, GetSafe, a German InsureTech Startup, provides legal, liability, health, and pet insurance services. It replaces complex manual paperwork with automation by offering Android and iOS apps, making buying and claiming insurance super simple and accessible.
According to PR NewsWire, Europe is the key to the InsureTech Market, accounting for 47% of the global market.
To capitalize on this growing InsureTech market, insurance companies must embrace digital transformation before tech startups like GetSafe capture the market. Not only capitalization. Digital transformation offers plenty of benefits for insurers.
What benefits can your insurance company reap after digital transformation?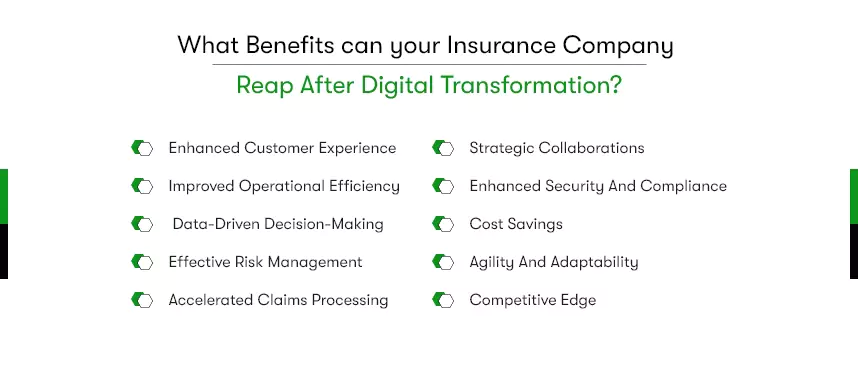 Digital transformation in insurance opens doors to a world of opportunities. By embracing cutting-edge technologies and modernizing operations, insurance companies can realize a multitude of advantages. Here are some of the top benefits of Digital Transformation in Insurance that await you.
Enhanced Customer Experience: Digital transformation empowers insurers to offer personalized services, quick responses, and user-friendly interfaces, ultimately boosting customer satisfaction and loyalty.
Improved Operational Efficiency: Automating manual processes, streamlined workflows, and optimized resource allocation leads to reduced operational costs and faster service delivery.
Data-Driven Decision-Making: Access to vast data resources and advanced analytics enables data-driven insights, fostering better risk assessment, product development, and marketing strategies.
Effective Risk Management: Real-time data from IoT devices and predictive analytics enhance risk assessment accuracy, leading to precise pricing and more proactive risk mitigation.
Accelerated Claims Processing: Automation and digital channels expedite claims processing, ensuring quicker settlements for policyholders and reduced administrative burdens.
Strategic Collaborations: Partnerships with insurtech startups and the integration of emerging technologies allow insurers to stay competitive and innovative in a rapidly evolving industry.
Enhanced Security and Compliance: Strong cybersecurity measures like multi-factor authentication and access control safeguard customer data, ensuring compliance with regulatory requirements and building trust.
Cost Savings: Cloud-based solutions and process automation significantly reduce costs, improving the company's financial health.
Agility and Adaptability: A culture of continuous improvement and adaptability helps insurers stay relevant in a dynamic market, respond to customer demands, and seize new opportunities.
Competitive Edge: Do you know 99.8% Dutch population is insured? That makes Digital transformation in insurance in the Netherlands mandatory for Dutch insurers to stand out in the saturated market. Embracing digital transformation will position your insurance company as an industry leader, attracting tech-savvy customers and partners and enabling a more sustainable future.
Areas of the Insurance Company to Revamp During Digital Transformation
Digital transformation involves a comprehensive overhaul of various aspects of an insurance company, leading to improved efficiency and customer experiences. Key areas to digitize include:
Customer Engagement:
In traditional Insurance companies, customer interactions are limited to agents and brokers, hindering accessibility. However, by introducing user-friendly mobile apps, you can provide policyholders easy access to their accounts and seamless claims submission.
This shift can significantly boost customer satisfaction, leading to higher retention rates and happier and more loyal customers.
Data Utilization:
Insurance companies store data but cannot fully leverage it to infer valuable insights with traditional systems. But when you adopt digital transformation, you can unlock the potential of your data through data analytics, AI, and machine learning.
By harnessing the data insights, you can better transform risk assessment, product development, and marketing strategies.
Operational Efficiency:
Traditional insurance processes are prone to cause delays, human errors, and increased operational costs. In contrast, using the right technology, you can automate and streamline tasks like claims processing, reducing errors and costs.
Consequently, this enhanced operational efficiency translates to quicker service, significant cost savings, and a more potent competitive edge.
Risk Management:
Another problem in traditionally led insurance companies is relying on static data for risk assessment that lacks real-time insights. You can eliminate this dilemma by incorporating telematics and IoT devices, gaining real-time data for precise risk assessment and personalized pricing. These results further enhance risk management that directly impacts profitability and customer satisfaction.
Customer Experience:
It's challenging to personalize customer experiences with a traditional approach. Digital transformation in insurance services enables real-time updates on claims. That makes providing personalized policy recommendations and responsive service easier to elevate customer satisfaction. Improved customer experiences then foster loyalty and positive word-of-mouth referrals.
Cybersecurity:
Technological advancements make it difficult for traditional insurance company to protect their data from cyber-attacks. That's where technologies like Blockchain come in handy, strengthening cybersecurity safeguarding customer data, and ensuring regulatory compliance throughout the insurance transaction. 
7 Key Technologies Driving Digital Transformation in the Insurance Sector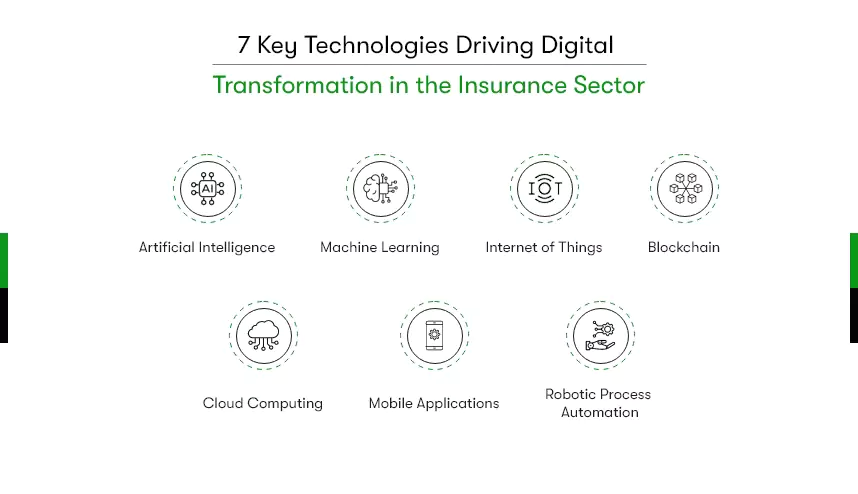 Digital transformation in the insurance sector is powered by a multitude of cutting-edge technologies, including AI, ML, IoT, and Blockchain. Each technology plays a unique role in digitizing various facets of an insurance company. Furthermore, you can strategize the technology usage as per your insurance company's specific requirements.
Let's walk through these technologies, understand their significance in insurance digital transformation, and explore real-world examples that bring their impact to life.
Artificial Intelligence (AI):
Artificial Intelligence involves machines mimicking human intelligence to perform data analysis and decision-making tasks. AI empowers insurers to automate underwriting processes, enhance customer interactions, and make data-driven decisions in the insurance sector.
For example, consider Geico's AI-powered virtual assistance. It's available 24/7 to answer customer queries about policy coverages, view billing information, and provide support, significantly improving customer engagement.
Machine Learning (ML):
A subset of AI, Machine Learning enables computers to learn from data and improve their performance over time. Leveraging ML's data processing capability in digital transformation, you can streamline analyzing vast datasets, enhancing risk assessment, fraud detection, and claim processing.
Take Lemonade's case, for example. InsurTech has set a world record for settling an insurance claim using AI and Machine Learning within two seconds.
Internet of Things (IoT):
The Internet of Things is about interconnected devices that collect and transmit real-time data. With IoT devices like telematics sensors in vehicles and smart home devices, your insurance company can gain real-time data. You can use this data for risk assessment and customized pricing, providing proactive risk mitigation.
For example, Aviva, a general insurance provider from the UK, offers an IoT solution, LeakBot, to detect water leaks in homes. It alerts customers, triggering when leaks occur in the main water supply, helping prevent property damage and reducing claims.
Blockchain
Blockchain is a distributed ledger technology that enhances security, transparency, and transaction efficiency. Insurance companies must use Blockchain to streamline policy issuance, reduce fraud, and automate claims processing through smart contracts.
Cloud Computing:
Cloud-based solutions offer scalability, flexibility, and cost savings. Insurance companies can use the cloud for data storage, analytics, and digital service delivery, increasing cost savings and improving efficiency.
Mobile Applications:
Mobile apps enable policyholders to manage their accounts, submit claims, and receive real-time updates using their smartphones. Thus, with insurance mobile app development, insurers can boost customer engagement and convenience, offering easy access to policy information and claims submission.
However, your insurance company should research what platforms your customers are on. Given mobile device users are divided into Android and iOS users, you may need to develop an app for each.
You can go with Flutter app development to avoid development costs for each platform. Flutter is a cross-platform framework enabling app development for Android, iOS, Windows, Web, and more from a single codebase.
Robotic Process Automation (RPA):
Robotic Process Automation involves using software robots to automate repetitive tasks like data entry and document processing. By automating repetitive tasks, RPS helps insurers reduce errors and free up staff for more strategic roles.
Zurich Insurance is one of the early adopters of RPA in the insurance industry. The insurance giant uses RPA throughout the policy life cycle, increasing efficiency and reducing operational costs.

How to start Digital transformation for your Insurance company?
A complete digital transformation of an insurance company is a comprehensive and strategic process. It goes beyond just adopting digital tools or developing mobile apps. Digital transformation requires fundamentally rethinking and restructuring the organization's operations, culture, and business model to leverage digital technology and data fully.
Here's what a complete digital transformation of an insurance company typically includes:
Define Clear Objectives:
Start by identifying the specific goals and objectives of the digital transformation. Understand why you want to adopt digital technology, whether it's to enhance customer experience, improve operational efficiency, or innovate in your product offerings. According to your vision, create a digital transformation roadmap that aligns with your insurance company's long-term vision.
Assess Current Systems and Processes:
Evaluate your current technology infrastructure, processes, and workflows. As discussed earlier, identify specific areas that can be improved through digitalization. This assessment will help prioritize digital initiatives.
Develop a Digital Strategy:
Create a comprehensive digital strategy that outlines the roadmap for transformation. This should include a timeline, budget, and key performance indicators (KPIs) to measure success.
Choose Technology Stack:
So, you can use one or a set of technologies for digital transformation depending on your vision and areas to digitize. But you have to decide the technology stack in advance. It may include AI, ML, cloud computing, data analytics tools, mobile app development platforms, and more.
Prioritize Mobile App Development:
Mobile app development is an essential part of digital transformation for the insurance company. By developing a mobile app, you can automate the insurance process for customers and your business operations. Besides integrating the key technologies into the app, you can leverage your digital transformation initiatives to the fullest.
However, you must decide what type of insurance mobile app you want to build, as there are many options. For example,
a. Customer Self-Service App allows policyholders to access their accounts, view policy details, make premium payments, and submit claims. This enhances customer engagement and reduces the workload on customer support.
b. Claims Processing App is an app that streamlines the claims submission process. Policyholders can use the app to document and report incidents, upload photos, and track the status of their claims. This can improve efficiency and transparency.
c. Agent/Broker App is to equip your agents or brokers with a mobile app that helps them provide better service to customers. They can access policy information, generate quotes, and assist with customer inquiries using the app.
d. Telematics App: If your insurance company offers auto insurance, consider developing an IoT-powered telematics app. This app can monitor driving behavior, offer feedback to policyholders, and potentially lead to personalized premium pricing.
Choose the Right Development Approach:
Decide whether you want to develop the mobile app in-house or outsource it to a development agency. Each approach has its advantages and considerations. Hiring in-house developers is usually costlier as you have to bear all the expenses, including salaries, statutory expenses, infrastructure, and other maintenance costs.
Outsourcing your digital transformation project, in contrast, frees you from all costs, and you just pay for the solution. Because outsourcing software companies allow you to hire an experienced, dedicated development team, eliminating the need to source, screen, and interview developers.
They may not be present on your site but always work as your extended team. Besides, you can scale up or down the team based on your requirements urgency. It's a win-win solution, isn't it?
Test and Iterate:
Continuously test and gather feedback on your mobile app/s. Make improvements and updates based on user input to ensure the app meets customer needs and expectations.
Security and Compliance:
Prioritize the security of customer data. Ensure the app complies with relevant data protection and regulatory standards, especially in the insurance industry, where data security is critical.
Launch and Promote:
After thorough testing and security checks, launch the app and promote it to your customer base. Encourage adoption using social media and digital marketing and provide support for users.
Why Kody Technolab for Digital Transformation in the Insurance Sector?
Leveraging technologies has become necessary for insurance companies to be competitive and offer personalized and secure services.
With industry and technology expertise, Kody Technolab can contribute to your digital transformation journey. Experience in delivering successful projects in Flutter, FinTech, and InsurTech app development empowers us to tailor tech solutions to meet your unique needs.
Whether you require a short-term project or a dedicated team, our flexible engagement models ensure cost-efficiency and rapid deployment. Rest assured that our skilled and committed professionals have a proven track record and will deliver exceptional results.
Choose Kody Technolab to unlock the full potential of your insurance business through digital transformation.