In recent years, the insurance industry has undergone a noteworthy transformation towards mobile app development, as many companies acknowledge the benefits of implementing cutting-edge technology. Using mobile apps, insurance companies can expand their customer base, simplify their processes, and enhance customer contentment.
The advent of insurance apps is revolutionizing how insurance companies engage with their clients by offering a simple and convenient means for users to manage their policies and submit claims.
Evidently, the attractive features of insurance apps will entice more businesses to explore their development. That is why we have taken the initiative to write this blog and express our thoughts. To start with, what are the reasons the insurance industry requires a mobile app, and how will the industry benefit from its development? Let's delve into these queries.
The proliferation of mobile devices in our lives has transformed the way we live and work, and the insurance industry is no exception.
Why does the insurance industry need mobile apps? 
Developing an insurance app is a part of Digital transformation in the Insurance industry. Insurance companies can enhance customer satisfaction by offering Android and/or iOS apps. With apps, you can easily gain insights into your customer behavior, allowing you to tailor personalized insurance products.
Other benefits of Insurance app development include:
The increasing number of mobile users offers new opportunities for insurance companies to connect with customers and improve their experience.
Insurance companies can offer a range of benefits, such as faster and more effective communication, automation of routine tasks, and live chat support for clients.
In addition to improving customer satisfaction, apps free up time for agents to focus on acquiring new clients and driving business growth.
Mobile apps offer insurance companies more opportunities to collect and process data, which can help in strategic decision-making and product development.
Insurance app development acts as a threshold for digital transformation for insurance companies. Once you have a mobile app, you can integrate cutting-edge technologies like AI, ML, and Blockchain. This innovation helps you gain a competitive advantage, attracting new-gen customers.
Banks are also not far behind! Check out Banking app development for more details.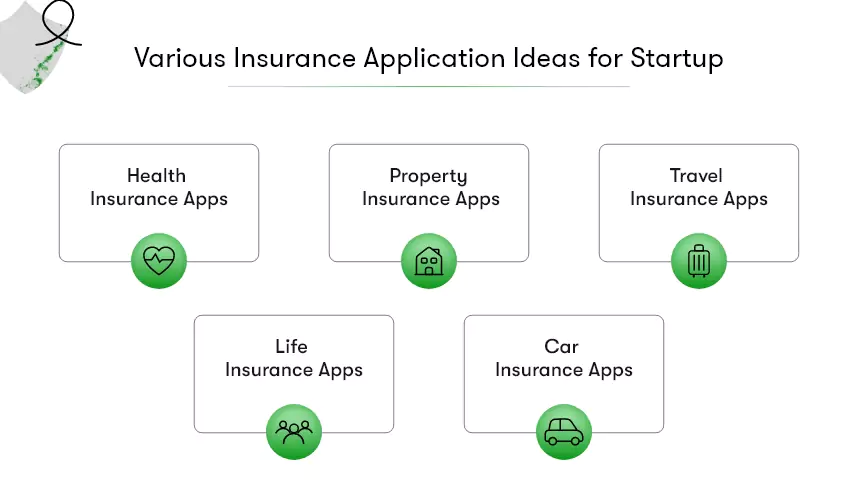 What type of Insurance application can you build?
Today, people prefer to insure a variety of things including their homes, cars, health, pets, and even their mobile devices. Many also opt for life insurance, disability insurance, and travel insurance. With the rise of technology, cyber insurance is becoming increasingly popular, as well as identity theft insurance.
Business owners also insure their companies and employees with policies, such as general liability, workers' compensation, and business interruption insurance. Ultimately, insurance provides financial protection and peace of mind in the face of unexpected events and losses.
This is why it is important to select your niche in insurance app development. You can choose from the following segments:
Health insurance apps;
Property insurance apps;
Travel insurance apps;
Life insurance apps;
Car insurance apps;
You can segment out other niches and include them in your mobile app idea. However, the feature set in each insurance app will depend solely on the segment you select. We will be listing out some common and general features of an insurance app. You can always connect with us to know more about some personalized feature sets for your specific app idea.
If you want to emerge with the latest booming market in Fintech, don't miss out the ultimate guide to Buy Now Pay Later App Development!
How does an insurance application work?
Insurance application provides a digital platform for users to manage their insurance and policies and claims. Mobile applications help in streamlining the process and enhancing the user experience.
The first and foremost step of working/using an insurance application is to create an account and fill up some basic information, such as name, address, and contact details.
Once this is done, users are ready to browse the application and process the policies. Customers can customize their coverage based on their individual needs and adjust factors such as deductibles and coverage limits that fit within the budget.
Users can then forward manage the policies using the application directly. They can also pay premiums, amend personal information, and track claims that have been filed. This feature extremely helps and assists users during emergency medical assistance.
An insurance mobile application typically allows users to file claims that involve form submission, document submission, photos, bills, etc.
The application also allows you to track the progress of the application and raise queries if required. Overall, insurance apps offer a convenient and accessible way to manage insurance policies and claims. By providing a digital platform for these tasks, insurance apps help make the insurance process more efficient and user-friendly, which can ultimately benefit both policyholders and insurance providers alike.
General features of an Insurance application:
Here are some general features that can be included in any type of insurance app:
Claims processing: The app should allow users to report a claim, upload relevant documents, and track the status of their claim.
User registration: The app should allow users to create an account and securely store their personal and contact information.
Policy management: Users should be able to view, manage, and update their insurance policies directly from the app.
Premium payments: Users should be able to make premium payments, view payment history and set up automatic payments.
Policy quotes: The app should allow users to receive instant policy quotes based on their insurance needs and coverage preferences.
Personalized recommendations: The app should provide personalized recommendations based on the user's profile, preferences, and behavior.
Notifications: The app should provide timely notifications for policy renewals, premium due dates, and claim status updates.
Customer support: The app should offer various channels for customer support, such as live chat, email, or phone support.
Security features: The app should implement robust security features, such as two-factor authentication, biometric authentication, and data encryption.
Integration with third-party services: The app should integrate with third-party services, such as weather alerts or home monitoring systems, to provide users with more personalized and relevant information.
Payment processing: The app should allow clients to pay within the app using third-party integration services.
Document/Image uploading: The application should allow users to upload medical records or photos as and when required.
Feature list for Admin panel:
User management: The admin panel should allow administrators to manage users' accounts, including the ability to create, modify, and delete user accounts.
Policy management: The admin panel should provide administrators with the ability to manage policies, including creating, modifying, and canceling policies.
Claims processing: The admin panel should allow administrators to process claims, including reviewing claims, making claim decisions, and communicating with users about their claims.
Premium management: The admin panel should enable administrators to manage premium payments, including viewing payment history, issuing refunds, and modifying payment schedules.
Analytics and reporting: The admin panel should provide administrators with analytics and reporting tools to help them understand key performance indicators such as customer acquisition and retention rates, claims processing times, and premium revenues.
Customer support: The admin panel should provide administrators with customer support tools, such as a ticketing system, to help them manage and respond to user inquiries.
Security Management: The admin panel should enable administrators to manage security settings, including configuring two-factor authentication, setting access permissions, and monitoring suspicious activity.
Integration with third-party services: The admin panel should allow administrators to integrate with third-party services, such as weather alerts or fraud detection systems, to enhance the app's functionality.
Communication management: The admin panel should provide administrators with tools to manage and send targeted communications to users, such as policy renewal reminders or promotional offers.
Compliance management: The admin panel should allow administrators to manage compliance requirements and ensure the app adheres to industry regulations and best practices.
Having said all these, your target audience may expect a few critical features depending on the industry you operate. And thus it becomes necessary for you to incorporate certain features that serve the purpose.
For example, if you specialize in Car Insurance, you may want to include features such as:
A vehicle monitoring system that allows policyholders to track their driving behavior, and provide discounts for safe driving.
A feature that allows users to report accidents directly from the app, providing immediate support for policyholders.
A car maintenance log that provides reminders for routine vehicle maintenance and repairs.
Integration with third-party services such as tow truck companies, rental car providers, or auto repair shops.
Personalized policy quotes are based on factors, such as vehicle make, model, and year, as well as driver age, driving record, and location.
Alternatively, if you specialize in Health Insurance, you may want to include features such as:
A provider search tool that allows users to find and review healthcare providers in their network.
A symptom checker that allows users to check their symptoms and get advice on whether they need medical attention.
Telemedicine options allow policyholders to connect with medical professionals virtually.
Integration with fitness trackers and wellness apps to promote healthy lifestyles.
Access to health and wellness resources such as diet and exercise plans, mental health resources, and stress management tools.
Similarly, Life Insurance applications should include the following features.
A potential feature set for a mobile app designed to assist insurance agents might include a comprehensive policyholder profile that contains all the essential information about the insured person or object.
Additionally, the app could offer an easy-to-use interface for customers to browse available policies and make informed decisions about their insurance needs.
To help users fully understand their coverage, the app could also provide detailed policy information, outlining all possible usage scenarios and associated terms and conditions. This would give customers a better understanding of their options and the limits of their coverage.
The app could also include on-demand insurance activation and deactivation, allowing users to quickly upgrade, switch, or discontinue their coverage as needed.
Finally, geolocation capabilities could enable the app to tailor policy offerings and other features to specific geographic regions, providing customers with the most relevant and up-to-date information about their insurance options.
We can literally go on and on to describe the possibilities of features that you can incorporate. However, let us decide together on features when we discuss your project possibilities.
In summary, it's essential to understand your target audience's unique needs and preferences when designing an insurance app. By incorporating features that cater to your audience's specific needs, you can improve customer satisfaction, and loyalty, and ultimately grow your business.

Digital transformation, Insurance mobile app, and Insurtech what is the difference?
Digital transformation in insurance, insurance mobile apps, and Insurtech all relate to how technology is changing the insurance industry. However, there are fundamental differences between them:
Digital Transformation in Insurance: Refers to the significant shift towards digitization of the entire insurance value chain. The concept drives transformation across product development, distribution channels, customer engagement, and back-office operations. This encompasses both established insurance companies adapting to new technologies and newer entrants bringing fresh approaches to the marketplace.
Insurance Mobile Apps are specific applications insurance carriers create to enable policyholders to interact with their insurance providers remotely. These apps might allow customers to file claims, check policy details, make payments, or communicate with customer support teams. Some insurance companies even integrate wearables or IoT devices into their apps to gather data for underwriting purposes.
Insurtech: Describes startups or ventures that use technology to disrupt traditional insurance models or introduce novel products/services. These entities often target particular pain points in the industry, such as high overhead costs, limited transparency, or outdated underwriting methods. By leveraging advances in areas like AI, blockchain, and big data analysis, Insurtech firms strive to improve efficiency, reduce fraud, enhance customer experience, and lower prices.
We have discussed the impact of Insurtech on the insurance industry to give you a more clear idea.
Cutting-edge technologies to gain a Competitive Edge in Insurance Technology
Technology selection for insurance applications is a very subjective topic. It depends on the specific needs and requirements of the application. Let us list out some of the standard technologies that you can use for insurance app development.
Artificial Intelligence:
As they say, Insurtech companies have a data pool to process and assess. This means there is a high possibility of putting these data stacks at risk, and security is always a concern.
By using Artificial Intelligence to process data and speed up the verification process, you can actually create more secure processing. AI can also assist you in detecting fraud which helps you mitigate the risks.
In addition to risk management, AI enhances claim processing, underwriting, and data processing, allowing insurance companies to offer personalized products. We have explained how Artificial Intelligence shapes the Insurance industry's future and what to do to leverage this trend.
Internet of Things:
The Internet of Things (IoT) has revolutionized the insurance industry, providing an opportunity to develop innovative insurance apps that use real-time data to improve customer experience, reduce risk, and prevent losses. With the help of IoT, insurance companies can collect data from various devices and sensors to assess risk more accurately and provide personalized insurance products.
IoT-enabled insurance apps can monitor insured assets such as homes, cars, and health. For example, a car insurance app can use data from the vehicle's onboard sensors to track driving behavior, monitor the car's health, and provide maintenance reminders. This data can help insurers personalize policies based on the customer's driving habits, reducing the risk of accidents and claims.
IoT data can also help insurers prevent losses by detecting and responding to potential risks before they turn into claims. For instance, a home insurance app can use sensors to detect water leaks, fires, and other hazards. The app can alert the homeowner and the insurer in case of potential danger, allowing immediate action to prevent damage and mitigate risk.
In addition, IoT can help insurers improve customer experience by providing a seamless and personalized insurance experience. With real-time data, insurers can offer tailored products, pricing, and customer support. For example, a health insurance app can use data from wearable devices to track the customer's health and provide personalized advice and incentives to stay healthy.
Cyber Security:
Insurance apps are a massive collection of data. Which means it is at the highest risk of trickery. Hence, it is paramount to secure insurance app data as much as possible. You can use cybersecurity technologies like personally identifiable information, social security numbers, medical records, licenses, etc., to protect data against theft.
You also have access to the following tools to ensure the security of the insurance app.
Cloud encryption;
Defensive artificial intelligence;
Regulations and Legalities;
Behavioral Analytics;
Multi-factor authentication;
Context-aware security;
Blockchain;
Manufacturer Usage Description.
Flutter Cross-platform development framework:
The dynamic Insurance industry requires insurers to be agile in offering insurance products, customer experience, and technology advancements. Developing apps for iOS and Android device users separately may cause user experience discrimination because of platform-specific tools and approaches. Unifying user experiences for Android and iOS users, Flutter, a cross-platform development framework, also eliminates the hassle of maintaining separate codebases.
Flutter, developed by Google, has emerged as a versatile tool for building high-quality mobile apps for multiple platforms with a single codebase.
Here's how Flutter can benefit insurance companies:
Faster Development: Flutter allows developers to write code once and use it across multiple platforms, significantly speeding up the app development process. This means insurers can bring their apps to market quickly and respond to changing customer needs more rapidly.
Consistent User Experience: Flutter ensures a consistent and visually appealing user experience across different devices and operating systems. This is crucial in the insurance industry, where user interface consistency can enhance customer trust and satisfaction.
Cost Efficiency: Developing and maintaining separate apps for Android and iOS can be costly. Flutter helps reduce development costs by sharing a common codebase, saving time and resources.
Customization and Personalization: Flutter's flexibility allows insurers to create highly customizable and personalized user interfaces. This is vital for delivering tailored insurance products and services to meet each customer's unique needs.
Integration: Insurance apps often require integrating various data sources and backend systems. Flutter provides extensive support for integration, making it easier to connect with internal databases, third-party APIs, and other essential systems.
Community and Ecosystem: Flutter has a growing community of developers and a rich ecosystem of pre-built components, plugins, and packages. This makes accessing and implementing additional functionalities, such as digital payment gateways or geolocation services easier.
Incorporating Flutter into your insurance app development strategy can offer a competitive advantage by improving development speed, user experience, and cost efficiency. It allows you to stay agile and responsive in a rapidly changing industry while providing a seamless digital experience for policyholders.
Want to hire experienced Flutter developers for your Insurance app project? Connect us!
Moving on to the next topic,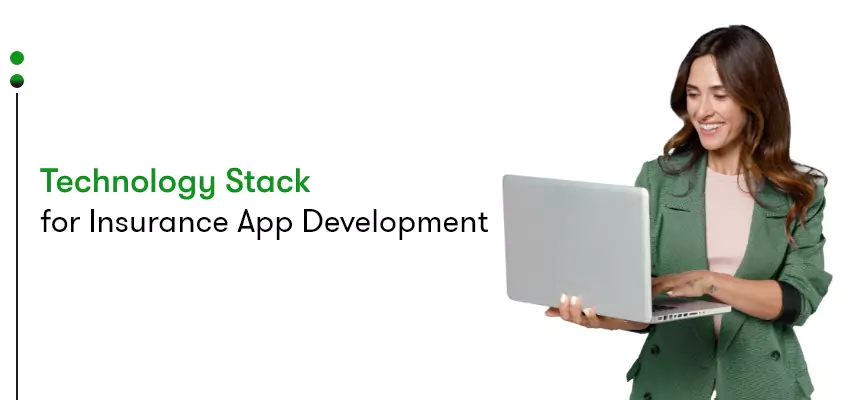 What Technology Stack to Use to Build an Insurance App?
In addition to the aforementioned cutting-edge technologies utilized in app development for insurance agencies, a technology stack is primarily related to the backend aspect of the development process that we would like to discuss.
Our team of skilled developers recommends employing the following tools for servers, hosting, storage, database management, payment gateways, and other related functionalities. Please refer to the table below for a detailed list of our preferred technology stack:
| | |
| --- | --- |
| Category | Tools Recommended |
| Server | Apache, Nginx, Microsoft IIS |
| Hosting | Amazon Web Services, Google Cloud Platform, Microsoft Azure |
| Storage | Amazon S3, Google Cloud Storage, Microsoft Azure Storage |
| Database | MySQL, PostgreSQL, MongoDB, Cassandra |
| Payment Gateway | Stripe, PayPal, Braintree |
| Other | Git, Jenkins, Docker, Kubernetes |
| Android | Java or Kotlin, Android Studio, Android UI |
| iOS | Objective C and Swift, XCode, UIKit |
| Cross-platform app development | React Native, Flutter |
By leveraging these robust tools, our developers can ensure that the backend of your insurance agency app is equipped with the best possible resources for optimum performance, scalability, and security.
Digging deep into the topic further,
What is the insurance app development process?
The development process plays a pivotal role in confirming the success or failure of the application. It is the secret recipe of the mobile app development company that helps in ensuring the success of the insurance application. Here is our six-step mobile app development process, that we follow no matter the niche.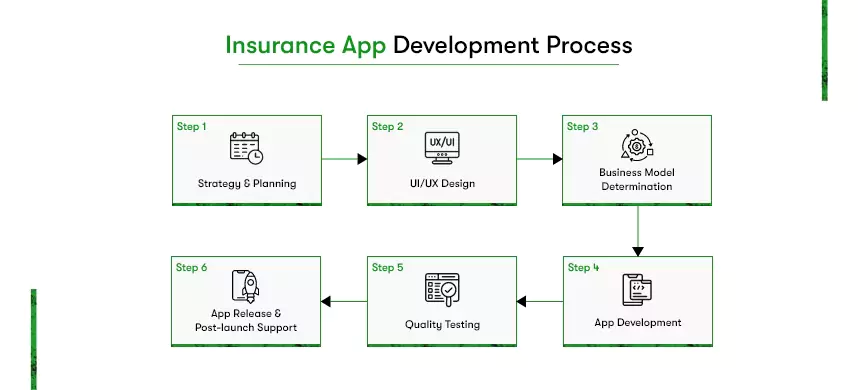 Strategy & Planning:
In this step, you'll conduct market research to understand the needs and expectations of your target market. You'll also analyze their pain points and conduct a competitor analysis to define your unique value proposition. Finally, you'll create a wireframe of the final product and list out the basic and advanced features you'll need to include.
Business Model Determination:
This step involves defining your monetization model, whether it's through paid subscriptions, sponsorship, or other means. You'll also determine how the app will resolve the issue addressed above in step one and also generate revenue.
UI/UX Design:
In this step, you'll plan the user experience and determine the app's architecture. You'll prepare a prototype and design the user interface to ensure that the app is intuitive and easy to use.
App Development:
This step involves creating a minimum viable product (MVP) and finalizing the key features, tools, and capabilities. You'll test the system and collect feedback to refine the app's functionality.
Quality Testing:
In this step, you'll test the app for usability, compatibility, stability, safety, and bugs. You'll find and fix any existing and potential failures to ensure that the app works flawlessly.
App Release & Post-launch Support:
Finally, you'll release the app and ensure that it works flawlessly across platforms and devices. You'll also add new features and functionality to improve the user experience and provide ongoing support to ensure that the app remains up-to-date and secure.
Now that we have mentioned the business model for insurance applications, let us elaborate a little more about the same.
Business Model for Insurance Application:
A business model for an insurance application is a plan that outlines how the application will generate revenue and create value for its users. Here are some key elements that are typically included in a business model for an insurance application:
One needs to identify the ways they want to generate revenue through the application. Do you want to charge your customers for allowing them to access premium features or do you want to take a commission on various policies sold through the application?
Marketing and advertising:
One way of making money is by allowing third parties to showcase their product or services on your application and charging them in return. This way you can cover a broader range of audience and attract them through your services.
Another way of bringing in money is by partnering with other businesses to enhance offerings and have access to newer markets.
Overall, a successful business model for an insurance application will depend on delivering value to users, building strong partnerships, and generating revenue through multiple streams.
The next relevant question here is, the cost of insurance app development:
What is the cost of developing an insurance mobile application?
Again, this is a very subjective question. The cost of developing an insurance app can vary significantly depending on various factors, such as the app's complexity, project aim, features, design, platform, project size, and the development team's hourly rates.
Generally, the cost of developing an insurance app can range from $30,000 to $500,000 or even more. A basic insurance app with limited features may cost around $30,000 to $100,000, while a complex app with advanced features and customization can cost up to $500,000 or more.
Take GetSafe for an example of a moderately complex insurance app. So, GetSafe is one of the most successful digital insurance apps in the Netherlands, with a considerably high customer retention rate. The insurance app simplifies complex processes and eliminates manual paperwork using automation and smart bots.
We have discussed how much it costs to build an app like GetSafe in detail, in case you need it.
Other factors that can impact the development cost include the development platform, the cost of app store deployment, and ongoing maintenance and support costs.
It is essential to work with a reputable and experienced development team to ensure the app is developed within the estimated budget, on time, and with high-quality standards. A reliable team can help you determine the most cost-effective options and provide accurate cost estimates based on your requirements.
In summary, the cost of developing an insurance app can vary greatly depending on several factors. It is essential to do thorough research, set a realistic budget, and work with a reputable Fintech app development team to ensure your project's successful and timely completion.
Insurance Application aka Insurtech Mobile App Examples
Many examples of Insurtech apps have been developed to provide innovative solutions for customers seeking insurance coverage. Here are some notable ones: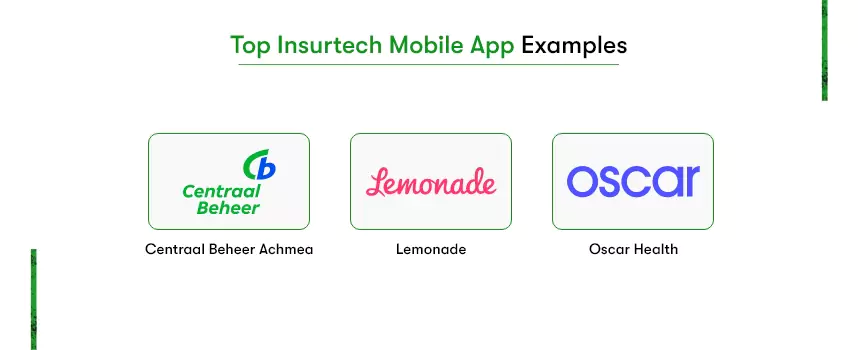 Centraal Beheer Achmea – It's a popular insurance app in the Netherlands. Centraal Beheer Achmea offers comprehensive coverage for vehicles, homes, pets, and travel. Policyholders can manage their policies, report accidents or incidents, and contact customer service via the app.
Lemonade – This app offers homeowners and renters insurance through their mobile app, using artificial intelligence (AI) to process claims quickly and efficiently.
Oscar Health – This health insurance startup uses data analytics and machine learning algorithms to personalize individual plans based on their medical history and lifestyle factors. Their app allows users to access telemedicine services, track fitness goals, and manage prescriptions.
Set an example by developing a revolutionary insurance app with Kody Technolab!
To secure the promising ROI of your insurance app development investment, you must not compromise on skills. Hire experienced developers with industry expertise.
Kody Technolab is a leading Fintech app development company with a track record of successful projects and a high retention rate. Our dedicated teams of developers understand the finance industry trends and work on one project at a time. We respect your preferences and allow you to choose who you want to be on your project.
So, for Insurance app development, always think of Kody Technolab!