Do you remember when the last time you visited your bank was to withdraw or deposit your cash or similar transactions?
To be honest, since mobile banking apps, financial services have become even more accessible. We don't need to go to banks or ATMs or consult an agent personally for any financial assistance. Just install the app of your respective bank, and voila!
You can transfer money, pay any bills, check your balance, request a checkbook, apply for a loan, and more right from your mobile device. Banks to Financial organizations now offer their services at customers' fingertips.
Constant innovations and improvements in the mobile banking industry are shaping the future of mobile banking. Moreover, mobile banking technologies bring swiftness, security, and convenience to financial transactions.
However, the unprecedented Mobile Banking App Trends and shifts in customer expectations demand agility and forward-thinking. The better mobile banking you offer, the more customers will opt for your services. Why? Because no one likes long banking processes and spends time visiting banks.
Besides, a radical mobile application adds value to the bank and its customers, streamlining every transaction. Thus, you must know current mobile banking app trends when it comes to better online banking services. That's why we decided to curate the top 15 mobile banking trends that will help you get a competitive edge in the market.
Make no Mistake between Mobile Banking Apps and FinTech Apps!
It's easy to get confused between FinTech and Mobile Banking apps. After all, they belong to the same industry. So, before we move forward revealing top mobile banking trends in 2023, let us know what the difference is between them.
What is the difference between mobile banking and FinTech apps?
Traditional banks and credit unions typically offer mobile banking apps to allow their customers to manage their accounts, check balances, and make transactions using their mobile devices.
In case you wonder how to create a mobile banking app, here's the answer.
In contrast, FinTech apps are created by financial technology companies. They aim to disrupt traditional banking by offering a wider range of financial services and innovative technology-driven solutions to consumers. Some key differences between the two include the following:
Purpose:
Traditional banks provide mobile banking apps to manage existing bank accounts.
While FinTech apps offer financial services outside of traditional banking and may not be tied to specific bank accounts.
Services
Mobile banking apps typically offer account management, bill payments, fund transfers, and limited investment services.
FinTech apps can offer a wider range of services, such as personal finance management, investment advice, and borrowing.
Regulation
Mobile banking apps are regulated by banking authorities and have established security measures.
FinTech apps are subject to less regulation and may have different levels of security.
User experience
Mobile banking apps tend to have a more straightforward and transactional focus.
FinTech apps often have a more user-friendly interface and aim to help users better manage their financial lives.
Data use
Mobile banking apps primarily use data to manage existing accounts and transactions.
FinTech apps can use data to provide personalized financial advice and services.
For example
Bank of America Mobile Banking, CommBank Mobile app, Kotak Mobile app, and more apps banks offer are considered mobile banking apps.
Robinhood, Mint, Coinbase, N26, Chime, and alike are considered FinTech apps.
Now that you have an understanding of both types of apps let us reveal the emerging banking trends in 2023.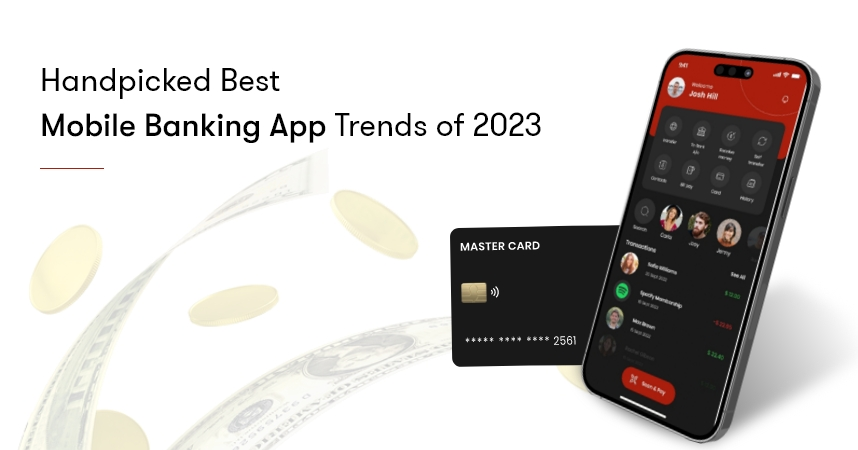 1) Peer-to-peer lending
Online payment apps like Google Pay, Apple Pay, and Amazon Pay have revolutionized the way people used to send money to each other. P2P payment apps drive disintermediation, eliminating the banks and allowing users to lend money directly from their smartphones. Adopting the p2p payment trend in your mobile banking app can hold users from longing for another payment app.
2) Big Data
With technological inventions, acts of fraud are also increasing. Here the advent of Big Data helps FinTech organizations safeguard their resources and customers' identity, improving risk assessment.
Thanks to Big Data, financial institutions gather thousands of customer data from sources like banking history, financial statements, etc. The data lets you know your customers better so you can serve them better, protecting them from fraud.
3) Voice banking
Alexa, Siri, and Google Assistant play a significant role in voice-enabled services and demonstrate voice-activated commands offer supreme convenience. It makes voice technology one of the best mobile banking app trends.
The trend gains you two main advantages, user convenience and security. Many banks have integrated the trend as a part of two-factor authentication and conduct money transfers with a voice command.
4) Internet Of Things
ATMs are considered to be the first example of IoT implication in the finance industry. IoT is the network of interrelated computing devices connecting and exchanging data with each other through internet connections.
IoT banking applications allow banks to automate financial requests, ownership transfer of specific assets, and other banking processes. From data collecting in real-time and customized client service to authentication and safety, IoT-enabled wearables favor the FinTech sector.
5) Digital wallet
You can say the contactless payment initiative due to the COVID-19 has caused digital wallet disruption. Such wallets are gaining traction as they facilitate online payment right from the users' bank accounts on the go. From online shopping to recurring bill payments, mobile wallets come in handy for various transactions.
To stand out from the crowd, you can facilitate payment with cryptocurrency in your digital wallet. Following the mobile wallet trend in your banking app can uplift your user experience greatly.
6) Cloud Computing
Cloud computing eliminates dependency on dedicated software and hardware, enhancing flexibility and speed and automating business processes. It simplifies and saves money, time, and human resources.
Not to mention, cloud computing can help Financial firms to achieve a high level of data protection, fault tolerance, and system recovery. What makes it worth a shot is that it provides backup at a lower cost than conventional managed solutions.

7) API integration
If you aim to provide a seamless and improved customer experience, it's the trend you must adopt. You can allow third-party companies to integrate your banking API into their solution and vice-versa. It will make your banking services available to associated companies' customers.
API banking benefits both parties by augmenting their offerings and specialties to complement one another. Adhering to the API trend, smaller banks partner with companies that offer improved functionality to spread their brand awareness and upgrade their customer experience.
Read Also: Guide On Mobile Banking App Development Like Chime
8) Biometric authentication
You have to consider many scenarios in mobile banking apps, even quirky ones, like what if someone steals your phone and you've logged in to your banking app? For that, the biometric authentication trend is a life savior for your mobile banking app.
By introducing a sophisticated biometric authentication, you implement an additional layer of security over a simple password and PIN. So, in any case, if anyone steals your user's smartphone, they won't be able to access the banking app without the user's fingerprints, retina, face, or voice verification.
9) Smart bots
Artificial intelligence and machine learning-enabled smart bots cultivate various benefits. Using the chatbot trend in your banking app, you can: provide quick and consistent customer support 24/7, solve minor issues, answer common questions, immediately respond to inquiries, and more. Chatbots will continue to improve and benefit mobile banking, which makes it an ideal mobile banking trend.
10) Blockchain in mobile banking app
Cryptocurrencies have brought Blockchain technology into the limelight for the financial sector. You may find many FinTech companies leveraging Blockchain technology and offering secured and transparent financial services. Blockchain is a rapidly emerging trend in mobile banking to accelerate payments, lowering processing fees simultaneously.
By rooting a decentralized channel with blockchain, you can also redefine mobile banking, enhancing digital security. Some benefits you reap inherently with Blockchain technology include:
Faster Payments
Efficient Settlement Systems
Blockchain Accelerates Fundraising Process
Digital Identity Verification
Simplify Accounting & Auditing
Peer-To-Peer (P2P) Transfers
11) Gamification
Gamification is the best way to educate users on your banking app and also contributes to enhancing user engagement. So, adopting this banking trend in 2023 will not only increase session lengths and daily active users but also reduce the churn rate, making banking tasks more enjoyable.
12) Personalized user-experience
Using AI, Big Data, and ML technology, you can gather and process the data on a whole different level. And when you have huge data, you must put that into action to gain a fair ROI. In other words, leverage such data in delivering tailored and personalized experiences to your mobile banking app users.
When they feel treated as a VIP, their loyalty will automatically be bound to your bank and services. Eventually, by offering a personalized user experience, you can raise your bottom line.
13) International money transfer
The combination of convenience, access, cost-effectiveness, better exchange rates, and enhanced security has made international money transfer through mobile banking apps a popular trend.
Besides, providing users with the ability to transfer money across borders to friends or family without leaving the mobile banking app can gain you a competitive edge.
14) Low-Code, No-Code Solutions
The trend of Low-Code and No-Code solutions refers to the development of software platforms with minimal or no coding to create a digital footprint cost-effectively. It is the same thing that we know as a Minimum Viable Product in the software development world.
It has managed to become one of the top mobile banking trends in 2023. The reason is, it allows banks and FinTech startups to get their product in the market with basic functionality in a short time. So, hire mobile app developers and get started with launching your banking app.
15) Simplify daily shopping
Another imperative trend to follow in your banking app is automating regular bill payments as well as streamlining the process of managing daily shopping tasks, such as online shopping on eCommerce platforms, grocery shops, and household and healthcare-related shopping.
The more options you offer, the more beneficial your banking app will be for users and attract more customers for banking services.
Bundling up
Did you see them? With time and discoveries, new mobile banking app trends may emerge. However, if you have already implemented the trends mentioned above, it won't be hard to adopt the latest trends in the future. Being a mobile app development company, we vouch for these top 15 mobile banking trends.
If you wish to learn more about any of the mentioned trends in the post, you're most welcome. Just give us a call or have us call you by filling out the inquiry form.