Buy Now Pay Later has proven its worth in the consumer-facing market. It has taken the pain of finance management out of people's life, allowing them to purchase anything without financial strain. And now, it is moving towards disrupting business-facing enterprises. For example,
iwoca was noticing a consistent 15% MoM growth in the number of SMEs using their B2B BNPL solution, iwocaPay, which surged by 246% in Nov 2022 compared to the previous year.

–Source
iwoca– Instant Working Capital is an SME lender in London that helps startups to established businesses across the UK with short-term, small business, and flexible loans. When the company witnessed SMEs leveraging their Flexiloan product to cover invoices and pay suppliers, they strategically created iwocaPay.
In addition, they integrated their BNPL solution into the checkout of B2B clients. So, now businesses can select the pay later option at the point of sale for invoices between £150 t0 £15,000.
This is just one example of a successful transition of a Fintech business to B2B BNPL. Fintech businesses are rising in every corner of the world to take advantage of this innovation to offer streamlined cash flow.
We will look into some emerging B2B BNPL service providers in the blog. But first, let us clear our fundamentals of B2B buy now, pay later, and why it's worth your time and effort.
What does B2B Buy Now Pay Later really mean?
In the B2C space, BNPL has gained popularity among retail shoppers, enabling them to split their payments into manageable installments. This consumer-centric approach focuses on enhancing the shopping experience and increasing purchasing power.
On the other hand, B2B BNPL caters to businesses' unique needs, allowing them to make essential purchases while maintaining healthy cash flow and operational flexibility.
Let us understand the difference between B2C and B2B Buy Now Pay Later solutions.
How is B2B BNPL different from B2C Buy Now Pay Later solutions?
It is crucial for businesses, CTOs, CEOs, and product managers in the Fintech industry to fully understand the concept of B2B BNPL before making investment decisions. B2B BNPL (Business–to-Business Buy Now Pay Later) is a specialized offering that caters to businesses' unique financial needs.
To elucidate the differences between B2B BNPL and its B2C counterpart, let's examine the key aspects in an analytical table:
| | | |
| --- | --- | --- |
| Aspect | B2B BNPL | B2C BNPL |
| Target Market | Businesses and Enterprises | Individual Consumers |
| Purpose | Facilitate B2B transactions | Enable personal purchases |
| Transaction Volume | Typically higher, value transactions | Generally lower, value transactions |
| Decision Makers | Involves multiple stakeholders | Driven by individual consumer preferences |
| Credit Assessment | Focus on the business's creditworthiness | Primarily based on individual credit scores |
| Repayment Terms | Flexible and tailored to business cycles | Fixed schedules for individual consumers |
| Transaction Structure | Invoice-based or ongoing credit line | Onetime purchases or short-term credit lines |
| Contractual Agreements | Formal contracts and agreements | Relatively informal agreements |
| Integration | It may require ERP and accounting software | It can be easily integrated with online stores |
| Risk & Collections | Higher default risk in some industries | Lower default risk due to individual limits |
| Data Sharing | It may involve sharing of business data | Focus on individual data privacy and security |
| Market Maturity | Growing and evolving segment | More established in the Fintech market |
Opportunity still open for more players to enter into the B2B Buy Now Pay Later market.
Understanding these key differences between B2B BNPL and B2C BNPL is essential for making informed investment decisions to leverage the potential of B2B BNPL solutions.
After analyzing these differences, you should be able to strategize the business model for your Buy Now Pay Later solution.
Now, let us move forward to see why the B2B BNPL solution is gaining traction while numerous business credit solutions are available.
Why are B2B BNPL solutions soaring among small and large merchants?
The concept of BNPL has found its way into the B2B space, offering businesses the flexibility they need to manage their cash flow effectively.
One of the primary reasons Buy Now Pay Later for Businesses solutions is gaining traction is that they address the need for cash flow flexibility in the business world. B2B transactions often involve net payment terms, such as net 30, 60, or 90-day terms.
BNPL improves on this arrangement by allowing businesses to make purchases and defer payments over time, providing them with greater financial flexibility to manage their expenses.
At its core, the value of B2B BNPL lies in its ability to speed up business credit approvals and onboard more new clients. By offering installment credit through third-party providers, businesses can offload the risk of providing credit themselves. This shift in mindset allows them to focus on their core operations while leaving the credit management to experts.
Noteworthy, B2B BNPL is seen primarily as a credit facility rather than a consumer-driven retail phenomenon. This distinction allows businesses to leverage BNPL as a tool to manage their financial operations efficiently.

Magnetic Benefits of B2B Buy Now Pay Later Solution
The following reasons are why businesses prefer a B2B BPL solution compared to traditional credit:
Improved Cash Flow:
Rather than depleting the cash reserves to pay for the entire inventory upfront, the business can maintain better cash flow. That also can be used to cover other operational expenses or invest in growth opportunities.
Cash Flow Flexibility:
B2B BNPL provides the business with increased flexibility in managing its cash flow. In situations where they need to take advantage of a discount or seize a business opportunity, the extended credit period allows them to make timely payments without compromising their finances.
Accessible Financing:
Unlike traditional business loans that involve lengthy approval processes and stringent credit checks, B2B BNPL offers a faster and less restrictive onboarding experience. This makes it more accessible, particularly for smaller and newer businesses that may not qualify for traditional loans.
Value-added Services:
B2B BNPL providers often have industry expertise and technological capabilities. This may include features like point-of-sale (POS) integration and other embedded financing solutions, enhancing the overall buying experience for businesses.
How does buy now pay later for business work?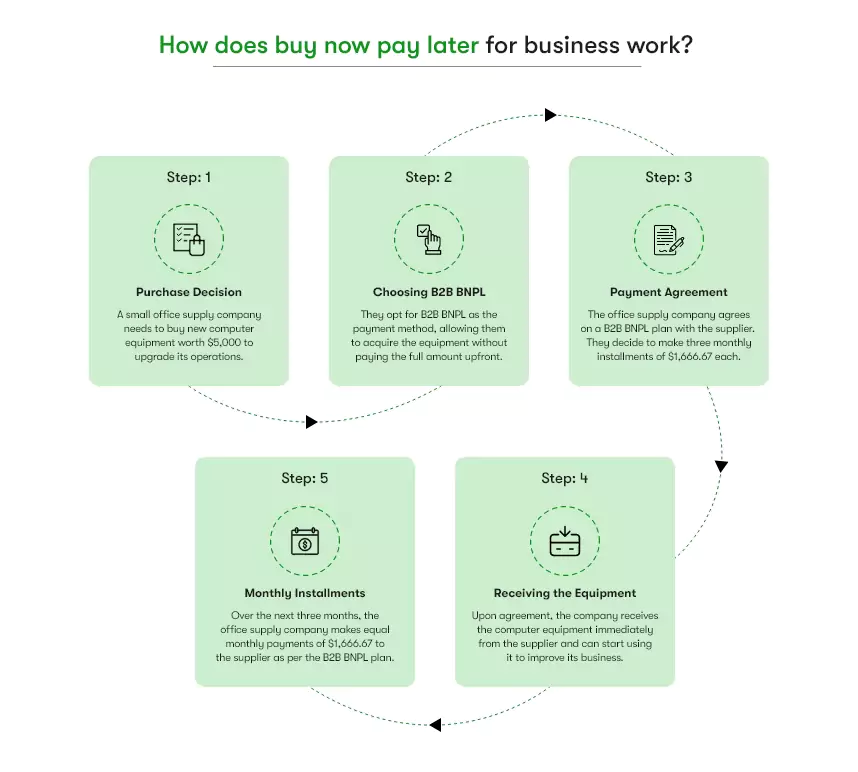 Step 1: Purchase Decision
A small office supply company needs to buy new computer equipment worth $5,000 to upgrade its operations.
Step 2: Choosing B2B BNPL
They opt for B2B BNPL as the payment method, allowing them to acquire the equipment without paying the full amount upfront.
Step 3: Payment Agreement
The office supply company agrees on a B2B BNPL plan with the supplier. They decide to make three monthly installments of $1,666.67 each.
Step 4: Receiving the Equipment
Upon agreement, the company receives the computer equipment immediately from the supplier and can start using it to improve its business.
Step 5: Monthly Installments
Over the next three months, the office supply company makes equal monthly payments of $1,666.67 to the supplier as per the B2B BNPL plan.
B2B BNPL Players in the Market
As the B2B BNPL market continues to evolve, companies like Billie, Mondu, and iwocaPay present attractive finance opportunities for SMEs. These companies offer unique solutions and features that cater to businesses' specific financial needs and help optimize cash flow management. Moreover, their USPs help them stand out in their respective market.
So, let us dive into each B2B BNPL Player in detail.
Billie — Berlin, Germany
Billie is a Berlin-based Fintech startup founded in 2016. It offers innovative lending products, helping SMEs with their working capital management. Billie's payafterdelivery solution for B2B merchants aids SMEs in securing better payment terms.
USP:
Seamless Integration: Billie offers easy integration with various B2B Commerce platforms, including WooCommerce, Shopify, Magento, and more, enabling businesses to quickly implement their BNPL solution.
RealTime Decisions: Its advanced B2B BNPL technology allows for real-time credit decisions, enhancing the customer experience and increasing conversion rates.
Transparent Pricing: Billie boasts transparent pricing with no hidden fees, clarifying both business parties.
Features:
Instant Credit Decisions: Billie's fast credit assessment process enables SMEs to receive instant credit decisions during checkout.
Flexible Payment Plans: Businesses can offer their clients customized payment plans from 14 days to 120 days to suit their financial needs, thereby improving customer satisfaction and loyalty.
Automated Invoicing: Billie automates the invoicing process, allocating payments and managing any overpayment compensation as needed. It reduces administrative burdens for businesses and ensures timely payments.
Progress:
Billie's commitment to transparency, real-time decision-making, and seamless integration has contributed to its growth in the competitive BNPL landscape. Recently, it has partnered with Mollie – a credit card service provider, to offer B2B buy now, pay later (BNPL) across Europe.
If you are looking to get your own B2B Buy Now Pay Later Application developed then you must read: An All-in-One Guide to Buy Now Pay Later App Development
Mondu — Berlin, Germany
Founded in 2021, Mondu is also a Berlin-based B2B payment software provider. It offers a B2B BNPL solution for online checkout that merchants use for flexible payment methods without risk.
USP:
Seamless Integration: Merchants can quickly integrate the Mondu BNPL payment option at their checkout, which also supports multiple languages and payment methods.
Flexible Method and Terms: Mondu B2B BNPL solutions allow businesses to choose from SEPA or Pay Per Invoice payment methods as well as payment terms of up to 90 days.
Reduce operational burdens: The B2B BNPL platform also saves time and hassle by automating processes and collection support. Consequently, it makes tracking every payment for businesses on a centralized dashboard easy.
Features:
Extended Payment Terms: Mondu offers flexible and extended payment periods, easing the financial strain on businesses and enhancing their purchasing power.
Automated Collections: It streamlines collections through automated processes, reducing the burden of manual follow-ups.
MultiCurrency Support: Mondu's platform supports multiple currencies (up to 42 currencies), enabling businesses to transact with partners and customers worldwide.
Progress:
Mondu has emerged as a strong player in the B2B BNPL market with its unique offering of long-term financing solutions. Mondu has grown across Germany, Austria, Netherlands, and France within two years of its launch.
iwocaPay — London, UK
As discussed in the beginning, iwocaPay is a B2B BNPL solution by a London-based credit financing company for SMEs. Through its B2B BNPL solution, the company improves cash flow gaps between businesses.
USP:
Simplified Onboarding: iwocaPay's quick and easy onboarding process allows businesses to integrate the platform into their eCommerce and accounting software to start offering BNPL to their clients promptly.
Custom Payment Terms: It allows eligible business customers split the payment into 3 or 12 equal monthly repayments. Moreover, businesses can decide to keep the installment interest-free or at a monthly interest rate.
Partner Benefits: iwocaPay offers partner businesses access to its broader financing products, fostering a long-term relationship.
Features:
Extended Payment Term: UK firms can offer 12-month payment terms to their trade clients, enhancing purchasing flexibility.
B2B Focus: iwocaPay is specifically designed for B2B payments, catering to the unique financial needs of businesses.
Trade Client Targeting: Targets trade clients, fostering stronger relationships and encouraging repeat purchases.
Progress:
Based in the UK, iwocaPay has made significant strides in the B2B BNPL space. Its user-friendly onboarding process and high acceptance rates have contributed to its appeal among businesses. Consequently, iwocaPay has become the only provider in the UK that's completely omnichannel, supporting invoice and checkout payment.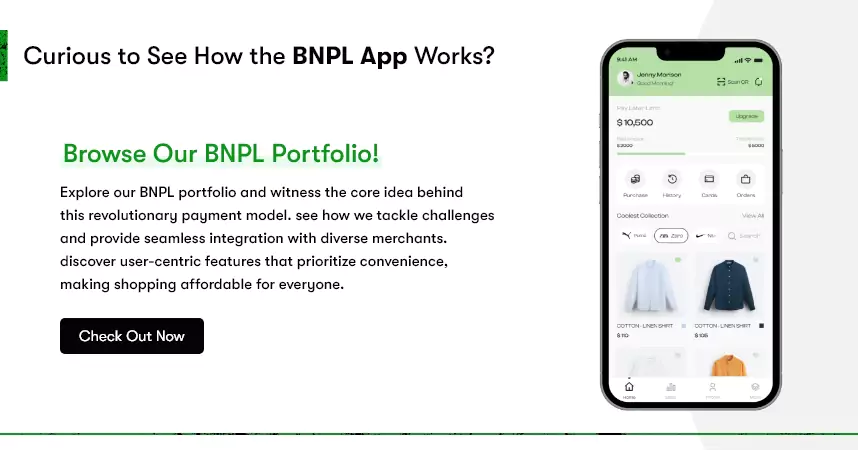 How to catch up with the B2B BNPL market?
Buy Now Pay Later for business-to-business is seen as a $1 trillion market.
The future of B2B BNPL appears promising, with opportunities for innovation in various sectors, including healthcare, manufacturing, logistics, and more. As FinTech's fluency in business lending grows, more B2B industries will likely benefit from BNPL solutions, improving cash flow.
All these circumstances cumulatively signify the right time to launch your B2B BNPL platform is now. Because it's poised to bloom like B2C BNPL.
However, building a B2B BNPL platform requires an experienced BNPL development team. Moreover, you cannot just guess and choose the technology stack for the BNPL platform.
That's why we, Kody Technolab- a leading Fintech app development company, offer B2B BNPL platform development services. Driven by our vision to Digitize the world with Innovation, we help startups to established businesses build revolutionary Fintech software solutions.