Are you a beacon of hope or a roadblock for your customers? Financial institutions that drag their feet, taking days and even weeks to process loans and disburse the funds, often find themselves labeled as 'red flags' in the eyes of their customers. It's a dilemma driven by a harsh reality – Many Americans are financially unprepared for unexpected expenses. A 2020 Federal Reserve report reveals that,
35% of Americans would have difficulty covering a sudden $400 expense.
In their time of need, people often turn to the lifeline of loan lending. However, the 7-8 days approval process becomes a source of their frustration, leaving borrowers hopeless. This is where money lending apps come in. Requiring minimum to zero physical documentation and providing fast loan approvals, loan lending apps make the process hassle-free and convenient.
Loan lending app development is also a game-changer for Financial institutions. As per Deloitte research,
Up to 40% of lending resources' time is spent on non-core tasks due to legacy systems.
Nevertheless, today, by introducing a digital lending platform, you can automate the loan process, freeing up your resources for core tasks. While the lending app reduces the turnaround time for loan approvals from 7-8 days to 24-48 hours, you can stay ahead of the competition and provide your customers with the best possible experience.
Yes, it's possible, and we will show how with existing solutions that have achieved this!
What is a loan lending app?
A loan lending app is a mobile app that runs on smartphones and tablets, allowing borrowers to access loan products and services from anywhere, anytime.
With a few taps on their phone screens, borrowers can fill out loan applications, upload documents, and get instant approval decisions. No more waiting in long queues, filling out lengthy forms, or sending faxes.
Offering a digital loan lending platform, you get closer to your borrowers. Using data analysis and AI/ML in your app, you can gain invaluable insights into your customers' financial needs and personalize your products.
Besides, a loan lending app automates application to documentation. That means you won't need a big administration staff to collect and process documents. Nor will there be any chance of human error. Consequently, a loan lending app reduces overhead costs and customer acquisition costs for you.
Before we delve into the benefits of loan lending app development, let's understand why to build one.
Americans Demand Alternative Financing Solutions, including money-lending and loan-lending apps.
Because Americans need more credit options!
Approximately 7 million Americans with active home financing debt with annual household incomes below $50000 use alternative financing. – Source.
There's more to it.
22.7 million Americans have a personal loan as of the second quarter of 2023. And most borrowers (51.1%) take out a personal loan to consolidate debt or refinance credit cards.- LendingTree
Short-term lending options are no exception.
42% of Americans use or are interested in BNPL, and 1 in 10 US consumers regularly used BNPL services at checkout in 2021. – Source.
Even Peer-to-Peer lending marketing is growing rapidly in the US.
The U.S. P2P lending market size reached $18.88 billion in 2022, and it is predicted to expand to $197.28 billion by 2032. – Source.
Americans demand more credit options because they want more flexibility and control over their finances. Loan-lending apps typically offer a variety of loan products and terms. So, borrowers can choose the option that best meets their needs. Digital lending apps also typically have a quick and easy application process, which borrowers appreciate.
We researched deeper and found major reasons why people use lending apps, including:
To cover unexpected expenses, for example a medical bill or car repair.
To consolidate debt from multiple creditors into a single loan with a lower interest rate.
To start or grow a business owners get the funding they need to start or grow their businesses.
To pay for college and expenses, such as tuition, fees, and living expenses.
Money lending apps can also help borrowers with poor credit scores or no credit history build their credit history.
Loan Lending Apps Benefit Financial Institutions and Borrowers
Loans are a type of financial product. Hence, digital loan providers are also known as Fintechs. Though digitization offers numerous benefits, hiring Fintech app developers with relevant experience should be the priority. Because experienced developers can help you craft your vision with precision.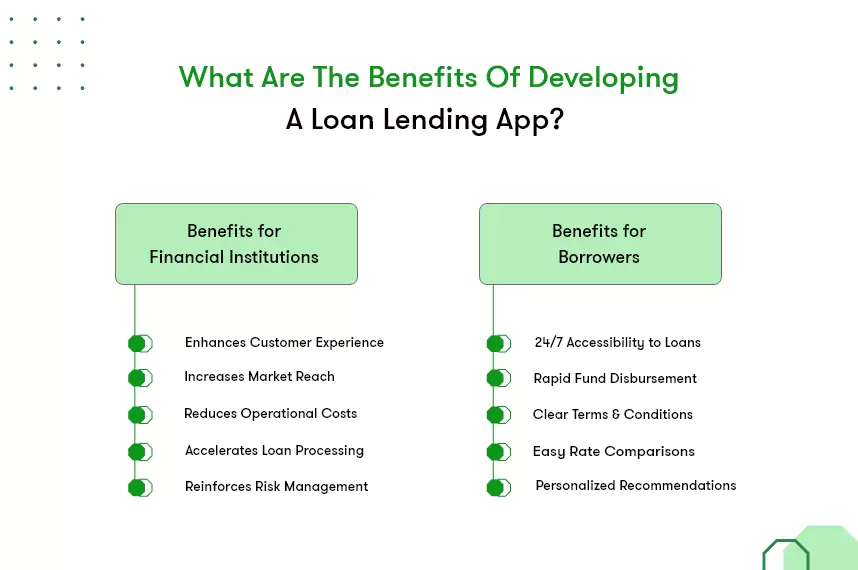 Loan lending app development offers numerous advantages for financial institutions, including:
Enhance customer experience: A well-designed app provides an intuitive user interface, simplifying the borrowing process and reducing the time required for approvals and disbursals.
Increase reach: By leveraging digital channels, lenders can expand their customer base beyond geographical constraints, catering to a broader audience.
Reduce operational costs: Automation and digitization help minimize overhead expenses associated with traditional lending methods, such as paperwork, branch networks, and staffing.
Faster processing times: Technology-driven platforms enable swift loan processing, allowing lenders to disburse funds quickly and efficiently.
Improved risk management: Advanced algorithms and machine learning models employed by loan lending apps help mitigate risks by analyzing borrower creditworthiness and predicting repayment behavior.
Hire Flutter app developers to amplify the benefits and gain a competitive edge in the Fintech market.
Benefits for end customers who borrow money:
Accessibility: Borrowers can access loans anytime, anywhere, using their smartphones or computers.
Speed: Loan decisions and fund disbursement occur rapidly, addressing urgent financing needs.
Transparency: Clear terms, conditions, and repayment schedules promote responsible borrowing practices.
Competitive rates: Online lenders often offer competitive interest rates compared to traditional brick-and-mortar institutions.
Personalized experiences: Data analytics and AI-powered systems tailor loan products and services to individual requirements and credit profiles.
After an extensive understanding of the market, let us now explore the best loan lending apps in the USA.
Top Money Lending Applications in the USA and Why people use them
Loans come in a variety of types. Besides the loan type, eligibility, amount range, and interest rate also differ. Many lending apps offer multiple loan products. In contrast, some specialized in providing a specific type of finance loans.
We have compiled some of the most popular loan app examples. So, let's see what makes them special.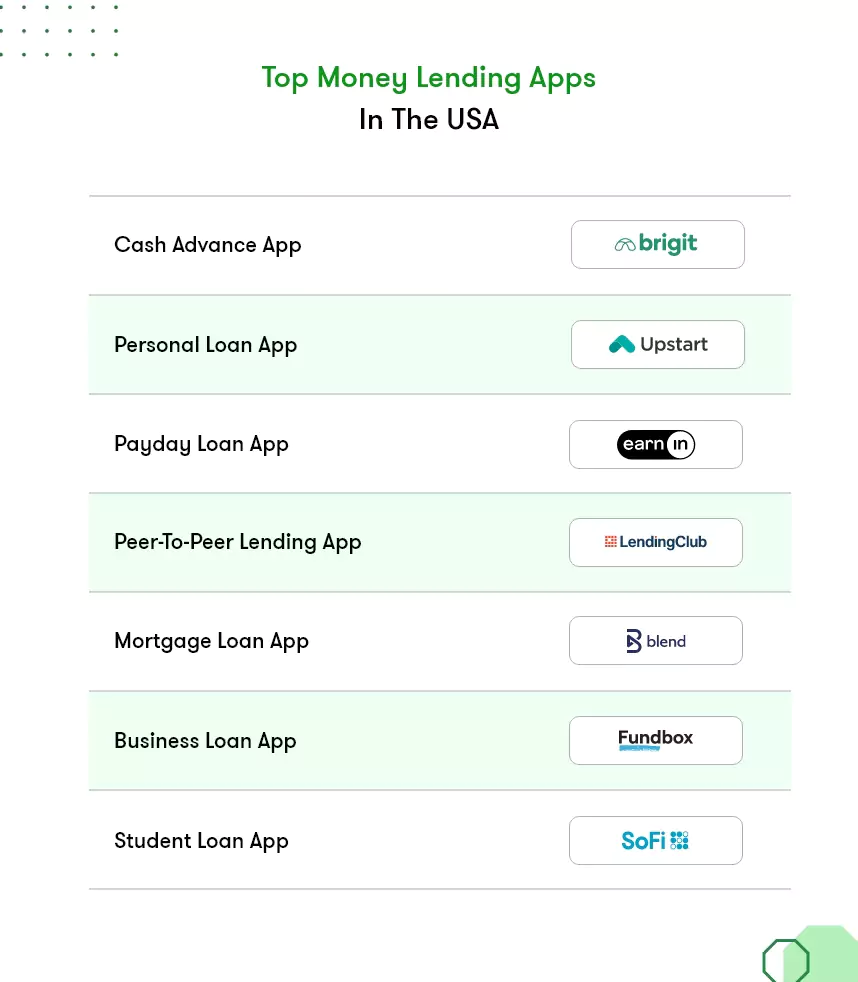 App overview including launch year, total users,
Maximum loan amount
Time to funding
Fees
What makes them special
Cash Advance App: Brigit
Brigit is a cash advance app that offers financial assistance to its users. It allows users to get quick cash without needing a credit check. The app aims to help users build their credit and make smarter financial decisions. Signing up takes just 2 minutes, and it has over 4 million users.
Launch Year: Brigit was launched in 2019.
Total Users: Brigit boasts more than 4 million users.
Maximum Loan Amount: Brigit offers short-term loans of up to $250.
Time to Funding: 1-3 business days OR in 20 minutes with a fast-funding fee
Fees: Monthly subscription fee: $9.99.
Optional fast-funding fee: $0.99 to $3.99.
What Makes Them Special: Brigit stands out for its real-time analysis of users' spending patterns, offering the right amount of cash when needed. It helps users avoid overdraft fees and late payments. Its commitment to no credit checks and providing quick access to funds makes it a convenient financial lifeline for its users.
Take the guide to understand how to start a money lending business like Brigit.
Personal loan app: Upstart
Upstart is a personal loan app that connects borrowers with lenders to offer personal loans for various purposes. It leverages artificial intelligence to assess borrowers' creditworthiness, making it possible for individuals with limited credit history to secure loans.
Launch Year: Upstart was launched in 2012.
Total Users: 2.7 million customers use Upstart.
Maximum Loan Amount: Borrowers can access personal loans ranging from $1,000 to $50,000.
Time to Funding: Upstart's platform provides quick access to funds, often within a single business day.
Fees: Origination: 0% to 12%.
Late fee: 5% of the due amount or $15, whichever is greater.
Returned check fee: $15.
What Makes Them Special: Upstart's use of artificial intelligence for credit assessment stands out. It allows individuals with non-traditional credit profiles to access personal loans. The Upstart app focuses on helping borrowers achieve their financial goals, whether debt consolidation, education, or home improvement.
Payday loan app: EarnIn
EarnIn is a payday loan app that provides an alternative to traditional payday loans. It allows users to access a portion of their earned wages before the next payday. Thereby helping people avoid high-interest payday loans and associated fees.
Launch Year: 2012
Total Users: As of the available information, EarnIn (Emerge) had about 2.5 million users.
Maximum Loan Amount: Users can get up to $100/day and up to $750/pay period for their financial emergencies.
Time to Funding: EarnIn credits the amount within 20-30 minutes with an express funding fee or takes 1 to 3 business days.
Fees: Optional fast-funding fee: $1.99 to $4.99.
Optional tip: Up to $13 per advance.
What Makes Them Special: EarnIn's approach to providing earned wage access stands out by promoting financial wellness and reducing reliance on payday loans. It empowers users to access their earned wages when needed, reducing financial stress and reliance on high-cost borrowing options.
Peer-to-peer lending app: LendingClub
LendingClub is a peer-to-peer lending platform that connects borrowers with individual investors. It provides personal loans, business loans, and patient financing for healthcare expenses. Furthermore, borrowers can apply for loans, and investors can fund those loans to earn returns.
Launch Year: LendingClub was founded in 2006, making it one of the earliest and most well-established peer-to-peer lending platforms.
Total Users: About 4.7+ million people use LendingClub.
Maximum Loan Amount: Borrowers can access personal loans ranging from $1,000 to $40,000. Business loans and patient financing may have different maximum amounts.
Time to Funding: The time to funding can vary but typically ranges from a few days to around a week, depending on the loan application process and investor funding.
Fees: LendingClub charges origination fees for loans, which can range from 3% to 6% of the loan amount. Investors may also pay fees based on the interest they earn.
What Makes Them Special: LendingClub is one of the pioneers in the peer-to-peer lending industry. It offers borrowers an alternative to traditional bank loans and provides investors with the opportunity to earn returns by funding loans. LendingClub has been a trailblazer in the lending landscape.
Mortgage loan app: Blend
Blend is a mortgage loan app that empowers lenders to streamline the mortgage application and approval process. It simplifies and automates workflows for securing mortgage loans, making it more efficient for both lenders and borrowers. Besides, Blend caters to a wide range of loan products, including mortgages, consumer loans, and deposit accounts.
Launch Year: Blend has been offering a SaaS platform to streamline mortgage applications since 2012, boasting customers like Wells Fargo and the U.S. bank.
Total Customer: Blend powers 250+ banks and financial institutions and processes $5+ billion in mortgages and consumer loans per day as of 2021.
Maximum Loan Amount: Blend focuses primarily on mortgage loans, and the maximum loan amount can vary based on the lender's policies and the borrower's financial situation.
Time to Funding: The time to funding can vary depending on the specific mortgage loan and lender.
Fees: Blend does not directly charge fees to borrowers, but the associated lenders may have their own fee structures.
What Makes Them Special: Blend stands out by providing a digital platform that automates and simplifies the mortgage application process. It offers a convenient and efficient way for borrowers to secure mortgage loans and other financial products. Blend's technology is a game-changer in the mortgage industry, making the process smoother and more accessible for homebuyers.
Business loan app: Fundbox
Fundbox is a business loan app that provides financing solutions for small and medium-sized businesses. It specializes in offering lines of credit that help businesses manage their cash flow, bridge payment gaps, and cover operational expenses.
Launch Year: Fundbox was launched in 2013.
Total Users: Fundbox has served over 325,000 small businesses nationwide.
Maximum Loan Amount: The maximum loan amount through Fundbox typically ranges from $1,000 to $150,000, depending on the business's financial health and creditworthiness.
Time to Funding: Fundbox offers quick access to funds, often within one business day.
Fees: Fundbox charges a weekly fee, starting at 4.66% for 12-week terms and 8.99% for 24-week terms.
What Makes Them Special: Fundbox stands out for its focus on small businesses, providing them with an easy and flexible way to secure funds. Its automated credit decisions and quick funding make it a valuable resource for companies looking to maintain stable cash flow.
Another similar concept is the Invoice Financing application. Do check out if you're into providing finance help to emerging businesses.
Student loan app: SoFi
SoFi is a financial technology company that offers a wide range of financial products and services, including student loans. SoFi's student loan app allows users to refinance and consolidate their student loans, access competitive interest rates, and manage their student debt more effectively.
Launch Year: SoFi was founded in 2011 and has since expanded its services to include student loans.
Total Users: There are about 5.6 million SoFi users.
Maximum Loan Amount: The maximum loan amount depends on individual eligibility and the outstanding student loan balance.
Time to Funding: SoFi's loan refinancing process typically takes a few weeks to complete, including evaluating the user's application and the payoff of existing loans.
Fees: SoFi does not charge origination fees or prepayment penalties on their student loans. Interest rates vary based on the user's creditworthiness and the type of loan.
What Makes Them Special: SoFi is known for offering competitive interest rates and flexible repayment options for student loan borrowers. It also provides various resources and financial planning tools to help users manage their student debt and make informed financial decisions.
Pioneer a Loan Lending app with Kody Technolab
The lending market is poised for continued growth and innovation. As a fintech app development company, Kody Technolab is well-positioned to help lenders capitalize on this opportunity by crafting unique, user-centric lending solutions tailored to the specific needs of the US market.
If you're planning to create a lending app, remember three key factors:
At Kody Technolab, we understand the importance of these elements and can help you bring your lending app idea to life. Our team of experienced developers and fintech experts can guide you through every stage of the development process, from conceptualization to launch and beyond. We take pride in delivering customized solutions that meet the unique requirements of our clients and help them stand out in a crowded marketplace.
So, if you're ready to revolutionize the lending industry with your innovative app idea, look no further than Kody Technolab.