Starting a money lending app business in the USA like Brigit presents a promising opportunity for entrepreneurs who want to disrupt the traditional payday lending industry. By addressing consumer pain points, embracing digital technologies, and offering more affordable and flexible credit options, a new app can capture a sizable share of the growing short-term loan market. According to Mordor Intelligence,
The United States Digital Lending Market is projected to reach $716.23 billion by 2028 from 408.77 billion in 2023.
Furthermore, with the increasing adoption of digital technologies, mobile lending platforms are well-positioned to capitalize on the underbanked population.
Up to 17% of adults with an annual income of less than $25,000 are unbanked.
While there are already several money lending apps operating in the US market, there is still room for innovation and disruption. Despite the growth of online lending platforms, underserved market segments still lack access to affordable credit options. For example, according to a report by Bankrate,
More than one in five Americans have no emergency savings,
74% of people save less due to economic factors such as inflation, rising interest rates, and employment changes.
So, by focusing on customer experience, lower interest rates, and flexibility, you can differentiate your app from existing players. Additionally, partnering with established banks or financial institutions can help reduce regulatory barriers and increase credibility.
However, the first step is developing a money-lending app like Brigit. This guide will discuss what Brigit is, how it works, and how to build an app like Brigit.
Why start a money-lending business by making an app like Brigit?
Money lending app development can help you grow, make more revenue, help more customers, and gain a competitive edge by:
Automating the loan process, improving the quality of service, and the amount of loans.
Offering lower interest rates than traditional lenders is an attractive option for borrowers.
Providing a quick and easy way to borrow money without the need for long trips to the bank or lengthy background checks.
Allowing individuals to get more profitable loans than they can apply for in banks.
Besides, starting your money lending business with a mobile app development solution further opens more opportunities.
Benefits of Establishing a Money Lending Business with Mobile Technology
Embrace the Rising Demand for Alternative Credit:
Developing a money lending app lets you meet the growing need for alternative credit solutions. The Federal Reserve reports that 40% of Americans struggle with unexpected expenses. Your app can be the answer they're looking for.
Better Customer Engagement:
Studies show that mobile banking apps have higher customer engagement rates than traditional platforms. Building an app like Brigit can enhance customer interactions and strengthen customer relationships.
Seize the Competitive Edge with Speed:
In the fast-paced world of finance, quick time-to-market is crucial. Developing a money lending app enables you to reach customers faster than traditional branches. This speed can give you a competitive advantage in the market.
Elevate the Customer Experience:
Transform your customers' financial management experience by providing them with 24/7 access to credit. Mobile lending apps like Brigit can enhance their financial skills and bring convenience to their lives.
Increase Approval Rates with Advanced Technology:
By incorporating machine learning and data analytics into your app, you can improve your credit risk assessment and raise your loan approval rates.
Expand Your Reach and Market Influence:
Embrace the opportunity to reach a wider audience, not limited by geography. With a money lending app, you can extend your customer base beyond local communities, even nationally or globally.
Diversify Revenue Streams:
Develop a new source of revenue through transaction fees, interest rates, and innovative monetization models by launching a money lending app.
So, by addressing the growing need for alternative credit, your finance company can raise the bottom line while better serving its customers. Let us understand how with the case study of Brigit.
What is Brigit and how does it work?
Brigit is a money-lending app that offers cash advances, budgeting tools, and credit-building features. It is designed to help people who live paycheck to paycheck avoid costly payday loans and overdraft fees.
How it works:
Brigit connects to the user's bank account to track their spending and income. It uses this information to determine users' eligibility for a cash advance. If they are, Brigit lends them up to $250, which users can pay back in 4 weeks.
Brigit does not charge any interest on cash advances. But it does charge a monthly membership fee of $9.99. Besides cash advances, Brigit stands out in the market for offering a variety of features to help its users manage finances, including:
Budgeting tools: Brigit helps users create and track their budgets. It also sends alerts when they are overspending or when bills are due.
Credit-building features: Brigit offers a credit-builder loan to help users improve their credit scores. They can borrow up to $250 from Brigit and repay it over six months. If users make all their payments on time, Brigit will report their loan activity to the credit bureaus.
Who is eligible for Brigit?
Brigit doesn't lend money to everyone. To be eligible for Brigit services, users must:
Be at least 18 years old,
Have a valid US bank account,
Have a regular income,
Have a positive checking account balance for at least 60 days in the past three months.

Brigit, Money Lending App's Business Model
Based on the research conducted on how Brigit works, we can deduce its business model as below with the help of a business model canvas template.
| | |
| --- | --- |
| Key Elements | Description |
| Problem | Users face unexpected expenses or cash flow problems and need immediate access to short-term credit. |
| Solution | Brigit provides hassle-free, collateral-free cash advances up to $250, with no interest charges or hidden fees. |
| Value Proposition | Fast, convenient, and transparent access to short-term credit, with no interest or hidden fees. |
| Channels | Mobile app, website, social media, online advertising, partnerships with employers and banks. |
| Customer Segments | Millennials, Gen Z, low-income households, underserved communities, and people facing unexpected expenses. |
| Revenue Streams | – Monthly service fee ($9.99)- Late payment fee ($25) |
| Cost Structure | Technology and infrastructure, employee salaries, marketing and advertising, regulatory compliance, and customer support. |
| Key Metrics | Number of active users, user retention rate, average transaction value, repayment rate, and customer acquisition cost. |
| Unfair Advantage | Advanced technology and machine learning capabilities, streamlined user experience, strong brand reputation, and partnerships with employers and banks. |
Now, let's dive into how you capitalize on this trend and build a successful money-lending app business in the USA like Brigit.
Top Features to Develop a Money-Lending App Like Brigit
App features play a crucial role in the success of money-lending apps like Brigit. Features make the borrowing process more convenient, accessible, and transparent for users. Additionally, well-planned features can help lenders reduce risk and improve operational efficiency.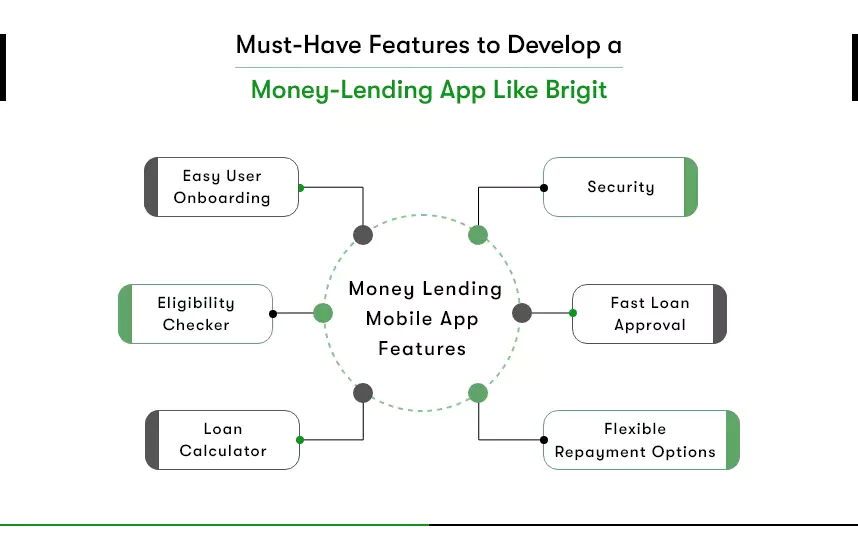 Easy User Onboarding: The onboarding process should be simple, allowing users to create an account and apply for a loan quickly and easily.
Eligibility Checker allows users to check their loan eligibility without submitting a formal application. So users can save time and avoid unnecessary hard credit inquiries.
Loan Calculator allows users to estimate their monthly repayments and total interest costs before applying for a loan, making informed borrowing decisions.
Fast Loan Approval: Money lending apps like Brigit are known for their quick loan approval process. Using data analytics and machine learning to assess borrowers' creditworthiness and process loans quickly.
Flexible Repayment Options: Money lending apps must offer users flexible repayment options to suit their needs—for example, weekly, biweekly, or monthly repayments.
Security: Money lending apps cannot compromise on security features to protect user data and prevent fraud. Hence, use encryption and multi-factor authentication.
Additional features that can make a money-lending app more competitive include:
Financial Management Tools: To help users budget their finances, track their spending, and improve their credit scores.
Educational Resources: To teach users about personal finance and responsible borrowing.
Rewards Program: To reward users for making timely repayments and other positive financial behaviors.
How to take your Money-Lending App off the ground safely?
The money-lending app development journey will be very exciting. You will learn a lot about the market, your competitors, and technology innovations during the process. You might even make mistakes in the initial stages and if you have the right people, you'll easily fix them.
So, what does this journey consist of that makes it enlightening for you? Well, it consists of meticulous preparation, precise execution, and strict adherence to regulatory guidelines. Let us explore crucial steps of money-lending app development that fill it full of new experiences for businesses.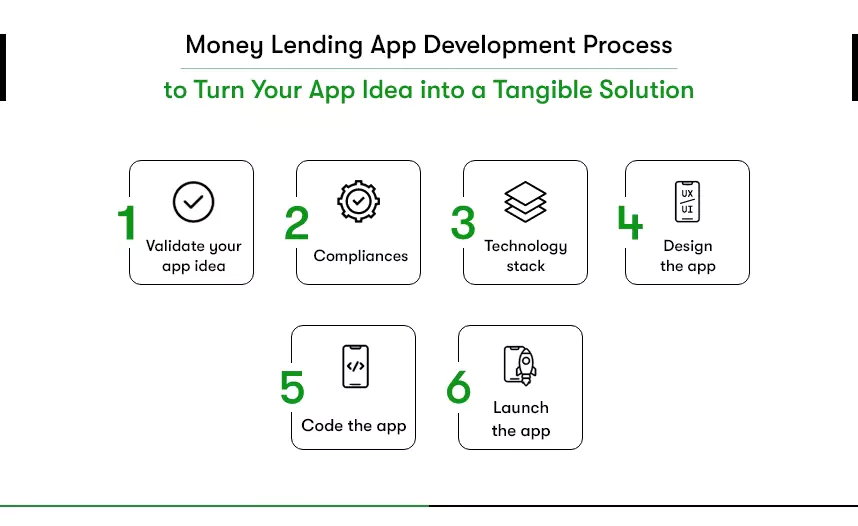 Validate your app idea.
Before investing time and resources, validate your app idea by conducting thorough market research. Identify your target audience, analyze their needs, and determine how your app will address those needs differently than existing solutions. Assess the competition, recognize gaps in the market, and define your unique selling proposition (USP).
Compliances
The financial sector is heavily regulated, and non-compliance carries significant consequences. You must seek legal expertise to guarantee your app meets the necessary standards and obtains essential licenses.
Technology stack
Choosing the right technology stack is paramount, considering scalability, security, and performance. Explore advanced technologies like blockchain, artificial intelligence, and machine learning to bolster security, streamline processes, and enhance decision-making.
Also, discover backend frameworks (e.g., Node.js or Django) and a cross-platform compatible frontend framework (e.g., Flutter or React Native) to ensure flexibility and efficiency.
Now, before taking a step further, you must hire Fintech app developers with the relevant experience. Do check developers' portfolios and client feedback before onboarding them.
Design the app
Now, create wireframes and mockups to define the user interface and user experience that simplifies the borrowing process. Engage an experienced team of UX/UI designers who can create a seamless design aligned with your brand identity and target audience's preferences. Prioritize elements like user-friendly navigation, speedy loan processing, and transparent terms and conditions.
Code the app
After the app design, you can start programming. If you want to build Android, iOS, and web apps, hire skilled Flutter app developers who possess expertise in fintech app development. They should demonstrate a deep understanding of the latest technologies, frameworks, and industry trends.
Launch the app
Once your app is ready, thoroughly test it to identify bugs or issues. Conduct alpha and beta testing to gather feedback from a small group of users and make necessary improvements. You can also secure partnerships with banks and establish seamless fund transfer channels at this stage.
How much does it cost to develop an app like Brigit?
Market research, business model and design brainstorming, programming, testing, iterations, and compliances are a few ingredients that make money-lending or P2P lending app development successful. Each stage and phase, even every iteration takes time and effort, which is subject to your app's complexity and requirements.
The more numbers of hours spent on your money-lending app development, the costlier it gets.
Simply put, ballparking the cost to develop an app like Brigit just based on the concept is difficult. However, in our research on how much it costs to develop a Fintech app, we found that,
Lending app development takes an average of 2300 hours,
And may cost from $50,000 to $150,000.
The solution to this query is, that you must connect with a Fintech app development company and share your project requirements. An experienced company is more likely to help you with the budget estimation. You can connect with our Fintech expert as well.
Access the complete guide on the Fintech App Development Cost with Considerations and Insights.
How can Kody Technolab help?
Launching a money-lending app is a strategic move in the cut-throat fintech landscape. However, in addition to a well-thought-out concept, you need to be relentless in the execution. The technology stack you choose, the design that captivates users, and the code that ensures security are all critical aspects of app development.
At Kody Technolab, we understand the intricate needs of fintech apps. Our team comprises experienced finance app developers with a proven track record of crafting secure, efficient, and customer-centric solutions. Whether you want to hire developers, outsource the project, or need expert guidance, we offer a one-stop solution.