With time, more and more businesses and acknowledging the impact of having a website today. Having an online presence of their business is on everyone's mind, and thus, website development is in great demand. The importance of having a website cannot be overstated, regardless of the industry you are in or the size of your company.
When it comes to developing a website, businesses often think it's a simple task, but that's not entirely true. It might sound simple but trust us, a lot goes into developing a website that works smoothly, grabs the users' attention, and generates revenue the most.
There are several website builder tools available that claim to set up your online website within hours. Businesses often get intimidated by them, but they must think twice before swiping the card for a website builder. The website builders might claim to develop your website fast with lesser costs, but they lack the professionalism that an expert web developer can offer. 
Moreover, by hiring web developers for your project, you can leave your development-related worries to the developers and focus on other important business activities. Also, when the professionals get on board, you can relax for a while knowing that your project is in skilled and able hands. 
As we said, hiring web developers is always a better option, we will tell you why it is so. So, let us take you through the top reasons why you should hire web developers from a renowned company. Let's begin.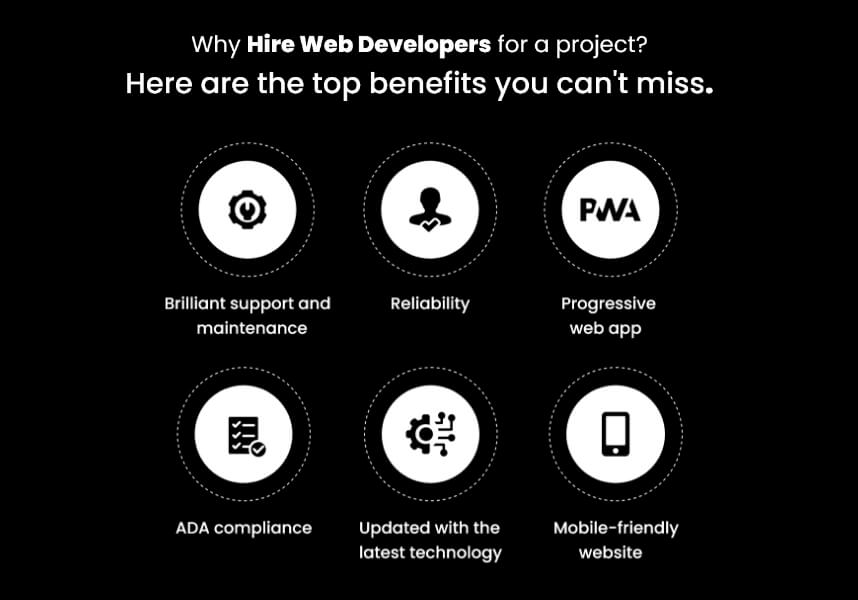 Why hire web developers for a project? Here are the top benefits you can't miss.  
Enhances search engine optimization 
Hiring web developers is great for enhancing the website's visibility on the search engines. Developers from a professional web development company make sure to put the best SEO practices to use so that your website can rank high and ultimately get more conversions. 
ADA compliance 
This is another key reason why hiring developers is preferred is that the developers will make sure your business is ADA compliant. Experienced developers with their skills and expertise will develop a website that is easy to navigate by everyone. 
Progressive web app 
A professional web development company has the potential to incorporate next-gen technologies like a progressive web application for your business. The best thing about a PWA is that it offers a web-like experience to the users. Moreover, PWAs are fast, secure, and easy to use. Thus, if you aim to build PWAs, it's best to hire web developers. 
Reliability
Professional web developers develop a robust, secure, responsive, and reliable website. The expert developers double-check everything and minimize the possibility of websites getting hacked. On the other hand, a website developed by amateurs is prone to risks and threats. Thus, when it comes to reliability, web developers are highly trusted. 
Updated with the latest technology 
Professionals know their way around technology and remain updated with the latest tools and trends. Thus, it's best to hire web developers as they are well aware of new tools, features, and plugins to develop a powerful, good-looking, and top-notch website.
Mobile-friendly website  
A great website runs smoothly on desktops as well as mobiles. Not having a mobile-friendly design for your website will result in missing out on a large percentage of potential clients that use mobile/tablets to browse the web. Hence, professional developers will develop a website compatible with all the devices and screen sizes.
Brilliant support and maintenance 
Most web development companies offer an agile web development process. The process includes planning, design, development, testing, launch, support, and maintenance. Professional web development companies offer robust support and maintenance services to keep the websites updated and running smoothly. 
What skills and qualifications a web developer must have? 
Although every project has different requirements, they all should look for certain skills and qualifications in the web developers they choose to hire. The best way to hire web developers is by making sure of the developers' capabilities. 
So, let's have a quick glance at a web developer's must-have skills and qualifications. 
Developing websites across different platforms
Knowledge of web applications, programming languages, and web services
Skilled with APIs, CSS, cross-browser compatibility, HTML, HTML5, JavaScript, JQuery, PHP, security principles,, and web user interface design (UI)
Proficient with content management systems like WordPress and Drupal
Must have collaborative problem-solving skills 
Experienced with Windows and Linux environments 
Experienced with modern web development workflows using a variety of tools, including Github. 

How to hire a good web developer? Here are the key points to consider 
When you finally decide to hire web developers for your project, you must prepare to hire web app developers from a reputed software development company. But the big question is- how to hire web developers that you can trust and rely on.
 Although there are thousands of companies available online, how to make sure they offer high-quality services? You can't just trust any company like that, right? 
Don't get overwhelmed, and we will present some points to consider while hiring web developers for quality web design and development services. These points will help you hire the best developers from a trustworthy company. So, let's see what you must remember while hiring web developers for your project. 
Be clear about what you want.
Web development is a tedious process, and a little confusion can create a big mess. Therefore, be clear about all that you want in the website and discuss it with the web developers you hire. The better the developers will understand your needs, the better will be the final product. 
Consider the cost of development 
The cost factor cannot be ignored at all. Different software development companies will offer different price quotes for their services. But, it's smart to compare prices offered by different companies based on their features and then make a decision. 
Effective communication 
When you partner with a web developer for project development, there has to be effective communication between the developers and business owners. There must be clear communication between both parties at every stage of development. 
Trust the process of development 
When you hire web developers, you need to trust their abilities and development process. Also, give the developers time and space to come up with creative solutions to develop quality end products. 
Ask for references 
The best way to hire web developers is by assuring the quality of products and services that the company offers. It's a good idea to browse reviews or speak with a past customer to see whether they had a good experience. 

Looking for the right resources? 
If you can't wait to start your website development and are looking for a reliable software development company, we have the right resources for you. You can hire PHP developers from us to develop a website that you have always wanted to. Our web developers have been practicing web development for years and thus, they will understand your project requirements well. So, let's partner up and develop a remarkable website for you. 
FAQs 
How much do web developers cost for the web? 
There's no definite answer to this question as the cost varies according to different factors. These factors again vary from one project to another, and thus, the web developers you hire can only give you an estimated cost after understanding your project and its requirements well. 
Do developers provide customization in web development? 
Yes, most web developers do provide customized web development solutions to clients. If you hire web developers from our company, we will make sure to develop a website just like your imagination. 
Do developers provide good support services? 
One of the biggest reasons people hire expert developers is because they offer good support and maintenance services after the project deployment. So, yes web developers do take care of your website and offer support services.
[vc_row el_class="call-us-section"][vc_column][vc_cta h2="Got some questions? Talk to our experts." style="flat" add_button="right" btn_title="Call Us!" btn_style="custom" btn_custom_background="#0a0a0a" btn_custom_text="#ffffff" btn_i_align="right" btn_i_icon_fontawesome="fas fa-user-tie" css_animation="fadeIn" btn_add_icon="true" btn_link="url:%23″ btn_el_class="call-to-action"][/vc_cta][/vc_column][/vc_row]