So, the excitement of building a Fintech startup has finally brought you to the right place. If you still have multiple Google search tabs open, just shut them off. You don't need it anymore.
Building a successful startup, specifically in Fintech, is a dream of many. After all, if your startup hits the big time, you will have a real jackpot. Lenders will come to invest and participate in your rally. Forbes, Entrepreneur, Inc., and many more magazines will go to you for interviews and know the secret behind your success. Now, wake up from the dream as it ain't going to happen overnight.
The origin of the Fintech startup business plan
The Fintech sector is roaring. Growing computing powers by leaps and bounds, increased internet speed, coverage, and usage, coupled with the need for all-round financial services, customer expectations, and the business need to minimize operation costs nonetheless offering safer, reliable, and faster services are some of the stimulants to the Fintech revolution. Sigh! That was a mouthful.
Hence, a war has been started between Fintech companies to turn customers into loyal customers. And there isn't a best friend like the latest Technology that helps banking and financial institutions increase and sustain their customers. In addition to that, using the right technology in the right place can also cut down the operational costs in Fintech organizations.
How automation technology save Bank of America Millions of $
Bank of America employed 22 robots across its front, middle, and back offices to upgrade customer service and improve the efficiency and speed-to-market of its services. Consequently, their Robotic Automation Process generates impressive savings of $100,000 per code request as well as $350,000 per code change.
Bringing a Fintech app development idea to life is not a cakewalk. It requires you to work around the clock and many sleepless nights. Still, there is no guarantee that you will get funding. In such circumstances, implementing technologies like RPA can save costs by 25% to 60%. That way, a Fintech startup can bootstrap their firm longer, dodging the bullet of bankruptcy until they get funding.
However, looking at such an arduous, thorny path of executing a Fintech business model, many entrepreneurs sway away from the commitments. Because not everyone is like you who takes the business idea seriously and invests time to at least research if their idea is feasible. So, you deserve a pat on the back now!
But how can a newbie Fintech company beat such a hyper-competition? If done right, your Fintech startup can also fly, and Backbase is living proof. 
Want to know some booming Fintech app ideas? Get the list here.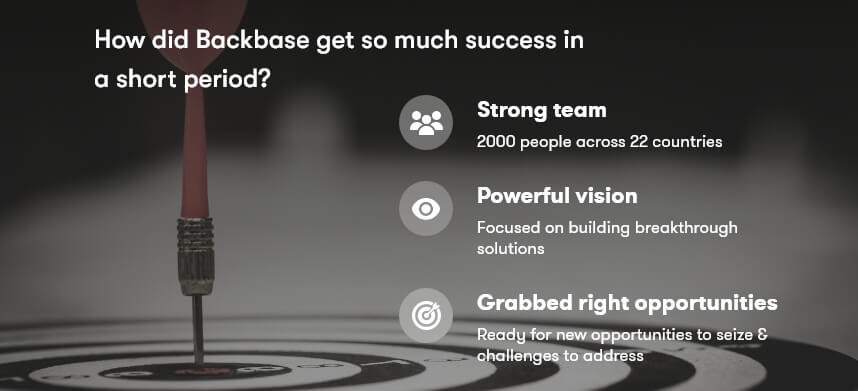 How did Backbase achieve so much success in such a short period of time?
Over 150+ financial institutes are leveraging these broad business capabilities and rich support for customer experience backed by solid technology and architecture. Backbase Nearly 2 decades, and the company has still managed to keep its chin up in the market. What's the catch?
Powerful vision
Rather than fixing the process, founders focused on building breakthrough solutions. They offer omnichannel cutting-edge digital banking software solutions for retail banking, business banking, and wealth management. Backbase solutions allow financial institutions to unify data and functionality and create personalized customer banking experiences across various digital touchpoints.
We have discussed how to create a banking app in this post with valuable market insights.
Grabbed right opportunities at right time
Well, since its dawn, Backbase has proved its leadership and innovation in enriching digital relationships between banks and financial institutions and its customers. They always look for new opportunities to seize and challenges to address in their niche with their tech-driven solutions. Such persistent research and passion for improving the finance sector had led Backbase to be valued at $2 billion today.
Strong team
A team of a whopping 2000 people across 22 countries from New York to Singapore and everywhere in between, Backbase is at the crest of the wave right now. It is a privately funded fintech organization with an Amsterdam headquarters and 14 regional offices. With the mission to make banking better for the world and revolutionize how people manage their money, Backbase took off in 2003.
Where did Backbase find the Golden opportunity?
The financial sector is undergoing a digital transformation.
To remain competitive and keep up with the times, banks are looking at new ways to improve their operations and increase transparency. In addition, they want to provide better customer service and support.
One of the best ways to achieve this is by using technology – precisely, digital solutions. Digital solutions can help banks and other financial institutions reduce costs and optimize their operations.
Backbase founders perceived the same thing when technology was not widespread. And now they offer groundbreaking software that helps banks analyze their data and improve their sales processes while reducing costs.
All-in-all, they understood their prospects' pain points and hit the nail on the head with technology. Their software solutions are tailored to help financial institutions respond to ever-changing customer and business trends far quicker than traditional, non-digital methods. Backbase's special software also features many engagement banking capabilities for customer lifecycle, including onboarding, servicing, cross- and up-selling.
If you want to disrupt the digital lending market, do not skip Buy Now Pay Later app Development hacks at any cost!!
The Crux of Backbase
Above all, Digital Sales and Digital Banking are two core solutions created in Backbase software. Such solutions empower their client banks to prompt conversions, reduce costs, deepen loyalty, and drive growth. Not only external. They have built solutions in a way that financial institutions can improve their internal operations, too.
For example, Backbase offers a pre-built Employee App that allows employees to correspond with a control center in real-time and more effectively, as well as gives a 360° customer view. Consequently, they can create and offer personalized customer service without spending a fortune on operating costs.
Backbase is a perfect example of successful Fintech not only because of its robust and to-the-point software solutions. But also because of how they stay agile and adapt to new technology to extend their solutions.

How can you build your Fintech startup around the problems faced by Finance Companies?
It's crucial for people who want to build a successful startup. If you want to avoid building solutions that are a dime a dozen, pay attention. I dug into Backbase's success a little deeper and found how they built software that reached over 150 financial firms.
So, banks and financial institutes often struggle to meet the high standard of flexibility, quality, and reliability compared to what neo-banking provides. This calls for continuous investment for optimizing core operations and back-office infrastructure automation. On the other hand, there is pressure to offer intuitive and personalized content to meet the expectations of a digital-first banking experience.
Banks need a modern and modular platform architecture to meet such demands with agility to evolve and catch up with the engagement banking era. A platform that also lets them integrate external functionalities without adding the core banking system transformation cost.
Now let's see how to start a Fintech company that can alleviate these pain points of banking and finance firms with a technology-driven solution.
Build a one-stop solution for all lines of business
Since the COVID-19 pandemic, customer bases of digital banks are growing 3X faster, forcing traditional banks to rethink their digital transformation. You can seize this opportunity and create an efficient platform that helps financial organizations take a digital leap. Your solution should help them offer unified, integrated experiences and let them orchestrate personalized customer journeys.
Focus on practical solutions
Ensure your software solution also helps them optimize costs and become customer-driven. You'll automatically attract investors and clients when your platform will make banks digitally fit and resilient during uncertainties with innovation strength, protecting margins, and growing revenues.
Provide cloud solutions for banking
Cloud computing can be a game-changing solution for Financial institutions that provides tickets to shared resources, apps, or storage over the Internet. From storing to processing data through remote servers, banks can reduce costs, improve agility, and accelerate innovations.
Build a highly customizable SaaS product
However, developing a bank-quality SaaS product can be one of the most difficult, time-consuming, and expensive things for a fintech startup. But there's a way around this, which involves building your product with the same kind of data, algorithms, and technology banks use.
By building a highly customizable SaaS product, you can allow banks and financial companies to create and launch new services rapidly and stay agile. This way, you not only reduce time-to-market for finance companies but also eliminate the need for upfront capital investment for hardware.

How Backbase was able to grab $238 million in funding
Ever since Backbase raised its first funding, $128M at a $2.6B valuation, it has become a talk of the finance sector. So, let us shed some light on this event as well. If you have been following the blog since the beginning, you know.
Backbase is a badass fintech company. It offers a powerful platform to structure and exploit available data efficiently and create a personalized experience of its customer-facing services.
Don't you wonder why over a decade-year-old company raised funding just now? The company has grown from €20 million to €200 million in revenue. In other words, it is already operating in a profitable condition with bootstrapping. But they have been waiting to strike while the iron is hot. Now is the perfect time as their services are in demand, and they want to invest in growing beyond the continent.
Feeling confident to kick off your Fintech startup already?
The financial market is in a state of constant change. New fintech startups are popping up all over the place, and many are trying to capitalize on the opportunity to provide better services for their customers. Some of those companies have found success, and now they're profiting from the market. For example, Backbase. But others have struggled to find their place in the industry.
You know there are many competitors of Backbase solving the same problems and getting funded. What stands Backbase out is its singular focus on solving customer engagement challenges through bank data.
You can also find problems in the Finance sector like Backbase did and create a solution around them with Fintech app development. Then, you can consult with our expert and strategize the right technology stack for the solution. And by building and launching an MVP in record time, you can jumpstart your Fintech startup just like that!