Buy Now, Pay Later (BNPL) solutions have witnessed a groundbreaking transformation even in the Netherlands, with apps like In3 (Payin3) setting new benchmarks. As you delve into innovative financial services, understanding the investment required to develop a BNPL app becomes paramount.
Basically, Buy Now, Pay Later (BNPL) apps are a type of financial technology leveraged by financial institutions to enable users to purchase goods/services and pay for them in installments over a period of time. A Fintech company can build a BNPL app like Klarna. And/or offer businesses an Application Programming Interface (API) to integrate it as a payment method without building their own.
BNPL apps' progressive popularity results from the instant gratification they offer!
Businesses can purchase and streamline their cash flow by paying vendors through the BNPL method. In contrast, customers use apps to buy items that otherwise are unaffordable with one-shot payment.
In3 is a renowned buy now pay later provider that offers iOS and Android apps for customers and API for businesses. Speaking of the cost to develop a BNPL app like in3, it can vary depending on a number of factors, including but not limited to– app features, functionality, the complexity of the user interface, and the location of the development team.
However, the cost of developing a BNPL app can range from $50,000 to $300,000. We will discuss essential cost factors by analyzing the In3 business model ahead. So, you can plan the budget efficiently if you want to make an app like In3.
Without further ado,
What are the Factors that affect the BNPL app development cost?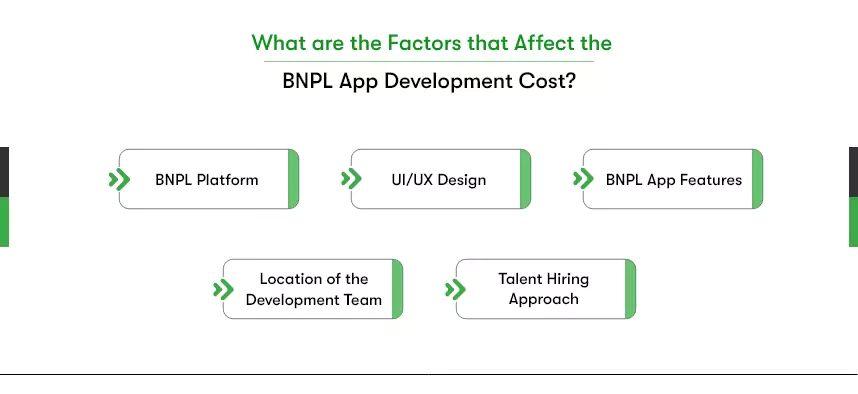 Developing a Buy Now Pay Later app like In3 can open doors to innovative market opportunities in the fast-evolving financial technology landscape.
As finance businesses and managers in Germany and the Netherlands seek to offer competitive services like Payin3, understanding the key factors that impact BNPL app development and the cost is essential for effective budget planning and successful app deployment.
Buy Now Pay Later Platform
In3 is available for both Android and iOS device users, thus catering BNPL finance services to a broader customer base. It has even developed an API for merchants and vendors to integrate to offer pay-in-3 services into their system.
Now, developing apps for each platform separately is not only costly but also demands 2x attention and effort in maintenance. This is one approach to building apps known as Native app development.
Another one is cross-platform app development. So, there are frameworks like React Native and Flutter that enable writing a reusable codebase to build Android and iOS apps at the same time. 
For example, native app development for Android and iOS platforms may cost 24 weeks and $100,000 to $150,000, while cross-platform would cost 16 weeks and about $70,000 to $100,000. 
However, when choosing between native and cross-platform approaches, consider the benefits of Flutter, an ideal solution for building BNPL apps.
Flutter allows developers to create high-performance, visually appealing web, iOS, and Android apps with a single codebase. Besides, Flutter streamlines the development process, reducing development time and costs.
UI/UX Design
The importance of User Interface (UI) and User Experience (UX) design cannot be overstated in BNPL and fintech apps. An aesthetically pleasing, user-friendly interface enhances customer engagement and fosters trust. In3, for instance, serves as a prime example of exemplary UI/UX design.
Depending on the app's complexity, investing in an intuitive BNPL app design can cost around $5000 to $15000. You can determine the app's complexity by the number of screens, unique features, and their usability and visual design.
BNPL app features
The number of app features directly affects the cost of building an app like In3.  Because more features mean more hours to complete the development stage. And increased development time means increased costs. 
However, the business model depends on how many features you develop in your BNPL app. We have discussed the buy now, pay later app business model you can rely on to strategize yours. 
Speaking of time to develop BNPL app features, here's a snapshot to give you a clear picture.
| | |
| --- | --- |
| Feature | Estimated Development Time (hours) |
| Quick and Easy Sign-Up | 40 – 60 |
| Seamless Checkout Integration | 30 – 50 |
| Personalized Payment Schedules | 25 – 40 |
| Instant Credit Approval | 35 – 55 |
| Interest and Fee Calculators | 20 – 30 |
| Credit Score Monitoring | 50 – 70 |
| Fraud Detection and Prevention | 60 – 80 |
| In-App Customer Support | 40 – 60 |
| Budgeting Tools | 30 – 50 |
| Loyalty Programs | 25 – 40 |
Location of the development team
The geographical location of your development team can significantly impact costs. Wages and overhead expenses vary across countries. For instance, a development team based in Western Europe or North America generally demands higher remuneration than teams in Eastern Europe or Asia.
To illustrate, here's a table comparing the average hourly development rates in different countries: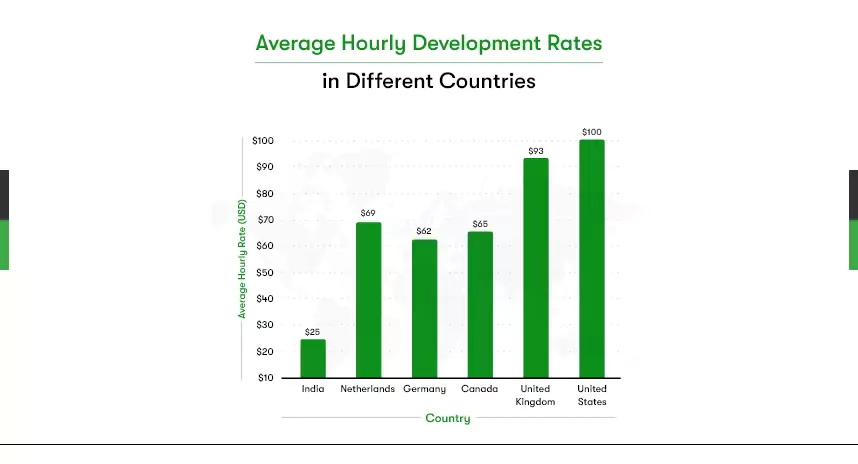 Please note that these are just average rates, and the actual rate may vary depending on factors such as the developer's experience, skills, and location.
India appears to be the most cost-effective country to hire app developers. Not only low rates, but India is a hub of over 5.8 million developers. Therefore, outsourcing development work to India can save up to 60% on development costs without compromising quality.
Talent hiring approach
When assembling your development team, you have two main options: in-house and outsourcing. Since it's a fintech app that requires utmost security and confidentiality, we don't see freelancing worth considering. 
So, in-house teams provide direct control and communication but can be costlier due to infrastructure and personnel expenses. On the other hand, outsourcing, particularly to countries like India, can offer cost-efficiency without compromising quality.
Besides, leveraging the expertise of dedicated teams in India, where the tech industry thrives, can help you achieve a competitive BNPL app.
So, these were the key factors affecting the cost of building a BNPL app like In3. Now, let us learn a little about In3, too. So, you can harmonize the knowledge you gain in this blog with the app idea you want to execute. 

What is in3 or Payin3?
"Pay in3" is a payment service in the Netherlands that allows customers to pay for their purchases in three interest-free installments over a span of time, usually 60 days. This payment method is trendy in the Netherlands and is offered by various businesses through the Pay.nl platform.
Customers can use the "in3" app available on both Google Play and the App Store to manage their payments and make purchases using this installment option. It's an alternative to traditional credit-based payment methods, enabling budget-conscious customers to spread out their payments without incurring interest charges.
The service is limited to consumers residing in the Netherlands, as indicated by its delivery and billing address requirements within the country.
What made the BNPL app In3 so famous?
The in3 payment method gained attention for its user-friendly approach and the absence of traditional credit-related hassles. It offers a way for customers to budget their purchases without the burden of interest charges.
Merchants can easily integrate the In3 option into their payment offerings. The platform's expansion and integration into various online stores have contributed to its popularity and convenience for consumers and businesses.
What is the In3 business model? How does it make money?
In3 offers a payment solution for customers and businesses to pay for their purchases in 3 equal installments. At the same time, it allows merchants to offer the BNPL service to their customers by integrating In3 in the checkout system. Here are some insights into the In3 business model:
Target market: In3 targets consumers looking for a flexible payment option for their online purchases. The company's target market includes millennials and Gen Z consumers who are comfortable using digital payment methods.
Products and services: In3 offers a buy-now-pay-later (BNPL) service that allows consumers to pay for their purchases in three installments without interest or hidden fees. The company also offers a white-label BNPL solution that merchants can integrate into their own checkout process.
Pricing: In3 doesn't charge anything from customers even if they fail to pay on time. However, it charges merchants a fee per successful transaction, depending on each webshop and sector.
Now let's see some key strengths of In3's business model:
Low fees: In3 charges merchants a low commission on the purchase price (based on their business type and only if the transaction is successful). This makes it a more attractive option for merchants than other BNPL providers, which typically charge higher fees.
Easy to use: In3's BNPL service is easy for consumers and merchants. Consumers can apply for in3 in just a few minutes, and merchants can integrate the service into their checkout process with just a few clicks.
Strong partnerships: In3 partners with various leading online retailers, giving the company a large and growing customer base.
How to develop a BNPL app?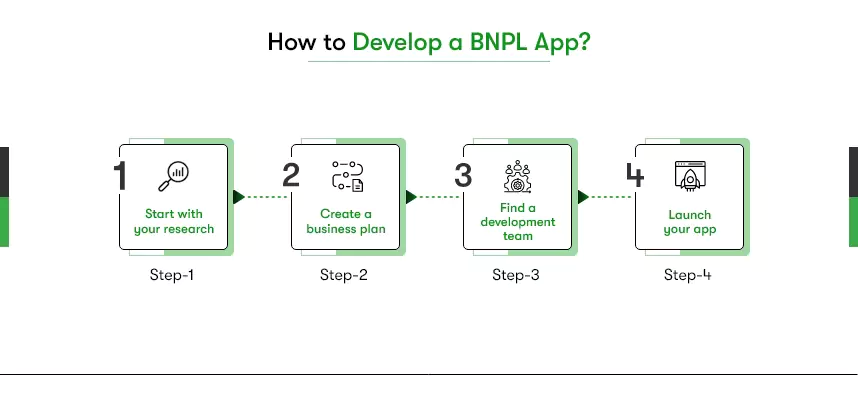 You need a structured plan for the success of your BNPL app development. Here are some steps you can consider:
Start with your research:
Before diving into development, take the time to conduct comprehensive research. Gain a deep understanding of the BNPL market landscape. Analyze the diverse features and functionalities available while pinpointing your target audience. This preliminary work forms the cornerstone of your app's strategic development.
Create a business plan:
After understanding the BNPL market, you should start working on your BNPL app's business plan. Utilize insights from an In3 business model analysis to fine-tune your plan. Outline your marketing strategy, revenue streams, and a roadmap for the app's growth.
Find a development team:
Once you have a business plan, you must find a BNPL app development partner to help you bring your app to life. Finding a team with experience developing BNPL apps and understanding the local market is crucial.
Launch your app:
After developing your BNPL app with a dedicated team, ensure thorough testing and if the app complies with app store guidelines. Once your app is developed, you must launch it and start marketing it to your target market. This includes creating a website, developing marketing materials, and running advertising campaigns.
To master developing a BNPL app, do not miss out on saving this insightful guide.
Build a BNPL app now and take a success vow!
So, the cost of BNPL app development can vary depending on a number of factors that we discussed in the post. Among all, hiring your development partner matters the most for budget planning as well as the app's success.
You need to choose where to outsource your BNPL project and what level of expertise you need. At Kody Technolab, we offer a dedicated app development team for hire with industry expertise. 
Hiring Flutter app developers is all you need if you are interested in cross-platform app development. Our Flutter developers have a track record of delivering successful Fintech apps. And even if you are unsure about the business model or technology stack, feel free to contact our Fintech Expert.