Living on monthly paychecks is a tug of war between expenses like recurring bills, mortgage or rent, credit card payments, EMIs, and the paycheck. And amid this war, even if a small unexpected expense pops up, it feels like the universe is conspiring against you.
According to a CNBC report, this is the story of about 60% of Americans who live paycheck to paycheck.
On the contrary, traditional banks, with their stringent criteria, often do not cater to those who need small, short-term loans. This is where payday loan apps come into the spotlight – as a means of bridging the gap until the next paycheck.
It also offers a lucrative opportunity for Fintechs to build an app like EarnIn and provide instant financial support to those underserved by traditional banking.
But, you may ask, isn't this a risky venture? Won't your finance company be competing with established players in the market? The answer is yes, risks are involved, but with careful planning and execution, the potential rewards far outweigh the risks.
We are here to address the questions associated with Payday loan app development. So, if you're considering payday loans or cash advance loan app development, be ready to take notes!
What is a Payday Loan App?
Payday loan apps signal a new era in micro-lending. These digital platforms offer short-term loans that align with borrowers' pay cycles. It's a unique lending solution designed to provide quick financial aid without the daunting paperwork or the long waiting times.
What sets them apart? Algorithms drive the lending process, assessing risk and granting instant approvals, bypassing traditional credit checks. Since transactions occur entirely on smartphones, the user experience plays a vital role.
The convenience of completing a loan application and receiving funds without having to step into a bank is the cornerstone of payday loan apps' growing popularity. In fact, according to a market report,
Payday Loan Services industry size in the US was $20.5bn in 2022, measured by revenue!
Fundamentally, payday loan apps redefine emergency financial solutions by marrying immediacy with the financial inclusion of underserved demographics. For the fintech sector, these apps are strategic tools that leverage technology to fulfill immediate financial needs while paving the way for innovative lending practices.
The Payday loan app market is evolving at pace. Of course, some fintechs realized the market potential and have already started capitalizing on the payday loan trend with app development.
Who is leading the market? 3 Examples of Payday Loan apps
Before we get into the intricate details of developing a successful payday loan app, let's take a closer look at some of the major players in the industry. These apps have nailed the quick and convenient loan game, and we can learn much from their strategies.

Brigit
Brigit, the go-to payday loan app for many young adults, has hit the 1 million download milestone on Google Play. Founded in 2017, Brigit is located in New York City. The payday loan app offers loans ranging from $50 to $250, with repayment terms varying based on location. Brigit has demonstrated a substantial demand for its services.
Advantages: Resources and tools to manage finances and avoid debt traps. Loans disbursement within one business day.
Key Features: Speedy cash, payment flexibility, financial wisdom, and tipping options.
Get your hands on an ultimate guide to starting a money lending app business like Brigit in the USA.
Dave:
Dave was founded in 2016 and is headquartered in Los Angeles. With over 5 million downloads on Google Play, Dave has established itself as a significant player in the market. The app provides loans from $200 to $500, with 2 to 4 weeks of repayments.
Advantages: Helps avoid overdraft fees, uses AI to predict balance, and offers loans to cover unexpected expenses.
Key Features: Overdraft rescue, advance payments, free trial, and premium perks for a fee.
EarnIn:
Coming from Palo Alto, EarnIn has facilitated access to advance paychecks without interest or fees since 2023. EarnIn offers payday loans up to $100/day and up to $750/paycheck to cover day-to-day costs. They've got over 500,000 downloads on Google Play and a unique approach to loan terms.
Advantages: Access to emergency cash, large amounts for employees getting their paycheck by direct deposit.
Key Features: Flexible repayments, friend-rewarding referrals, tips, and personalized loan offers based on your financial groove.
What are the most important features specifically for payday loan apps, and why do they hold such immense value that fintech officers and managers must consider adding to their payday loan app development?

5 Payday Loan app features that differentiate it from lending apps
Now, let's talk about the unique ingredients that make payday loan apps stand out in the fintech market. These features are more than just fancy add-ons; they're absolute must-haves that can make or break your payday loan app's success.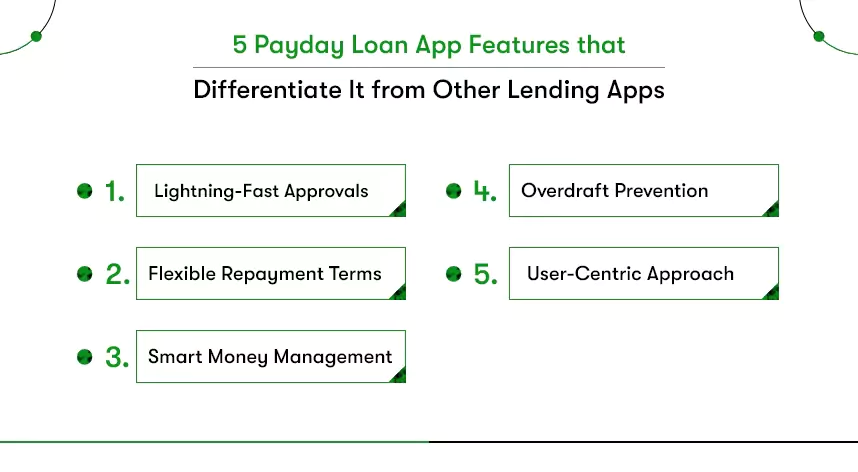 1. Lightning-Fast Approvals:
Payday loan apps are like the Formula 1 of lending. They're built for speed, offering near-instant loan approvals. Take, for example, Dave, which uses AI to predict users' needs and serves up advance payments to cover unexpected expenses. This speed factor is non-negotiable in today's on-demand world.
2. Flexible Repayment Terms:
One size does not fit all, and payday loan apps know it. Apps like Earnin allow users to spread their repayments over several months. Why is this a game-changer? It respects the financial ebb and flow of real life, making it a lifeline for those who don't want to be tied down to rigid payday deadlines.
3. Smart Money Management:
Financial literacy is no longer a luxury; it's a necessity. Brigit, for instance, isn't just about loans; it's also about teaching users how to navigate the financial maze and avoid debt traps. This feature is more than just nice to have; it's a financial GPS that keeps users on track.
4. Overdraft Prevention:
Enter Dave, the financial superhero who anticipates when users' account balance is about to take a nosedive and offers a financial parachute. Overdraft fees can be a silent financial killer, and payday loan apps like Dave ensure their users never have to deal with them.
5. User-Centric Approach:
Payday loan apps aren't just about making money but about making lives easier. Take Earnin's referral program, for instance. It turns users into advocates, earning cash for inviting friends to join. This user-centric approach creates a win-win situation.
Read Also: Guide on Loan Lending App Development for The USA
3 Common Challenges to watch out for during Payday Loan App Development
Payday loan app development, like any fintech venture, isn't a cakewalk. Here are three hurdles that may trip you up – and how to leap over them with style.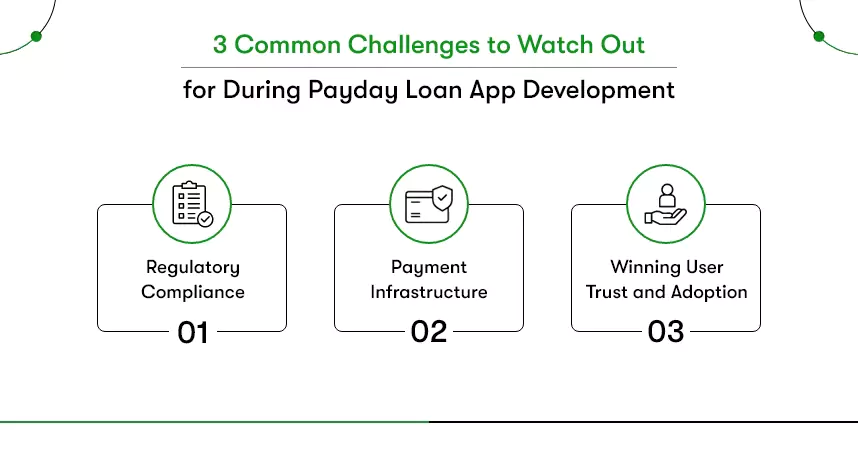 1. Regulatory Compliance:
Navigating regulatory compliance in the world of payday loan apps is essential but complex. Adhering to a web of data privacy, lending, and consumer protection laws is critical to avoid legal issues, fines, and damage to your app's reputation.
To tackle this challenge effectively, research and understand the regulations in your target market, fortify data security, and maintain transparency in lending practices. Also, consider partnerships with licensed institutions and stay updated with evolving regulations to ensure smooth sailing while building user trust.
2. Payment Infrastructure:
Your payment system should be as sturdy as a knight's armor. Make sure it's scalable, secure, and lightning-fast. A hiccup in the payment process can send users packing faster than you can say "transaction error."
Look at Brigit's success. They've nailed down a robust payment infrastructure that ensures funds hit users' accounts within a business day. Invest in a tech-savvy team to build a seamless payment experience, and your users will thank you.
3. Winning User Trust and Adoption:
Trust is the secret sauce in fintech, especially with payday loan apps. Apps like Dave have made it their mission to help users avoid overdraft fees, which builds trust and loyalty. To win users over, build an app that delivers financial solutions and educates and supports users. For example, transparent policies, excellent customer service, and innovative features can turn users into lifelong fans.
In the high-speed world of fintech, payday loan app development comes with its share of challenges. But with the right strategies and a dash of innovation, you can leap over these hurdles and create a payday loan app that's not only compliant but also trusted and beloved by users.
Step-by-step explanation of Payday Loan App Development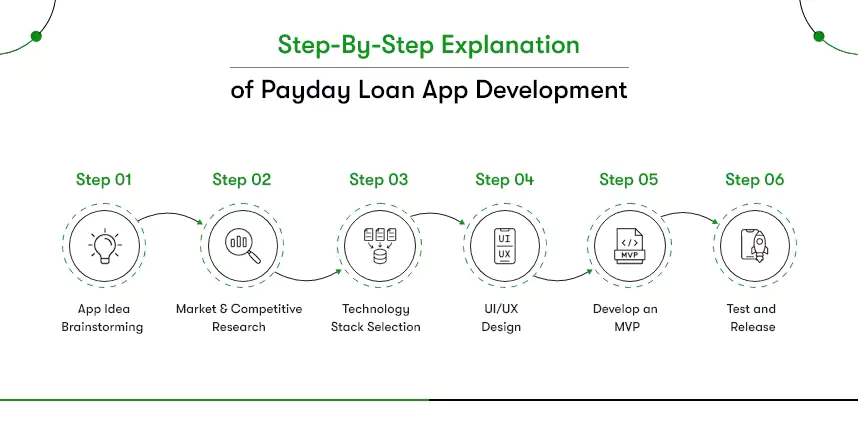 Payday loan app idea brainstorming
This creative phase is all about brainstorming. Explore innovative concepts, like Dave did when they envisioned a way to help users avoid overdraft fees. An original idea is your golden ticket in this competitive landscape.
You should define the problem your idea addresses, the target audience, the platforms it will run on, and the key user interactions. Try to answer the questions below to clarify your app idea.
What financial challenge does your app solve, and who faces this challenge?
Which platforms (iOS, Android, web) will your app be available on?
What actions will users perform within the app, such as applying for loans, repaying, or accessing financial education?
How does your app differentiate itself from existing loan apps?
Well, if you are looking forward to P2P lending app development, here's the guide!
Research the Market and Competitors
In this critical phase, you'll explore the landscape of payday loan apps, gaining insights that will shape your own payday app's success.
Market Research
Market research equips you with the macroeconomic understanding necessary for your payday loan app's success. You'll delve into demographic nuances, growth trends, and the regulatory landscape and learn,
The payday loan market size, trends, and user demographics.
The problem your app intends to address, whether it's instant access to funds or flexible repayment options.
The broader payday loan industry and lending regulations in your target regions.
Competitive Research
Competitive research offers insights into the payday loan app ecosystem. Moreover, you'll scrutinize direct and indirect competitors, grasp their user targeting strategies, and identify their unique selling points. It's all about,
Direct and indirect competitors and their positioning in the market.
The specific user groups they target and the strengths and weaknesses of their offerings.
User feedback and reviews, highlighting pain points and strengths of existing competitors.
Technology Stack Selection
You will need to choose technologies based on the platforms your app will run. Flutter is one of the most trending technologies that facilitates building apps for multiple platforms simultaneously. Flutter app development offers a cross-platform solution, saving you time and money.
From sleek performance to beautiful and intuitive UI/UX, Flutter simplifies the digitalization for fintech. If you're choosing Flutter, you must ensure you hire Fintech app developers with Flutter expertise. 
UI/UX Design
User interface and experience design is more than just crafting screens and arranging icons. A payday loan app's UI/UX design process involves understanding the target audience's needs and pain points through user research.
Furthermore, it demands creating a user persona, understanding what your audiences expect from your app, and mapping an engaging user journey. Moreover, learn their frustrations while using digital loan apps and address them in your app through user-friendly design. Doing so can also help you differentiate your payday loan app in the market.
Develop an MVP
Minimum Viable Product, in this case, is a minimalist version of a payday loan app. It basically helps you validate your app idea in the market with only essential features. Since MVP is cheaper and faster to develop, you can have the first version of your app to attract investors and/or share it with the first users.
Test & Release
After finalizing the designs, the time to test and release your payday loan app comes. Conduct thorough technical tests to identify any bugs or issues. Then, perform user acceptance testing (UAT) to ensure the app meets your target audience's needs. Once testing is complete, prepare for the app launch to the public and continue monitoring user behavior to iterate and improve over time.
How much does it cost to develop a Payday Loan app like EarnIn?
Now, let's talk numbers. The cost to develop a payday loan app like Earnin can vary, like the stock market on a rollercoaster. Think of it as your financial journey's very own unpredictable ride. On average, you're looking at a ballpark figure ranging from $50,000 to $150,000.
Factors Influencing Costs of Developing a Payday Loan App:
App Complexity: Simple is sweet, but complex can be compelling—the more features you jam-pack into your app, the higher the price.
UI/UX Design: A sleek app design is like the Gucci of apps – it comes with a price tag.
Development Team: Are you hiring the Avengers of app developers? High-level expertise comes with a premium badge of honor (read: price).
Development rate: Whether you hire app developers or outsource your project, development rate will be a vital factor in the budget. Given that the rate differs across the world and is relatively higher in the USA. That's why startups and even Fortune 500 companies prefer to hire app developers from India.
Back-End Infrastructure: The back-end is the unsung hero that keeps your app from crashing and interrupting user experience. What technology you choose to build this infrastructure is crucial to the overall cost.
Maintenance & Upgrades: To stay competitive and keep the app relevant to the digital finance era, you must maintain your payday loan app. The maintenance cost depends on whether you add new features, solve bugs, or make the app support new OS versions.
Third-Party Services: Third-party services, such as SMS notifications, email services, or payment gateways, come at an additional cost.
Evidently, developing a payday loan app is more than just about coding; it's a financial expedition. Hence, while planning a budget, consider your app's unique needs and make strategic choices so that you might hit the jackpot without breaking the bank.
What role does Kody Technolab play in building a Payday Loan App like EarnIn?
You've just navigated a comprehensive guide on building a payday loan app like EarnIn. Now you know that a successful payday loan app development transcends coding prowess—it demands a profound understanding of the fintech landscape, its regulations, and users' needs.
That's where Kody Technolab comes in. As a Fintech app development company, our team, comprised of adept developers, designers, and project managers, is committed to tailoring solutions. We innovate fintech solutions that align with your business goals, contribute to your vision, and surpass user expectations.
What sets us apart is our ability to deliver swift results without compromising quality. Adopting agile development methodologies, we make your app competitive, ensuring your app remains relevant in the market dynamics.