We stand at an exciting juncture of modernizing payment methods. From the outdated, manual, pre-pandemic payment methods, we are now shifting to practical post-pandemic payment choices(specifically, BNPL payment methods). A boon for the BNPL market.
This blog will analyze various market dynamics and real-life scenarios of Buy Now Pay Later payment methods. We aim to provide you with insights that will help you decide whether investing in developing a BNPL application is the right move for your business.
Did you know? A significant portion of the customer base in the Buy Now Pay Later market comprises Millennials and Gen Z? Approximately 75% of BNPL users belong to these demographic segments. This staggering statistic has led many to refer to BNPL as "the future of finance for Millennials." The younger generations have embraced the flexibility and convenience offered by BNPL payment options.
But that's not all. The popularity of the BNPL concept extends beyond its appeal to consumers. The market size of the BNPL industry is projected to reach a staggering $995 billion by the end of 2026. This impressive figure underscores the widespread acceptance of the BNPL concept among customers and retailers, cementing its position as a game-changer in the financial industry.
What is the BNPL payment method?
BNPL stands for Buy Now Pay Later. The concept allows individuals to buy any goods or a service today with the condition of paying for it in the future. Additionally, no interest is charged over the payment period. However, a penalty may arise if the customer fails to pay within the decided period.
The idea of BNPL is to create lifetime loyal customers for the company, retail, or eCommerce.
What advantages does the concept foster for entrepreneurs:
BNPL concept gives immense flexibility to the customers when it comes to payment facilities. In the times when 69.82% of customers abandoned their carts, of which 7% left the website because of a lack of suitable payment methods, BNPL serves as a savior.
BNPL lets customers stick to a brand which increases the brand conversion rate to a great extent.
Buy Now Pay Later (BNPL) has increased the accessibility of goods, making them within reach for a wider audience. Say, for example, a tech enthusiast who may have hesitated to purchase a high-end smartphone like the iPhone, with a price tag of $1,100. Thanks to BNPL options, this individual can confidently purchase from the retailer by agreeing to pay affordable monthly installments.
The ease of not paying the total amount upfront but opting to spread the cost over a series of smaller, manageable installments builds a healthy relationship. This way, entrepreneurs can reach out to a broader range of audiences.
The ability to pay installments boosts sales and ensures customer satisfaction. Customers are more likely to purchase goods again when they have such a comforting situation for payment.
The above information is fascinating, but you have yet to explore the Buy Now Pay Later market size.
The gigantic market size of BNPL:
The concept of split payment has been in existence since the 20th century. Do you remember the credit card era? Well, it is still in use but a bit outdated. The upgraded and digital BNPL version is more convenient and widely accepted.
Klarna conceptualized the idea, launched in 2005, followed by more players like Affirm in 2012, Zip in 2013, and Afterpay in 2014. These applications were a hit, but post-pandemic, the records were groundbreaking.
A web survey covering US-based respondents suggests that 37% of the respondents have used the BNPL option. If we look at the traffic analysis,
Desktop & mobile traffic to the 14 biggest BNPL providers grew 21.1% CAGR between 2020-2022, from 236.8M visits in 2020 to 420.8M in 2022
Monthly active users for the top 6 BNPL providers in Jan 2022 was 11.2m – 200% growth from 2021
These figures are indeed impressive to compel you for BNPL application development.
Furthermore, let's talk about the key players in the BNPL market and the spread of demographics in this industry.
We will focus on platforms that offer BNPL services exclusively. The top player that doesn't need an introduction is
Klarna, AfterPay, Affirm, and PerPay are some of the top BNPL (Buy Now Pay Later) platforms that have recently gained popularity. All the figures are referred from similar web research data.
Klarna:
Klarna, founded in 2005 and headquartered in Stockholm, is considered one of the leading fintech platforms offering impressive BNPL services. The platform captures nearly 32.3M monthly visits!
AfterPay:
With its headquarters in Melbourne, AfterPay is another prominent BNPL platform that has garnered a significant user base. Afterpay has 19.2 M monthly visits from users across the world.
Affirm:
Affirm, based in San Francisco, is also a notable BNPL platform that enables customers to shop at a wide range of stores. It has 11 M monthly visitors over the platform.
PerPay:
PerPay is another great platform facilitating customers to pay over time while purchasing the products they love on the go. It has its headquarters in Philadelphia. The platform has 1M monthly visits. 
If you are looking for information on B2B Buy now, pay later market and solution read: B2B Buy Now, Pay Later Solution & How it works!
Now coming to the demographics of the BNPL market:
The concept of BNPL has been universally adopted, with no significant gender differences. Among BNPL users, approximately 53% are male, while 47% are female. Moreover, going through the data in the image below, it is clear that BNPL app development has immense popularity among individuals between 25-34 years old.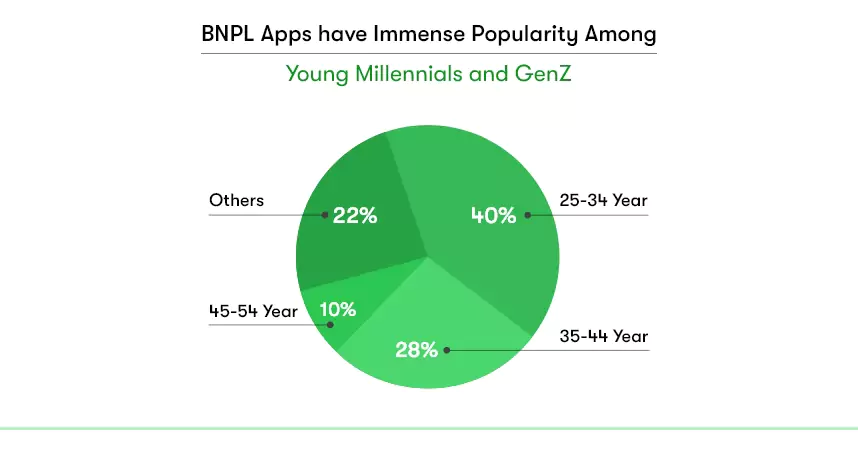 Now, let's discuss the categories where the BNPL payment method is used.
Let's go by the spending category segment in BNPL payment methods. The primary category with the maximum user base in BNPL is furniture, electrical goods, and home appliances, followed by clothing & footwear, Sports & fitness equipment, Travel & accommodation, media & entertainment, and health & beauty.
Coming to bifurcation by region, the top 10 regions with maximum BNPL users are,
North America;
Canada;
Germany;
The UK;
Italy;
France;
Spain;
Netherlands;
China;
India;
The BNPL market is undeniably crowded, the competition in this space is intense, and launching a new platform will undoubtedly present challenges. However, despite the fierce competition, there is still ample scope for you to explore and make your mark.
In this ever-evolving market, innovation, customer-centricity, and a solid execution plan will be key factors in your success. So, don't hesitate to take the next step and connect with our team to kickstart your journey in the BNPL space.
We have encouraged you to develop a platform for yourself. But we are also under an obligation to list out the risks involved. However, the benefits outweigh the risks by a huge margin.
Risks involved in the BNPL market:
Merchant fraud risk:
Unscrupulous merchants pose a significant risk in the Buy Now, Pay Later (BNPL) industry. They can act as conduits for fraudulent activities, creating challenges for BNPL entrepreneurs in differentiating between legitimate and illegitimate merchants. Please accurately identify the authenticity of merchants to avoid severe consequences.
When illegitimate merchants go undetected, they can exploit the system by submitting fraudulent orders using real or fictitious consumer personally identifiable information (Pii). They manipulate the process to receive payment for products they claim to have sold but never actually shipped. This leaves the burden on the BNPL fintech company, which suffers financial losses and cannot reclaim funds.
Abiding by the changing rules and regulations:
The concept of Buy Now, Pay Later (BNPL) is relatively new, and as a result, the associated risks are still evolving. The industry's dynamic nature requires continuous monitoring and adaptation to address emerging challenges.
In recognition of the growing importance of BNPL services, the Consumer Financial Protection Bureau launched an inquiry in 2021. This inquiry aimed to better understand the impact of BNPL on consumers and assess potential consumer protection concerns. This initiative highlights the regulatory scrutiny and attention given to the BNPL industry.
"The CFPB is concerned about accumulating debt, regulatory arbitrage, and data harvesting in a consumer credit market already quickly changing with technology," the bureau announced.
As the industry evolves, BNPL providers must stay informed about regulatory developments and consumer protection guidelines. Adhering to best practices and maintaining transparent communication with customers can help mitigate risks and ensure a positive customer experience.
High investment in building the platform:
Building a competitive Buy Now, Pay Later (BNPL) platform requires a significant investment in infrastructure and technology. With numerous established players already dominating the market, it becomes crucial for entrepreneurs to develop an app that can stand out from the competition. However, this endeavor can present a major challenge, particularly for those with limited budgets.
Developing a comprehensive and successful BNPL application requires substantial investment to build a robust infrastructure capable of handling large volumes of transactions and providing a seamless user experience. This includes investing in secure payment gateways, scalable server infrastructure, data analytics capabilities, and user-friendly interfaces. This is why, as entrepreneurs, it is necessary for you to monitor and address emerging risks associated with fraudulent activities, data privacy, etc.

Now, let's talk about the business model for BNPL app development:
BNPL service providers have a unique business model that allows them to benefit from multiple revenue streams, creating a win-win situation. They can generate revenue from sellers and consumers leveraging different fee structures.
Regarding sellers, BNPL providers typically charge a fee based on a percentage of the purchase amount made by the consumer. This fee can vary but can go up to 8% per transaction. By charging sellers, BNPL service providers can generate income for the convenience and added value they offer merchants by enabling BNPL options.
On the consumer side, BNPL providers can earn money through interest charges. Depending on factors such as the consumer's credit score and repayment history, BNPL service providers can charge interest rates ranging from 10% to 30% on the amount financed. It's important to note that interest is typically charged if the consumer extends the repayment period beyond the specified timeline. However, no interest is typically charged if the consumer repays the full amount within the agreed-upon period.
Another way of making money using the BNPL platform is by charging money from sellers for any promotional or marketing activity performed using the platform.
Entrepreneurs entering the BNPL market should carefully consider their pricing strategies, considering market dynamics and the competitive landscape while ensuring transparency and fair practices for sellers and consumers.

What technology should you use for developing a BNPL application?
Your Buy Now Pay Later app has to be powerful, which is non-negotiable because the application will handle hundreds and thousands of transactions at a time from various platforms.
You must select a robust technology like Flutter and Laravel for server-side app development. Databases like MySQL or MongoDB etc., for data management. For a more detailed technical analysis read:
Choosing the Right Technology Stack for Your BNPL App
Or feel free to contact us to discuss the technical aspects further and we will help you explore the best technology options to bring your powerful BNPL app to life.
Conclusion:
If you're considering entering the BNPL market, it's crucial to carefully plan your strategy and differentiate your platform from the existing players. Understanding the needs and preferences of your target audience will be crucial in offering a unique value proposition that sets you apart.
To discuss the development of your Buy Now Pay Later app and gain further insights into the market, we encourage you to contact our experienced executives. They will be more than happy to assist you in evaluating your options and provide guidance on creating a successful BNPL platform.