It would sound magical & relieving if someone mentions that "you can have all your medical coupons in one place." Digital advancement has made it possible to have everything in the palm of your hand. However, the medical prescription was always an apprehension for people. People across the globe struggled to have a medical prescription in hand to avail of the medicines from the pharmacy. The issue caught major attention during this hit of pandemic covid-19 when it became next to impossible for people to make any movement outside their homes.
Additionally, there are times when the nearest pharmacy offers medicines at prices that may break your bank, or you can't afford them. In such emergencies, you run around for pharmacies offering medicines at any other price. But.. but… Here is the good news, the on-demand application industry covered this segment too. Prescription medicine discount app development has been the talk of the town ever since the applications like GoodRx and RxSaver started saving lives. These medical solutions proved to be a savior at the right time. GoodRx and RxSaver not only saved people at the right time but also inspired other entrepreneurs to make an app like GoodRx.
In this blog, we will describe various features and app development procedures of medical solutions apps like GoodRx. We are a renowned app development company based out of Ahmedabad. Kody Technolab helps startups and big giants design a unique app solution that can do wonders for their business. So, let's begin our topic, "how to develop a drug price comparison app like GoodRx?". The blog will also discuss the cost to make a prescription drug app like GoodRx.
To begin with,
GoodRx is an online pharmacy and prescription giving application having its headquarters in Santa Monica, The United States. It was founded in the year 2011 by Doug Hirsch, Scott Marlette, and Trevor Bezdek.
GoodRx is the first and only prescription drug app available on the website and mobile applications. Millions of Americans use the application and have availed up to 80% discounts & savings on prescription drugs. It covers multiple pharmacies under its umbrella, and customers can select anyone from the list. Users can compare prices with other pharmacies and select one with the lowest price.
The application offers medical services covering a range of medical situation treatment/prescription services such as general health and preventive care, Flu symptoms, sexual treatments, UTI problems, Acne treatment, Short term medicine refill, cold sore, and a lot more.
Are you excited to build prescription drug discounts & coupon apps? If you are, you need to learn first the working of medicine prescription apps like GoodRx.

How does a medicine prescription discount app like GoodRx work?
GoodRx application is also known for its personalized medicinal treatments available with doctors. The application's services are available at a starting price of $19, without any need for insurance. All the medical practitioners registered with the application are licensed and provide specific health services.
Once the user registers over the application, s/he needs to select a medical service over which they want an online consultation.
The application asks to mention your medical condition and history. This will require you to fill a few simple health questions related to your health condition.
Select a doctor or a health care provider and talk to them at your scheduled time.
The medical team will analyze your condition and give the suggestion accordingly. The team will also prescribe the medicines if required.
Once you receive the prescription, you can send it directly to your selected pharmacy.
Once you select the pharmacy, compare the medicine prices with other pharmacies and avail discount coupons.
You can show the same at the pharmacy to avail of the discounts.
In order to develop a medicine prescription app like GoodRx, you need to collaborate with some well-known pharmacies available across the country. GoodRx is associated with around 70,000 pharmacies, namely, Walmart pharmacy, Walgreens pharmacy, CVS pharmacy, Kroger pharmacy, HEB grocery, Vons pharmacy, Target pharmacy, and many others.

What are the features of the medicine discount application?
We will mention the prescription medicine discount app features in general. You can discuss them more in detail with your prospective mobile app development company to help you in the process. Also, if you are opting to hire mobile app developers, the same can be inquired from them.
The entire process of mobile app development involves rigorous brainstorming. The process starts with Lean canvassing and Product Requirement document preparation and ends with quality testing and app release. Once this cycle is completed, you can expect an error-free product development with a complete list of features.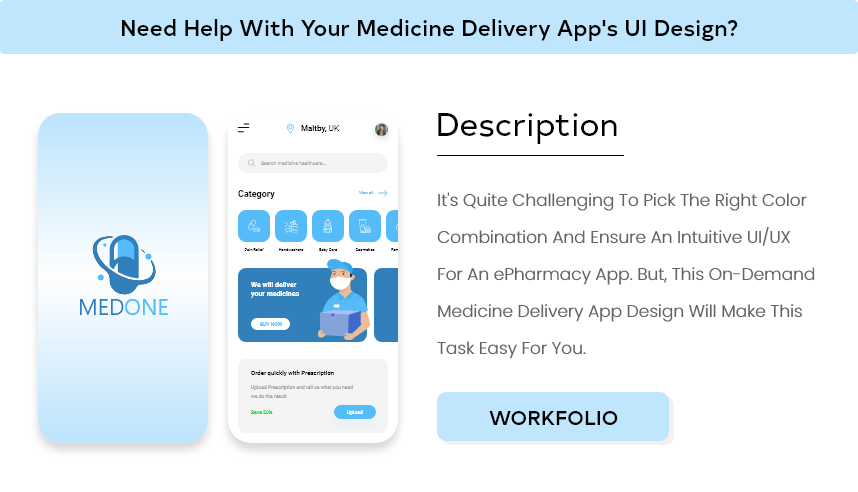 Now let us discuss the feature list of prescription medicine discount apps.
User log in;
User profile set up;
Dashboard;
List of medical services;
List of treatments;
List of pharmacies;
Smart search based on location, preference;
Schedule appointment;
Cancel appointment;
Compare medicine prices;
Select pharmacy;
Upload prescription;
Directly send the prescription to pharmacy;
Explore discount coupons;
Use discount code;
Help;
Prescription tracker;
Create your prescription;
Refill prescriptions;
Receive discount and savings notifications;
Mark as favorite pharmacy;
Follow subscription;
Renew subscription;
Manager pharmacies;
Manage users;
Manage coupons & discounts;
In-app message;
Share savings;
Save coupons;
Drugs list;
Payment gateway integration;
Review & Feedback;
Order history;
Vehicle management;
Read Also:- How to Develop an On-Demand Medicine Delivery App like 1mg?
What is the cost to make a prescription medicine app like GoodRx?
If we were to give you an estimate, medical solutions apps like GoodRx are usually built within a budget of $25K. However, this cost may vary depending on the multiple cost variation factors such as the location of the app development company, features, functionality, UI/UX designing, maintenance, third-party integrations, and more.
For a detailed splitting of cost estimation, kindly connect with your app development team.
Conclusion:
App development like GoodRx needs to follow many guidelines for complying with the industry standards. If you miss or compromise over any of it, the application might fail to perform exceptionally against the competition in the app store. It is advisable to do enough research before initiating app development. If you are still confused about how you will move ahead with the development, it would be best to consult us and have our opinion. We provide best-in-class app development services for startups and big giants.